Our 2016 Club Championships coverage kicks off with a look at the respective title chances for the nation's top teams.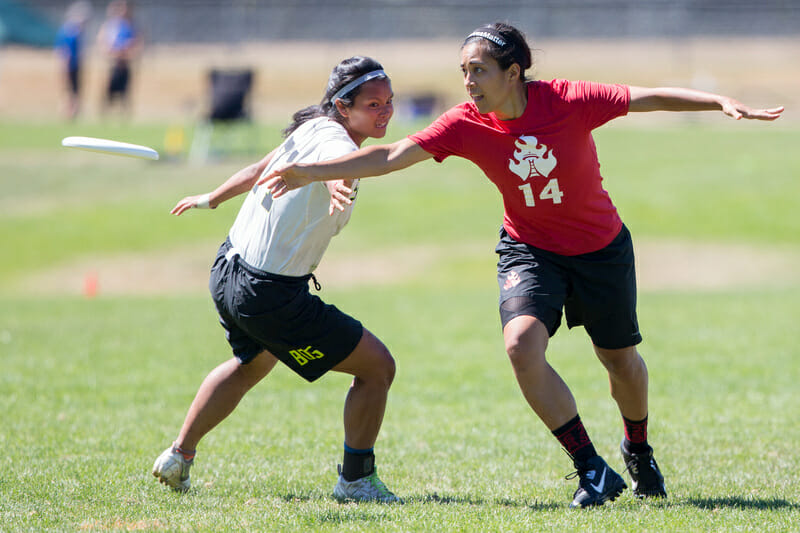 Ultiworld's coverage of the 2016 Club Championships is presented by Spin Ultimate; all opinions are those of the authors. Please support the brands that make Ultiworld possible and shop at Spin Ultimate!
At the start of the season, many predicted that we were on our way to watching another dominant season from Boston Brute Squad and their second consecutive title. But it has been the long-time bridesmaid Seattle Riot that has made the regular season case for becoming the 2016 champion. While the Women's Division remains more top-heavy than the other Divisions, the contender list runs deeper than ever this season.
We asked our writers to make the case for why they believe each contender will win the 2016 Club Championships — and under what circumstances they will come up short.
Seattle Riot
Why They Will Win
Quite simply, Riot has been the best team in the division this season. They have not lost a game since the U.S. Open and have posted a 2-1 record against their chief title rivals, Boston Brute Squad, in tournament finals this year. All Seattle has to do is continue playing at the level that they have all year long and they will win the championship.
The team is full of household names and bona fide superstars that present matchup problems for any team they will face at Nationals. The team is loaded with athleticism, elite throwing ability, and top end experience that only Brute Squad could arguably match. On paper, Riot is the best team in the division; their on field performances this season have clearly matched the potential.
If this season and recent history are any indication, Riot should face very little trouble in reaching semifinals and will be able to keep their players rested throughout the weekend. Once the competition level intensifies, they should be able to fully unleash their might and will themselves past the other top teams in the division.
Why They Won't Win
Riot lost a couple of their most key players from a season ago in Lauren Sadler and Gwen Ambler, the latter of which is now part of the team's coaching staff. Neither player's absence has visibly held Seattle back to this point in the season, but Ambler's vast experience and poise on the field in big games could be missed when semifinals rolls around. Sadler is now playing for Brute Squad, which could prove to be a key in a potential championship game matchup.
Riot's biggest hurdle is a mental one. The team was finally able to overcome longtime rival and seemingly eternal roadblock San Francisco Fury last year with a resounding win in semifinals. But they were unable to clear the hurdle that really mattered: winning a national championship.
If Riot is unable to exorcise those demons, then the story surrounding them will remain the same. At this point, there is really only one team that can go toe-to-toe with Riot when the Seattleites are at their best. And Riot has proven already that they are capable of beating all of their primary fellow title challengers. The only question for the team now is whether they are mentally capable of playing their best when the stakes are the greatest.
By Daniel Prentice
Boston Brute Squad
Why They Will Win
Brute Squad possesses one of the two most talent-laden rosters in the division. Kami Groom, Leila Tunnell, and Lien Hoffman lead a squad that boasts six WUGC 2016 attendees. The team has been elite form all season, reaching the final in all of their tournaments. They annihilated Riot in the U.S. Open final and lost two close games to their Seattle foes at the Pro-Elite Challenge and the Pro Flight Finale. Only one team could say they have had a better season than Brute to this point, and as the overall 2 seed they have a relatively easy path to semifinals.
Brute Squad also has something that Riot does not – a team that knows exactly how to win a Club Championship. Brute was clinical in their semi and the final a year ago and their biggest players played up to the moment. If it comes down to a Riot-Brute final, as is expected, Brute will certainly hold the mental edge in a game between two very evenly talented teams. That could ultimately between the difference between a title and second place.
Why They Won't Win
Last year is in the past and Riot has clearly been the best team this season. Boston's stunning loss to New York BENT at regionals and the two losses to Riot indicate a team that is perhaps not playing at the level we saw from them in 2015.
Brute has been unable to solve Riot since the Seattle club reemerged at full strength following the return of their own Team USA members. In all sports, a post-title lethargy is very difficult to avoid, and while Brute Squad has certainly put together an impressive season, it would be difficult to equal the obvious starvation Riot has to claim a championship.
On a more analytical level, Brute has not had a championship caliber offense this season. The losses of Courtney Kiesow and Paula Seville have seemingly dropped the offensive effectiveness down a notch. Without an O-line running at optimum smoothness and efficiency, Brute won't be able to keep its primary weapon – its exceptional D-line – on the field. If that's the case, it becomes difficult to see how Boston could win the title.
By Daniel Prentice
Denver Molly Brown
Why They Will Win
Molly Brown will win hardware this weekend through their chemistry. Molly Brown's 2016 roster looks remarkably similar to last year's. Most of their first year players were 2015 practice players, with the exception of Lisa Pitcaithley. Molly Brown has one of the division's best handling duos in Claire Chastain and Opi Payne, and when these two are in sync, possessions are efficient and successful.
Molly Brown's best assets shine on their D-line. The downfield defenders guard spaces and run textbook help defense. Once they have the break, Payne, Chastain and Alicia White control the field and convert often. Dena Slattery's play epitomizes Molly Brown's greatest strengths: she can generate a turn and then score the break. Downfield Crystal Davis, Tina Snodgrass, and newcomer Lisa Pitcaithley love the endzone and are ready to streak deep off even the hints of a handler's power position.
Why They Won't Win
As the third seed, Molly Brown has two jobs at nationals: beat the two teams ahead of them. So far this season, they haven't been able to do that. Brute Squad slammed Molly Brown in the semifinals last year, and if the bracket goes to seed, they'll meet there again this weekend. Overcoming the defending champions for the first time all season is a tall order for Denver, no matter how far they've come this season.
Molly Brown may not make it to semifinals at all, either. If a team stifles Molly Brown's resets, the offense languishes. Sometimes a deep shot works or Pitcaithley drops back, but sometimes can turn into never against the Division's best handler defenders. It may sound like splitting hairs, but when you're competing at an elite level these details can morph into a team's downfall.
By Katie Raynolds
San Francisco Fury
Why They Will Win
Ah, remember the days when this wasn't even a question?
These days, however, Fury doesn't beat teams with intimidation before the first pull even goes up. But nobody is going to write them off, and with good reason. They've defeated three of other top six seeds, including going 2-0 against a Scandal team they will face in the pivotal 4-5 game that is likely to decide Pool D. Most teams would say Scandal is the toughest draw in any pool, but Fury's sterling record against them inspires confidence.
In fact, the new format could be very helpful to them should they win their pool, as all signs indicate. The Pool D winner gets to advance to a quarterfinal that takes place Friday morning. They'll meet a team coming off of a 9 AM elimination game.
Should Fury suffer an upset in pool play and fail to get the express pass to quarterfinals, they have the resilience to still push to a title. They've been an excellent bounceback team this season. Two Pro Flight Finale losses to Riot were followed by big wins over Molly Brown and Scandal. Games they dropped at the US Open were followed by massive blowouts, as was their Pro Flight Finale loss to Traffic.
This is a mentally tough team with heaps of skill and experience. Claire Desmond and Anna Nazarov are clear top 10 players in the division, and there are others along this roster you could construct arguments for. There isn't a weak point, new additions have been strong, and they've added some athleticism to join throwing virtuosos like Alex Snyder and Carolyn Finney. They've all been in big games, Fury has played close with or beaten every other elite contender multiple times, and the San Francisco team will not be rattled.
Why They Won't Win
Simply put, Fury's ability to consistency win against the types of teams they'll need to beat in succession is theoretical and unproven. They are 4-7 against the other top six seeds and they have failed to beat either Riot or Brute Squad, the top two teams entering Nationals. Although they are the number four seed, they've failed to make the final of an elite tournament this season, twice being eliminated by the aforementioned #1 and #2 seeds.
Unfortunately for them, the road is not going to be easy. Should they emerge the winner of Pool D, battling through a tough Scandal team that has seen them before, they will advance to quarterfinals. Barring a major prequarters upset, that means a matchup with either Molly Brown or Traffic; each of those teams has already taken down Fury at some point in the regular season. After that, they are in line to play against a Riot team that has had their number in recent matchups.
The issues with Fury's play are mostly twofold: a lack of execution and inability to consistently generate takeaways.
San Francisco has had trouble executing in the red zone. Many of their errors are mechanical miscues, such as inaccurate throws, misread high throws, or drops. Because they don't typically throw deep a lot, they rely on being able to convert short throws and red zone possessions, and can come undone when they fail to score or when ill-timed mistakes force them into losing field positions.
They also have shown the lowest pressure defense of the elite teams. It's puzzling given the team's athleticism, but a lot of their most experienced and talented weapons are at their best when Fury has the disc. A playbook with some zone looks like a 3-2-2 with some speed up front, can mix up their defensive options, but if they can't create situations to take possession, efficient teams will prove problematic for them.
By Keith Raynor
Washington DC Scandal
Why They Will Win
Jenny Fey.
There are innumerable factors that could contribute to a team's success during any tournament weekend, but Jenny Fey will be the reason Scandal wins their third Club title.
With Fey on the field, Scandal's downfield never stagnates. They grind, with cutters like Sarah Itoh, Sandy Jorgensen, and rookie Keila Strick churning through the open lanes. No matter what you force her, Fey will move your mark in order to find her receivers in the endzone.
Scandal has had their offensive pieces in place all summer, but their defensive intensity has steadily built since the U.S. Open. And while the full D-line is playing closer downfield, picking up Jesse Shofner mid-season is a big part of Scandal's improved defense.
If the weather at Nationals descends into the wind or rain that can haunt Illinois in October, Scandal's zone will benefit. Sandy Jorgenson will haunt the deep space, and Jesse Shofner will act as field marshal in the midfield.
With these two on the D-line, every turn becomes a threat. Shofner isn't afraid to take shots, and Jorgenson is one of the division's most reliable receivers. The D-line's improved offensive efficiency was noticeable in their games at Pro Flight Finale, and as a result their losses were much closer to elite teams like Fury and Brute Squad.
Scandal is getting better and better, and they only need to win a few more games to earn their third title.
Why They Won't Win
Scandal hasn't shown they can shut out elite teams consistently this season. They have only had two wins over the teams seeded above them at Nationals, and while the Scandal playing at Pro Flight Finale looked like a different team than the team playing at U.S. Open, they weren't different enough.
Twice at PFF, Scandal let elite teams rattle off breaks late in the game, and they lost. They were in control of their game against Brute Squad during pool play before the Boston team broke late to win, and Fury took over late in the semifinals to beat Scandal the same way.
And Scandal could face a lot elite talent before they even reach semifinals. They have a guaranteed pool play game with Fury, and if everything else holds, they will see Molly Brown and Brute Squad on the same side of the bracket. They've lost to Fury and Brute Squad twice each this season, and they have a 1-2 record against Molly Brown.
Scandal will also be missing star cutter Sarah Itoh for nationals. Itoh went down at Pro Flight Finale, and she's not expected to play this weekend. Scandal will miss her experience and power downfield on their O-line, and they'll have to rely on a lot of first-year players to grind through pool play.
Their defensive unit has the creativity and power to earn Scandal breaks, but their offense needs to be able to recover possession effectively. Teams have hurt them this season with fast breaks to score, and while Scandal can crawl out of a deficit, they have to do more than crawl to reach Sunday play.
By Katie Raynolds