A pair of first-timers join an old blood program and the reigning National champ, and the battle for prequarters spots should be intense.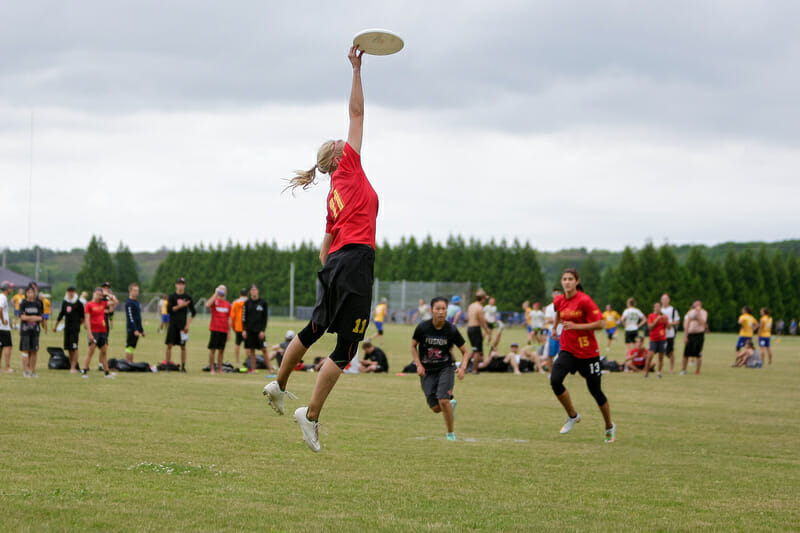 Ultiworld's coverage of the 2016 Club Championships is presented by Spin Ultimate; all opinions are those of the authors. Please support the brands that make Ultiworld possible and shop at Spin Ultimate!
With a revamped Nationals format that promises to bring importance back to pool play, Thursday games can no longer be ignored. While there won't be much competition surrounding who finishes atop Pool B, the rest of the pool should still benefit from the new importance placed on pool play.
Defending champs Boston Brute Squad headline the pool and enter as one of the two major favorites to win the whole tournament. Brute has made the final in all of the major tournaments this season, but are just 1-2 in those games. The team also shockingly lost to New York Bent at Northeast Regionals and may not be playing their best ultimate at the right time.
Pool B also features two first time Nationals attendees in San Diego Wildfire and Rival, a team made up of players from Ann Arbor, Michigan, and Columbus, Ohio. Both teams boast a host of exciting, young players, and how the two clubs fare in their first trips to the big show will be something to keep an eye on for the fledgling programs.
Texas Showdown rounds out the group as the third seed. The Nationals mainstays will look to rebound from a disappointing performance a year ago. Showdown will hope that their experience at this level will give them an edge over the two first timers, both of whom they will be playing for the time this season.
While nobody expects Brute Squad to be bested by any of their in-pool foes, there is still plenty to keep an eye in regard to how the weekend will shake out for each of these teams. And there are certainly two pre-quarters up for grabs that all three teams will think they can claim. Here's a closer look at what each team is bringing to the table in Rockford.
Boston Brute Squad [Pool #1, Overall #2]
The formidable Boston Brute Squad is seeking to renew their national title for another year in Rockford. If they fail to do so, it will be the first time since 2003 that the champion was not part of a multi-title run. Boston's roster is mostly unchanged from the one that dominated at Nationals in 2015. However, this season has not exactly picked up where last season left off.
Hear me out. Yes, they are 30-3, which is only one more loss than last season's team. And yes, two of their losses were close and at the hands of #1 overall seed Riot. They are the #2 seed overall and for good reason.
But nobody who has watched the team sees the same level of performance that tore through the club competition this time a year ago. Is it complacency, as Leila Tunnell said it may have been at the Pro-Elite Challenge? Is it the changes of personnel, since they lost Paula Seville, Courtney Kiesow, and Emily Baecher? For those scoring at home, that's two Callahan winners and an All-Club selection. Are the opponents just better and more prepared? Or is just hard to stay that good nowadays?
For my money, a lot of it has to do with the personnel changes. Claudia Tajima is a completely different style of handler than Seville, and the transition to their more possession-based O-line has been challenging. Kim Culpan and Sydney Dobkin don't play the same game as Kiesow. Young Julianna Werffeli and Angela Zhu don't have the experience of Baecher.
That said, regular season Brute Squad wasn't on the level of Nationals Brute Squad in 2015, either. Amber Sinicrope has been awesome and could be on her way to an All-Club selection, which is exactly what the team needs in the backfield next to Leila Tunnell. She was playing a lot of offense for them at Pro Flight Finale, with Shellie Cohen shifting to D-Line. Lauren Sadler has been a great addition to the defense. With returners like Liên Hoffmann, Kami Groom, Laura Bitterman, and Cassie Wong, they shouldn't face much resistance to their goal during pool play. The incredible speed of Hoffman and Groom in combination with their savvy cutting adds depth to the poised and confident play of Bitterman and Becky Malinowski.
Brute Squad's only notable losses come from first ranked Seattle Riot, but the other teams in Pool B are excited to have a chance to add to that list, and can draw hope from Brute Squad's shocking loss to New York BENT at Regionals. BENT's recipe for high possession offense kept Brute Squad on the back foot and Boston was shocked with a tournament opening loss.
Likely Ceiling: 2016 National Champions
Likely Floor: Semifinals
San Diego Wildfire [Pool #2, Overall #7]
San Diego Wildfire knocked on the door of Club Nationals last year, and the third year team is feeling confident going into their first Nationals experience. After cruising through the Southwest Regionals' semifinals to seize the second bid, it seems they have every reason to be.
Wildfire enters the tournament with a mixed record, but one that indicates their high seed — 7th overall — is earned. They are 5-4 against the field, with all of their wins coming against lower seeded teams and three of their four losses coming against pool one seeds. The fact that they were blown out by the top teams doesn't bode well for their chances of upsetting Brute Squad and gaining control of Pool B, but their ability to consistently defeat teams ranked below them portends them holding seed. A winnable prequarter could be waiting for them, and a quarters appearance would be a big win for a Wildfire team that doesn't have a lot of Nationals experience on the roster.
Handlers Brittany Cabriales and Vivi Mai run the show with impressive break throws and deep looks. The cutting line is versatile and includes Kelly Tidwell and Erin Crider, two scrappy and experienced athletes with the ability to throw deep hucks of their own. Wildfire will be hindered, however, by the loss of star rookie Kristen Pojunis, who was consistently a triple threat for them this season. Pojunis was injured at the last practice of the season, a devastating emotional note on which to enter your first Nationals.
Wildfire doesn't have much experience at this level or against these teams. They also didn't earn a lot of elite games this regular season. For them, the value of a Pro Flight spot is very real and they are fortunate they'll draw in with a young Showdown and another Nationals first-timer in Rival. Pool B was probably the best draw Wildfire could ask for.
Likely Ceiling: Quarterfinals
Likely Floor: Prequarters
Austin Showdown [Pool #3, Overall #11]
The Texas team is still working through several years of turnover, and as a result they are 3-10 against the field this weekend. Showdown will be fighting for their lives in their final round against Rival, and they will have to rely on their veterans' experience to keep them in the bracket.
Showdown has qualified for Nationals every year since 2008, and Katey Forth has been part of that roster since 2009. Alongside her sister, Bex, and longtime players like Janel Venzant and Marissa Land, Forth can wrestle breaks out of close games with an indomitable play style. These women understand the specific brand of mental toughness you need for the long weekend.
Leading the new guard of Showdown are some of Texas Melee's finest: Shiru Liu, Domenica Sutherland, and first-year players Laura Gerencser and Julia Schmaltz add speed and height to Melee's game.
In the only regular season matchup between two Pool B teams, Showdown fell to Brute Squad 13-7 at Colorado Cup. The Austin team did pull out two big wins that weekend, however, over Ozone and Phoenix, proving they have what it takes to break seed this weekend in Rockford. Domenica Sutherland, and Shiru Liu lead the charge in an impressive, handler heavy Showdown lineup. Sarah Levinn, an elite deep threat, provided sparks downfield.
The experience of this program is their strength with two first-year qualifiers in their pool. Wildfire had a superior regular season, but facing injury and inexperience, Showdown's throwers could be the biggest factor if the conditions tilt towards bigger gusts. They stand to benefit from the format changes and have the potential to finish second or last in this pool.
Likely Ceiling: Quarterfinals
Likely Floor: Done on Day One
Columbus Rival [Pool #4, Overall #14]
Another team making their nationals debut in Pool B is Rival, a second year team consisting of players from Ohio and Michigan. Don't let their rookie status fool you: Rival is coached by the legendary DeAnna Ball, who coached Ohio State to their national title in 2014. They may not get an upset in their pool, but they could have a few tricks this weekend.
The team snagged a few stars from Nemesis who have been on the big stage before: Becky "Tots" Moore plays with the field IQ of someone a decade older, and Sara Scott has an endless motor and ferocity on both sides of the disc. Theresa Zettner tends to fly under the radar, but is one person to watch out for this weekend. Her high release breaks, and tenacity in the air may make the difference for Rival in close games. Along with Kristin Smiach, Janine Walker, and Caitlin Harley, they provide steadiness and experience.
Alongside Tracey Lo, Hannah Henkin, Talia Barth, and Bailey Torvinen, the women all come from the Michigan faction of the team. The Flywheel program is known for developing players with high field intelligence, and each of these players work well in the system Ball has crafted. Rival will navigate the Rockford fields like they've been there before (it's the Great Lakes…they have been).
Stevie Miller, Katie Backus, and Sadie Jezierski are the players to watch from the Ohio side of the rivalry. Miller spent this summer on the All-Star Tour, and her sheer consistency with the disc in her hands will steady Rival against high-pressure defense from Brute Squad and Showdown. Jezierski competed on the 2014 WJUC U19 team, and she was a key piece in Ohio State's return to nationals this year, and can counteract her aggressive turnovers with huge plays.
It's hard to envision a high ceiling for Rival, who has only played four Nationals teams all year, and went 1-3 in those games, only defeating fellow pool four seed Green Means Go. They have been building and have little to lose at Nationals, and won't be afraid of the conditions in Rockford. But getting past prequarters seems like a big ask and a tough run in pool play also is a likely outcome.
Likely Ceiling: Prequarters
Likely Floor: Done on Day One