Molly Brown is the definite favorite, but Traffic is one the division's most dangerous upset picks.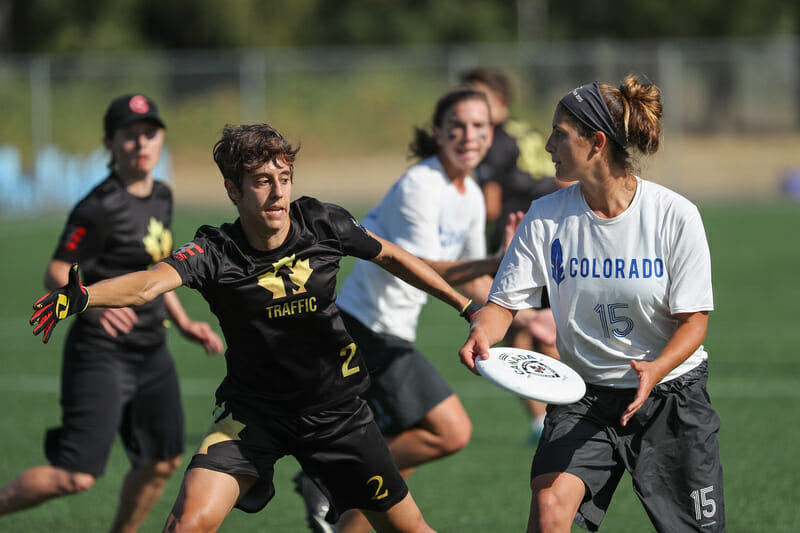 Ultiworld's coverage of the 2016 Club Championships is presented by Spin Ultimate; all opinions are those of the authors. Please support the brands that make Ultiworld possible and shop at Spin Ultimate!
For a second straight season, Molly Brown and Traffic will clash in pool play, each with the goal of a coveted pool victory in Pool C. Phoenix, who finished at the bottom of Pool C last year before a stunning undefeated close to the tournament, also returns. With Green Means Go rounding out the pool in a sophomore effort at Nationals, it's hard to peg any team's final spot in the standings.
No pool is going to bring more speed to the field in Pool C. These rosters are loaded with flashy runners that could open up the field and turn this one into a track meet. It also means that Pool C may be the one where the wind swings who is advantaged the most. Teams will be digging deep into their bag of tricks to reveal zones and junks, crafting gameplans that align well with both the conditions and the opposition.
Upsets are in play, but it's hard to imagine a team other than Molly Brown or Traffic winning this pool. While between the two, either could slip down the ladder, both have shown the strengths and their opponents have struggled enough to make that outcome highly likely. But there's evidence for any of these teams to jump a spot.
Denver Molly Brown [Pool #1, Overall #3]
If you're skeptical of Molly Brown, that's cool. It's understandable. They are a measly 1-7 against the top two seeds, Riot and Brute Squad, throughout the past three seasons. They find those two teams standing in between them and coveted wins all too often. The chances of them dodging those powerhouses on the way to a National Championship are microscopic.
And make no mistake about Denver's intentions. When asked about their goals for Nationals this year, captain Claire Chastain gave two: "Get weird and win a national championship."
While the first goal speaks to their culture, the latter speaks to their potential and their status as elite. Last year's team was run off of the field in semifinals by a Boston crew that they were clearly no match for. But, having finally gotten back to semifinals, there was a sense of relief and accomplishment to be felt around Molly Brown. This year, it doesn't sound like they would be satisfied with a blowout loss in semis.
"We have a better mental game. It's really helped us to be in big games this season," said Chastain.
It certainly has helped them earn big moments, particularly against the title favorites. Of their four losses to Boston and Seattle, Molly Brown has lost three of them on double game point, twice in bracket play. Boston's final goal in the Pro Flight Finale — a high-stall crossfield blade that just snuck over the hands of Paige Applegate — felt like a lucky one against a Molly Brown team just pounding on the door to get let in. They've also taken down teams like Scandal and Traffic in hotly contested grappling matches during which they pinned their opponent in the final rounds.
That's in part because, with their athleticism and ferocity on defense, Molly Brown can build momentum very quickly. Huge playmakers like Alicia White, Dena Slattery, Opi Payne, Lisa Pitcaithley, Megan Cousins, Becca Miller, and Chastain herself are the type of players who fire up their teammates with revitalizing efforts that create mesmerizing moments. They will force opponents to play with poise to recover from their torrents of quick-strike scoring and high pressure person defense.
Of course, it's a bit more scary that they've came out on the wrong side of so many close and important games. The way they closed out their US Open final against Riot was jarring. And the last major tournament they went to was their worst of the season. They suffered more losses at the Pro Flight Finale, including to lower seeded Scandal and Fury, than they did during the rest of the season and postseason combined.
"Prior to PFF, we adjusted the O-line and did not give them the time to connect during our limited practice time," said Chastain.
Perhaps Molly Brown and coach Joe Durst wanted to tinker with the rotations to add more balance. Getting increased production from their depth would be helpful in adding more consistency so they can put together two good halves more frequently. They have the talent to win some pool games without playing their best, but that won't be the case in bracket play.
Should their depth rise up to meet the challenge, powered by the playmaking of their big names, and they seize the momentum with their newfound mental strength, this team is capable of winning a title. But they have shown enough vulnerability to get bounced in quarterfinals if they fall victim to the mental lapses that have gotten them in big games.
Likely Ceiling: National Championship
Likely Floor: Quarterfinals
Vancouver Traffic [Pool #2, Overall #6]
This is all very familiar for Traffic. Second in a pool with a one seed they know they can take, but know could overpower them, too? Yeah, they've been there. In fact, the Vancouver women have spent a lot of the season leaving onlookers to guess as to whether they were in the elite tier of semifinals contenders or if this was another year that would end with a defeat in the quarterfinals. Five of their last seven trips to Nationals have featured quarterfinals losses and they haven't made semifinals in that time, despite often having a strong team with feature wins prior to Nationals. And it's been almost 20 years 1 since a women's champion was a team that didn't make semifinals the year prior.
What will change?
"To me, it's less about 'changing' something, but about knowing and believing that we have the skills to make our goals a reality," said captain Laura Mason. "We know that we can play with the best, and so Nationals is really about stepping onto the field with confidence, playing our game, and never looking back."
It's true that we know Traffic can play with the best. They've proven it.
They've notched wins over Fury and Scandal, while they gave Riot a real scare in the final of Northwest Regionals. Of their Pool C peers, Vancouver has already beaten Phoenix and Green Means Go both handily. But Molly Brown? They are 0-2 in that pivotal matchup. They also couldn't overcome the Denver contingent in pool play last season, wilting under stifling marks and defensive pressure.
"The first time we played them this season they thoroughly outplayed us," said coach Jeff Cruickshank of their season series with Denver. "The second time we adjusted strategically and executed well up until about 10s, and then we had some execution lapses that cost us a legitimate shot at winning."
If they can iron out those lapses in play, Traffic's strengths are enough to overwhelm many teams, even the division's elite. Chief among those is there blazing speed. From proven vets like Catherine Hui and Ashlee Davison to recent-or-current teenagers like Naomi Morcilla, Ellen Au-Yeung, and Cofellas Mot, there are burners up and down the Vancouver roster. They can put that to use with aggressive person to person defense. Mira Donaldson, Danielle Fortin, Candice Chan, Kate Scarth, and Rachel Moens give them plenty of throwers to take advantage of the collection of hot rods. Those throwers could have a quite a bit of pressure on them at Nationals, since it seems like teams like to throw zones and junks at Traffic to counteract their speed.
Mason also championed the team's grit, a frightening characteristic when paired with their athleticism. "It's our mission to play lock down D, and make the other team work twice as hard as they want to," said Mason.
While Traffic is cited for inconsistency, they have been solid against lower seeded competition. They are 4-0 against such teams, while they are 2-6 against teams seeded above them. For three straight seasons, they have been the second seed in a pool and haven't lost to a lower seeded team.
They also haven't beaten a higher seeded team or won the pool. And since this year, winning Pool C could cut the number of games they need to crash through the semifinals barrier in half, there has not been a better year to break the trends.
Likely Ceiling: Semifinals
Likely Floor: Quarterfinals
Raleigh Phoenix [Pool #3, Overall #10]
You might have missed the resurgence of Phoenix at last year Nationals. That's because it came after an 0-3 showing in pool play and a prequarters loss that them straight to the consolation bracket. They went undefeated after that point, earning the Pro Flight prize, closing with a signature victory over regional rival Ozone. Cassie Swafford was one of the best players at the tournament and Phoenix's young core looked on the verge of getting up the next rung on the ladder.
With Swafford and some other key contributors gone, Raleigh has had to turn to some other players to carry the load, and they've found some new faces they trust a lot. Kate Travaglini has been a bombshell for them – once the centerpiece of a Tabby Rosa team that stunned Phoenix to go to Nationals – and her rangy frame, explosive athleticism, and big hucks have outweighed her inconsistency to make her highly productive. Erynn Schroeder has taken on a key backfield role, but threatens to take off deep when left unattended. Ann Sitler uses her speed and aggressive cutting to find unguarded real estate and Simone Whale has a knack for generating blocks. Along with a core of Jenny Wei, Chloe Greene, Heather Zimmerman, and Jessi Jones, there's real talent in Raleigh.
The chemistry and the results, however, have been more elusive. Their 5-10 record against the field is peppered with close losses to middle and lower seeded teams and blowout losses to the top tier squads. Wins over Showdown and Ozone are buttressed by close losses to Scandal and Wildfire. A trip to the Pro Flight Finale beat them up a bit, as they went 2-5, with both wins coming against Heist and with an ugly crop of losses.
On the bright side, they are 1-1 against their pool and stand as solid chance of making it out of pool play. Their matchup with Traffic did not go well, but an early season game against Green Means Go ended 11-9, in their favor. Their horizontal stack offers enough downfield threats to challenge defenses if their handlers are reliably available. Phoenix's playbook features some tricky defensive looks and they aren't afraid to toss transitioning zones at opposing O-Lines. They may need those tools to deal with the athleticism of their Thursday foes. Perhaps the predicted wind can help slow down such a speedy pool.
Phoenix ended 2015 in a big way and surprised people with their run to the Pro Flight. But they struggled in pool play, an unnerving trend for them: across five Nationals appearances, they've gone 3-12 in pool play2. They've never made it to quarterfinals in the newer formats. That history indicates that a poor showing from Raleigh could leave them near the bottom of the standings. But last year shows that they can grit out good wins, and if they can make to the prequarters round, they have good matchups with their likely opponents, Showdown and Wildfire. Quarterfinals is reachable for Raleigh.
Likely Ceiling: Quarterfinals
Likely Floor: Done on Day One
Philadelphia Green Means Go [Pool #4, Overall #15]
Returning to Nationals after an appearance in 2014, the Philly women have to be hoping for a better showing, a common and reasonable expectation for a team in a second appearance. Two years ago, they lost all but one game, and that win came in the final placement game against the tournament's bottom seed. In 2015, the Mid-Atlantic nearly had a second bid, with both GMG and Hot Metal in the top 20 but beyond earning a bid, and Philly wound up falling to Scandal at Regionals.
Green Means Go has spent a lot of time on the outside. The program doesn't have many elite wins to its name over the years. They are 2-9 against the field and both of those wins were by one goal, including over Atlanta Ozone, who has beaten Philly on three other occasions. Each of their Pool C opponents has faced them and defeated them this season, a clean 0-3 sweep.
"We are a relatively young team (est. in 2011)," said veteran Margie Guy. "Philly women's ultimate has a pretty rocky history – we've been building up to become a team who consistently deserves a spot there."
Yet, beyond paper, they have earned the respect of their peers. Teams don't take Green Means Go lightly: their pool-mates would be wise to avoid that. Phoenix only bested them by two goals and Traffic and Molly Brown have both revealed inconsistencies that are exploitable. Green Means Go feels like they are playing their best now, having given Scandal a real fight in the regional final, playing to 10-10 before D.C. slammed the door shut with a 5-1 run.
"With both Phoenix and Traffic, if we come out strong and bring the mental toughness we demonstrated in our game against Scandal at Regionals, I think we'll be more successful," said Guy. "Having a long regular season allowed us to work on our offensive chemistry, which we struggled with when playing those teams at Elite-Select and Pro-Elite."
That chemistry has some talent to help it catalyze. Amel Awadelkarim has quickly honed herself into a well-rounded talent, whose agility and throws make her a versatile playmaker, and she will be central to GMG's potential success. Vicki Chen and Danielle Walsh are also key components; Walsh in particular is big, strong, and has big throws, so she can really heat up. Yolanda Scarpati, Ashley Un, Malti McKinnon, and Elaine Dziemianowicz also provide a lot of athleticism and physicality downfield.
Is Philadelphia a semifinals contender? No, probably not. But there's no doubt they can advance through the new format to the bracket, or even finish second in the pool. They like to move the disc rapidly and when they get a rhythm, they are challenging to defend and their defense can prove troubling for opponents.
"What's really important to us is consistency, focus, intensity, and team support," said Guy. "With this framework in mind and the skills we've worked on in the past months, we are hoping to break seed and play confidently against our matchups."
When their deep game starts connecting, they can rattle off goals. But they are susceptible to cooling off and giving up runs of their own. But if they find their rhythm and hit stride for two or three halves on Thursday, they could shift Pool C's standings around.
Likely Ceiling: Prequarters
Likely Floor: Done on Day One
---
1999 was the last time ↩

not including Power Pools ↩