Brummie breaks down Revolver v. Sockeye, one of the most anticipated pool play matchups on Thursday.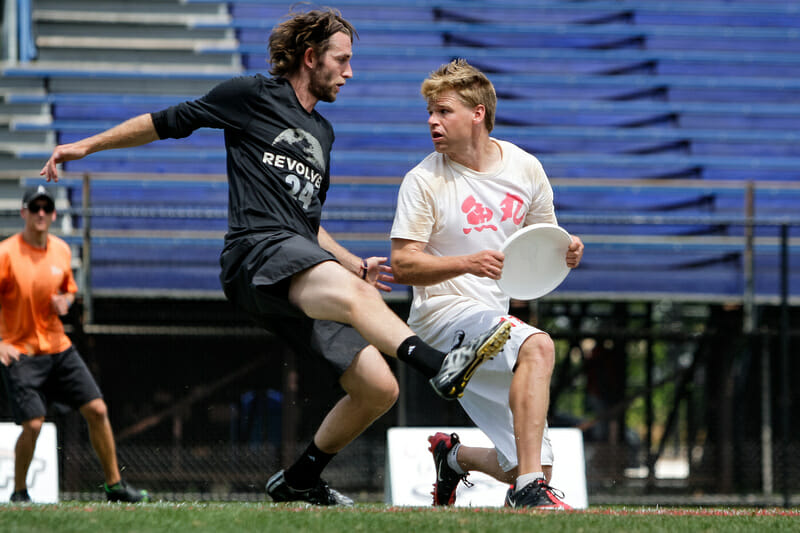 Ultiworld's coverage of the 2016 Club Championships is presented by Spin Ultimate; all opinions are those of the authors. Please support the brands that make Ultiworld possible and shop at Spin Ultimate!
Without a doubt, the Men's division pool play game everyone will want to watch is going to be the rematch of last year's final between San Francisco Revolver and Seattle Sockeye. Thursday's game — which will be livestreamed by Ultiworld — will be their third matchup so far this year, and with a split in the first two clashes, both teams will think they can win and top Pool D.
The first game was fought in a windy stadium at the US Open semifinals. It was a sloppy game (24 turnovers in the second half alone), but Revolver were missing offensive stalwarts Beau Kittredge, and 2015 MVP Cassidy Rasmussen. Meanwhile, Sockeye – missing starting handler Danny Karlinsky – were relying on Simon Montague and Matt Rehder to do the work.
While it was later in the season, their matchup at the Pro Flight Finale was no cleaner; 32 turns in all, a shocking 6 stone-cold drops, and 12 turnovers throwing deep. Neither team looked like a championship contender, but there was also a feeling that both were letting younger players get more reps than usual, with neither Beau nor Cassidy featuring high on the stats sheet. Both games feature a lot of turnovers that you wouldn't normally expect of these teams; turfed throws, simple drops, and inexplicably poor choices, like this first point blade out of the back of the field from Revolver. All signs of players who haven't yet gotten up to speed; the question is, will these issues have been resolved in time for the big show?
Revolver looked like a completely new team missing Beau & Cassidy at US Open. Credit to Mike Payne and the whole squad on being able to integrate lots of new players over the last few years. While they were able to generate some easy goals hitting unstoppable cutters like Simon Higgins and Joel "Goal" Schlachet, what they weren't able to do was go out and deliver goal after goal after goal, like you'd expect a championship winning O line to do. In fact, when Revolver didn't score quickly, the chances of them turning over were much higher.
At Pro Flight Finale, Revolver's D line, on the other hand, look like they've got more chemistry than Sockeye's O line. In fact, the way that Revolver keep the stall low and seem to utilise existing player movement rather than setting up big lane cuts is almost a homage to Sockeye's style of earlier years. Keeping your big hitters on one line playing to their strengths, and running a different offence for your defence makes absolute sense. With veteran Nathan White providing the huck-happy release valve, the opposition know that Revolver are a team to be feared going deep.
Sockeye, meanwhile, appear to be running a big lane cutting offence, relying on isolations more than speed, which is a bit of a throwback to the style of their Championship winning side in 2004. Check out this "windmill" play from a horizontal stack – something that Revolver also use a lot to initiate movement (as did my GB team in 2012) – where two cutters clear from one side of the field, allowing a team mate to get isolated. When that isolation is Matt Rehder, it's pretty effective. Having Simon Montague on the disc doesn't hurt either.
In fact, they've gone really old school; check out this "Moses" play from Pro Flight Finale.
But does this style really work for Seattle? They've had questionable success, and Montague has a tendency to sit on the disc for a long time, something that just doesn't fit in with a flowing style. Of course, having such a creative thrower gives plenty of benefits, but Montague fits in as more of a Ben Wiggins quarterback style handler than the quick distribution of Danny Karlinsky or Mario O'Brien. The problem comes when Montague gets tunnel vision, like this example where he spends six seconds setting up a deep shot to Rehder who is covered by no fewer than three Revolver defenders.
Rehder gets a hand on it – and maybe should have caught it – but no-one would claim that Sockeye are aiming to score like this. Having said that, Karlinsky was also guilty of staring down the channel and forcing deep throws on the first pass at Pro Flight Finale, with mixed success. While a 1 pass goal is great for your O line, they feel a little too forced for this high level of play. The same thing happened at their Pro Flight Finale match up; 8 of their 18 turns came from deep looks.
Of course, this doesn't mean that Sockeye can't generate great flow, break marks, and get breaks; far from it. Check out this handler motion:
And there's no doubt that Seattle's defence has a lot of potency. They went on a 4-0 run against Revolver at US Open with goals like this one
This kind of chemistry comes off the back of their D line, who look like they play a completely different style to their O line. One area Sockeye excel at in particular is converting deep shots that don't make the endzone into quick goals; an excellent example here:
Seattle are also good at taking on throws that most teams aren't expecting; here's a good example
But Sockeye's D line offence is far too wild and unpredictable. It's either completely unstoppable, or they just gift it right back to their opponent. Seattle were up by 3 at half at the US Open, and were extremely wasteful in the second half, where they generated seven turns on Revolver's O line but only managed a single break. By comparison, Revolver got seven blocks but racked up three breaks in the same period. Revolver's D line were trigger-happy going long, but 3:7 isn't bad for a D line. Pro Flight Finale was a similar story, the Fish generated seven blocks on Revolver's O line but converted just two breaks. In comparison, Revolver got the disc off Sockeye 13 times and secured six breaks for a comfortable 13-8 win.
One more thing I noticed while reviewing these games: how George Stubbs has integrated into Revolver. This former Team USA superstar used to dominate on Ironside, but doesn't seem to fit in on Revolver yet. Let's hope that Payne works out how to get the most out of Stubbs because he's one hell of a weapon that isn't being used well. He was very quiet at US Open, and while he did rack up four assists in the Pro Flight Finale game, I don't think we've yet seen Stubbs at his best for San Francisco. If anything, he just played the role of a steady, calming influence. Here's hoping we see more of the old Stubbs next weekend, dropping bombs like this
Who is going to win?
On both teams, the O line works out of a big lane cutting offence while the D line prefers to keep the stall low. It makes for an interesting battle and I've no doubt that we're in for a spectacle. Sockeye's D line play with such a frenetic style and such a high pace, that I don't think they are capable of maintaining their intensity all game, and certainly seem to be more wasteful of break opportunities in the second half. It will therefore be vital that they are clinical in the first half and take a lead into the break. But Revolver are no longer the untouchable giant they were in the past. Both teams turn over a lot and while you can attribute some of that to intense defence, in truth, both will want to be playing much better offence next week. Expect to see patches of calm, perfect offensive play mixed in with some frenetic turnover fests. It is the team that can battle through these messy points that will emerge victorious. I'm backing Revolver.