The curse is lifted.
Ultiworld's coverage of the 2016 Club Championships is presented by Spin Ultimate; all opinions are those of the authors. Please support the brands that make Ultiworld possible and shop at Spin Ultimate!
Sports can challenge your perception of reality in a lot of ways. It can be the physics-defying athleticism on display, the superhuman grit and determination, or the seemingly physic mental connection between longtime teammates.
But perhaps the most profound way that sports can alter the way you view the world is with moments of pure collective ecstasy, when the possible and impossible become one. The inflection point when hopes and dreams become reality, when the mortal world and the great beyond lock eyes. This year, Nationals gave us one of those moments, when Kurt Gibson dished a backhand to Jeff Graham and reality flickered.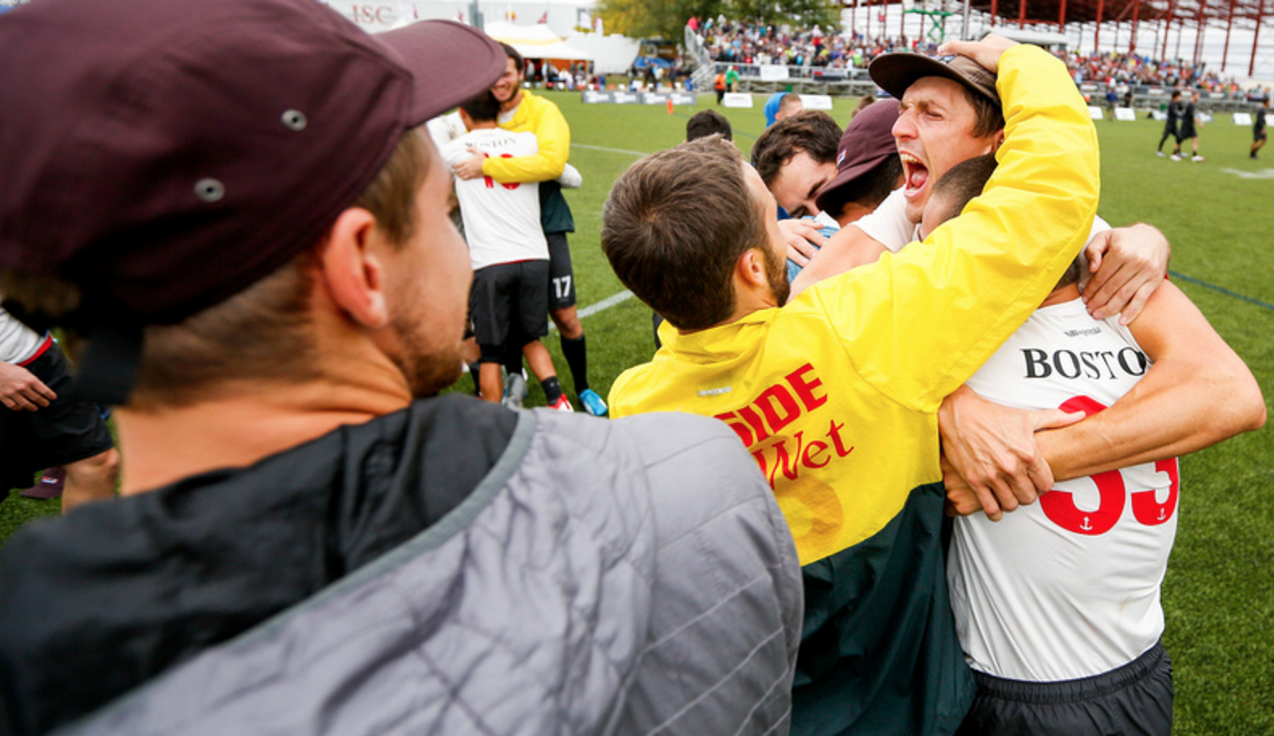 On Sunday afternoon, Boston Ironside vanquished San Francisco Revolver to finally claim a championship after eight straight years of making it to the semifinals or beyond and always coming up empty.
"It seems like we've always been the bridesmaid, never the bride," said Ironside coach Josh McCarthy while reflecting back on his seven years with the team. "And here we are."
Boston fought off more than Revolver on Sunday: they were fighting the ghosts of the past eight years. Ghosts may be incorporeal in most mythologies, but they have real weight for Ironside.
It's no secret that Ironside have had a tortured past. Even though many different players have come and gone, the pall of failure has lingered over Ironside's collective identity. Eventually it becomes a self-fulfilling prophecy, as the team's past failures in big games infects the current players. The ghosts of the past whisper doom in their ears, creating a morose syllogism: Ironside fails in big games. I play for Ironside. This is a big game. I am going to fail. This cycle of failure can be as detrimental to a team as any actual opponent.
It's something the players themselves have recognized, and trailing by three breaks to start the second half, another Ironside defeat in the big game seemed unavoidable. "We started off in the hole and we had to claw our way back. And that's something that Ironside has not typically done in the past," said Boston's Kurt Gibson after the game. "Whether they've started strong or started slow, they'd always either let the other team back in the game, or not be able to claw back."
So what changed this year? Certainly Gibson's presence helped. He was a dominant presence for Ironside all season, and played a staggering 21 of the 27 points in the final. Other pickups were key, with Jay Clark and David Ferraro making huge defensive contributions and Jeff Graham, another former crew member who returned this season, catching five goals in the final, including the winner. But it wasn't just that Ironside had assembled all the right pieces this year; they've had great teams every year of their existence. This year they were able to fight off the creeping doubt and truly believe.
The team's belief was key according to Josh "Cricket" Markette, who has been with the team since 2010. "I have to be honest," said Markette after the game, visibly overcome with emotion and fighting to put his feelings into words. "The way Revolver was playing was so clean, a little bit of doubt crept in. But you know, what I did and what I think our team did was, you just have to believe in the mantra that we had all year, and all tournament, which was just stay even-keeled. Not too low, not too high. And believe in your team. And those three breaks…that felt like, alright – yeah it worked. We did come back and it worked. That mantra worked and that belief in that team worked."
A three break hole in the second half to any team is daunting, but against Revolver that hole must have seemed like a void. Boston's ability as a team to rally from that deficit, against that team, against the backdrop of all their past failure, makes their long awaited coronation all the sweeter.
"We had our sights set on Revolver," said Ironside D-line leader Christian Foster. "And it does feel good to go through them, but it feels good because they're a great team and they're the best competition that we can face."
It may have been fate that Ironside needed to go through the boogie man to finally with the title. In fact, maybe it had to be this way. To finally defeat their ghosts, they had to beat the team that had given them so many nightmares.
For the better part of a decade, Revolver have been the standard for excellence in the Men's Division. It's not just that Revolver has been a great team; their greatness has an inevitability about it. While the mere mortals try to win, Revolver is a sure thing. Revolver is winning.
Ironside's comeback, trailing by three breaks in the second half, against a team like Revolver is reminiscent of another curse-breaking Boston team. The 2004 Red Sox, whose players and fans knew a little bit about suffering and delayed gratification, famously came from three games behind to beat their boogie man, the Yankees, in the American League Championship Series and win their first World Series title in 86 years.
Both Revolver and the Yankees represented the unobtainable, a certain intangible "something" that other teams didn't possess1 and never could.
The hubris of even trying to beat Revolver is the sort of thing that fuels Greek tragedy. Eight straight years of being so close to your goal, to the immortality of a championship, and having it ripped out of your hands makes it feel unachievable. Continuing to pursue it just leads to more pain. It's not because Sisyphus never gets to the top that his tale so harrowing; it's because he gets close enough every time that some small part of him thinks next time might be the one.
That's why Ironside's belief was essential and, in some ways, staggering. Faced not only with the reality of being down three breaks in the second half, they were faced with the notion that beating this team at all was impossible. For them to believe in themselves took courage, when rolling over and accepting their role would have been so much safer. Their belief is what tortured them in the past; it was what kept driving them up that mountain only to fall down. But, finally, it was the thing that finally set them free.
It's going to be a new world for Ironside next season, playing from the top. The climb is a powerful motivation, and after reaching the mountaintop, it can be difficult to know where to go from there; any other direction seems like down. The fight to stay on top is different from the one to get to the top, with a different set of motivations and fears.
But that is a concern for next year because right now, against all odds, Ironside are on the top of the world.
---
Of course, that "something" may have just been Beau Kittredge and a gazillion dollars, respectively. But the unimpeachable success of both programs created a mythos that their opponents had to battle against as much as the actual performance on the field. ↩