Slow White and Alloy are strong top two seeds, but can newcomer Public Enemy unseat NOISE for a prequarters spot?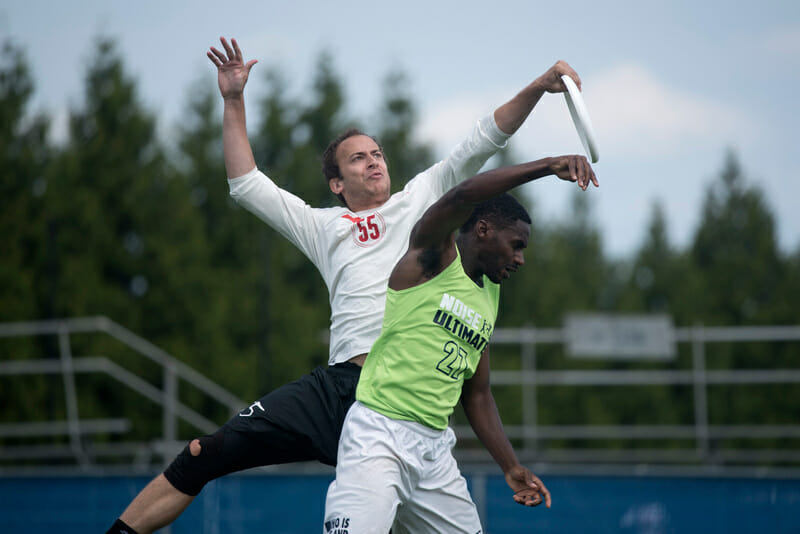 Ultiworld's coverage of the 2016 Club Championships is presented by Spin Ultimate; all opinions are those of the authors. Please support the brands that make Ultiworld possible and shop at Spin Ultimate!
Boston Slow White [Pool #1, Overall #2]
Deep talent is Slow White's calling card. They are the rightful two seed in the tournament and have the talent and depth to go all the way. Tannor Johnson is a young, unstoppable force to be reckoned with. Slow should not have much trouble locking up Pool B and moving forward into quarterfinals. While Alloy will provide the most drama Boston is likely to see in pool play, they will undoubtedly face their biggest tests in the bracket as they look to power their way to the finals. By focusing on the simple, Slow White's coaching staff — led by Marshall Goff and Michael Miller — have created an effective means for Slow White's playmakers to take over games.
Slow White has taken on the mantra of keeping it weird to stay loose on the field. They have probably the best young deep male receiver in the division with Tannor Johnson, but Jeff Smith and Vicki Chang are key cogs in Slow White's offensive machine that make their O-line so potent. One of the keys to Slow White's success will be their ability to gut out long points in the wind we are going to see this weekend. Staying loose in the windy conditions and making crucial adjustments their offense will be critical as they move deeper into the tournament. Their game against Alloy will likely set the tone for the rest of the weekend. How they answer the depth of Alloy's women will be a key to the final round of pool play and it is a matchup that Slow is excited to have. Slow White hasn't suffered from slow starts the way a talented roster like Seattle Mixtape has. If they can continue that trend and put away games early with their caliber of players, they have a very good shot at the finals.
For twelve consecutive seasons, Slow White has built themselves into a scary contender. They combine big game experience against the best teams in the division with a very loose and confident style of play. If there ever was a year to put money on their shots at the finals, now would be the time.
Likely Ceiling: National Championhip
Likely Floor: Semifinals
Pittsburgh Alloy [Pool #2, Overall #7]
Pittsburgh is tough. Not many teams can sustain themselves through the multitude of injuries that have plagued Alloy's squad since before tryouts even started for the squad. That hasn't stopped Alloy. As the Mid-Atlantic regional champion and second seed in pool B, Alloy is sitting primed and ready to advance into the Friday bracket. How they will do so against a team like Slow White will take some serious game planning and firepower. Their win over AMP was a collective team effort. Of 13 goals they had 10 different players throw assists and 9 different players catch goals. Bryan Bernard and Maria Bajzek have been offense standouts for Alloy all season long. Issac Smith and Nicole Fiorentino have made a huge impact on Alloy's D line.
Alloy has the best shot of any team in Pool B to unseat Slow White. The top two seeds will not face until the final round on Saturday. Alloy will need to keep its players fresh and put away games against NOISE and Public Enemy to put themselves in the best position to play Slow White. Containing Tannor Johnson is a tough assignment for any player, but Alloy prides itself on its depth and playmaking ability up and down the roster. The depth of Alloy can take them past pool play and lead to a possible quarterfinals berth. Anything beyond quarters is tough to say; Alloy has thrived in its own adversity this season and proved itself to be a potential spoiler against the top programs in the country.
Alloy has proven themselves worthy of their regional crown this season but there remain unanswered questions about how they will perform against the best programs in the country. Alloy can take comfort in the fact that they have thrived through a team oriented style of play that serves teams well at nationals. Finding a groove against Slow White may be too tall of a challenge but there is no reason to believe they can't bring their best game against Boston. Alloy will have to watch out for NOISE but there's no reason to think they will not make it to quarters.
Likely Ceiling: Quarterfinals
Likely Floor: Prequarters
Madison NOISE [Pool #3, Overall #11]
NOISE is a great mystery in Pool B. Their results against teams in the middle and lower end of the pack of Nationals qualifiers have been good. Their punched their ticket to Rockford on the back of their universe point win over the Chad Larson Experience in the semi-finals of North Central Regionals. The mantra of "No one is safe ever" could serve Madison nicely in Pool B. While Slow White and Alloy are clear contenders for a bye into quarters, NOISE will likely be keeping its eyes fixed on drawing a good matchup in prequarters. While Madison will have to keep an eye on Public Enemy, they should be on track to advance into prequarters. Madison's familiarity with the blustery conditions they will see in Rockford could prove to be a useful X-factor in scoring an upset against the east coast favorites. Led by captains Mike Swain, Fran Kelley and Brittany Bergen, NOISE's success in pool play will be determined by how they can answer the depth of Alloy and keep Public Enemy's head down. Beyond pool play NOISE is an unknown entity. They don't quite have a go to star like Slow White and their depth with be tested in every game they play.
NOISE haven't quite been able to make a name for themselves. This year they have a good shot into prequarters but their ability to stay ahead of Public Enemy and have a shot at quarterfinals will largely depend on their ability to outperform teams on defense and take teams out of their rhythm in the blustery conditions they are likely to encounter.
Likely Ceiling: Quarterfinals
Likely Floor: Done on Day One
Dallas Public Enemy [Pool #4, Overall #14]
Public Enemy has been self described as "The Babysitters Club meets Heaven's Gate at a live taping of Paula Deen's "Paula's Home Cooking."  As a first year program claiming to be more of a cult than a team that honors the exploits of Bonnie and Clyde, Public Enemy has combined talent from around the Dallas-Fort Worth area to put together a competitive mixed team that serves players commuting from throughout the metro area. Public Enemy prides itself on how it uses its women and collective energy to keep itself ahead of opponents. They were one of several surprise qualifiers in the mixed division. They have a tough pool with Alloy and Slow White clear favorites to finish as the top two teams. They will need to bring all of their talent and energy to unseat NOISE and claw their way into prequarters. Public Enemy has failed to mark up a marquee win outside of the South Central region. Pool play will give them their best chance to wedge their way into prequarters. Public Enemy is looking to put up the best fight they can given their tough draw of teams. Cara Utesch, Carrie Lucy-Kulp, Abbey Hewitt, and Jessica Gamwell have provided Public Enemy with enough depth in their women to make it this far. They'll have to dig deep to notch a win against NOISE who have far more experience playing at nationals.
Likely Ceiling: Prequarters
Likely Floor: Done on Day One