As expected: AMP, Metro North, Drag'n Thrust, Steamboat, Mixtape, and Mischief get the W.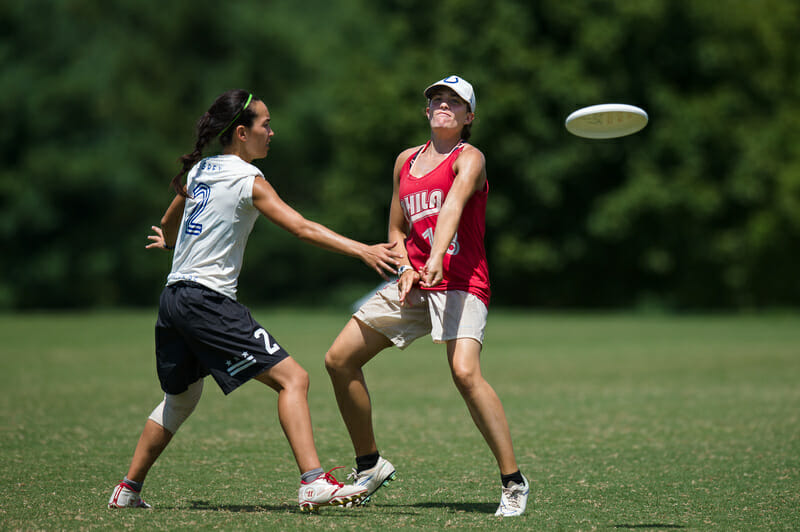 Ultiworld's coverage of the 2016 Club Championships is presented by Spin Ultimate; all opinions are those of the authors. Please support the brands that make Ultiworld possible and shop at Spin Ultimate!
Pool A:
Philadelphia AMP 11-9 Washington DC Ambiguous Grey
Philadelphia AMP (overall #1, seeded A1) started their tournament with some statement plays. After a downwind hold, Carolyn Normile got a layout block on an undercut to set up a red zone possession for AMP, and Rob Robinson found Luke Ryan to convert the upwind break. The offense of Ambiguous Grey (overall #12, seeded A3) was skittish in their first few upwind possessions and Ben Pelleg hit Purifico deep to give AMP a 3-0 lead.
DC would not go down for the count, though. After the teams traded a few holds, AG throwback Linc Verlander put an upwind dime to Jarnail Bajwa, and James Boley hit Alanna Tievsky on a front cone cut to bring the game to 5-5.
But AMP responded back in kind. David Koch put a skyball flick into the upwind end zone that Luke Ryan was able to snag over a crowd for the break, 7-5. After an AG miscommunication in the upwind red zone, Ben Pelleg launched a full field bomb to Nick Purifico to take half 8-5.
Ambiguous Grey held for the only turnover-free point of the game to make it 8-6, and three more quick holds made it 10-7 AMP, game to 12. Philadelphia showed why they are the tournament's top seed and imposed their will to earn the next break. Purifico got one of his trademark layout catch-blocks on an under cut, and after a few quick passes, Allysha Dixon put a high stall floaty backhand into space in the end zone. Fern Beetle-Moorcraft went up early and got a finger on it, Matt Zumbrum tipped the second chance disc, which landed safely in Fern's hands for the upwind break.
Ambiguous Grey would earn the upwind hold and then fight to earn a downwind break, but hard cap went on to end the game 11-9 AMP. Both teams oscillated between patient offense and huck & hope. Deep throws were rarely completed but the wind also made it difficult to string together long series of completions and often gifted the other team a short field. But overall, Philadelphia showed more confidence on their upwind possessions, while AG had unfortunate miscues that squandered break opportunities.
Connecticut Metro North 12-11 San Francisco Blackbird
The nightmare that is Pool A in the Mixed Division did not disappoint in round one. Blackbird (overall #13, seed A4) played their trademark style, hitting any open player for yards when possible but never shying away from a good end zone look. Metro North was more liberal with their end zone looks at first, but made the game's first midfield miscue to allow Blackbird to break first, Justin Norden to Tim Gilligan. Barrs Lang then earned bookends to make it 6-3 Blackbird.
Metro North's upwind offense struggled for the first two thirds of the game, unable to get the disc even into the red zone for the most part. Teams then traded to an 8-5 lead for Blackbird at halftime, and traded three more to make it 9-7.
Erin Ivers then jumped a short throw intended for Mac Taylor to give Metro one of their better starting positions, and Andrew Bosco hit Lauren Doyle for the upwind break. Eugene Yum got a block on Blackbird's own goal line and hit Adrienne Altobelli to convert the downwinder, 9-9.
A marathon point took the game into soft cap, 10-9 Blackbird, game to 12. Three zero-turn points made it 11-11, double game point. Jeremy Norden turned the disc for Blackbird, and Chris Mazur hit Bosco for the upwind break and the game.
Pool C:
Minneapolis Drag'n Thrust 13-7 Denver Love Tractor
Minneapolis Drag'n Thrust (overall #3, seeded C1) rode a second half surge to beat Denver Love Tractor (overall #10, seeded C3) 13-7, after a tight first half in which both teams struggled to find their rhythm.
In a straight upwind/downwind match, each team held for the first ten points of the game. Love Tractor held the lead on serve, sending hucks flying with the steady wind speed and finding willing cutters ready to make the play behind the Drag'n Thrust defense. Neither D line was comfortable working the disc much further than half field against the wind, often punting as far as possible to try for a turn closer to the opponents' goal line.
Both teams stuck almost exclusively with person defense and vertical stack offense. At 5-5, Jay Drescher opened the game up for Minneapolis when he sent a forceful hammer screaming into the wind for the break side back corner. Brian Schoenrock reeled it in for the game's first break.
Denver flipped into a diamond zone after the next hold pulling upwind, perhaps looking to surprise or change the pace of the game, but it wasn't enough to slow down Minneapolis. The three-time champs pushed the lead to take half 8-6, and never looked back. They scored the first five points out of half, and put the game away with much cleaner offense and patience working against the wind.
Cincinatti Steamboat 15-9 Minneapolis No Touching
Steamboat took an early lead and never looked back, cruising to 11-7 before finishing the game 15-9.
Pool D:
Seattle Mixtape 16-15 Fort Collins shame.
This game was an absolute slugfest. After mostly trading points to 5-4, Mixtape (overall #4, seeded D1) jumped out to an 8-5 halftime lead and maintained that lead through 12-10. Then shame. (overall #9, seeded D3) proved the algorithm-haters wrong and clawed their way back into the game. After being down 14-13, on game point for Mixtape, shame. scored two in a row to make it game point of their own, 15-14 shame. with the cap on, game to 16. Mixtape would answer and then break on double game point to avoid the upset.
San Francisco Mischief 12-9 Gainesville G-Unit
Mischief (overall #5, seeded D2) earned an early lead almost casually, as if they weren't even fully warmed up, and had an opportunity to take half 8-3 but instead allowed G-Unit (overall #16, seeded D4) to rattle off a few breaks before Mischief scored again, making it 8-6 at halftime. San Francisco extended the lead to 10-7 and teams traded holds for the 12-9 Mischief win.