The top seeds begin guaranteeing themselves a spot in the bracket and Rival gets a nice upset win over Wildfire.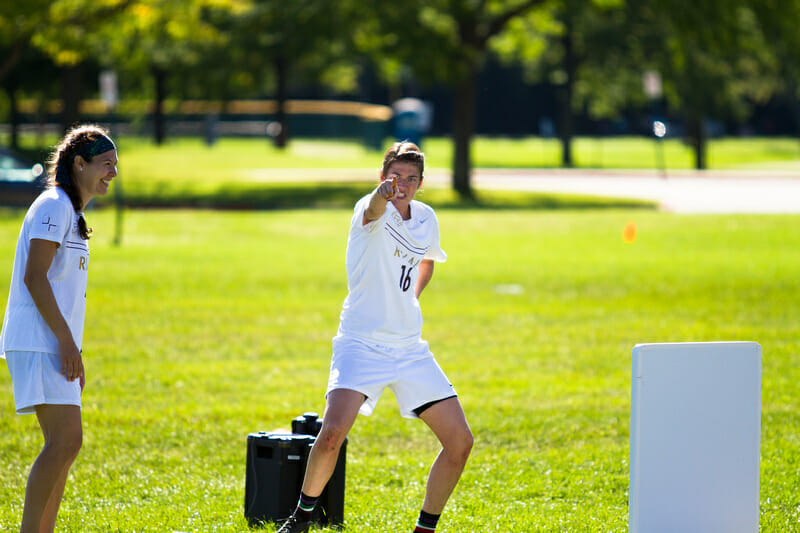 Ultiworld's coverage of the 2016 Club Championships is presented by Spin Ultimate; all opinions are those of the authors. Please support the brands that make Ultiworld possible and shop at Spin Ultimate!
Pool A:
Seattle Riot 15-12 Madison Heist
Few would have expected Riot (overall #1, seeded A1) v. Heist (overall #13, seeded A4) to be as close as it was. But a valiant performance from Heist earned them an 8-7 lead and kept them in the game throughout the second half.
The game started as expected, with Riot jumping out to a 4-1 lead. Both teams had numerous turnovers in those opening points, though, and as that continued, the game began to even out. Heist steadily came back throughout the first half as Liza Minor (2 assists, 2 goals in the first half), Georgia Bosscher (2 assists), and Kelly Wiese (2 goals) began to make their imprint in the game.
Heist, for a stretch, went toe to toe with Riot and looked the better team. Seattle quickly held and then grabbed a break out of half, and it seemed as though Heist's run at the upset was over. Surely Riot would now put the game away. But Heist came right back with a hold and break of their own to retake the lead at 10-9.
At 10-10, with O points going downwind, and Heist holding the advantage, the Madison club was gifted a short field to hold. Heist missed some open throws due to wind gusts, though, and Riot slowly flipped the field position as the two teams traded turn after turn.
Eventually Riot grabbed the upwind break and then quickly added on a downwind break to finally give themselves some breathing room at 12-10.
Heist battled through the last few points, but were never able to break upwind to really get back in the game. A rare upwind pull that crossed midfield set up Riot with a relatively short break opportunity when Heist immediately turned it. Again, Riot broke upwind to seal the game at 15-12.
It was a very impressive performance from a team who was a massive underdog coming into the game. But Riot was just a bit better in the few game-deciding moments and their slightly cleaner break chances upwind were the difference in a game that was closer than the final score.
San Francisco Nightlock 12-6 Quebec Iris
Nightlock (overall #8, seeded A2) followed up a tight win over Heist with a convincing win over Iris (overall #12, seeded A3) to assure themselves of finishing top two in the pool. The Bay Area team jumped out to a resounding 8-2 halftime lead and never looked back.
With the game out of reach, Nightlock went into cruise control for the second half as both teams traded holds the whole way. Nightlock customarily spread the disc and scoring load around and no player recorded more than two points in the win.
Nightlock now squares off with a Riot team that had a much tougher game in the same round to lay claim to the Pool A title. Iris, at 0-2 will face off with Heist to remain alive and advance to pre-quarters.
Pool B:
Boston Brute Squad 14-6 Texas Showdown
Brute Squad (overall #2, seeded B1) began their title defense with a comfortable win over Showdown (overall #11, seeded B3). Boston's defense simply overwhelmed Showdown in the windy conditions and the team's D-line offense was ruthless in its break chances, converting four of them in the first half.
From there, Brute Squad was able to cruise to an easy victory with the game never in worry. Even in the windy conditions, and a great number of turnovers, Brute Squad was never broken in the game.
Kami Groom was big for Boston, notching three goals and an assist to lead all players with four points. Shira Klane contributed a game high three assists for Brute, while Sarah Levinn led Showdown with two goals and an assist in the defeat.
Columbus Rival 15-13 San Diego Wildfire
Rival (overall #14, seeded B4) pulled off an upset in its first ever Nationals game over Wildfire (overall #7, seeded B2). Both teams were evenly matched through much of the first half. Neither team's defense had much of an answer for the other team's downwind offense.
That is, until the very end of the half. Off of a Wildfire turnover, Rival worked the disc up the field against the wind for the first break of the game at 7-5. Sensing the opportunity to seize control of the game, Rival broke again on a very short field going downwind for the 8-5 halftime advantage.
Out of half, the teams traded a few holds before Wildfire attempted to get their way back into the game. But when Wildfire began to make their move, Rival again asserted themselves back into control.
Rival actually seemed more comfortable moving upwind in tougher defenses than when they had the chance to shoot downwind. Wildfire set a zone several times on Rival, but Tracey Lo and Sadie Jezierski burned through the cup with low give and go passes. Upwind they understood patience and caution, but downwind Hannah Henkin and Sara Scott launched bombs that edged out of their receivers' grasp.
They had several chances to finish the game at 14-11, but Wildfire refused to let Rival through the door. Laura Wehlitz's layout D gave Wildfire a crucial chance late in the game, and she connected with Erin Crider for the break.
It was only fitting that Rival's final point for the upset was upwind in zone. Sara Scott sent a zippy flick to Kristen Smiach, and the 4-seed earned the homefield upset.
Pool D:
San Francisco Fury 15-4 Portland Schwa
Fury (overall #4, seeded D1) continued their dominance in the second round with a 15-3 win over the 4-seed Portland Schwa (overall #16, seeded D4). Fury wasn't immune from a few drops or turfed discs, but their steady offense nevertheless racked up 11 points before Schwa put points on the board.
The whole Fury roster contributed in the first half: 7 players scored their first 8 goals, and 7 different players threw the assists. Through it all, however, Anna Nazarov was in charge. She commanded the field, earning her team stats across the sheet.
Washington DC Scandal 15-7 Atlanta Ozone
Behind aggressive defense and Sandy Jorgensen's unstoppable scoring, Scandal (overall #5, seeded D2) thoroughly controlled their second round matchup against Ozone (overall #9, seeded D3), winning 15-7. After Ozone notched the first break, Scandal used a three goal run to go up 7-3, including two goals and two blocks by Jorgensen. It was part of her 6 goal, one assist, and four block stat line; all of her goals were Scandal breaks.
Scandal clamped down in the second half with a zone defense that took Ozone away from their deep game. Despite solid defense from Ozone and a quiet game from star Jenny Fey, they could never get their offense going. Emily Lloyd's 3 goals were not enough to keep Atlanta in it, as they struggled to gain yards against the zone, swinging often and turning it over when attacking downfield.
The win sends Scandal into their afternoon matchup with undefeated San Francisco Fury without a loss and that means a coveted spot in the quarterfinals is on the line. Ozone falls to 0-2 and will face Portland Schwa, with the loser descending to consolation play.