The pool winners all advanced with impressive quarterfinals performances.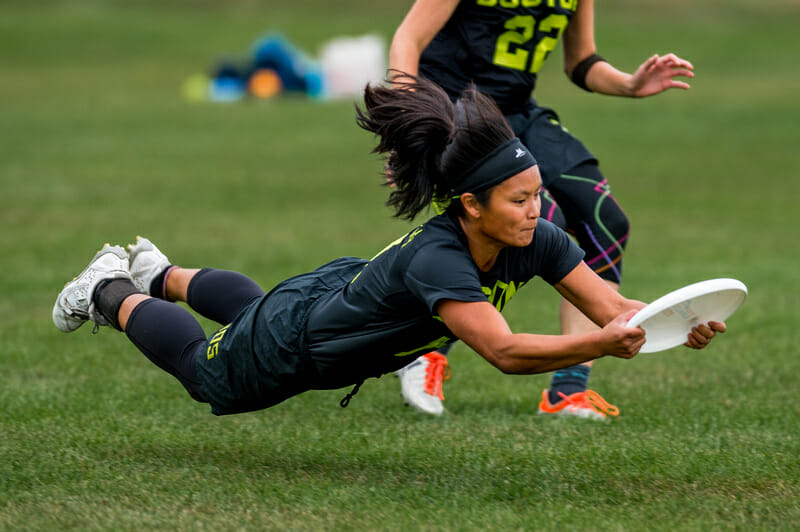 Ultiworld's coverage of the 2016 Club Championships is presented by Spin Ultimate; all opinions are those of the authors. Please support the brands that make Ultiworld possible and shop at Spin Ultimate!
Seattle Riot Finally Asserts Themselves in the Wind
Riot was steady throughout the course of their semifinal before a late surge saw them dominate Traffic in the game's deciding points to win 15-9. It was Riot's best game since their opener against Iris, as the team did a much better job of playing with the wind today.
In a curious decision, Traffic elected to start the game on offense going upwind and Riot took advantage with an opening break. The teams then traded downwind holds to 3-2 before Riot broke again thanks to a pair of Charlie Mercer blocks. Traffic responded with two straight points as Riot was unable to move the disc away from their own endzone in the wind. The teams traded holds again until a 7-6 Riot lead. With the team pulling upwind, Riot elected to stack its D-line and the strategy paid off.
The upwind break was neutralized out of half, though, when a Riot mistake led to an easy Traffic break. For one final time, the teams traded points to 10-9, when Riot finally flipped the switch.
Riot had been unable to run away from teams all weekend due to the wind, but in the final stages of the game against Traffic they absolutely excelled in the conditions. "There is a learning curve every game with reading the wind and reading what another team is doing," said Riot captain Rohre Titcomb about the team's strong finish. "I think it's a skill to be able to grow throughout a game and be able to recognize what a team is doing and make our adjustments."
Riot also began to adjust their lines in coordination with the wind in the second half and the change paid dividends. The team made a more concerted effort to get its throwers on the field when they most needed them and it was a big factor in the team looking so strong in the wind at the end of the game.
Alyssa Weatherford was one such player. Truly, she had a brilliant game throughout, recording four assists and making many more key throws in Riot scoring moves. "What she has is this mental fortitude to keep seeing lanes and to keep adjusting and adapting throughout a game," said Titcomb. "On those downwind points, you have to throw a soft pass but needle it between the two poachers, she just does that so well. She's good at stall seven, eight, nine…if she doesn't have options, she's really great late in the stall count and that makes a big difference in those downwind points."
For Traffic, Terri Whitehead and Reanne Bowlby performed admirably in the loss. Whitehead recorded two goals, one assist, and two blocks while Bowlby led Vancouver with three assists.
With the win, Riot finally looked like the team that has paced the division all season. The team will have to ramp it up to yet another level in semis when they take on red hot Fury, but Riot has plenty to be happy about in their late game performance against Traffic.
Boston Brute Squad Rides Defense Past Nightlock
Brute Squad again showed their class in a convincing 15-8 win over Nightlock. The win seals Brute's spot in semis and added to their very impressive weekend resume. Brute has not yet been truly tested from start to finish in a game, but that is mostly down to their ability to crush teams as soon as they have the chance. Boston's performances would best be described as ruthless; that's what they were against Nightlock.
Brute Squad, rather than play with O-lines and D-lines, sent out downwind and upwind lines. It's a strategy that they've implemented all weekend1, but this was the first high profile game and matchup in which they were able to test it.
It could not have made an impact on the game more quickly than it did. Boston pulled upwind to begin the game with many of its O-line staples on the field. Lien Hoffman, Becky Malinowski, Leila Tunnell, and company earned a turn and patiently worked the disc the other way for the break.
On the ensuing point, Kami Groom, Shira Klane, and the D-line played going downwind and, with their customary relentless pressure defense, broke again. Before Nightlock was even able to get into the game, Brute had already completely changed its landscape.
All Brute Squad had to do was hold down wind and they would win the game. And for a long stretch in the first half, that is exactly what happened. Nightlock held downwind, and Brute Squad played an effective punt and play D offense to hold downwind as well.
Both teams traded to holds to 7-5 before Boston struck again. After turning one break opportunity back over, Tunnell beat her person to an under about 25 yards away from the endzone. Boston moved quickly and Malinowski hit Groom to the force side for the break to take half.
Nightlock did get off to a perfect start in the second half by breaking for 8-6. Brute Squad retaliated with authority to make sure that no comeback was in the cards. Brute rattled off three straight breaks as they ramped up the defensive intensity and overwhelmed the Nightlock offense. In an instant the game was out of reach.
At 14-8, Brute recorded one more break to officially finish the game. It was another impressive win from a Brute team that has been in fine form all weekend. What's been most impressive about the team's performance thus far has been their determination to bury teams as soon as they can.
"We haven't won the last two tournaments we were at, so we were coming into this with that in our mind and knowing that we're not the top seed and we need to prove ourselves every game," said Brute Squad captain Claudia Tajima. "I think maybe some of the losses we've had in this season have helped us really get that ingrained in our mind. Know that yeah, if we don't play our best, yes, we can lose. It's not like we're gonna win if we don't play our best; we know that's a possibility. That kind of drives to crush in games and never give up until the end."
Brute has ridden that mentality and their strategic decisions to a blistering run through the tournament so far. Now, of course, the pressure and opposition level ramp up fairly significantly. Based on their performances through two days, though, there is no reason to doubt Brute Squad in any of the games they may have coming up.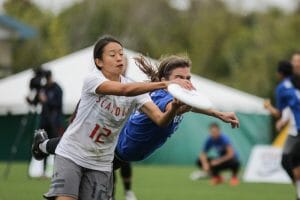 Molly Brown Clamps Down Versus Scandal
In a rematch of last year's quarterfinals, Molly Brown got off to a rocky start before taking control of the game and roughing up Scandal for a 15-10 victory that sends them back to semifinals.
The first point of the game went to Washington D.C., a break from Kristen Franke to Sandy Jorgensen. They had multiple chances to take a two break lead on the following point, but allowed Molly Brown to hold. Inefficiency and aggressive deep throwing kept possession changes frequent through the first half, but Scandal notched a second break behind some strong Amy Zhou defense to take a 4-2 lead.
Molly Brown reclaimed the momentum and control of the game from that point on. After their downwind hold, Molly Brown's defense stopped Scandal's downwind momentum, and Claire Chastain, Opi Payne, and Paige Applegate went to work upwind.
"It was one of the first times we had run our offensive system," Chastain said after the game. "I think from there we realized, it's not as windy as yesterday, we have great throwers, and we just need to get back to running our system."
Instead of trying to stop Scandal's Jenny Fey, Molly Brown focused on taking away her downfield options. Long-limbed and quick marks from Tania Reitz and Crystal Davis on Fey also ensured her around resets weren't easy. This specific defensive pressure produced a series of turnovers from Fey that Molly Brown converted into breaks.
Their break for 7-4 epitomized Scandal's struggles and Molly Brown's success. Fey sent a signature long ball toward her favorite target, Sandy Jorgensen. But Applegate got in front of it for the D, and Molly Brown took off downwind. They would break with a huck from Applegate to Sally Lambert who beat Jorgensen to score.
While Paige Applegate doesn't have the ultimate resume of Payne or Chastain, her performance this weekend proves she deserves to be in the same elite conversations. Her around backhands were rivaled only by her low inside flicks, and her performance didn't flag despite playing most of the points alongside Payne and Chastain. She threw a third of Molly Brown's goals in the quarterfinal.
Scandal's handlers weren't finding the same success. Fey and her fellow handler Kath Rathcliff often faced downfield with no open options to throw to because of Molly Brown's coverage, and their attempted hucks were ill-timed or denied by waiting Denver players. Jesse Shofner fired a handful of furious hucks toward Jorgensen, but the duo only connected for one goal in the game. Amy Zhou and Sam McClellan worked hard to create under options while Jorgensen pumped the deep cut, but they couldn't string enough passes together to score quickly.
Molly Brown marched through an 8-5 halftime, with Chastain leading the charge on nearly every point. She had 6 assists and 2 goals throughout the game, and if she felt fatigue, it didn't show on the field. Scandal couldn't interrupt her up the line cuts or her breaks, and sometimes she seemed to win matchups by sheer force of will.
Denver's offense was polished in the second half, but Scandal just looked tired. They weren't clearing lanes, and they couldn't shake the Molly Brown defenders who were playing in their shorts. Scandal had to fight through several long games to reach this far in the bracket, and it showed.
Scandal's only break in the half, however, was the play of the game. First-year player Sarah Lord had the disc on the top of the upwind endzone, and all her easy options were covered. So she took the hardest option and popped a high release backhand across the stack to the waiting Hannah Boone.
The moment of glory wasn't enough for Scandal to fight back into the game. Molly Brown ended the game on an around backhand huck from Sara Taggert to the waiting Megan Ives. Molly Brown advanced once more to the semifinals.
Despite plenty of opportunities for both sides, D.C. struggled to establish any offensive rhythm. Molly Brown eventually found stride and picked up their play on both sides of the disc as the game wore on. They found resets effectively and pressured upfield options for Scandal. Without playing their best, Molly Brown defeated a strong D.C. team to advance to semifinals. They haven't reached the peak yet and they have a chance to do it when it reaps the best rewards.
Fury Breezes Past Outmatched Showdown
It was Fury's game from the first pull. Showdown held for their first point, but it was their last point until nearly halftime. Fury played with the dominance they've exhibited through the first two days of the tournament, advancing to the semifinals 15-7.
Michela Meister scored the first point on an assist from Magon Liu, and then Fury's defense went on a scoring spree for the rest of the half. Their tight pressure on Showdown's handlers forced errors that Fury capitalized on with a brutal efficiency: in their first six breaks, they only turned the disc three times.
You read that correctly. Six breaks. Fury's defense converted so efficiently that it was easy to forget that they had started on defense. An even as the score climbed, Fury's energy never wavered. They celebrated every goal by rushing the field and cheering their teammates on. Some elite teams stayed focused through intensity or anger, but Fury thrives on the positive.
Showdown proved competent in the wind during their prequarters win over Phoenix, but they weren't able to find the same connections in the first half. Just before half Katey Forth broke the seal with a long huck to Sarah Levinn, and Showdown came back into the game.
The rest of the quarterfinal could have continued in similar form. Fury could have maintained their vicelike grip on the score and marched one step further in the bracket. Instead, a turnover from Sarah Carnahan gave Texas a chance at the upwind endzone. Showdown capitalized and punched in the break to Domenica Sutherland.
It was only after Showdown's second consecutive break – downwind to Levinn open in the endzone – that Fury called a timeout to collect themselves. They were still ahead by four points, and the game's fate wasn't at risk. But for the first time this weekend, Fury didn't look like they were in complete control.
But Fury with even a modicum less composure is still one of the best teams in the country. They rattled off a set of breaks to increase their lead, with Alden Fletcher throwing the first and catching the second. The Forth twins buckled in to secure Showdown's holds, but the game was over long before Fury broke upwind for the final point.
---
as have many teams ↩