Stifling defense sends Slow White to the final.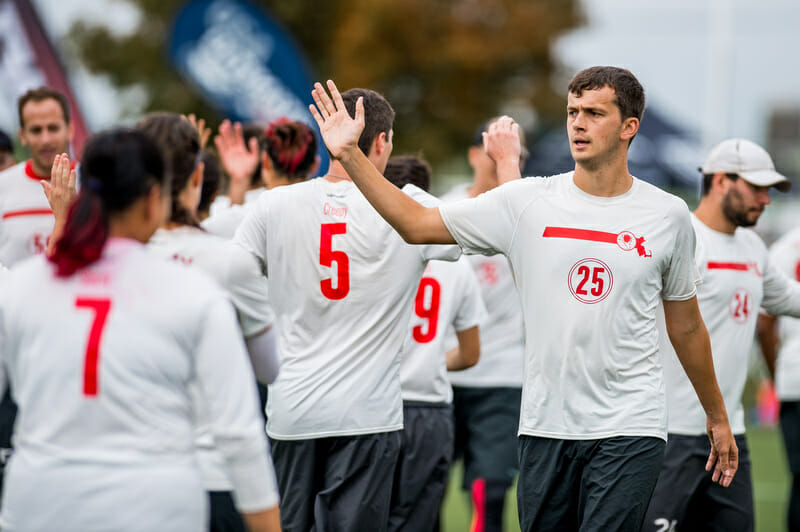 Ultiworld's coverage of the 2016 Club Championships is presented by Spin Ultimate; all opinions are those of the authors. Please support the brands that make Ultiworld possible and shop at Spin Ultimate!
ROCKFORD, Ill. — Slow White's fairy tale season will live to see another day, as they extinguished the hottest offense in the division and served as the poison apple to put Drag'n Thrust's three-year reign to sleep with a 15-9 win in the semifinals.
The early part of the game was back and forth, and a bit sloppy for this level of play; both teams started out with poor turnovers, as they adjusted to the crossfield wind in their first game on the showcase field.  Miles Montgomery-Butler eventually found Lexi Zalk for his first of five assists and the Slow White break to start the game.
Boston earned a turnover on the ensuing D point, but a Sarah Meckstroth block gave Drag'n the disc back and David Shirley connected with Jake McKean for the hold. Alex Trahey then had an immediate turnover and Jay Drescher hit Brian Schoenrock for the Minneapolis break.
But after yielding that break, Slow's O-line found their groove and would not yield the disc often going forward. They scored the following point with six passes involving six different players and Jeff Smith delivered an assist to Mary Glickman. Drag'n Thrust captain Jake McKean mentioned that limiting Smith would be a focus, but none of their defenders rose to the challenge: Smith led Boston in touches and finished with four assists on only two turnovers.
It was Minneapolis' offense that was under duress, working against stifling pressure from the Slow White defenders. Boston coach Mike Miller said before the game that their focus on D would be to smother Minneapolis handlers and not give an inch of breathing room. Zalk, Chris Waite, and Shaun Doherty took turns shutting down receivers and pressuring resets, as Slow forced one turnover after another.
It was all Boston from here on out. After what felt like the fifth Drag'n drop of the game, Montgomery-Butler put a monster huck to Karl Ekwertzel to make the game 4-2. Minneapolis held on a Jay Drescher assist to Jaime Glader, but after a Drescher layout block to save a goal on the ensuing point, one of the last turnovers from Slow White's O-line, Chip Chang tried an ill-advised pass over the stack and Todd Herman skied for the catch block. A few passes later and Smith put a hammer out to the break side for Herman for the sore.
Minneapolis simply had no answer for the intensity and discipline brought by the Boston defenders. Drag'n rotated 17 different players on the next three O points, but couldn't complete more than five passes. Slow White punched in three breaks on four opportunities to take a commanding 8-3 halftime lead.
Slow White had another challenge: find a way for their women to outmatch the talent on Minneapolis' roster, which features three team USA members (Sarah Anciaux, Sarah Meckstroth, and Erika Baken). McKean noted before the game how much their team respects the Slow White program for their ability to utilize the strengths of their deep female roster. Boston's women clearly stepped it up in this contest; Anciaux made her presence known, with one assist and two second half goals, but stifling defense from Zalk, Kirsten Lundquist, and Annie Fisher took the other Minneapolis women out of the game.  Offensively, Vicki Chang threw one assist and had zero turnovers as a primary handler for Slow's O-line, displaying great patience against tenacious Drag'n defenders.
Drag'n Thrust did open the second half with a break, but 8-4 would be as close as they would get to a comeback.  Boston only yielded three turnovers on their remaining six offensive points. Their D line tacked on one more break when, at 11-6, Lundquist laid out through Martha Lien on a Drag'n Thrust reset into their own end zone and Montgomery-Butler threw yet another goal to Fisher.
The two biggest performers for Slow White were Lexi Zalk and rookie Tannor Johnson. Zalk finished with two goals, one assist, three hockey assists, and one block.  She also played 15 of the match's 26 points, of which Boston scored 11 and was a perfect 4 for 4 on Zalk's offensive points. Johnson had three goals, three hockey assists, and zero turnovers. 
Slow White will face regional rival Connecticut Metro North in tomorrow's national championship game.