One of the finest individual performances of the tournament.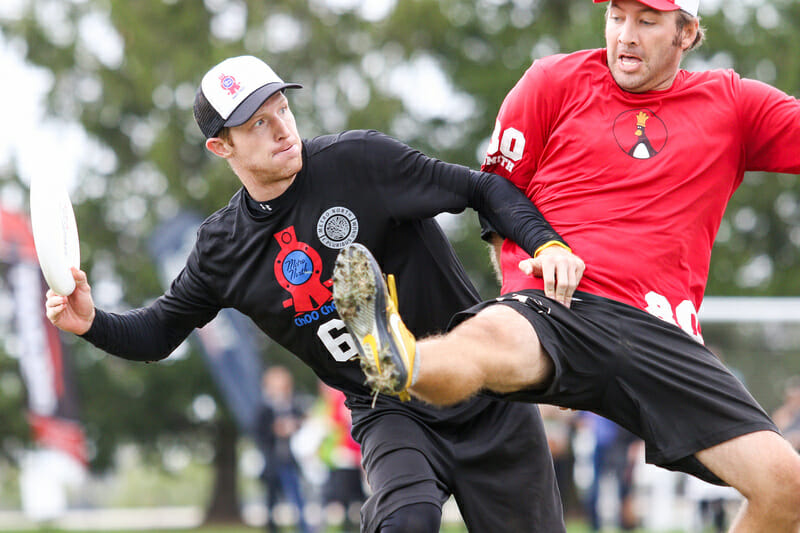 Ultiworld's coverage of the 2016 Club Championships is presented by Spin Ultimate; all opinions are those of the authors. Please support the brands that make Ultiworld possible and shop at Spin Ultimate!
Metro North, the pain train from Connecticut, refused to hit the brakes today as they fought back from a 9-8 deficit to beat San Francisco Mischief 14-11.
As expected, it was a break-heavy contest, with the pulling teams scoring on 10 points out of 25. Expectations were particularly high for one individual on each team: Mischief's Evan Boucher and Metro North's Chris Mazur have both been unstoppable for opponents thus far. But only one of them brought Team USA Mixed experience into the tournament, an experience that may very well have shaped the contest. Mazur, who played with the Worlds team in London this summer, tallied two goals, five assists, and four blocks in one of the most impressive individual performances in Mixed Division history.
Riding the coattails of their comeback win over Cincinnati steamboat, San Francisco struck first today with a break on the first point. Mazur, perhaps feeling jitters playing in the semifinals, dropped the opening pull and Mischief scored on a single pass. He quickly recovered, though, throwing an assist on the next point.
Metro North threw a zone on their first few D points, but were unable to generate a turnover or even much pressure. Boucher, Adam West, and Gina Schumacher kept the San Francisco offense flowing and they scored with ease, first on a flick through the cup from Boucher to Schumacher and then on an Andrew Berry assist to Boucher. The Connecticut offense was moving freely as well and scored twice flawlessly, but after a Kendra Frederick miscue, Jon Greenberg went every other pass for Mischief's D line and tossed in the assist to Jess Madding for the break. After a few turnovers on the next point, Candice Tse hand blocked Metro North's Taylor Simpson to set up a short goal and give Mischief the 6-3 lead.
At this point, Mazur decided he had had enough.
Mazur threw a backhand bomb to Dave Tedayan for the Metro North hold, and when Boucher responded with a goal, Mazur answered right back as he went every third throw down the field and scooped up a low throw from John Palmer to bring it to 7-5 in favor of Mischief. He then put suffocating reset pressure on Kevin Smith, who has been a rock for the San Francisco offense in Rockford, and forced a high stall punt that John Geraghty skied for the block. Mazur then chased down a huck from Eugene Yum and sent it back to him for the assist and the break. An end zone drop for Mischief gave Metro North the disc again, and as San Francisco focused on limiting Mazur, Lucas Murphy threw a full field bomb for the Dave Tedayan goal. A huck too far for Boucher gave Metro the chance to take half, and although Boucher seemingly got a point block on Yum, an observer overruled the call to keep Metro North possession. Mazur then went every other throw down the field, calling a timeout in the red zone before breaking the mark to Yum who hit Tedayan for the goal.
Out of half, Mischief scored on their opening drive as Boucher again connected with Schumacher, and then capitalized on an Andrew Bosco turnover to go ahead 9-8. With only a few minutes away, Metro North knew that they would need to make plays soon. They held the ensuing offensive point, setting the stage for the pivotal moment in the game.
Just when Mischief may have thought there wasn't any way Mazur could impact the game in a way he hadn't already, he launched a behemoth of a pull that held in the air for almost eight full seconds, and an ill-advised first throw opened the door for a John Geraghty layout Callahan. This would be the game's last lead change and a mortal blow to the Mischief offense.
The momentum shift was palpable. John Korber grabbed an end zone punt and Metro North worked it down the field as Murphy laid out for another break. Yum then got a block on a reset pass and finished the bookends to give Connecticut a 12-9 lead.
Mischief finally gathered their bearings and put in the hold to make the game 12-10. Their D line came out fired up, forcing two Metro North turnovers, but Mazur reestablished himself, registering two blocks to win back possessions and get his own set of bookends for the Connecticut hold. On Metro North's first game point, Mischief earned the hold, but Mazur dazzled the crowd one last time, earning touch after touch before leading Bosco into the end zone for the game-winner goal to send San Francisco packing.
Metro North will face regional rival Boston Slow White in the national championship game this morning.