Brute Squad wins their second consecutive title.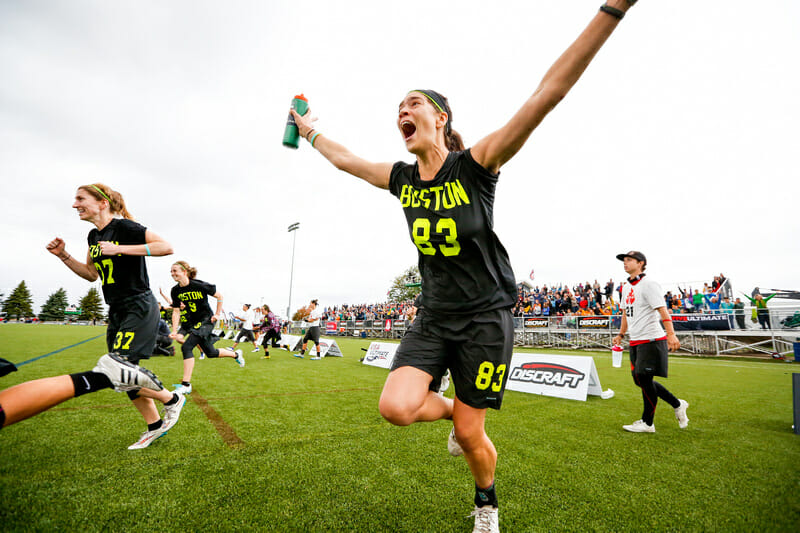 Ultiworld's coverage of the 2016 Club Championships is presented by Spin Ultimate; all opinions are those of the authors. Please support the brands that make Ultiworld possible and shop at Spin Ultimate!
ROCKFORD, Ill. — In an exciting clash, Boston Brute Squad, the defending National champions, added another title to their shelf with a 12-11 double game point win over Seattle Riot on Sunday afternoon.
Brute Squad broke to open the game, but Riot wouldn't let them carry away the game. They won the first of what would be many long points on an open look from Callie Mah to Fiona McKibben to hold. The two heavyweights then settled into a long slog for the rest of the half. Neither offense looked as polished as they've been earlier this season. The chaos produced moments of playmaking glory, but it wasn't always pretty.
As the turnovers mounted, Riot seized control of the opening half. With Boston leading 5-4, Riot took advantage of a turn from Cassie Wong to score quickly and hold. Riot's D-line set a junk defense on Brute, and Sarah "Surge" Griffith denied Boston's Liên Hoffmann in the endzone. Several turns later, Griffith skied Hoffmann again for the bookends score to earn Riot's first break.
Brute Squad, as they did multiple times in the game, sent their D-line out on offense and Kami Groom took over. Midway through yet another long, turnover-filled point, she got a block in space to recover the disc for Brute. When Riot regained possession again, Groom saved the day again, and then scored the goal to hold. It should say volumes about Groom's finals performance that Riot put Jaclyn Verzuh on her and Groom still lead the team in goals with three.
"Kami [Groom] and Jaclyn [Verzuh] matched up a lot against each other and if you look at the score sheet, Jaclyn also had an incredible game," Riot coach Gwen Ambler said. "She was all over the field establishing her presence, as well. It was a really cool opportunity to see two very dominant players that have entirely opposite styles just battle as athletes."
If the points described above felt confusing to read, it's because the first half felt that way. Spectators watched a lot of bad turns and a lot of elite-level defense during the long points. Brute Squad and Riot hurled vertical stacks and person defense at each other, and the results were at times frustrating.
The point for half featured a deep shot from Brute Squad into coverage, a fumble from Riot's Kelly Johnson, a turn from Julia Snyder, and three unforced turns from Brute Squad's Becky Malinowski. Riot ended the chaos with an expert low release IO flick from Geli Boyden to Fiona McKibben to break for half, 8-7.
"With them getting the break on the very first point, we were sort of down and really fighting to establish our rhythm," Ambler said after the game. "It definitely took us a while to settle into our offense. We were generating turnovers all through the first half. Then, finally breaking on the last point to take half was the point that really got us back on serve."
Riot earned another break early in the second half to increase their lead to 10-8. A two-point margin is surmountable in most games, but in the championship final, it seemed like a death knell. Brute Squad's O-line looked tired, and they again sent their D-line out for the offensive point. In true Brute Squad fashion, the D-line got the job done. They held quickly and then broke to close the margin after a block in space from Angela Zhu.
Brute Squad's sideline erupted in celebration as Riot retreated to their end zone to set a new line. Boston was battling back. 10-10, game to 12.
"I don't think it was a switch [that we flipped]," Brute Squad coach Ariel Jackson said, reflecting on their comeback. "I think we were at the level we needed to be at from the beginning of the game… at some point it's  a matter of the chips falling one way or the other. You gotta give yourself enough opportunities so that if the chips keep not falling quite your way, you have enough opportunities to convert the ones you need."
Brute Squad gave themselves more opportunities. They set a zone and a 4-woman cup that generated a quick turnover, and they punched in the goal quickly for the go-ahead break. With their season and a title on the line, Riot's handlers dialed in. Alyssa Weatherford, Geli Boyden, and Kelly Johnson worked the zone down the field, completing pass after pass until they could hold to make it 11-11 and force double game point.
In a game fraught with inconsistent play and frantic turnovers, the final point was almost a moment of calm. Amber Sinicrope and Leila Tunnell worked the disc down the open side, and Hoffmann's easy flick to Sinicrope secured another championship for Brute Squad.
"It was really humbling actually, because every single point and play leading up that point is what got us to that end goal," said Sinicrope of her game-winning score. "And I was just relieved that I could do that for my teammates, and Liên threw a perfect pass right into my chest. We talked about all day and weekend and season long about staying in the moment. So that was just one more moment in the sequence of moments."
It was a sequence that played out just the way Brute Squad would like: with defense ruling the day. Brute Squad's win continues the trend of multiple consecutive titles for the Women's Division champions, started by Riot in '04-'05.