Lakeside looked strong in their Seattle Invite win.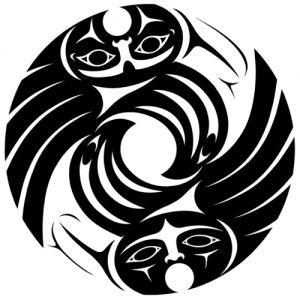 Unlike most of the rest of the country, fall is the season for high school boys ultimate in Washington. While the DiscNW Championship is what every team is gunning for, the Seattle Invite is the other key tournament on the fall schedule. In addition to Seattle-area teams, the tournament always attracts a few of the top Oregon teams, plus occasionally a Vancouver team or two. This year, the Seattle Invite featured two Oregon teams (South Eugene and Bend's Summit) plus BC's St. George's supplementing 10 public school and seven private school teams from Washington.
Wet & Wild Weather On Saturday
The Northwest teams are used to shrugging off the rain, but 15 MPH winds gusting to 30 forced most teams into survival mode on Saturday. Despite the extreme conditions, most of the top teams were able to squeeze out at least one upwind break (usually followed by a downwind complement) to avoid losing on the coin flip. Most of the usual suspects made the championship bracket, with pool-winners Franklin, Lakeside, South Eugene and Garfield being joined by runner-ups Nathan Hale, Roosevelt, Cleveland and Rainier Beach. A notable exception was Northwest, which sent a mostly JV team to the tournament.
Beautiful Sunday
In a huge contrast to the day prior, Sunday dawned clear and cool, with light winds and snow-capped Mt. Baker shining on the horizon. Demonstrating the depth of high school talent in the Northwest, three of the four quarterfinals went to double game point, with only Garfield escaping more easily in a 13-10 win over Cleveland. In the other quarterfinals, South Eugene overcame Rainier Beach, while pre-tournament favorites Franklin and Lakeside needed big comebacks to beat Roosevelt and Nathan Hale, respectively.
WATCH: Video Of The Final Seconds of Franklin v. Roosevelt Quarterfinal
Lakeside has lately risen to the top of the Seattle high school heap, taking the Fall 2015 DiscNW championship and going undefeated so far this year, but they are among the shortest teams in the city, with only a couple of players approaching six feet (and many mainstays much shorter). In contrast, Nathan Hale is one of the tallest teams in the league, with half a dozen players well above 6′. So going into the quarterfinal vs Nathan Hale without their dominant deep cutter Ben Lewis posed a challenge.
To put Lewis' importance to Lakeside in perspective, in their 13-11 win over Franklin in last fall's DiscNW final, he played every point and scored six goals to go with one assist and three hockey assists while mostly being covered by USA U20 selectee Trey Miller. Combining their deficit in the deep game with a few early miscues by their usually reliable backfield led to Lakeside going down 3-0 and then 6-3 to Nathan Hale. However, Lakeside showed a variety of defensive looks and demonstrated again their strong mental game as they earned back breaks, first to tie it up at 6-6, and then to pull ahead 10-9. The teams traded holds as Lakeside closed out a hard-fought 11-10 win, scoring the clincher seconds after the hard cap.
In one semifinal, Lakeside began by trading with South Eugene, before breaking to make it 4-2 and then again to take half 7-4. The second half was all Lakeside breaks, as they closed it out 12-4 in hard cap. In the other semi, Garfield was locked in a close battle with top seed (and 2015 Seattle Invite champ) Franklin. Led by U20 player Ivan Lee, combined with a depth of athleticism that Garfield struggled to match at times, Franklin got a couple of breaks to take half 7-5. Out of half, a couple of drops from Garfield allowed Franklin to extend the lead to 9-5, which looked like a comfortable lead. However, Franklin started to get a bit sloppier and Garfield continued to work hard on defense.
With Tony Goss patiently running the show from the handler position, Garfield took advantage of Franklin miscues and went on a 3-point run to get back to within one at 9-8. The teams traded holds before a multi-turnover/multi-call point ended with a Goss huck to Elias Baldwin to tie the game at 10-10 with the hard cap on. On double game point, Franklin worked it down to the red zone and looked like they were going to score to take it, but Goss may have brushed the disc just enough on the final throw to cause the receiver to bobble and drop the disc. Garfield immediately completed a huck to the red zone, but after a time-out, Franklin clamped down and Garfield couldn't push it in. However, another turn from Franklin gave them another chance, and a huck for the score gave Garfield the upset win, 11-10 [FULL GAME FOOTAGE].
After all the close games that preceded it, the final was less exciting. Perhaps Garfield was just happy to be there, but despite the lack of a deep game (alternate deep threat Elias Ortega was icing an ankle on the sidelines), Lakeside steadily accumulated breaks to take half 7-4 and the game 13-7. U20 player John Randolph, often working closely with Leo Kitchell, was outstanding throughout with pinpoint throws and great grabs in traffic. As Lakeside coach Luke Johnson noted, "Leo and John are nearly unstoppable in the high school game."
That core handler duo were supported by strong fundamental play by fellow handlers Walker Frankenberg, Jackson de Campos, and Chandler Moy along with cutters Masayuki and Toshihiro Nagase. When Lakeside did occasionally turn it over, great handler D, plus effective poaching and switching usually got it right back. [FULL GAME FOOTAGE]
After continuing their undefeated run this season, despite missing their primary deep threats, Lakeside looks like the class of the region, and maybe the country. They are particularly impressive in their throw selection and consistency in walking the disc down the field even against intense defense. Not only has Lakeside returned almost every significant contributor to their 2015 DiscNW championship, but they have also added more depth. Standout additions that I noted this weekend were Elias Ortega, who prowled the deep space in Lewis' absence (until going down with an ankle injury), and sophomore cutter Ethan Frink. Lakeside looked tired while succumbing to Franklin's greater depth in last year's Seattle Invite semi, but this year Luke Johnson observed that the team "had legs with our secondary line that ran Garfield's into the ground."
For the rest of the field, Garfield is quietly putting together an impressive season, remaining undefeated except their two losses to Lakeside. Franklin may be the most likely team to take down Lakeside if they can harness their speed and athleticism and avoid hasty turns and lapses in defensive intensity. With a strong deep game, Nathan Hale has taken Lakeside to DGP in both meetings this year, but has also fallen to Ingraham, Garfield and Franklin. Roosevelt beat Cleveland to tie for 5th along with Hale, while Summit won out in the consolation bracket to take 9th over Aviation. For more info on the tournament, visit the DiscNW website.
The 2016 Seattle Invite once again provided a great weekend of competition with so many close games, but perhaps most notable was the high level of spirit that persisted throughout, even during the tightest games. After their semifinal win, Garfield tweeted: "@franklinboysuf is super classy after taking a tough loss in a very hotly contested game," while the Lakeside coach said he "was impressed with the spirit and integrity that [Hale] played with as it was so close … I believe our players have a ton of respect for one another."
The DiscNW Championship begins today. Follow the action in the bracket right here.