The first iteration of a new USAU sanctioned event was a showcase for elite-level, coed beach ultimate.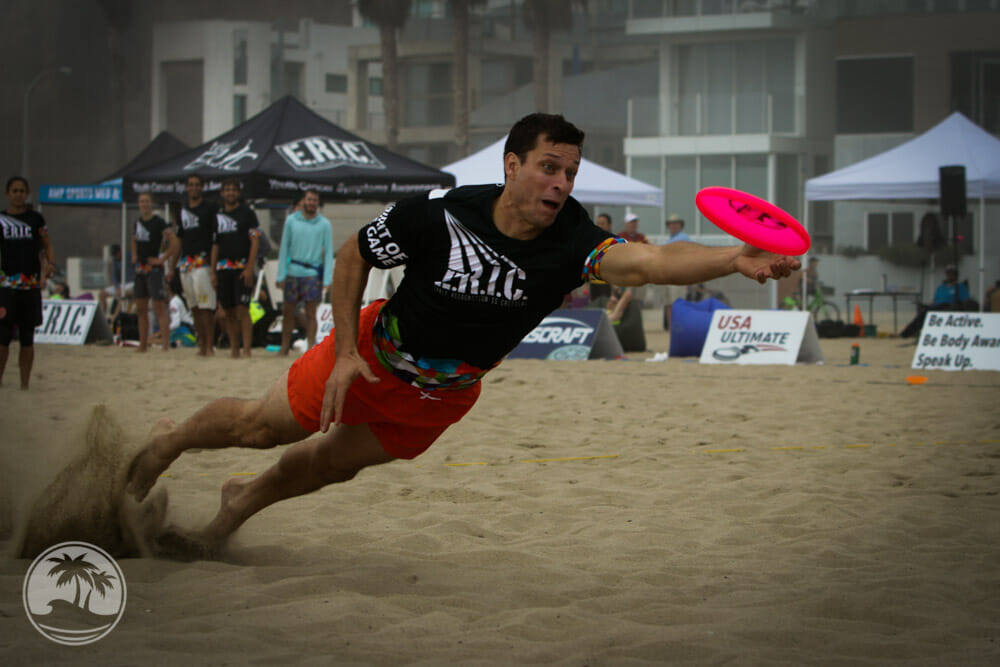 This post was written by guest author Remy Schor, Mixed Club Division National Director, LAOUT's board VP, and player on Los Angeles Point Break in the beach division.
A little over a week ago, Santa Monica played host to the first ever US Beach Open. It was the culmination of a year-long effort by USA Ultimate's Beach Committee1 to create an event that would highlight gender-equitable, 4-on-4 beach ultimate. The idea was to host a competitive tournament that would inspire high-level, spirited players to travel in from all over the country and showcase that elite, co-ed beach ultimate could be both a player and spectator friendly event, in the hopes of pushing WFDF and BULA to adopt this format as the new standard for international championship competition.
While it may take some time to fully understand what impact this inaugural tournament had on the beach committee's long-term goals, it was successful in many ways as a new elite-level event. It brought together more than 200 players — organized into 12 person teams, strictly capped at six men and six women to ensure complete gender equity both on the field and on rosters — including high-level grass players who compete in both single-gender and mixed club divisions. The tournament was well run by Russell Gaskamp (LAOUT Board member and organizational expert), placed a strong emphasis on spirit and gender equity, and offered a vision for what a high-level mixed beach event could look like.
Here's my tournament report card.
Competition
There's no question that it was going to be tough to motivate elite players — and teams — to travel to a brand new tournament a mere five weeks after Club Nationals. For many of the players who came to the inaugural US Beach Open, Rockford was not-quite-distant in the rear view mirror and the weeks in the interim had been spent settling into the off-season rather than preparing for another high-level competition. Maybe some league, perhaps a few donuts, probably not a ton of focused throwing or track workouts. And we all know that running on the beach offers its own unique challenge, whether you're in in-season shape or not.
In spite of these obvious obstacles, the tournament did a great job getting high-level players to band together, sign up, and attend. At least the top six seeds had rosters that were full of the sport's elite players: 20 players who represented the US at this summer's World Ultimate and Guts Championships were in attendance, along with a handful of 2016 grass National Champs, several finalists, and many semifinalists. Many other squads boasted players who have seen the field at either Club Nationals and / or the more recently created USAU Beach Championships. Also sprinkled in amongst seeds 7-20 were some local teams that regularly play together in California's beach leagues. From top to bottom, it's safe to say every player and team out there belonged.
I've played in countless LeiOuts and Sandblasts, one Paganello, two Beach Nationals, one Boracay Open, and one WCBU and I can say that this was the most competitive collection of teams I've seen at a beach tournament. True, the intensity on the field waffled between "this is strictly for fun" and "I really want to win this game," but perhaps that's inevitable at any newly created tournament, especially one taking place in Santa Monica, where so many are accustomed to attending the perennial, party-oriented LeiOut.
Grade: B+
Site
I'm from Chicago. I love Chicago. It's where I started playing ultimate. It's where my family lives. I would love to live there again.
But the weather keeps me in LA. As I write this in mid-November, it's 86 degrees out — I just ate lunch outside and I was too warm. True to form, the weather for the US Beach Open was perfect, plenty of sun with just a little fog towards the end of Saturday, and in the 70s all weekend.
The fields were in the same place where thousands of players enjoy LeiOut each January. The sand in Santa Monica is relatively deep — deeper than Chicago for Sandblast or New Jersey for Wildwood — and not quite as fine as the sand in Boracay. Comfortable for laying out, but you have to be careful — the sand is definitely deep enough to hide broken glass bottles on occasion.
This location is easy to access for most players from around the country, as LA is a huge market with several airports to choose from. The specific spot on the beach — just north of the Santa Monica pier — is accessible from Main Street Santa Monica and the 3rd Street Promenade. Parking is available for $8 right next to frisbee central, which is, itself, right next to the (non-porta-potty) bathrooms. The downsides of the location are that there isn't as much foot traffic as there is south of the pier, closer to the Venice Beach Boardwalk (which is where LA holds it's awesome beach league every fall), and, because the beach is so wide, north of the pier, 10 fields feels more spread out and less unified. Additionally, the distance to local hotels and restaurants isn't quite as close as in Virginia Beach (where USAU's Beach Championships have been held the past two years) but Santa Monica offers so much diversity in terms of food options, bars, and fun. Tough to compete with Virginia Beach, to be sure, but it was overall a great place to get to play beach ultimate in November.
Grade: B
Organization
The inaugural US Beach Open gets a resounding A for organization, as Russell Gaskamp thought of everything. Every field was lined with hand-made reusable fields that Russell & friends made; there was a conference call captain's meeting the weekend prior, in which Russ went over the rules unique to this tournament; he facilitated a showcase field on which Fulcrum Media filmed nine games (more about this to follow); each field had a scorecard and two field discs; Russ even hired a game day TD, Matthew Colchamiro, to help things run smoothly.
There were drink tickets at the Saturday (early) evening party at Rusty's on the Pier. Pizza was available for pre-order for each team and it was delivered to the fields just as most teams were finishing up playing both days — in time for Saturday's showcase game and Sunday's finals.
Every detail felt considered and managed. Russell and his team did a terrific job.
Grade: A
Gender Equitable Format

What a week! Our President-elect may not care about gender equality, but the US Beach Open sure does. USA Ultimate's commitment to backing gender-equal tournament opportunities is also certainly evident, as they sent David Raflo (Manager – Events) to Santa Monica to help facilitate and evaluate the weekend.
In SoCal we play a lot of 4-on-4 beach ultimate, which uses the two-pointer rule (a cross-gender, endzone-to-endzone score is worth two points), so we're pretty accustomed to what it means to be on the field with an equal number of men and women. What was so awesome about this weekend was the overwhelmingly positive reaction we got from players who have never played this format before. As you can see in all of the games that Luke Johnson's Fulcrum Media filmed (available here), there are some things in the 4-on-4 game with two-pointers that make for a unique strategy and approach. One thing that's undeniable, though? You must use both genders. In the 5-on-5 game with three men on the field, the women have a tendency to be overlooked or just plain ignored. But when there are only four players out there, you really must use all four if you are going to be successful.
Grade: A
Media Coverage
As always, the inimitable Luke Johnson and his Fulcrum Media staff did a great job covering the action on the field. Kudos to Russell for getting them to make the trip. These games and the professional video coverage of them should hopefully serve as evidence for the value of the 4-on-4 game, for the excitement of the two-pointer, and as an illustration of what ultimate can look like on a shorter field with equal-gender ratios.
Rotating through two unique members of the community (one woman and one man) to commentate each game live added to the fun, though, amittedly, there was a decided variation in the quality of the color commentary over the course of the games. Perhaps an inevitability when tapping into the local community without a lot of prep time.
Grade: A-
***
All in all, this year's inaugural US Beach Open was fun, competitive, well planned, and well executed. I can only hope that USAU can build on the success of the weekend to continue to highlight high-level mixed beach ultimate and that the US Beach Open becomes a new staple in the ultimate calendar. In the meantime, I also hope that non-SoCal teams left LA last weekend feeling like this is the place to be for year-round, high-level beach ultimate.
---
Comprised of beach division regional coordinators Keegan Uhl, Becky LeDonne, Kimberly Beach, and Sean McCall, with staff involvement from Byron Hicks. ↩