The new COVID wave is impacting events.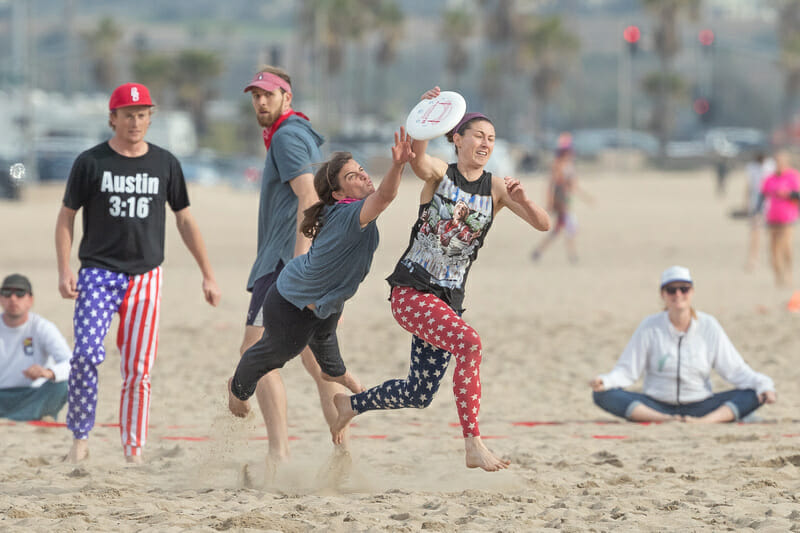 Opening Pull is Ultiworld's weekly wrap-up of the previous week in ultimate, available both here on the site and as an email newsletter. We've gathered the news you need to know and highlights you need to see. Check back weekly or subscribe now to receive Opening Pull in your inbox along with a rundown of the previous week's content on Ultiworld.
LeiOut, LA Throwback Canceled Due to COVID-19, Omicron Variant
The popular Southern California beach tournaments LeiOut and LA Throwback both announced that they would be canceling the events for the second year in a row due to the COVID-19 pandemic.
"We've spent time analyzing every possible alternative – from cancelling the party to moving the event to another weekend – but with the continued unpredictability of the virus, the definite risk in holding such a large event, and the compounding financial complications and losses, we see no other possible option at this time," wrote the LeiOut organizers. "After consultation with our full team, key partners, and multiple community organizers locally and beyond, we can't ethically move forward with our favorite event of the year."
"It's with heavy heart that we're writing to let you know that – after long consideration and debate – we have decided to cancel LA Throwback 2022 due to our concern that it would not be possible, at this time, to put on the event without creating unacceptable infection risk to our players and corresponding impacts on public health, given the rapidly accelerating wave of infections due to the omicron variant of SARS-CoV-2," wrote LA Throwback Tournament Director Dave Adelson in an email to teams.
New COVID-19 cases have exploded across the US in the last two weeks as the more infectious Omicron variant spread amidst holiday travel and gatherings, even amongst fully vaccinated people. There were multiple team COVID outbreaks (and an Ultiworld one, despite required vaccinations and pre-event negative tests) at the College Championships in Southern California just before Christmas. Emerging evidence suggests that Omicron causes less severe illness than past variants; hospitalizations and deaths have not spiked significantly despite the increase in cases. South Africa reported last week that the Omicron infection wave had peaked and caused "relatively few" deaths.
Other ultimate organizers are also adjusting plans due to the surge in infections. The Western Ultimate League's LA Astra postponed tryouts until later in January, the Beach of Dreams tournament is moving forward next weekend but will offer refunds to teams that want to back out. So far, no early spring college tournaments have announced cancellations.
Premier Ultimate League Releases 2021 Report; 2022 Season to Start in April
The Premier Ultimate League released a 2021 annual report that details its operations, governance, financials, equity initiatives, and more. The league faced scrutiny this year for its financial transparency amidst a major restructuring of its board and executive committee.
The report notes that the league plans to return to action on a normal schedule in 2022, beginning its season in April with the championship weekend in mid-to-late June. All 12 current teams are "tentatively committed" — the league will not add any expansion teams this year.
"The coming year offers the PUL more opportunities for on-field play and organizational development," reads the report. "Plans for a 2022 season are underway. Off the field, the board will continue to pursue growth in the priority areas of communications, equity and anti-racism, financial stability, and core operations. Taking lessons learned from our previous seasons, we hope to onboard full-time staff as soon as possible to alleviate the day-to-day work from the board, allowing the members to focus on strategic oversight and the integration of anti-racism into all our efforts. We would like to make sure the league can support all teams and players in a way that allows them to thrive."
2022 College Season Begins Today
Fresh off of the 2021 College Championships, the 2022 USA Ultimate college season gets underway with its official start today. The first college tournament on the schedule is the Florida Winter Classic, set for January 15-16th, in Gainesville.
USAU has not yet released the 2022 college guidelines but is expected to do so by early next week. Players that were eligible to compete in the 2020 Series, including fifth years, are eligible to compete in the 2022 season, so long as they are academically eligible.
AUDL News: Aii Newsletter, Colorado Coaching Staff

The fall edition of the AUDL Inclusion Initiative newsletter was released just before the new year, outlining the league's work on diversity, equity, and inclusion. Topics include the Championship Weekend youth clinic, Tampa Bay's Hispanic Heritage Month celebration, and Minnesota's Dylan DeClerck's Community Engagement award.
The Colorado Summit, one of the league's three expansion teams for 2022, announced its coaching staff: Mike Lun, Tim "TK" Kefalas, and Ryan Segal. All three have extensive coaching backgrounds in the mountain west; Lun has been a long-time Colorado Mamabird coach, Kefalas has been on the Johnny Bravo coaching staff for two years, and Segal has coached at the University of Utah.
"Establishing culture is priority one," said Lun in a statement. "It will be important to acknowledge that this is a new team and that there will be many growing pains. Our goal is to create a fun environment with systems that build good habits. We strive to be the best versions of ourselves, and enjoy any opportunities that push us to reach that potential."
Yet More Callahan and Donovan Videos
Nationals has come and gone, but that has not stopped the award nominee videos! Ultiworld's full collection of all the videos will help make sure you don't miss a layout, sky, testimonial, huck, or goofy opening and ending scene showing how the candidate is a weirdo just like you. Callahan and Donovan Award voting is now closed. Announcements for both awards are expected later this month.
If you notice any videos that we're missing, please send a link over to [email protected] and we'll get it added to our collection. If you'd potentially like clips from your video included in an Ultiworld highlight reel like the one we did for 2020, please include a file link of your video.
---
Coming Up
We will be wrapping up the fall college series with our annual Awards and an end-of-season Power Rankings!
The 2022-2023 USA Ultimate ruleset should be announced in the coming days. Here are all the proposed changes.