How to make the most of your fleeting opportunity to lead a college team.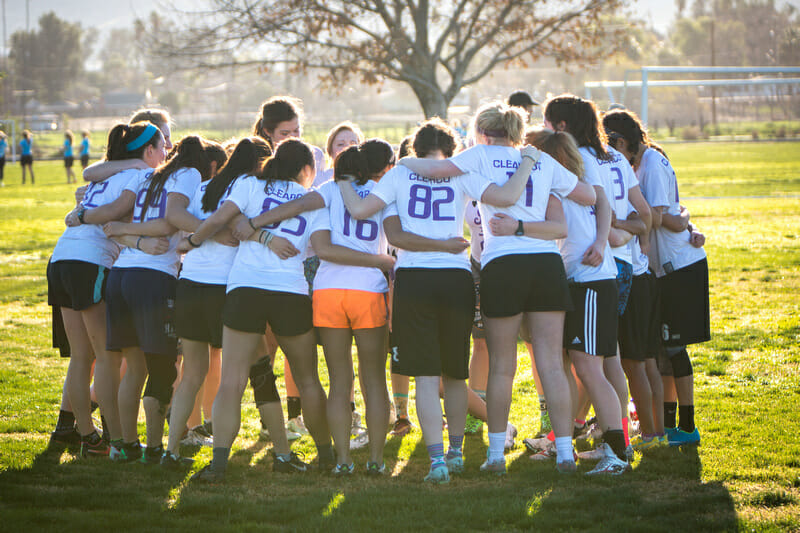 This article is presented by Spin Ultimate; all opinions are those of the author. Please support the brands that make Ultiworld possible and shop at Spin Ultimate!
Tackling a new role as a captain on a college team can be intimidating. Between living up to your predecessor's accomplishments and shouldering new responsibilities, it's sometimes challenging to feel successful. The unforgiving brevity of the college cycle forces in new leadership while churning out the next generation of wistful alumni, but also provides for amazing opportunity, development, and a team's evolution.
More often than not, captains are chosen after a couple of years playing with the team. Although ultimate is increasingly offered at the youth level around the world, it's still relatively common for players to pick up the sport once they get into college, which means many captains can be pretty new to the sport. Stepping into a leadership role while still learning the game yourself can be overwhelming, but luckily you aren't alone. This role is about much more than being the best player on a team or being responsible for organizing tournaments and running practices. Instead, look at it as the chance to genuinely share the sport that you love and to enhance your teammates' college experience.
Here are five quick tips to make your tenure as a new college captain run smoothly:
1. Communicate.
Always make sure you're keeping the lines of communication open between the other captains, your coach, and your teammates. It's important to establish goals, both individually and for the team, early in the season so that everyone can buy in. On that note, be prepared to compromise because those goals will only work if they're achievable and supported. It's important to get everyone on the same page about expectations, like what tournaments you're going to travel to, what your training schedule looks like, and even who will make the cut on your final roster.
Communication is also critical because college can be an overwhelming time for everyone. Consider that people might be adjusting to a new independent lifestyle and are trying to balance school with the team (if they haven't yet figured out that ultimate is the best). Keep tabs on anyone who might be struggling to juggle everything, and help them wherever you can.
2. Build an identity.
Behind the scenes, work with the other captains to cultivate a team identity. While this sometimes carries over from year to year in established programs, it is also a good way to maintain focus on a single year. Construct a mantra — either literal or figurative — that your teammates can buy into and reflect on. This identity spans everything from how you strategize your systems to the tenor of your practice time to how you expect your players to conduct themselves on and off the field. This is something that will always depend on the leadership style of the captains but should also reflect the agreed upon team goals and personality.
Creating and encouraging opportunities for players to build chemistry off-the-field can filter down from the leadership as well. Find ways to foster deeper relationships by doing things outside of practice as a team, whether social events, study groups, or meals. Consider things like mixing up car assignments for tournament rides to get everyone acquainted with all members of the team and keep things from getting cliquey.
3. Delegate.
Within the leadership group or captains, make sure you're splitting the load relatively evenly so that one person doesn't get too bogged down. Especially since captains are often in the latter years of their degree programs, don't let yourself burn out before your tournaments roll around! Apply your strengths and organize the captains' focus individually on logistics, administration, or strategy. This will also help your teammates, because they can single out the best person to ask for help depending on their queries.
Furthermore, think about delegating tasks out to younger players, especially ones who are looking like they have potential to be a leader in the future. You can choose someone to champion extra throwing sessions, run fitness schedules, plan fundraising events, or be your team's social coordinator. More often than not, people will naturally fall into these roles, but you should encourage that freedom for their own development and the long-term success of the program.
4. Have fun.
Okay, now this seems like a bit of a cliche category, but it's so important! Don't focus so much on past successes or failures, or worry about future results. Fostering a positive team culture and environment is what is going to win you games (eventually). Building a program that people want to be a part of will keep them coming back — and might get them to invite their friend from the basketball team! When you have fun and like your teammates, you're more likely to put effort into training, throwing, and building chemistry. It all filters down from the leadership, so save the serious stuff for your captain's meetings. When it's time to buckle down and focus, your teammates will dial in and follow suit.
Veteran tip: try dividing up smaller pods of players between each captain. The captains are responsible for their pod for feedback, general well-being, and any kind of support the players need. You can run goofy challenges after some practices, like obstacle courses, relay races, and things totally unrelated to ultimate, where the pods compete against each other for points. Getting close to a handful of people is a lot easier and it makes each captain more relatable while naturally dividing responsibility.
5. Be proud.
Look at you… you're a captain! Take pride in that. Whether it's outstanding skill, motivational prowess, or something else you excel at, you've been trusted to head a team. Take this chance to make something you're proud of. Along the way, you're going to have to put in the work to earn and maintain respect from your teammates, so never be complacent. Your tactics, throws, fitness, and drive are going to be what spearheads the motivation of your team. Don't forget that your behavior and style will dictate the tone of your team identity, so you have to be reliable. You have to be inspiring, yet accessible. You have to get out there and motivate players to believe in themselves and push their boundaries.
—–
Being a captain is a rewarding and an incredible opportunity, so don't let it overwhelm you. There is something magically bittersweet about the few years you get with your college team, which for many lays the foundation for much more than just their future ultimate career. Integrity, teamwork, and mental toughness are all things that captains have the privilege of teaching their players. You're bound to make mistakes along the way, so take it in stride and be open to learn from everything.