Time to get away from vague goals that are dependent on third-party validation.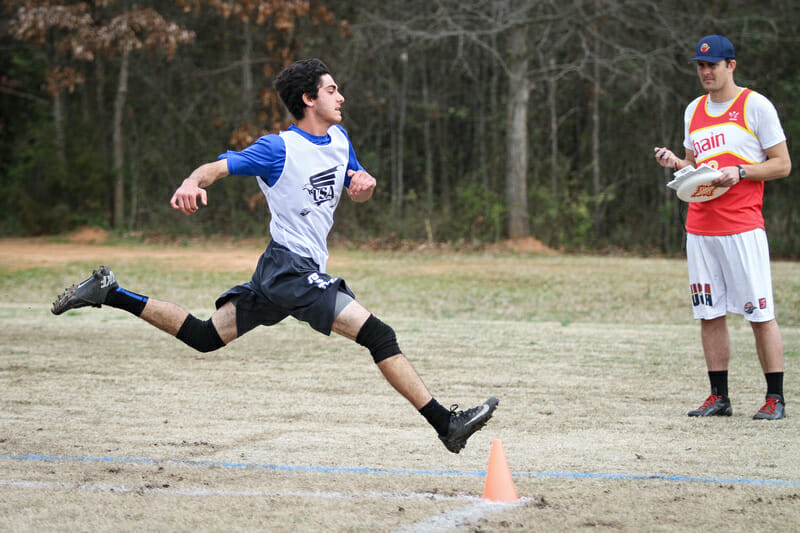 This article is presented by Spin Ultimate; all opinions are those of the author. Please support the brands that make Ultiworld possible and shop at Spin Ultimate!
Most ultimate players set goals. They want to become a better thrower, improve on defense, and play at a higher level than they have before. Almost everyone has a desire to improve, and with that comes a need to imagine ways of doing so.
Unfortunately, most people aren't very good at setting goals. They think of their targets in ways that make them nebulous destinations far off in the distance and then they wish, imagine, and hope that they will get there "someday," without creating any concrete plan to get there. Almost as bad, even when they do define a path toward their goals, it is very rare for a player to regularly monitor, track progress toward, or reassess the goal to course-correct for success.
Together, these two problems work hand-in-hand to sow frustration and failure, at the very least causing some players to fall short of their ambitions and at worst sending them way off course and completely stagnating their growth.
But it doesn't have to be this way. For some people, it's just a matter of learning how to set practical, appropriate goals, in the same way that they would learn any other skill. Here, then, are some tips for planning the route to achieving your goals on the field.
Clarifying Goals
First, goals need to be clarified. There are two types of goals: process goals and outcome goals.
Outcome goals are often lofty and unspecific, featuring several elements that are at least somewhat beyond your personal control. A lot of team goals tend to fall into this category, as do goals that rely on others' subjective opinions of your game play. The desire to make, reach, or become something — whether it is making the cut of a strong squad, reaching the National Championships, or becoming an elite deep cutter — are attractive goals almost precisely because they are vague, generalized, and idealized.
While these are certainly great hopes to strive for, just stating them is ultimately unhelpful in actually achieving them. Getting to Nationals is great, but how the heck is it going to happen? You'll never get there if you can't complete a forehand. You need to think smaller, more immediate, and more measurable to guide your training. You need to think about process goals.
Process goals are infinitely more useful to any athlete because they are specific, are much easier to monitor and track through objective data collection, and clarify any subjective language in your goal statements. Think through the individual elements of the outcome goals you're shooting for and define smaller goals within each. Focus on the specifics and focus on yourself because in the end these are the things that you can control.
| | |
| --- | --- |
| Example of Outcome Goal | Example of Process Goal |
| Get really strong | Be able to squat 2x my own body weight |
| Become a top level handler | Consistently hit a moving target with a 50-yard forehand |
| Be really good in the air | Increase my vertical jump two inches |
| Make a top club team | Have the conditioning to run six 150-yard shuttles with 1:1 rest in under 40 seconds |
| Earn a bid to Nationals | Reduce team offensive breaks to fewer than three per game |
| Play to my full potential | Defend my person so they touch the disc less than once a point and never score |
By starting small and approaching your goals with a laser focus, you can create a roadmap of process goals that will allow you to drive toward your bigger picture dreams.
Be SMART
How then to set good, specific process goals? A tried and true method for everything from education to business to sports is the SMART goal-setting method. Set goals that are:
Specific
Measurable
Attainable
Relevant
Time-bound
Before you roll your eyes at the acronym and classic staple, think on its usefulness. Each of the criteria (or even just a few of them) allow you to have a much narrower focus as your target. This, in turn, allows you to focus on what you can both achieve and track.
Specific: What will the goal accomplish? Answer that question in detail, asking yourself how and why you want this goal to be met.
Examples of specific goals are listed in the chart above. Think of things that A.) you can control, B.) are fixed and particular, and C.) lack indefinite approval of a third-party.
Set the subjective measures of others' respect for you aside for a brief moment and find the thing that you can control. Aim for the specific starting point and articulate what it will get you. In this way, you can begin to understand how several smaller goals taken together can help you achieve larger, more abstract goals. After all, we all know that just possessing a 70-yard flick does not necessarily mean you are a good handler, but that developing that throw can be an important skill to make you more dynamic as a handler.
Measurable: One of the reasons that objective goals are important to set is because they are measurable. It is hard (if not impossible) to take stock of another person's opinion of you. Even your opinion of yourself is often skewed or biased one way or another.
Instead, measure facts: time, distance, height, strength, speed, efficiency, and more. Physical goals — for example the height you can jump, the amount you can lift, or the distance you can throw — lend themselves more easily to being measured, but there are plenty of ultimate-specific facts that can also be counted, for example turnovers, breaks, and out-of-bounds pulls.
While stats like these are rarely readily available within ultimate, make an effort to promote measurement for yourself and your team. Have a coach or captain keep track of O-line breaks during a practice, keep a mental tally of personal turnovers during a tournament, or have a injured teammate utilize an app to measure team and individual completion rates. Not only do these stats provide real accountability toward goals, they also provide insight into additional areas that need work.
Similarly, keep detailed notes on what you and your team did well and what you struggled with. Better than knowing that you threw four turnovers is knowing that three of those turnovers came on dump passes against a backhand mark. Descriptions can be forms of data too and can help you keep track of defense, strategy, and other more complex or abstract elements of gameplay.
Attainable: Make sure you set a goal that you can achieve. While it's absolutely valuable to believe in yourself and believe that all goals may seem possible, this is another great way to look at facets that you can control and want to control. You need to be realistic about how your goal will be accomplished, when you can complete it, and if you can measure it yourself or with help of others.
While it may be great to want to be able to increase your vertical jump by a foot in three months, the reality is that it will not happen. Don't set yourself up for frustration and failure by setting a benchmark that will never be close to being accomplished. Instead, map out more than one finishing point. Set an ambitious final goal, but half it and then half it again. Set up a series of smaller, attainable goals that can be achieved first before moving on to the next.
Relevant: Choose a goal that isn't just best for you, but that is relevant and timely for your team and your role within the team. This way you can make sure your effort is aligned with a requisite payoff.
If your team needs you to be an under-completion machine, why only set goals around hucking and hammering? Those may seem like fun and valuable skills to add to your personal repertoire, but they're not necessarily going to help you or your team advance as quickly or as far ahead as something tied to your quickness and cutting skills. Choose goals worthwhile and right for your needs at this particular moment in your life.
Time-Bound: Time is the essential element to any goal, and usually fairly easy to map out for ultimate players due to the cadence of our seasons and off-seasons. Have a target of when you want to accomplish your goal, but also have benchmarks and measuring points to hit at a certain pace.
Measuring weekly or bi-weekly is great for record-keeping, if possible, but there is a balance to be struck between training and performing at the highest level, so be sure to set up your schedule in a way that is safe for your body and mental health. Don't overload training. Build in rest days. Create a calendar with ultimate, work, school, and fun. Focus on what you need to do in this timeframe (and in other areas of your life) to make progress toward your goals.
Track and Measure Goals
Even with the very best goals, most players forget to or don't know how to track and measure them. The importance of record-keeping to goal achievement cannot be over-stated. How can we set a target, hope to get there in three or four months, and expect to peak at the end of the season without a measuring stick?
Numbers and data are the best weapons here again. Check in weekly with recorded numbers if possible. Lacking numbers, keep a log of your gameplay, detailing whatever you can remember. Even a simple chart of a reflection after every practice or tournament will be great for informal observational data.
Example of a post-playing log:
Date
Gameplay
Positives
Challenges
5/14/16
Practice itinerary:

– Breakmark throws

– Upline defense drill

– Huck drill

– 3 v 3

– Scrimmage

– Good around throws

– Positioned body well on upline cuts

– Only 2 turnovers in drills, 1 in scrimmage

– Had a big layout score

– Mark footwork needs work- Getting beat on around swings

– Scored on 3 times via huck

– Tired by 7th point of scrimmage
Informal data like this helps you track the abstract goals. Use a formal data log of the same type to observer physical goals and measure things like strength, speed, and explosiveness.
Consistency is key. Remember, it takes less than 15 minutes to measure a physical goal and the same amount of time to make any kind of record.  Those 15 minutes of record-keeping help you keep your target in mind.
Not only will this keep you focused, but more importantly, you are able to make the important changes to your training and play to help you reach the goals. This can only be done if consistent and if kept up over time. One or two log entries isn't enough to measure any kind of trend. Have your coach give you feedback, have a teammate clock your 40 time, or grab a rival to find your mistakes or turnovers, and keep it up over several weeks.
But don't just write down and forget it; review these on a weekly basis and you'll start to see some serious strengths and weaknesses. If you aren't hitting your benchmarks, notice the critical challenge areas and come up with a plan to fix them. If you are moving ahead of pace, keep up what's working.
Do not be afraid to change your goals or benchmarks. Tweaking the training is important, but if you are seriously off-base you may need to reevaluate and make a shift in what you're trying to accomplish.
Stick With It
Goals are great, but the shorter, more specific, and more objective the better. Take control of your goals by choosing things you can measure and by keeping track of what you are doing. Record data or informal observations, get feedback from others, and make shifts in your training and play.
Remember, everyone, from veterans to rookies, can make better goals and do more to monitor their progress. Only by recording data, checking in with these goals, and making changes will you be sure to reach your destination.