The victory in Charlotte is North Carolina's second tournament title already in 2017.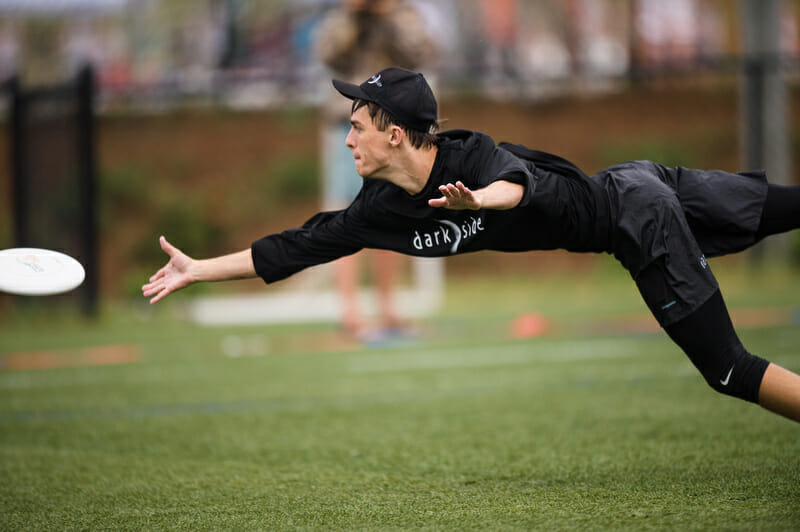 CHARLOTTE, NC – Riding a hot defense and weathering an assault from Georgia's aggressive deep game, #5 North Carolina Darkside emerged as the champions of Queen City Tune Up, punctuated by a 15-12 victory over Jojah in the final. After making appearances in the semifinals each of the past two seasons, Darkside won their first QCTU title since 2014.
UNC came into the game after handily beating a Tannor Johnson-less UMass in the semifinals, while #17 Georgia survived their side of the bracket after an exciting back-and-forth contest with top-seeded UNC-Wilmington.
The wind that blew through the semis had subsided and the sun was out in full force for the first pull of the final, with Carolina's speedy defense tearing down the field towards Georgia's explosive O-Line.
Both offenses got off to hot starts as the teams quickly traded to 2-2, scoring in three or fewer throws on the opening three possessions. Parker Bray, who had almost single-handedly thrown Georgia into the final against Wilmington, picked up right where he left off. Commanding the disc on virtually every possession, he sent searing hucks into tight windows that the defense had no shot at closing. Never one to back down from a challenge, Darkside's center offensive handler Matt Gouchoe-Hanas set out to match Bray huck for huck, and opened up the throttle in the early going.
North Carolina were the first to tip the scales with a break, as a huck from Bray floated just a bit and ended up hitting the turf after a block. Led by Elijah Long — now running the show for Darkside's D-line — UNC moved quickly and sophomore Marc Rovner found himself wide open in the back of the endzone with a flat disc coming in over his head. The disc was put out a little too far, forcing Rovner to leap off the back line at top speed and fling the disc blindly over his shoulder. While Georgia's players stopped to watch the disc, UNC's Nathan Kwon was chasing the play. When Rovner's prayer went up, Kwon was there to answer it, arriving just in time to complete the greatest and give Darkside the 3-2 lead.
That would be just the beginning of an extraordinary sequence for Kwon, who carved out an early lead for North Carolina. After a surprising mental lapse, Georgia turfed the centering pass off the pull, which left Darkside just 15 yards to pay dirt. Long and Kwon put the Georgia O-Line through a spin cycle with an endzone dominator set, and Kwon came away with his second goal in as many points. On the next possession, great defense from Kwon gummed up the Jojah attack and UNC was once again quick to capitalize, with Kwon streaking upline for his third straight goal and Darkside's third straight break.
"He's just such a winner," said UNC coach John Nethercutt of Kwon after the game. "And important to what we want to do on defense."
While discussing UNC's switch-and-help defensive philosophy, Nethercutt explained that the scheme requires some players to guard one and a half men, but that due to Kwon's defensive IQ and athleticism, he ends up "guarding somewhere closer to two and a half or three men at once."
After Kwon's brilliant run put UNC up 5-2, Georgia was able to stop the bleeding. Nathan Haskell and Bray ran a two man show that resulted in Bray receiving his first goal of the game. It was clear that in a pinch Georgia's gameplan was to let Haskell and Bray win their matchups and force teams to beat them in the air. While this made them somewhat predictable, more often than not it worked. While Bray had more misses than he did against Wilmington, his aggression and Haskell's cutting prowess kept Georgia afloat in the face of UNC's intelligent team defense.
UNC took half 8-5, and their lead would eventually extend to 11-6 after Kwon scored his fourth goal of the afternoon on a vicious stutter cut that broke his defender's ankles so emphatically that even the Georgia supporters in the crowd couldn't help but gasp.
The game was in danger of getting out of hand at this point, but Georgia hung around, going back to the tried and true formula of Bray to Haskell. Georgia got their next two holds on early stall hucks to Haskell, who was winning any matchup UNC threw at him. "You can't plan on covering a guy like that one-on-one," said Nethercutt after the game. "We needed to make some adjustments to stop their deep game that we just didn't make."
North Carolina's offense wasn't as sharp as their coaching staff would have liked — perhaps understandable for a line still coming together early in the year — and they would eventually let Georgia back into the game. With the score 12-8, Georgia got their first break of the second half after a huck from UNC got held up in the wind. Quick transition offense was a staple for Georgia's D-line all weekend, and they were eager to pull the trigger when they got the disc. Bray was playing almost every point both ways at this juncture, and he seemed determined to drag his team back into the game.
Georgia broke again on the next point to narrow the score to 12-10, with the big bodies on Georgia's defense making their presence felt against a smaller UNC offense. It wasn't just their ability to get blocks on jump balls and take away throwing lanes with rangy marks, Georgia's size advantage was a factor off of the turn as well. Playing very aggressively once they got the disc, any turnover from Darkside led almost instantly to big Jojah cutters streaking towards the endzone ready to pounce on a huck. Senior Hunter Cutts had a great game for Georgia, and he used his 6'6" frame to reel in the score that pulled the game within two.
Having seen their five point lead dwindle considerably, UNC took a timeout to regroup. The defense had been great for UNC all day, but the offense needed to punch in a hold to get the defense back on the field.
Coming out of a timeout needing a hold, teams will often turn to their bread and butter, their most reliable source of offense, to shut the door. It's unclear what exactly that is for Darkside at this point in the season, and they were unable to find it in Charlotte, throwing three turnovers on the crucial point out of the timeout.
Fortunately for Darkside, Georgia was no better. They missed on a pair of hucks and the team failed to open up continuation when the disc got to the break side. Norman Archer was finally able to put an end to the long point on UNC's fourth attempt, but results aside, it will no doubt be troubling for the brain trust in Chapel Hill that the offense could not lock in and get a clean hold in a big spot.
Following the marathon point, North Carolina's defense got back to work and all but put the game away with the D-Line's sixth break of the game. Long was marked up on Bray, and over the course of the game he did just about the best job of anyone this weekend at slowing down Georgia's prolific center handler.
"He's really good," said Long of Bray after the game. "Honestly, I hope I can learn to get better just by guarding him. He's a premier thrower, and I had to just try to restrict what I could."
By the later stages of the game, Long was clearly fresher than Bray and harried him all over the backfield, getting a crucial block after playing excellent dump defense. After notching the block, the lanky sophomore promptly picked up the disc and dished an assist that gave UNC a 14-10 lead. After acting as the primary reset handler on the O-Line last season, Long as been given the keys to the defense this year.
"D-Line is cool; you get to keep playing after you score!" said Long when asked about his transition to playing defense this season. "It's nice to have a little more room to throw, with Matt [Gouchoe-Hanas] running the offense. You still want to value the disc, but I might take a couple more high-percentage looks when I'm on defense."
That goal would prove to be important, as UNC's offense coughed up another break before the game was out. The throwing execution just wasn't there at points for Carolina's offense, with hucks having too much hang and several continuation throws from cutters missing their mark. The handler movement marshalled by Gouchoe-Hanas kept the disc moving and prevented Georgia from trapping UNC in unfavorable positions, but the connection between the cutters downfield still needs to be refined.
Carolina's offensive woes were not enough to spoil the D-Line's excellent performance, and after giving up a break to make it 14-12, the offense managed to take care of business and close out the game. Walker Matthews, who had been the initiating cutter for Darkside all game, threw a quick jab step under and took off deep. The help over the top for Georgia fell asleep, giving Matthews a free run into the endzone. Gouchoe-Hanas didn't hesitate to deliver the winning throw and Matthews reeled in the an easy score that finished off the game, 15-12.
Neither team looked perfect, but the bones of very formidable teams are clearly there. Georgia might have the best two player combination in the country, and UNC clearly had the best defense at the tournament this weekend. If the other pieces start to fill in around these bedrocks, this likely won't be the only final these teams play in this season.