Everything you need to know from around the country heading into the spring season.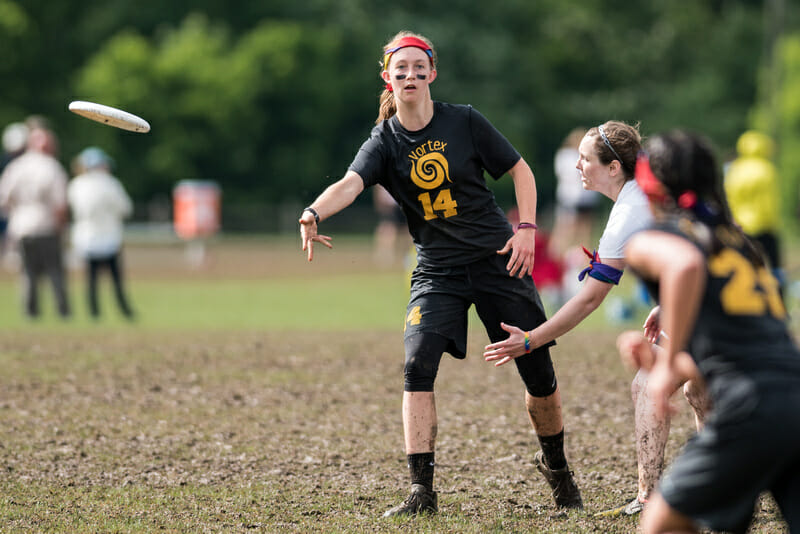 As the Men's primer noted, Division III teams typically get a later start to the spring season than their D-I counterparts, rarely competing before February. Many schools have only been back from winter break for a few weeks and with study abroad being a hallmark of the small liberal arts college experience, the majority of D-III teams are welcoming back juniors whose impact and experience were missed in the fall. However these returns mean teams need to spend the first fews weeks rebuilding team chemistry and cohesion.
To get fans and players excited for the 2017 season, we have prepared this primer with all you need to know to follow the D-III Women' s competition this spring. We will introduce you to the teams to follow, the players to watch, and make predictions about how the season will shape up.
Stories to Watch
The Year For Truman State
While #1 Truman State has done well in the regular season the past several years, TSUnami has yet to arrive as a consistent threat on the national stage. Having qualified for all but one D-III College Championship event since the division's inception, Truman State has settled in as a quarterfinal mainstay, and only once have gotten over the semifinal hump to finish in the top four. This year, however, there are reasons to believe they may finally be ready to break through and bring a national title back to Missouri.
Led by captains Emilie Willingham and Callie Warren along with sub-captain Claire Trumbull, TSUnami has gobs of depth and several players boasting club experience on some of the Midwest's top women's teams. With nine rookies and nine sophomores, the team is relatively young and athletic, though not as inexperienced as you may expect from such a large contingent of underclassmen; Truman retains nearly twenty players from last year's national fifth place finishing squad. In addition, team president Kristina "T" Kohl helps TSUnami execute to success by keeping stats, calling lines, and selecting plays; an advanced level of strategy that is easier to implement with the team's experience from last season. Having started school earlier than many of their D-III counterparts, the team has had extra time to grow together this year. Now, TSUnami is ready to take names.
Truman State plans to play at four competitive tournaments before Nationals. We will be on the lookout as TSUnami competes at Dustbowl and Midwest Throwdown to see how they stack up against tough out-of-region competition like St. Olaf — who they already beat in the fall — and Carleton this spring. While their focus remains on spirit and development, Truman State may finally be ready to make the leap to title-holders.
Rice Defends Its Dynasty
#3 Rice has developed perhaps the most robust ultimate program of any D-III school, having qualified for three consecutive national finals and taking home two titles since 2014. That program has churned out a 2017 team with fantastic on-field chemistry and a level of discipline that should once again make Torque a standout in the division.
Rice has always been incredibly deep and resists the common temptation in the division to rely on — and even overplay — its most skilled players. At Nationals in 2016, rather than having Angela Aie constantly huck deep to the towering 5'11" Brandi Ransom every point — a play call that proved effective when employed — Torque utilized the sharp under cuts of Valerie Pinillos, the sticky fingers of Kelsey Nanneman, and the patient handling of Julie Doar to produce a more well-rounded offensive onslaught that is still paying dividends today, with Nanneman and Doar set to lead the squad in 2017.
Part of Torque's success is due to its history of having strong female coaches; while many D-III teams still put the onus of managing team budgets, calling lines, leading drills, and scoring goals all on the captains' shoulders, Rice has been able to delegate some of these duties to keep their players' focus on the field. This year Torque is coached by Ashley Shelor along with Showdown's Jennifer Schmerling and Michelle Landis.
As more and more teams capitalize on the wealth of experience and helpful structure that comes with adding a coach, the rest of the division is catching up to Torque and this may be the year that Rice is knocked out of the championship game.
D-III Competition Ramps Up
Entering only its eighth year as a distinct USAU division, D-III is still lurching through its developmental stage with an evolving identity. For many teams in the division, a focus on serious competition is a foreign concept — making Nationals is nowhere on the radar. Instead, the focus has always been on bringing spirit to tournaments, building an inclusive and caring community, and simply having fun chasing plastic together. While those values remain on the lips of even top teams, there is now an emerging core of programs who are actively working to raise the level of competition for D-III women.
As mentioned above with Rice, coaching is becoming more prevalent across the division; in a survey of teams this past fall, more than half of the respondents said their team now employs a coach, with responsibilities varying from outlining season-long practice schedules to simply calling lines or giving pep talks at tournaments. This rise in coaches demonstrates that a substantial subset of teams is foregoing some player-led autonomy in favor of a more competitive program.
Similarly, the division has seen a rise in commitment to more training. Of the teams surveyed, nearly half are currently practicing at least four days a week; just two years ago, holding practice twice a week with occasional pickup was seen as plenty of time for a nationally-ranked team. On top of this, more and more players are coming into the division with high school or youth experience, ready to take their's and their team's game to the next level.
While some want D-III to stay relaxed, the teams gunning for Nationals are spending more time training in the off-season, learning from local club teams, and holding try-outs to shape their A teams. This trend is a hard one to hold back and indicates we will see a continued rise in playing level each successive spring.
Regional Storylines
Atlantic Coast
The Atlantic Coast is one of the most exciting D-III regions heading into 2017. With Wake Forest's move up to Division I, #18 Elon Wild Rumpus now has the most experience representing the region at the D-III College Championships. But the team lost several key contributors from last year's Nationals squad — they were the team that fielded seven players in graduation robes for the last game Saturday in Winston-Salem.
This has made room for underdog #22 UNC Asheville Hellbenders to step up. During the fall, the two teams traded a series of games with Elon coming out ahead, but not until we see the two compete this spring can we feel confident about who is more likely to represent the Atlantic Coast at this year's Nationals.
To add to the mix, Davidson Duff has been making waves this year; with the return of junior captain Colleen Karlovich from abroad, this team will make its regional counterparts work to earn their spot.
Great Lakes
The Great Lakes may have a limited number of programs competing in the region, but that doesn't mean they can be completely ignored by the rest of the country.
#5 Valparaiso Chicks Hucking Discs hit the ground running this year with a very strong fall season, winning No-Wisconsequences and notching an impressive win over Truman State at Glory Days. These results are thanks in large part to full retention from last year's roster,1 evident in Valpo's strong on-field chemistry. Captain Mackenzie "Kenzie" Allen leads the handling core, often finding either Jordan "Jay" Bauer or Michelle Espino deep. With expectations rising, you can be sure that Valparaiso has their eyes on more than just earning another trip back to the College Championships.
Standing in their way at Regionals will be Knox Baberham and Kalamazoo Queen Beez. Knox lost a key asset with the graduation of senior handler Lizzie Wisdom, while Kalamazoo has a team full of second team All-Region players to build from.
Metro East
As is the case in just about every division, the Metro East has rarely an impact at the national level in D-III women's. Perpetually a one-bid region, they have sent five different representatives to the D-III College Championships over the past seven years and haven't seen a team finish in the top half since 2010.
#12 Wesleyan Vicious Circles is hoping to change that equation this year. Last spring, Wesleyan handily won the Metro East and it seems like they are in a prime position to do so again this spring. Wesleyan lost just two seniors from their Nationals team and returns Tessa Hill, who had the second most goals at the tournament. This fall the team beat out several D-I teams to take second place at the Northeast Classic, perhaps portending the ability to finally challenge the top programs in D-III at Nationals.
Teams like SUNY-Geneseo, SUNY-Oneonta, and Hamilton will battle it out below Vicious Circles and be ready to pounce if Wesleyan slips up or takes the regional crown for granted.
New England
Home to a bevy of small liberal arts colleges, New England unsurprisingly boasts the largest number of competitive D-III teams; since the division started, nine different schools have represented the region at the College Championships.
As the highest of four New England finishers at 2016 Nationals, #4 Williams LaWufa is viewed by peers as the toughest competition again this year after graduating very few starters. Williams retains a lot of depth in their handling core between Christine Reed, Lane Davis, Mia Wang, and Amy Rosten. They have added speed and athleticism with their rookies, though very little previous ultimate experience.
The rivalry between Maine neighbors #8 Bates Cold Front and #16 Bowdoin Chaos Theory has always been hotly contested, but last year it was kicked up a notch. With just a single bid to Regionals up for grabs, Bates ran over Chaos Theory, meaning the the 2015 national finalists were dumped out of the Series at Conferences. Despite losing 11(!) key contributors from last year's squad, Bates' victory at Lobster Pot this fall indicates they are still a top team in 2017. Cold Front is led by sophomore Josie Gillet's dangerous break throws and Kate Cuthbert's fearless defense, and will be looking to take the next step forward as a program by coaching up a huge and eager rookie class. With the ferocious speed and on-field leadership of Kate Powers plus the experience and knowledge of the game of Amherst-native Rachel Musante, Bowdoin will ensure this rivalry will again be one to watch this spring.
Also ranked in the very deep region are #10 Mount Holyoke Daisy Chain, #14 Amherst Sparkle Motion , and #23 Colby Dazzlin' Assettes. Daisy Chain returns three All-Region players in Molly Morgan, Sophey Dong, and Katrina Meserve who will be looking to lead Mount Holyoke back to the D-III Championships, where they tied Sparkle Motion last spring for 11th place finish. Colby, who beat Bowdoin this fall, will also be trying to get in on the bid action. In the land of upsets that is New England, these three teams plan to be more than obstacles for the region's top teams.
Bring the Huckus at the end of February will be an exciting opportunity to see how New England contenders Williams and Bowdoin match up against the top Ohio Valley squads Haverford, Lehigh, and Swarthmore.
North Central
It is a toss-up between the North Central and New England as to who has the more competitive region. New England certainly has more teams and therefore more diverse intraregional competition. However, the North Central has had more teams finishing in the top ten over the past three years than any other region. Luther Freya, Carleton Eclipse, and St. Olaf Vortex push each other to compete at a higher and higher level every year.
Currently, #2 St. Olaf Vortex leads the region with a dedicated team of players all committed to winning and inspired by the leadership of Tulsa Douglas, Emily Verticchio, and Anna Ruehlow. Verticchio always looks to create opportunities for her teammates through her calm decisiveness and intensely focused playing style. Ruehlow's dedication to improving her game and making every play better than the last makes St. Olaf a tough opponent. Douglas just might have the best throws in the division.
It was Carleton, however, who proved to be the toughest team in the division last season, a surprising National Champion despite being seeded eight going into the D-III College Championships. #9 Carleton Eclipse will look to cutters like Jillian Banner, Helen Hoyt, and Haley Olson to get the disc into the end zone. The team is looking to test themselves early this spring, playing more out-of-region competition at Stanford Open and Midwest Throwdown.
Finally, #11 Luther Freya is building up the rookie class that makes up half of their roster. Many, such as Hannah Stenoien, are products of the Minnesota ultimate pipeline and come in with good experience. Rachel Johnson's backfield playmaking will be key for Freya as she guides the offense as the center handler. Last season, Freya had the misfortune of playing Rice in prequarters, but recovered to finish ninth overall at Nationals. It will be tough for this young group to repeat that showing.
Northwest
After a stretch where the Northwest didn't send any representative to D-III Nationals, #7 Puget Sound Clearcut has established themselves as the region's clear top team over the past couple seasons. This year, however, #6 Portland Uproar is showing the country that the Northwest might deserve two bids to Nationals.
Portland is led by Demri Horton and Makena Strand, who have a formidable amount of chemistry from four years of playing and working to build Uproar together. Horton is an all-around threat, bringing shut-down defense and game-winning hucks to the table. Uproar surprised Clearcut in their first meeting this spring, beating their regional rival 11-9 at the Flat Tail Open last month; Puget Sound went 3-0 versus Portland last season.
Clearcut certainly has the pedigree and pieces to recover, and another deep run into the bracket at Nationals — they reached the semifinals in 2016 — is well within reach. But part of the cost of getting six juniors back from a semester abroad is needing time to rebuild chemistry with the team; if it pays off down the line, Clearcut is happy to be patient. With Ellen "Cady" Kallenscher's speedy cuts and Ellie Engel's long-armed catches and blocks, UPS is ready to defend its regional title.
Ohio Valley
Like the Metro East, the Ohio Valley has seen a rotating cast of contenders qualify for Nationals from the region; six different schools have qualified over the past five years, none of which have done so more than twice. Still, the region has struggled to earn multiple bids the past few years and with a glut of teams sitting just outside of bid range again this year, someone will have to step up during the regular season if that's to change.
Two years removed from a national semifinal appearance, #13 Haverford Sneetches are working toward a return to their former glory. They brought on a big rookie class in the fall, but most were put on the B team as this is another program returning six juniors from foreign travels2 to line up alongside senior All-Region standout Zoe Lewis.
Last year's qualifier #17 Oberlin Preying Manti lost two cornerstone players, including OV Player of the Year Ally Fulton. Much now rests on the shoulders of sophomore handler Helen Samuel, whose combination of speed and skill makes her a tough matchup; both she and Abagael Cheng were D-III All Region 1st team as freshmen and have the tools to be one of the best duos in the division.
#20 Swarthmore Warmothers' junior handler Emilie "Shep" Shepard is a huge threat to every opponent, especially with her dynamic give-and-go's with Tessa "Kirby" Jones. Unfortunately, the Warmothers have had two captains step down since the fall and eight rookies who still need to be acclimated to the team, so this may be a building year. Similarly, #19 Lehigh Gravity and #25 Messiah Falcons remain in the mix, though Lehigh also lost nine seniors from last season and are in rebuilding mode.
South Central
There are very few small schools playing ultimate in the south, but those that do are dynamite threats to the rest of the country.
Truman State and Rice will unfortunately not see each other until Conferences this spring, but between them they will certainly earn the South Central region a second bid. TSUnami will attend Midwest Throwdown with top North Central teams, while Rice's only D-III competition this spring seems to be St. Olaf at Centex — and that's only if the tournament schedule works out for them to play each other. Both top SC squads are good enough to hold their own against some D-I competition and could put on quite the show in a regional final.
On the outside looking in right now is #25 John Brown Savage Skies, who recently won an all-Texas Turf Wars tournament; if things break their way this spring, perhaps that could sneak a third bid into the region.
Southeast
The Southeast has long been an afterthought in the national D-III women's consciousness. Georgia College Lynx Rufus has been the region's lone representative at the D-III College Championships, but has rarely found success, winning just three games combined over the past four years at the season's biggest tournament.
After tying for 15th again at last spring's Nationals and losing five talented seniors, they look to continue growing the program by imbuing their large, enthusiastic rookie class with the incredible spirit and joy they bring to every game they play. Lynx Rufus typically does not have access to very many D-III teams during the regular season, and instead cut their teeth training against local D-I teams this spring to prepare for another run at Nationals in May.
That said, they may actually find themselves face-to-face with some real in-region competition this spring. Union, North Georgia, and Belmont have all fielded teams this fall, and North Georgia will have two spring tournaments under their belt by mid-February. Belmont is led by Judith Beckendorf, perhaps the best individual D-III player in the Southeast. But will these teams be ready to go come Conferences? That part remains to be seen, but perhaps the women's side of the Southeast is finally ready to see the rapid growth experienced by the men the past few years.
Southwest
Another region still trying to build a more robust D-III profile, the Southwest has very few teams competing, but they gain incredible experience matching up against top D-I teams at regional tournaments.
Every year, the #15 Claremont Greenshirts take the regional title, sometimes uncontested and sometimes after solidly defeating Occidental WAC. Claremont graduated ten seniors from last spring, which made plenty of room for new freshman to come and rebuild the team. With the return of six essential juniors this spring, including captain Sharon "Taffy" Huynh, we will be watching this team at Stanford Open to see how they perform against top teams from other regions.
Players to Watch
Tulsa Douglas (St. Olaf) – Last season's North Central Player of the Year, Tulsa Douglas obviously has a lot to bring to her team. Brought up in the fertile program of Amherst Regional High School, winning titles with BUDA YCC, and playing for Boston Siege last summer, Douglas knows how to compete at a high level. This was evident as she threw the second most assists at Nationals last year as a sophomore. But her greatest asset is her commitment — her commitment to improve her game, to build up her teammates, and to play disciplined, tireless ultimate. A humble individual, Douglas is not interested in talking about her strengths, but in helping others identify theirs. Off the field, she has taken on a leadership role in promoting women in sports through two social media campaigns: 99 Days of Ultimate Women and 28 Days of Food, Frisbee, and Feminism.
Allison Bashford (UNC Asheville) – The reason behind UNC-Asheville's recent rise to D-III prominence, making this year's Top 25, has a lot to do with sophomore captain Allison Bashford. With four years of YCC experience and fresh off a summer playing mixed club with Cahoots, Bashford's individual value to her team is as high as anyone's. This sticky-fingered young'un takes on a hybrid role, opening up opportunities for her teammates as a handler and also using her formidable speed to make huge plays as a cutter. Opponents have voiced pity for whoever has to mark her when she handles, fearing the worst for the poor soul's ankles.
Josie Gillett (Bates) – Another young captain showing up big for Division III, Josie Gillett hails from the formidable Seattle youth scene. Gillett played YCCs, was coached by some of the games' top players, and took silver with the U20 US National Team in Poland last year. Before her summer exploits, she spent her freshman spring racking up the highest number of assists at the D-III College Championships with 39(!). Gillett's incredible reservoir of ultimate knowledge at such a young age will be invaluable to Bates' success this year; her arrival at the school galvanized the team from a non-factor to an instant championship contender.
Emilie Willingham (Truman State) – Willingham has been a leader for Truman State TSUnami for several years now, both for her on-field play and her keen spirit. With vicious break throws and tenacious defense, she has developed into a dominant all-around player, having gained valuable experience as a member of Chicago Nemesis. With TSUnami, she knows her teammates' strengths and utilizes the exact throw in her arsenal to hit each player in stride. Beyond that, she is well-liked and respected by teammates and opponents alike, serving as a true ambassador for the division and the sport.
Ellen 'Cady' Kallenscher (Puget Sound) – As D-III grows more and more competitive, the key to the game is club experience — that's what Puget Sound's captain Ellen "Cady" Kalenscher gained this summer with Portland Schwa. Cady was already an incredibly speedy cutter and a relentless defender, refusing to let her opponent get away from her. After a summer with Schwa, she became an even bigger threat to opponents, proving near impossible to stop and taking on leadership as a handler for her college team. Her flick hucks are tough to shut down — which is exactly what she does to other team's handlers. Kalenscher's drive to improve her game and refusal to quit are fantastic motivators for her rookie-heavy team.
Keep Your Eye On
Mackenzie Allen (Valparaiso)
Rachel Johnson (Luther)
Kelsey Nanneman (Rice)
Zoe Lewis (Haverford)
Tessa Jones (Swarthmore)
Molly Morgan (Mount Holyoke)
Helen Samuel (Oberlin)
Tournaments of Note
Section is based on best current understanding and will be updated as new information becomes available.
Stanford Open
February 11-12
Morgan Hill, CA
Teams to Watch: Puget Sound, Carleton Eclipse, Claremont
Dustbowl
February 18-19
Tulsa, OK
Teams to Watch: Truman State, Grinnell, John Brown
Bring the Huckus
February 25-26
West Windsor Township, NJ
Teams to Watch: Williams, Haverford, Bowdoin, Swarthmore
Midwest Throwdown
March 4-5
Columbia, MO
Teams to Watch: Truman State, St. Olaf, Carleton Eclipse, Luther, Grinnell, John Brown, College of St. Benedict
Mash-Up
March 11-12
Martinsville, VA
Teams to Watch: Elon, Swarthmore
College Southerns
March 18-19
Statesboro, GA
Teams to Watch: Williams, Carleton Eclipse, Luther
Centex
March 18-19
Austin, TX
Teams to Watch: St. Olaf, Rice
I-85 Rodeo
March 25-26
Martinsville, VA
Teams to Watch: Williams, Lehigh
Northwest Challenge
March 24-26
Burlington, WA
Teams to Watch: Portland, Puget Sound
Bid Predictions
| | Atlantic Coast | Great Lakes | Metro East | New England | North Central | Northwest | Ohio Valley | South Central | Southeast | Southwest |
| --- | --- | --- | --- | --- | --- | --- | --- | --- | --- | --- |
| Eisenhood | 1 | 1 | 1 | 3 | 2 | 2 | 2 | 2 | 1 | 1 |
| Heckendorn | 1 | 1 | 1 | 3 | 3 | 2 | 1 | 2 | 1 | 1 |
| Raynor | 1 | 1 | 1 | 4 | 2 | 2 | 1 | 2 | 1 | 1 |
---
The team played the entire 2016 College Championships savage! ↩

Opposing teams have remarked that these reinforcements are "terrifying" given how Haverford was playing without them. ↩