This game was never close.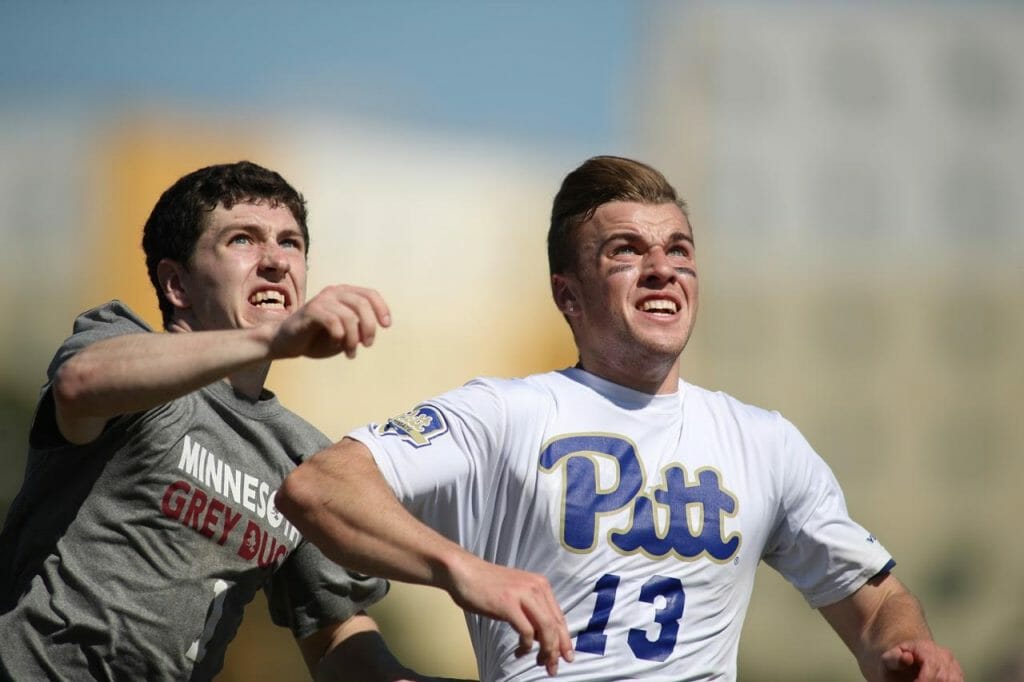 Ultiworld's reporting on Florida Warm Up 2017 is presented by Spin Ultimate; all opinions are those of the author. Please support the brands that make Ultiworld possible and shop at Spin Ultimate!
TAMPA, FL — Minnesota and Pittsburgh had the two best weekends at Warm Up and they were both deserving of their places in the final. What was surprising was how the game played out. Earlier in the tournament, #7 Minnesota dominated #13 Pittsburgh in pool play and had been the more impressive team throughout the tournament. Few would have predicted a complete turnaround and the 15-7 beat down that Pitt laid on Grey Duck.
Pitt dominated from the off and never looked back. Simply put, Pittsburgh's offense came out playing crisp, clean ultimate, and Minnesota did not. On top of that, Pitt's person defense was remarkable and it felt like they took away every single look from the Minnesota offense. But Grey Duck was also inexplicably sloppy on offense; throwaways and drops riddled their early play as they struggled to cope with Pitt's pressure.
Before Minnesota could even get in the game, the score was 5-0. Even Pitt's second D-line got in on the break party.
When Minnesota finally put a halt to Pittsburgh's out-of-the-gates explosion, Pittsburgh's offense came back on the field a little less crisp, but still got the hold to make sure Grey Duck didn't immediately get back into the game.
In fact, Minnesota would never get back in the game. The Grey Duck defense, which had been so impressive all weekend, did not register a single break in the final. And after taking half at 8-2, the Pittsburgh D-line continued to apply the pressure and got two more breaks in the second half.
Jack Slevin (1 assist, 2 goals), Andrew Lehmberg (1 assists, 3 goals), and Thomas Edmonds (3 assists) were the stars on offense for En Sabah Nur, but the whole line played well and their defense when they did turn it was also impressive.
The D-line stars were Sam Vandusen and Saul Graves (game high 4 assists.) Vandusen was the only player all weekend to genuinely shut down Ben Jagt, using his physicality and strength to make up for his forfeiture of height to the Grey Duck star. He and Graves paced the devastating D-line offense all afternoon.
Pittsburgh's defensive intensity across its roster was easily the story of the game, and it provided a stark contrast between the final and the first time the two teams met earlier in the tournament. Carl Morgenstern said of the difference between the two games, "Minnesota in the first game…came out with a fire we just could not match. In [the final], the O-line put together a stellar defensive performance. Everybody was hustling, everybody was working to get the disc back."
Pitt coach David Hogan also saw a distinct difference between the two games. "Last game it felt like we didn't really have a defensive identity. I think it was the team being on the same page and doing everything that their role required and not doing too much. I also think they just played better man D."
"That's an uncharacteristic Minnesota game. They're not gonna be turfing swings again," he continued. "But our O-line's defense was playing very different. It was another thing of being on the same page, but they were just much more prideful. They had a lot more tenacity and grit and determination to get the disc back. That was a huge difference. The way they played defensively in that game was phenomenal."
Minnesota's Wyatt Mekler was very matter of fact after the game, willing to credit Pittsburgh's impressive defense, but also critical of his own team's play. "I think they were just working harder than us," he said. "They were pressuring us really on the unders, on the deeps, on the handlers. They went on a run early and took the energy out of us. Between [their] poaching and working hard, we just didn't have it."
"The last two between us went our way," he continued. "Today went theirs, so they had maybe a little more energy. I think it's important for us to remember coming into any game that any team can win any day and you have to bring it no matter what. They definitely brought it. I think they showed us a little more that we didn't see the last time we played that maybe we didn't expect."
Minnesota never did adjust to Pittsburgh's better energy and different looks. Mekler identified a non-adjustment that cost his team the ability to stay in the game. "I think our handlers need to work harder. I think on the field we can cut harder and clear the space more. If we would have gotten in and out better it would have opened the field for our cutters and we just didn't do that today."
Hogan and Mekler both touched on the fact that Minnesota was far from their best. Especially early, the Grey Duck offense looked completely out of sorts. But Pittsburgh's ability to take away virtually everything in the early stages forced that sloppiness and put the game away before it even got going.
Both teams said after that this game and this tournament weren't about winning, but rather about learning and getting better for the rest of the season. And both teams will certainly have done that. But there's no questioning that Pittsburgh has more positives to take away after this game.
It looks like their defensive unit will be one of the most dangerous weapons in the division this season if they can repeat performances like this one. Even after the players they lost from last year, Pittsburgh is still very much one of the best teams in the country, and they emphatically announced that with their utter domination of Minnesota in the Warm Up final.