The biggest tournament of the D-III Men's calendar is here!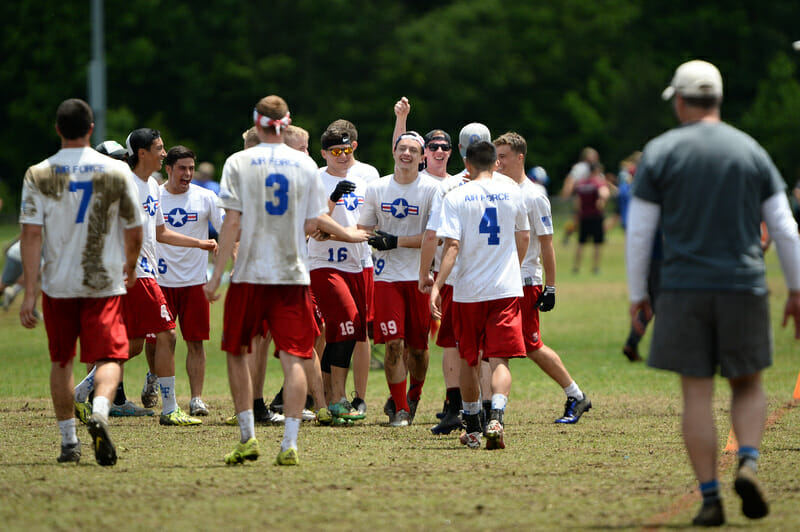 Over the past four years, D-III Midwestern Invite has steadily grown into one of the most competitive Division III tournaments in the country. This year, the tournament boasts one of its largest and most competitive team lists to date, making it the biggest D-III event of the season. It's one of the few tournaments this year focused on D-III competition, and will play a huge role in a season without D-III Warmup or D-III Easterns. Featuring seven top 25 teams, as well as several regional contenders looking to burst onto the national scene, D-III Midwestern Invite is sure to bring connectivity and exciting matchups to the D-III community throughout the weekend.
Pool A: Air Force, Oberlin, St. Olaf, Kalamazoo
As the tournament's overall number one seed, and one of the top-ranked D-III teams in the country, #3 Air Force Afterburn comes in looking to assert themselves. Early season performances at Flat Tail Open and Stanford Open have shown that Afterburn is able to compete with D-I competition. At their home tournament a couple weeks ago, Air Force got their first taste of competitive D-III play, and beat Colorado College soundly in the final 13-6. Afterburn should dominate their pool, but they'll have a chance to reaffirm their ranking against higher seeded opposition on Sunday.
#22 Oberlin Horsecows come into their first tournament of the spring as an unproven team with top 25 expectations. After a narrow semifinals loss to Messiah in the Ohio Valley Regionals last year, the Horsecows need to pick up where they left off and continue improving. They graduated top-end talent in Conrad Schloer and Jason Freedman, but team leadership has expressed confidence in their freshman class and believe they'll be able to win with depth this season. They'll have to, because the Ohio Valley currently only has one bid to it's name, and #5 Franciscan is a big favorite.
St. Olaf and Kalamazoo are two teams still looking for consistent quality play. In their first competition of the year at Dust Bowl, St. Olaf had an up and down weekend, finishing 3-4, against mid-tier competition. Kalamazoo is a team that has been quietly growing in the Great Lakes Region. Having several players step up and get club experience throughout the summer has made them an opponent that can cause problems if they aren't taken seriously. Both St. Olaf and Kalamazoo aim to catch the top seeds in their pool sleeping and come away with an upset victory or two on the weekend.
Pool B: Colorado College, Valparaiso, Xavier, Olivet Nazarene
Another power team from the South Central region, #6 Colorado College Wasabi should ride the momentum they've built early this season. They enter with a record of 10-2, with their only losses coming to Texas Tech and Air Force in the finals of Big D in Little D and Air Force Invite, respectively. Entering the weekend as the second seed of the tournament, Wasabi hopes to avoid yet another silver medal and exact their revenge on Air Force in the bracket. Led by senior captain Phil Korolog, expect Wasabi to take care of business in Pool B.
Valparaiso Deus Vult finished last year ranked fourth in the country and fell short of making it to Nationals. This weekend will be their first sanctioned tournament of the year, and they can jump into bid contention again with a strong showing. Led by captain Jesus Osorio, Valparaiso proved themselves as one of the nation's top teams last year. If they can take care of business efficiently and save their legs, Deus Vult has the talent to challenge Colorado College, but smart money is on them to finish second in the pool.
Xavier and Olivet Nazarene are two teams that have a history of great competition throughout the Midwest. At Music City Tune Up, Xavier showed that they could compete with top-ranked teams, finishing within four points of #13 High Point, #8 Alabama-Huntsville, and #16 Union, but struggling to finish well. In their first competition of the Spring, Olivet is trying to build on the youth and talent they have acquired over the last few years. A well-coached team with a defined system, Olivet should make life difficult for their opponents throughout the tournament.
Pool C: Wheaton, St. John's, Cedarville, Ohio Valley University
After reaching Nationals a year ago, where they finished tied for 9th, #9 Wheaton Mastodons is attempting to repeat and improve this year. With a large crop of returners, there's potential for this year's Wheaton team to be even stronger than the last. In their spring opener, Wheaton can prove that they are again ready to compete on the national stage, and are deserving of their high ranking.
#11 St. John's Bam, after starting the season 3-3 at Midwest Throwdown, is measuring themselves against D-III competition this weekend. After playing close with Purdue at Throwdown, the team has shown that they are capable of competing at a high-level. Last year, St. John's failed to qualify for Nationals, losing by three in the game to go to regional rival Carleton GoP. St. John's is by far the most qualified second seed of any pool at the tournament1, and it won't be surprising if they top Wheaton to take the pool.
Cedarville and Ohio Valley University, two teams from the Ohio Valley Region, each have something to prove this season and are both making their 2017 debut. After qualifying for Nationals in 2014, Cedarville has been in rebuilding mode, finishing 9th at OV Regionals in 2016 and tying for 7th in 2015. Ohio Valley University, in their first year competing, comes in as a relative unknown. This weekend will be a stepping stone for a team just establishing themselves.
Pool D: Brandeis, IWU, Truman State, Knox
Last year's national runner-up, #19 Brandeis Tron, enters their first competition of the spring with high hopes. Faced with significant roster turnover (nine graduates, including three of four captains), Tron is forced to rely upon their program's consistency to help them with the beginning of the year. While they'll be asked to step up in new roles this year, the younger players on Brandeis last year got lots of big game experience during last year's deep Nationals run and should be able to replace the talent from last year's team. The question will be how quickly they can acclimate themselves to their new responsibilities.
In their first year without star Travis Carpenter, #20 Indiana Wesleyan Huck Dynasty is still looking to prove themselves as a top program in the country not just a flash in the pan. At Huckin' in the Hills, IWU showed that they can put away teams that they are supposed to, handily beating every team seeded below them. Now, they have to demonstrate that they can still compete at the highest levels of D-III Ultimate. Led by a fiery defense, the team relies on big plays and high energy to beat their opponents.
Truman State JujiTSU, in their third tournament of the season, already has had a chance to get reps against D-I and D-III alike. Their early returns – a 5-7 record without a notable W – show there is work to do. The South Central is stacked and TSU needs a sharp uptick in productivity to compete. Knox River Rats, after finishing tied for fifth at Nationals last year, begins the post-Harper Garvey era. It is up to new players to make the team run. However, it'll be tough to repeat last year's 10-1 regular season.
---
Note: seeding was designed to create regionally diverse pools ↩