A fifth-year standout, Jesus Osorio is aiming to lead Valparaiso to their first ever D-III Nationals birth to cap an impressive college career.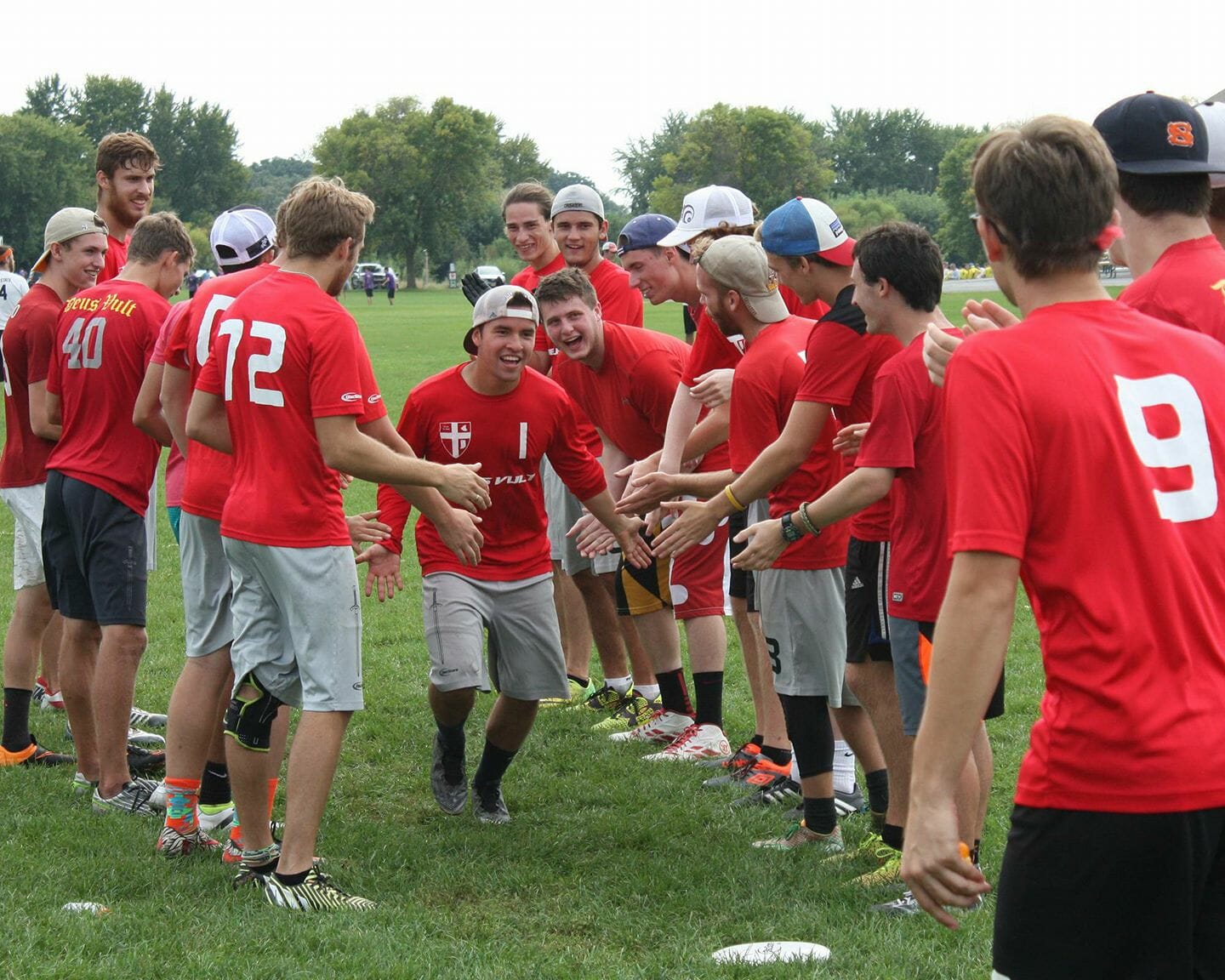 Valparaiso University Deus Vult has not traditionally been a team in the national spotlight. For the first five years that USA Ultimate ran separate a D-III division, Valparaiso hovered around the middle or bottom half of Great Lake Regionals, never making even a game-to-go to Nationals. But last year, Deus Vult exploded onto the national scene and rose to as high as fourth in the country in USAU's rankings. A large part of that success is thanks to the steady presence and leadership of star handler Jesus "Zeus" Osorio.
Despite his diminutive stature at 5'5″, over the past four years at Valparaiso, Osorio has become one of the division's best players — twice being named 1st Team All-Region — though he has yet to help his team qualify for the D-III College Championships. With the 2017 season now in full swing, Zeus is hoping to prove that Valparaiso is one of the nation's best teams, finally ready to complete their journey to Nationals.
It would be a worthy culmination not just of Osorio's illustrious college career, but the long journey he took to get there.
From Valencia To Valparaiso
Born in Valencia, Venezuela — a city of about one million people and the third largest in the country — Jesus grew up far from Valparaiso, Indiana and the traditional hotbeds of youth ultimate that are the genesis of many of the game's current college stars. But at age 13, just a freshman in high school, Osorio was serendipitously exposed to the sport for the first time in his home country.
"I asked a friend for homework help, but he told me he could only help until 5:00 because he had [ultimate] practice," Osorio says. "I didn't have anything to do, so I followed him."
Osorio was immediately hooked by the sport. About a month later, his friend quit playing, but Zeus stuck to it.
In Venezuela, there is no college or youth division, like what exists under USAU — if you want to play ultimate, your only option is to play club. During his first few months in the game, Zeus found and played with a team called Fantasy, a group of young guys with little experience and who failed to satisfy Osorio's desire to compete and improve.
"Eventually, I founded a team called 'Nativos,' with my friends, and I spent most of my five years of ultimate in Venezuela playing for that team," explains Osorio.
It wasn't until age 18 that Zeus first came to the United States. In 2011, Jesus traveled with one of his older brothers to Austin, Texas. "I did not have plans to study abroad, or travel at all. It was pretty last minute," says Osorio.
In Austin, Osorio and his brother spent the spring practicing with the University of Texas B-Team, Graze. Halfway through the semester, his brother left. Much like his first experience with ultimate in Venezuela, though, Zeus was hooked, and he stayed in Austin until June.
After his time in Texas, Jesus had also fallen in love with the country and began looking for study abroad opportunities in the US. It was at a recruitment event in Florida that he found out about Valparaiso.
"I was tested to be considered for academic scholarships," Zeus recalls. "After a week or two, I received a list of about twelve offers, and Valparaiso was the school with the best engineering program from the list." As a civil engineering major, the choice wasn't difficult.
So in the fall of 2012, Osorio left home in Valencia and headed north to Indiana, where his journey with Deus Vult began.
God Wills It
The year before Osorio got to the school, the Valparaiso ultimate team had a very different vibe than it does today. Commitment was low and the majority of the team had little desire to push the team to the next level. They still went by the name Strangers with Candy.
"When I arrived, the program was not taken as seriously as it is now," Zeus explained.
But during Osorios's first year at school, a huge class of freshman joining the team decided it was time to change that culture. The program took on a mindset of development and players shifted to a more committed mentality. The team also voted to change their name, adopting Deus Vult. Latin for "God wills it," it was a battle cry commonly employed during the Crusades; the name feels a more appropriate rallying call for a competitive team at a religiously affiliated school and reflected a fresh start for the program. That spring, the team finished third in the region, their highest ever finish.
After his first year at Valpo, Zeus spent the summer living in Chicago. There, he played for Chicago Club, a regionally competitive men's team that operated as the development squad for Machine. It afforded Zeus the opportunity to attend Colorado Cup and even the US Open, where he competed against some of the top club teams in the country and from around the world.
"It gave me a taste of how much commitment is required to reach that level of competition and how much time I should be expected to spend developing my personal game," Osorio says.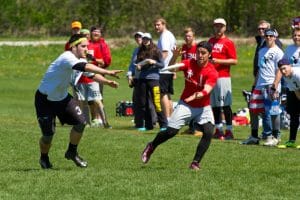 With the strength of his summer experiences boosting his leadership and ultimate prowess, Zeus returned to school ready to lead Valparaiso in the right direction. During his sophomore year, the team stumbled to a disappointing fifth place finish at Great Lakes Regionals. The next year, their season ended with a semifinal loss to the eventual regional champ, though Osorio earned his first All-Region nod.
The program's development over the past few years came to a head last spring. In the 2016 season, the team saw all of their hard work finally coming to fruition, winning three tournaments and finishing with a 19-2 regular season record. Zeus was again recognized as an All-Region standout.
But despite going into the postseason ranked fourth in the country and earning a strength bid for the region — one of the unprecedented three for the Great Lakes — the team fell just short of making Nationals. In a weekend marred by low temperatures, high winds, and rain, the team struggled ito replicate their regular season success. Tough losses in Saturday's poor weather left the team playing in the game-to-go against Knox on Sunday.
"When I looked at our 19-2 record after the regular season, I was almost convinced we had accomplished our goal, and I think I took the team for granted," explains Zeus. "Immediately, I blamed the weather, the format, observers. There were a lot of things I blamed at first. Since then, I've realized that we took winning for granted, we lacked mental sharpness at key points, and it cost us an entire season."
Growing As A Leader
As the only family member living in the United States, Zeus continuously struggles with missing home. "My favorite thing about living in Venezuela is being close to my family," explains Osorio. "Family is one of the most important things in life…I probably wouldn't have done anything if it wasn't for their support."
Although he lasts the majority of the year living in the US away from his family, Zeus still saves up and tries to visit Venezuela once a year. "You can't replace the culture you grew up in. Relationships are developed differently, and you just can't buy or duplicate it," Zeus claims.
Back in Indiana, Osorio has given a lot of himself to try build a new community and new culture with Deus Vult, but it takes a lot of of energy. After last college season, Zeus moved to Austin, Texas for an internship. He found he had the free time in his schedule to try to play for a club team, but he wasn't sure how much of himself he was ready to commit.
"I tried out for Riverside. After missing Nationals, I was very tired and burned out, and I didn't even want to try out for Doublewide," says Osorio. "Because I was going to be back at school during club Sectionals and Regionals, Riverside didn't find me useful for their A-team, and instead offered me a spot as the captain on their B-Team. I happily accepted it, and it turned out to be a highlight of my summer."
That experience helped Zeus grow as a leader heading into his fifth year at Valparaiso, where he remains a model player, student, and friend, as evidenced by how highly his teammates speak of him.
"His work ethic is outstanding. He pushes me every day to be better," says co-captain John Verhayden. "I always compare myself to him to match his talent. As a captain, he's always knowledgeable. He does a great job teaching the young guys and myself. His play speaks volumes, he's an animal on the field, and I don't think enough people know that."
Finishing What They Started
Opponents better know about Zeus. Going into this spring season, Osorio and the rest of his Valparaiso squad are aiming to finish what they started last year with a sharpened focus. Nationals is an obvious goal for the team and they are now hungrier than they have ever been. As a fifth-year player with no eligibility left beyond this year, Zeus knows that this is the end of his career with Valparaiso.
"What really motivates me more than anything is knowing that this is the last time I will have a chance to play with this group of guys," says Zeus. With a leader like Osorio who is dialed in and hungry to achieve new levels of success for his program, we can expect big things from Deus Vult this year.
Currently, Zeus is applying for graduate schools to further his education, with hopes of earning a Masters and a Ph.D in transportation engineering. With a strong passion for network modeling and urban area planning, Osorio hopes to have as big an impact on the world as he has had on his Deus Vult.
Either way, Zeus doesn't anticipate his future endeavors will interfere with continuing to have an impact in the sport he has grown to love.
"Hopefully, I will be playing ultimate at the highest levels along the way."