RTTD always proves to be an important early season high school tournament.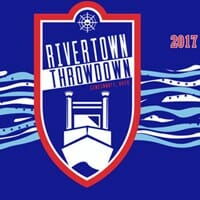 This article was written by Jeremy Bucher, a senior captain at Holy Family Catholic, and is presented by CUT Camps; all opinions are those of the author. Please support the brands that make Ultiworld possible and participate in CUT Camp!
Rivertown Throwdown 2017 returns to Heritage Oak Park in Mason, OH, the site of this year's USA Ultimate Division I College Championships. This early-season high school tournament draws heavily from the central region and continues to get good participation from the Northeast and South as well.
Tournament Profile
Date: March 18-19
Location: Mason, OH
Weather: Highs in the 40s and low 50s
Top 25 Teams: 4
Pool A
#4 Neuqua Valley: Neuqua features 11 returners this season, the most they have had in three years. They are led by a solid senior class including Ben Swiatek, a Junior Worlds alternate.

 

Neuqua is looking to have a strong season and take home the RTTD trophy once again.
North Allegheny: NAUF has made it to RTTD each year and always competes well.

 

This season the team has recruited a couple strong athletes, and has the athleticism to be a threat at RTTD.
Moeller: Moeller has a senior-heavy team and hopes to improve upon last year's performance.
Lexington Catholic: Lexington is in the midst of a rebuilding year: freshmen fill half the roster.
Pool B
#6 Edina: Edina plans to build on their successes from last year, when they had strong finishes at multiple tournaments.

 Although this is the team's first appearance at 

RTTD, expect them to play deep into Sunday with a good chance at the win.
Fishers: Fishers Ultimate is a 3rd-year team at Fishers High School (FHS/HSE) out of Indiana.
Independence: The team from Thompson's Station, TN, will sport a combination of athletic young guys and some experienced seniors.
Milford: Milford lands a low seed, but will be an upset risk in their pool with the skills they possess and some strong players from Cincinnati's YCC U19 team, Flying Pig.
Pool C
#11 Central KY Homeschoolers: Lexington Pi lost two key players from last year, but pretty much retains the core of their roster.

 

Pi plays an athletic and fast game using their handlers to create motion.
#13 Holy Family Catholic: HFC has reached the final in both of the past two years at RTTD.

 

The relatively low seeding for 2017 should add to the fire that the team plays with every game.
Geneva: A group of mostly seniors, all of whom were varsity juniors last season. They underperformed in 2016 so, with a few adjustments, hope to be a strong competitor this year.
Lebanon: Lebanon is a returning team who has long been a part of the Cincinnati ultimate community.
Pool D
Center Grove: Center Grove has 13 returners this season, including the majority of the team's top contributors. They hope to make a push back into the top 25 this season.
Mason: Mason brings a strong team to RTTD this season featuring multiple players from the Cincinnati YCC team.

 

The team did not graduate anyone and thus will be a tough matchup this season.
St. Charles Prep: ST. Charles Prep is a longtime team from Columbus and regular competitor for the top spot in Columbus leagues and Ohio States. This marks the first time any Columbus team has competed at RTTD.
Fox Chapel & St. Xavier: This combo team of the returning Fox Chapel (Pittsburgh) and local team St. Xavier will have fun adapting and should be quite competitive this weekend.
Games to Watch on Saturday:
Pool D is not called the Pool of Death for no reason.  The top two seeds in the pool, Center Grove and Mason, are both very strong teams and will have a tough fight for the top spot.   
Pool C has a similar challenge, pitting the two homeschool teams — Central Ky Pi and HFC Revolution — against each other. Pi has defeated Revolution a couple times already this year, albeit with reduced rosters for the HFC squad.
Expect there to be some fun matchups in the A and B pools as well. It will be good to see Neuqua and Edina demonstrate their early-season readiness against some unfamiliar competition like Independence Flight, the lone team from the South Region this year, and Fishers.