Texas dominant at home, but Ohio State and Tufts also had strong weekends.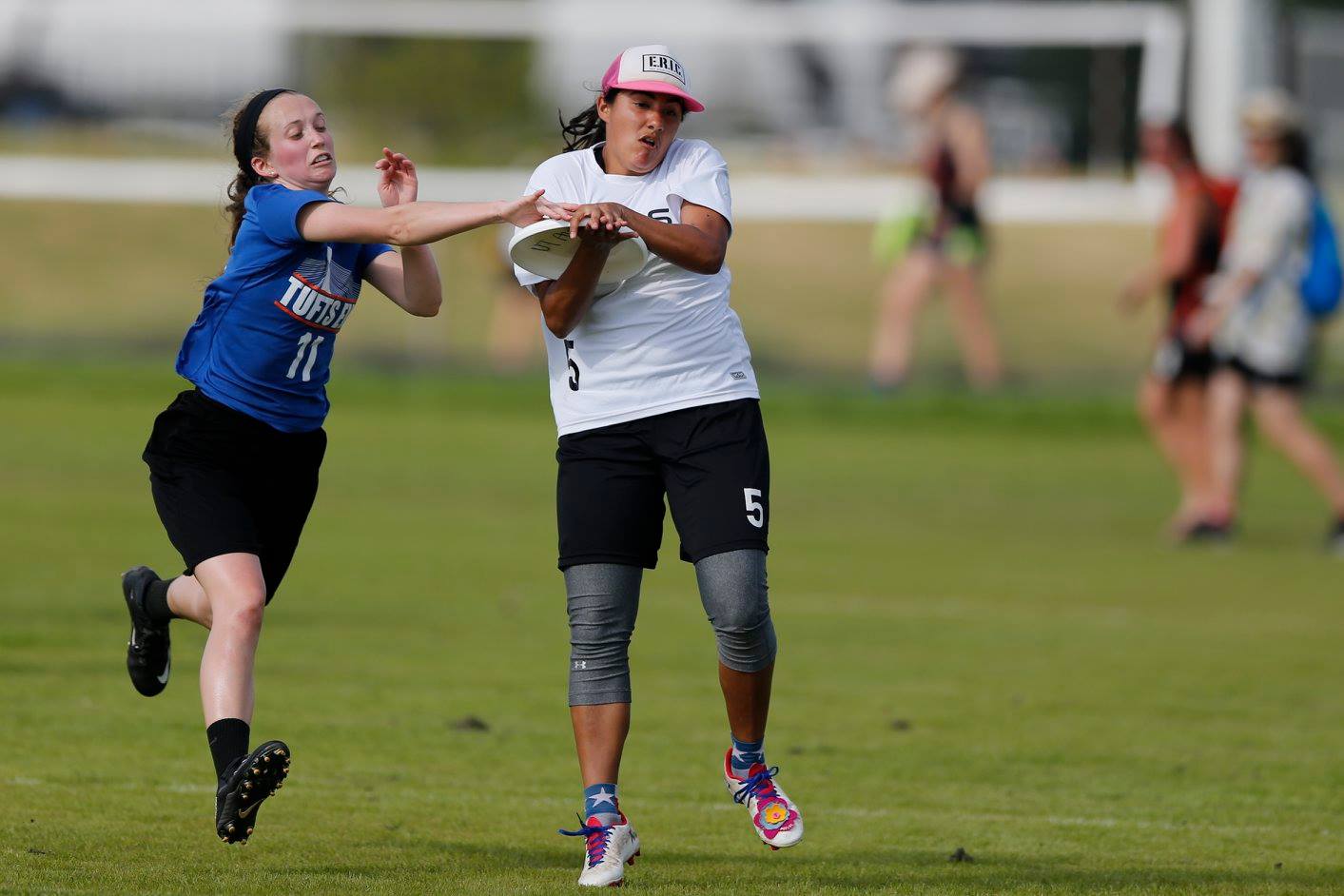 Ultiworld's reporting on Women's Centex 2017 is presented by VC Ultimate as part of their season-long support of our women's coverage; all opinions are those of the author. Please support the brands that make Ultiworld possible and shop at VC Ultimate!
The regular season is beginning to wind down and with the conclusion of the seminal tournament of Centex, many of the teams in Austin last weekend are now down until Conference Championships begin. Fortunately, the weather was sunny and warm and the games were played on beautiful new fields.
With Women's Centex now in the books, here is a look at the biggest stories from the weekend.
Texas Takes The Home-town Title
#2 Texas absolutely destroyed #10 Ohio State in the final, running away to a 15-3 victory to take their second consecutive Centex crown. Melee didn't play especially dominant ultimate, but it was clear that Ohio State was physically and mentally exhausted after a much tougher road to the final and Texas poured it on.
After the game, Laura Gerencser and Dre Esparza both noted that the game never felt like it was that much of a blow out. There were several long points, with teams turning it back and forth, and they both complimented Ohio State's defense.
"I never felt like we were up that many points, said Esparza. "Ohio State was playing a great game through and through, it seemed like they had no idea what the score was, we had no idea what the score was. We thought it was way closer."
From the sidelines though, even with the at-times unclean offense from Texas, it never felt as close as the players said it did.
Really, the comfortable final victory was a result of Texas handling business in their earlier games on Sunday. They won their semifinal a full half hour earlier than Ohio State did and that was evident when the two teams faced each other.
Melee also had little trouble with Florida in quarters, though FUEL did get a couple breaks in the second half.
Impressively, all of the Sunday dominance came without star cutter Julia Schmaltz. Schmaltz played in a limited role on Saturday, resting a knee that had been giving her some trouble. The knee reacted to playing a bit worse than she would have liked, so she shut it down altogether for Sunday. As of right now, though, there is no major concern that it's anything too serious.
Even while missing Schmaltz and a few rookies, Texas had a depth of talent that was completely unmatched by anyone else they faced down the stretch. Despite having only 14 players at their disposal at times, they were too much for all of their opponents on Sunday.
It wasn't that easy for Texas all weekend, however. They let Kansas hang around until 9-9 in their second game on Saturday before winning 15-9, and they defeated a tough Tufts team by a slim 11-9 margin in crossover play.
The team was simply a little flat on Saturday and they ran into their biggest problems when they relied too much on their handlers to move the disc among themselves. Texas likes to play a strike-cut oriented offense, and with dynamic players like Esparza, Gerencser, and Domenica Sutherland in the backfield, that is a perfectly reasonable game plan.
But there were times on Saturday that there would be virtually no movement downfield, and the team's handlers would strike cut themselves to exhaustion; after a turn, they'd have little gas left to play defense.
Yes, it's nitpicky to critique a team that outscored opponents 42-13 in three rounds of bracket play, but Texas has its eyes set on a deep run at Nationals, where the margins for error will be much smaller.
Texas should take great comfort in how they rebounded the next day, though. Teams have ups and downs over the course of a weekend, and how they adjust to them is what makes the difference between a good weekend and a bad one.
According to Gerencser, the biggest difference between the first and second days was how the team started games. "Today we came out more energized, especially at the beginning of games," she said after the final. "[Saturday] we came out pretty flat at the beginning of games — from there we had to fight back. We were trading points more so our legs were more tired."
The team also did a better job of getting everyone involved, not relying on the handlers to do everything on offense.
"I was really impressed with how everyone was playing. Even our rookies and secondary line were killing it, stepping up, and doing what they needed to do," Gerencser explained.
Ultimately, Texas proved capable of making adjustments over the course of the weekend and on Sunday they looked very much the dominant force one would have expected considering their level of play thus far and the quality of their competition. Texas has their eyes set on a deep run at Nationals and they now have a big tournament win upon which they can build throughout the Series.
Bid Movement: Ohio State Up, Kansas And Iowa State Down
In spite of the bad loss in the final, Ohio State were also huge winners at Centex. Coming into the tournament with a 12-8 record, Fever was on the outside looking in as far as Nationals bids. In a region with fellow power Pittsburgh, a one bid Regionals would have been a disaster for at least one of those two teams. Ohio State had their sights set on earning the second bid this weekend.
According to captain Stevie Miller, the team even reached out to former coach Brent Reeb to see what they needed to do to grab a second bid for the region. Based on Ultiworld's projections, it appears they did just that.
Their demolition of Kansas and win over Iowa State on Saturday were particularly valuable. On Sunday, they notched another big win over Colorado State in quarters and defeated fifth-ranked Tufts on double game point in what was the game of the tournament.
Ohio State should sit comfortably in a bid spot with their regular season now over. More than grabbing that extra bid, though, was the team improving, according to Miller.
"I think the biggest thing we've had to grow on is confidence. We have a lot of returners, a lot of people that have been around for a while. We have moments of greatness, but we don't string those together and a lot of that is because we play a little scared sometimes."
With the strength bid presumably in hand, Ohio State can now look ahead to the Series with a little bit of comfort. Instead of stressing about games out of their control, Fever can focus on what their postseason will look like — perhaps another shot at teams at Texas' level.
"I think just knowing that we made this final … kind of gives a little bit of energy to keep pushing forward," said Miller. "We saw a sneak peek, and we want to be able to go hard and compete when we get there."
***
Ohio State was the big winner on the weekend in the bid race, and it was at the expense of the two teams they beat on Saturday. Iowa State and Kansas both had rough weekends and now look to be out of the bid picture entirely.
In spite of finishing fourth, Iowa State had just two wins on the weekend — a comeback win over Minnesota on Saturday, and a late surge over an exhausted Kansas team in quarterfinals on Saturday.
To be fair, Women Scorned's schedule was brutal. They had to play Texas, Ohio State, and Tufts twice — the top three teams in Austin this weekend. Where ISU was really hurt was in semis and their third place game where they were outscored by a combined score of 30-10 against Texas and Tufts.
Iowa State showed that they have the physicality downfield to keep opponents uncomfortable, as well a number of two-way handlers very comfortable breaking the mark like Rachel Bates, who had a good weekend. They should certainly still be in the race to qualify out of the North Central, but their weekend all but assured that the region will have just one bid again.
One of Iowa State's victims, Kansas, will have an even bigger fall in the rankings after Centex. Betty entered the weekend ranked 11th, but now it appears as though they'll fall all the way out of the top 20.
Kansas got off to a rough start and never fully recovered. It didn't help that they had both of the eventual final teams in their pool, but they lost any real right to complain when they lost 15-6 to Ohio State in the opening round on Saturday.
In crossover play, the team appeared to rebound when they pulled off a furious rally to beat Minnesota. They were down 8-3 at half and then 13-10, before winning 14-13. After the late Saturday spark, they came out strong against Colorado College on Sunday. But even in that game, after leading 12-7, Betty let Strata back in the game and won by just a two-goal margin. That lengthened game cost them in quarters against Iowa State, where they faded late against a team that was fresh off a bye.
Like Iowa State, Kansas should still be a factor at Regionals, with the likes of Clare Frantz, Grace Roth, and Kelsey Akin leading the way. But a four bid South Central now appears to be out of the picture.
Tufts Confirms Elite Status
#9 Tufts made just their second appearance of the regular season at Centex and they proved that their win at Queen City Tune Up was no fluke.
Tufts is young, but they have some genuine stars in JoJo Emerson, Rachel Kramer, and Meredith Bernstein. They're supported by a solid cast of role players like Megan Wilson and Valerie Willocq, who was easily one of the most impressive defenders on the weekend. Additionally, Ewo has a large number of freshmen who logged significant playing time, the most impressive of which were Margo Urheim and Claire Dunn — both well-rounded players who can be plugged in a few different spot on the field.
Beyond their impressive talent level, Tufts proved to be one of the more tactically flexible teams in Austin. In a tremendous semifinal against Ohio State, Tufts dug themselves an early hole by giving up a four-point run and were down 8-5 at the half. In the second half, Ewo made a defensive adjustment to play a three-person cup zone, and person-marked Sadie Jezierski with Willocq. That defense gave Ohio State all kinds of problems, and neutralized Jezierski more effectively than any game she'd played in to that point. Ewo got their breaks and took their first lead since 1-0 at 12-11.
Ohio State held and on the final point of the game to take the spot in final, but Ewo's second half performance was one of the most impressive halves of ultimate any team played all weekend.
The decisive turnover on the double game point came from Emerson, and it was one that felt entirely unjust. Emerson was one of the most effective players of the entire tournament and is a massive presence for Ewo. She is the team's primary handler and plays both ways, so she's obviously important to their system, but she also plays with a nous and calmness of a player much more experienced than even her grad student status.
"We defer to her," said Kramer of Emerson.
"On ultimate decisions — and life decisions," her fellow captain Maeve O'Sullivan added. "She's the calming presence. We're lucky to have her," Kramer explained.
After the tough loss to Ohio State, Tufts responded remarkably well to race past Iowa State 15-6 for third place. For such a young team to show the resolve to come back against Ohio State, and then respond so well to a heartbreaking loss is truly impressive.
That ability to move on, according to O'Sullivan is the team's togetherness. "We know that we all play for each other. We all know that that's why we're here," she explained.
Tufts right now looks like the complete package and a team that could perhaps make a real run at Nationals. Particularly considering the limited amount of practice time they've had to this point in the season, their strong regular season has to be a real buoy to this young and impressive squad. It should serve, too, as a warning to any other Nationals caliber teams that Ewo should be taken seriously.
Glimpses at Some of the Middle Tier Teams
Beyond the semifinalists, #19 Florida, Delaware, and Colorado State had nice weekends as well. Florida and Delaware treated spectators to a tightly contested match with some hellaciously long points in pre-quarters,1 and Colorado State's trouncing of Minnesota in pre-quarters and fifth place overall finish showed their class as well.
It would have been interesting to see how their tournaments would have gone had the structure for Saturdays games been set up differently. Could any of them have shaken up the bracket seeding given the chance to play the Tier 1 teams in pool play? As it was, they had to settle for going a combined 8-1 in Tier 2/3 pool play and making just a bit of noise in the early rounds on Sunday.
All three of these teams look to have a decent chance at making Nationals (especially if Liberty hangs on to a third bid for the Atlantic Coast). That said, it became evident once Florida and Colorado State made quarters that there the was a gulf in class between themselves and the true top teams at the tournament.
Still, not every Nationals-caliber team is necessarily a quarterfinals-at-Nationals-caliber team. Florida, Colorado State, and Delaware all showed this weekend that they have the skill and athleticism capable of winning a spot to the Big Dance.
Quick Hits
The new Texas field complex is one of the most insane things I've ever seen. The place had an air conditioned lounge with big screen TVs showing March Madness games2 as well as more TVs outside, where there was also a fire pit. A fire pit! 

Most importantly, the fields were pristine. Apparently the amount of time it took to build the complex aggravated some folks, but as an outsider, I would imagine it was worth the wait.

Anneke Vermaak probably had more touches and a higher percentage of her team's touches than any other athlete on the weekend. She did damage with them, too. In the first half of Wisconsin's pre-quarter matchup with Illinois, Vermaak had six of her team's eight assists, and they were all to different goal scorers. Without being able to accurately track her assists tally all weekend, it still seemed like she was assisting near that rate all tournament long. She was easily one the most impressive players of the tournament and she led Wisconsin to a pretty decent weekend.

It was a really tough weekend for Minnesota. They had a lead of at least one break early in all of their Saturday games and they won none of them. They then got crushed by Colorado State in pre-quarters. They did close out their weekend with big wins over Illinois and Colorado College, but to have been in a position to get 2-3 more wins and come up empty is always tough, especially when a strong weekend could have possibly put them in a bid-earning spot.

One of the coolest moments of the weekend came in the pre-quarter matchup between Kansas and Colorado College. Kansas worked it into the redzone and Frantz found space in the middle of the endzone. The throw from her Betty teammate was well over her head looked completely out of reach. So much so, that Kansas coach Loren Schieber began critiquing her on how she should have made the pass before the disc even had a chance to hit the ground.

Frantz closed on it in the blink of an eye and with a massive layout snagged the disc with what must have been centimeters to spare. And she did it not two yards in front of her dad, who went absolutely bananas for a good three straight minutes. Definitely one of those "this is why sports are awesome moments."

The dance competition was something to behold. I'd heard earlier in the day that just four teams were competing and was a little wary that it would be a disappointment. But a healthy number of teams wound up competing and they danced up a storm. 

Washington University, Florida, and Ohio State took gold, silver, and bronze above a field that was strong from top to bottom. It was a team competition, but a few individuals stood out as well. Ohio State's Jackie Matonis closed down the house with a solo performance to her own Fever-specific cover of Fergalicious. She took the unofficial individual gold, while Florida's Courtney Testa took home the silver, and Texas' Dre Esparza took bronze.

I live tweeted the whole thing, and you should go back and check those out to try to relive the experience. It's one of the best traditions in college ultimate, one that should be taken in by everyone with an opportunity, and perfectly captured the spirit of the whole weekend.
---
The game's penultimate point lasted for 17 minutes! ↩

Watching the Northwestern women watch the Northwestern men's basketball team was fun. ↩