A star in the making and an industrious approach have made Richmond one of the premier D-III programs in the country.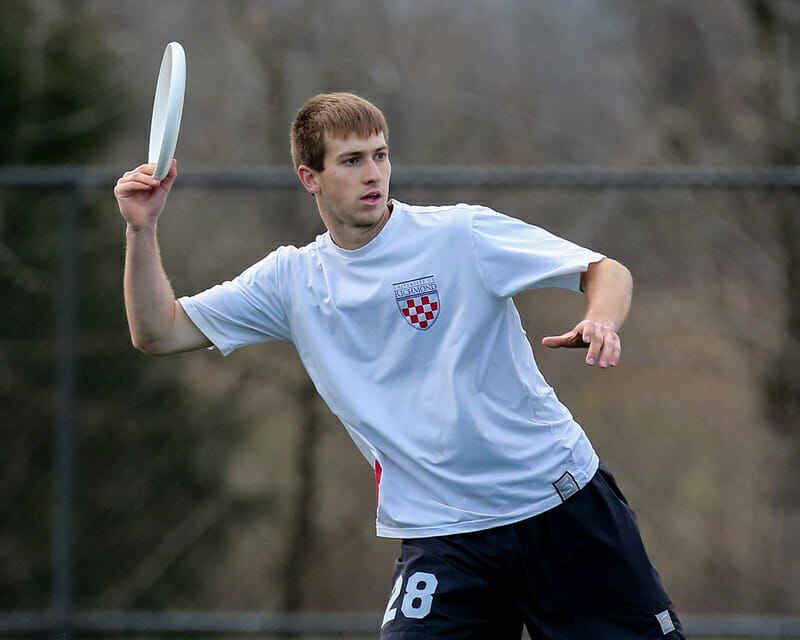 Back in February at Queen City Tune Up, I placed a bet with a fellow Ultiworld reporter that the University of Richmond would beat Harvard Red Line in the first game of the tournament. I got 2-1 odds, of course, as there was a legitimate case to be made against the upstart D-III program. How was Richmond going to pressure Harvard on defense? Wouldn't the pride of being a reigning D-I finalist give Harvard greater motivation to win a game against a 'lesser' opponent? Who was going to guard John Stubbs?
But very early on in the pool play matchup, these arguments began to fade away. The player doing the most damage wasn't John Stubbs, it was Henry Babcock. The offense to stop wasn't Harvard's, it was Richmond's. Motivation or not, Red Line couldn't simply will their way past their D-III counterpart and the Spidermonkey's walked away with the 10-9 upset. A fellow former D-III pleb like Patrick Stegemoeller should have known better, but alas, he owes me $20.
Their victory over Harvard proved to be the high point of the weekend before coming back down to earth with an 0-3 Sunday, but it was still an exciting weekend for the small private school in Virginia, a program that has fought the odds of a limited athletic pool and weaker draw on youth talent. The quarterfinal performance in Charlotte — and subsequent stint in the national spotlight — emphasized Richmond's steady growth over the past few years and placed them right in the thick of the conversation about D-III national contenders.
***
Each season since 2014, one North Carolina squad has landed itself in the top 16 teams in USAU's season rankings to qualify for a bid for the Atlantic Coast. Each season, they have been joined by the University of Richmond.
Three years ago, the Spidermonkeys took the region and earned a spot at Nationals for the first time in program history. The did so employing elements that have come to epitomize the program since: a talented star player, a remarkably consistent offense, and respect for all opponents in the competitive Atlantic Coast region. To say Richmond has had an easy road to success disregards the realities that the team has faced.
Richmond's record since 2014 has made them the consensus Atlantic Coast favorite for the last few seasons, though the team has never really shared that sentiment. Take last season, for example.
In 2016, Richmond didn't really know what to expect from themselves; they had graduated nine seniors from their 2015 squad that had failed to qualify for Nationals after losing to Elon and being upset by Davidson in the second place game-to-go. Despite their losses, Richmond put up a 17-3 record during the 2016 regular season and won the region.
A disappointing Nationals performance forced Richmond to again reset team expectations coming into 2017.
They have never entered a season believing they are as good as outsiders may perceive them to be, but that doesn't mean they have lowered their sights at all. Rather, they know how hard they have to work to achieve them. An industrious approach and heavy focus on player development are the cornerstones of the current iteration of Richmond's program, and that's due in no small part to the attitude of a humble star in the making.
While the 6'4" James Robb towered downfield for Richmond during their tremendous first run to Nationals in 2014, Babcock — then just a young freshman from Maine — was in the backfield honing his skills as the Spidermonkeys' primary offensive distributor.
"Babcock's ability to throw deep to any part of the field made James Robb almost unguardable that year," said head coach Matt Graves.
When Robb departed, Babcock took on an even bigger role and has become the centerpiece of Richmond's offense. His full arsenal of throws is showcased well in his 2016 Callahan nomination video; his ability to tear apart a defense with his throws make him a prime candidate in any conversation about the best players in D-III. Babcock's versatility and athleticism secured him an invite to the U24 tryouts to be held later this year.
But there is so much more to Babcock than just his on-field contributions. He has become the kind of leader that embodies the ethos of his program. It is manifested in his work ethic, leading team workouts and frequently throwing outside of practice.
"He had a vision of what our program could become and has motivated us to progress as a team," said Graves. "He works harder than anyone on our team to continue to get better and has shown others the work it takes to be a top college ultimate player."
***
At a glance, a private university that enrolls less than 3,000 students doesn't exactly scream elite ultimate.1 While Babcock has set the tone for the program, the other secret to Richmond's success has been developing young players with limited backgrounds in ultimate.
"We don't get a lot of students trying out and have never had enough to form a B team," said Graves.
To survive, Richmond has had to become a system-oriented team, combining solid offensive principles with a season-long focus on developing new players. To do that, Graves throws new and inexperienced players into the deep end, challenging them with hard matchups. It wasn't Babcock who was taking on the Stubbs matchup against Harvard at QCTU, it was rookie Harris Cannon.
But development for Richmond goes beyond just playing in the college tournament format in search of big game experience. Scrimmages against VCU have allowed to Richmond to develop a healthy cross-town rivalry against a talented regional-caliber D-I school.
"From QCTU to our home alumni tournament in the fall, we can play teams of all levels to allow the team to work on everything it needs to," Graves explained.
A sprinkle of YCC talent has also given Richmond a number of experienced players to prop up the program. Ben Weinstein and Chris Cassella were important pickups for Richmond this season who have taken on big roles on both sides of the disc. Richmond may not benefit directly from a particular high school feeder program like some of the large state schools, so each experienced acquisition they can make matters a lot to the team's overall development.
The system that Richmond has bought into over the past two seasons has created one of the most consistent offenses in the division. Richmond has combined Babcock's arsenal of pinpoint throws with a fluid horizontal stack, allowing them to isolate one-on-one matchups downfield.
For a thrower like Babcock, it's a dream come true. The spread offense allows him to pick and choose which matchups to throw to. Captain Sam Gillespie is Richmond's best downfield target, leading the team in goals and serving as a deep continuation for power position hucks. But Babcock is a precision weapon — when the deep look isn't there, he's completely content to allow Richmond's cutters to come underneath and work the disc up the field. His patience and precision means that throwing a zone against Richmond's O-line isn't an easy solution for slowing them down.
The team's success at Queen City this past February was dependent on smart continuation cutting and accurate cut timing. The chemistry put on display on offense is indicative of how successful Richmond's focus on development has been. Preparation for specific in-game situations has helped Richmond build that chemistry into a game-changing factor for their offense.
"That chemistry between the players makes it difficult for a defense to take away every option. That is what has elevated our offense the past few years," said Graves.
On defense, Richmond uses both a variety of person and traditional zone looks. Back at Queen City, in the midst of the upset win, Jimmy Lenox, the team's best downfield defender, was given the assignment of guarding Harvard's Milan Ravenell. He came up with key blocks in Richmond's zone against NC State. An 0-3 Sunday hid the fact that Richmond was able to hang with two top regional D-I programs and challenged Virginia Tech and NC State throughout the course of their consolation games.
"The team was proud of their performance, considering by how much they beat expectations," said coach Graves shortly after the tournament.
After Queen City Tune Up, Richmond shot up to #25 in Ultiworld's D-I power rankings, the first D-III program to ever make that leap. To everyone on the outside of the program, Richmond was once again on the radar as clearly the best D-III team in the Atlantic Coast — and maybe the country. Once again, that impression and expectation expressed by people on the outside of the program wasn't necessarily shared internally at Richmond. Their expectations have never changed, and their humble impression of themselves has kept them focused on their season-long goals for the program.
***
While Richmond gained a great deal of confidence following their impressive quarterfinals run at Queen City Tune Up, they won't be resting their head on that achievement. Regular season tournaments are really just a chance to gauge where they stand compared to other programs.
"After QCTU, there were some obvious flaws in the team, particularly fitness," noted coach Graves.
Their season continued on at Oak Creek Invite two weeks ago, where a 3-4 record provided additional motivation for the team to keep developing. EastURns this weekend gives Richmond a good look at an Atlantic Coast-heavy field, with regional D-III rivals like Davidson, Elon, and Mary Washington in attendance. With a possible strength bid on the line and a home crowd to cheer them on for the final weekend of the regular season, Richmond will be ready for the chance to showcase their work in 2017 against some of the best D-III programs in the country.
Richmond's road to Nationals and beyond will not be an easy one, but that's what their program has prepared for. As for belief, Richmond has never doubted what their potential could be.
"Winning D-III Nationals is within the team's grasp," said Graves.
At this point, few will be betting against them.
---
Though Carleton and a few others may beg to differ. ↩