Buy, sell, and hold.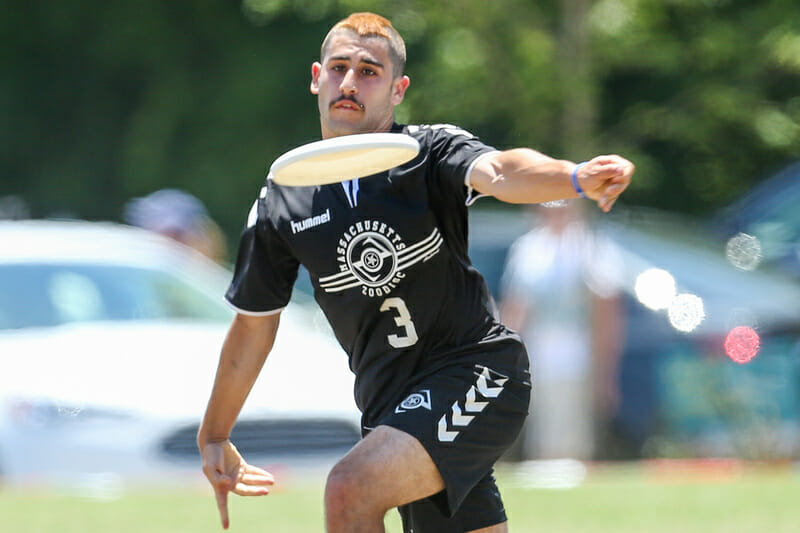 Ultiworld's reporting on the men's division of Easterns 2017 is presented by Spin Ultimate; all opinions are those of the author. Please support the brands that make Ultiworld possible and shop at Spin Ultimate!
We're halfway through the grand finale of the Men's Division regular season. We've got seven takeaways from the day, the bandwagons you should be getting on, and the sinking ships to get off.
Buy
Ben Sadok's Player of the Year Candidacy
If you thought Massachusetts' lefty handler was simply getting the "center handler on a top team" love, you haven't been paying attention. Sadok was the top individual performer in Myrtle Beach on Saturday.1 It goes beyond the four goal, four assist, five block stat line against Oregon. It's more than his shift over to pulling double duty with the D-line coinciding with UMass' run of late breaks to pull ahead. He's an intelligent and furtive defender that plays with a sense of urgency and clearly has a full arsenal at his disposal offensively.
There was a defensive point down the stretch when he matched up with Oregon handler Colton Clark, who has plenty of inches on Sadok. While it may seem natural for Clark to push downfield to use his height as an advantage, it was actually Sadok going deep, making a wily decision to use his speed to simply blow by Clark into the deep lane after a turn. An Oregon help defender got involved to disrupt the connection, but it demonstrated how effectively Sadok understands well-timed aggression.
Atlantic Coast Legitimacy
Coming in the weekend, it may have felt as if the Atlantic Coast's three bid status was built on, in large part, an NC State team with one notable win – over #20 Florida – and mostly having beaten up lower ranked teams at Easterns Qualifier. And the potential for the region to have four bids? Wholly unjust.
Cast those doubts aside: the Atlantic Coast is for real. Sure, at the top, North Carolina and UNC Wilmington took some losses on the chin today, but Virginia Tech, NC State, and Virginia all had some impressive, albeit flawed, performances. Their combined 5-7 record doesn't jump off the page, but, in person, the AC squads' highlights outshone their hiccups. Virginia Tech looked competitive with top teams and their win over Stanford was legit. NC State needed a big victory over Cal Poly and they got it. Virginia was tied at 12 with Wisconsin.
All in all, the Atlantic Coast passed the eye test and made strides towards perhaps the biggest upset of all: a fourth bid to Nationals.
Wisconsin's Potential
Taking down both Pittsburgh and UNC Wilmington in one day would be enough to move anyone into the "buy" column. But for Wisconsin it's not just what they've done, but what their performance today indicates they might be able to do. After so-so performances at Warm Up and Stanford, expectations for the Hodags this year were tempered. Today turned that around in a big way.
Showing offensive polish far beyond what they demonstrated earlier this season, the Hodags looked like the team we saw tear through pool play at Nationals last season. Ross Barker's return certainly helped, as he gave Wisconsin a consistently open option downfield that kept the disc moving. The big star, though, was Nicholas Vogt. The junior cutter was unguardable in the second half against Wilmington, hauling in goal after goal, including the game winner.
Wisconsin today was the best we've seen them this year; if they improved this much in the weeks since Stanford, how good will they be for Nationals in May? Any fan of the sport should be excited to find out.
Sell
Talk Of Chalk
It only took about an hour into Easterns for the upset alert sirens to begin blaring, with Wisconsin breaking Pitt to open the second half and take an 8-6 lead. A field over, Stanford opened up a 6-3 lead on North Carolina, before they took half 8-4. Both teams went on to complete the upset. That set the tone for a Saturday filled with favorites going down. Over the course of the day, UConn shocked Colorado, Michigan knocked off Carleton, and Harvard surprised Central Florida, to name a few.
After Saturday's dust settled, I wanted to take stock of the context of what felt like an anomalous day of upsets. I dug into the recent history at Easterns. Indeed, the 2017 edition of Easterns produced more upsets than any of the past three seasons, clocking in at a voluminous 13 underdog victories. In 2016 and 2014, there were only five upsets in pool play. This Saturday topped the 11 upsets in a wild 2015 tournament, where the bottom four seeds of the tournament claimed five wins, mostly led by a surprising showing from Harvard.
And guess who was in the final in that insane tournament two years ago? No. 1 seed Pitt defeated No. 2 seed UNC Wilmington. Chalk.
There does appear to be a nice mix of parity and vulnerability at the top. That's a recipe for more surprises.
UNC's Zone Offense
North Carolina were undefeated heading into the final of Centex two weeks ago, and, by all indications, were on the way to an appearance in the title game. Some doubt crept in when UMass upset them to claim the Centex crown, stymying Carolina's pace-and-space attack with a suffocating zone. That doubt is more than creeping now, after Stanford deployed a healthy dose of zone in their first round matchup against Darkside and upset the Pool B favorites.
UNC's offense is best when they are in rhythm, creating wide swaths of space with their intelligent movement and letting Walker Matthews or Nick MacLeod push the tempo with continuation hucks. Zone defense effectively puts an end to that and forces more nuanced decision making and patience than straight up man-to-man.
Darkside still has plenty of time to work out their kinks against zone–it was about this time last year that we were wondering if Minnesota would be able to cope with teams playing zone against them, and that worked out fine for Grey Duck–but opposing teams will no doubt have taken note of the only prominent hole in UNC's game.
Hold
Overreactions
Today was crazy.
It was a day of genuinely shocking upsets, insane finishes, and way more questions than answers. Instead of trying to recalibrate your universe so that it somehow makes sense that UConn beat Colorado, can't we just enjoy the wackiness of it all?
The answer, of course, is no. The need to derive meaning from everything is too integral to human nature, we're not changing now. So let's compromise and say that maybe all of the madness of today might not carry over to tomorrow, the day after, or, say, Nationals. We learned some things today about the teams involved, but the only definite takeaway is that crazy upsets and ultimate are a lot of fun.
---
Sorry, Carolina Opry Group ↩