Who will be the first teams in the postseason to secure their spot at Nationals?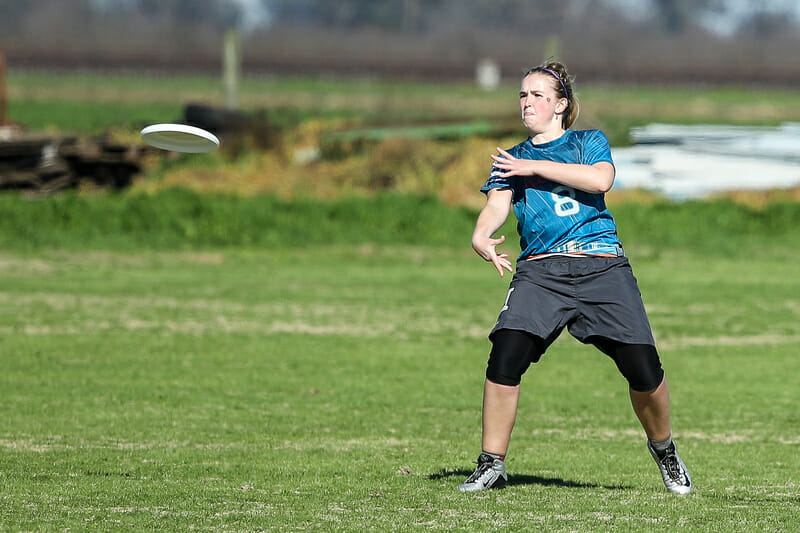 While the D-III division is still growing, some regions lack the size or participation numbers to host multiple qualification rounds prior to Nationals. In those cases, teams fight it out at D-III Conference tournaments to decide who advances to Nationals. That's right, some teams are going to lock up their spots this weekend!
Here's a preview of the three Women's D-III  Conference tournaments to keep an eye on this weekend.
North Central
The #1 ranked team and the reigning National Champion are both competing at North Central D-III Conference Championships this weekend; with two bids on the line, it's tough to envision a scenario where they both don't advance through the tournament. Both #1 St. Olaf Vortex and #4 Carleton Eclipse have attended the D-III College Championships every season since 2014; Carleton has been in attendance every year since 2011, while St. Olaf has been in all but two years of the tournament's existence. These two programs are mainstays of D-III Nationals and there's not a lot of reason to expect that to change in 2017.
What has changed is that they won't be bringing a plus one to the dance this year. It's the first time since the regional redraw — since the North Central was created — that there won't be three or more teams headed to Nationals. That means #14 Luther Freya, #17 Grinnell Stickies, and St. Benedict Rapture are all facing uphill climbs to avoid being left out.
They were all battling for third place last spring, after getting walloped by the top two seeds in bracket play at last year's climactic event. In particular, Luther has not performed as competitively as expected this year, investing a lot of time into developing their huge rookie class and also being stuck practicing inside thanks to the Midwest winter. However sophomore Hanna Doerr has stepped up to become a big playmaker on the field and captain Rachel Johnson continues to shock opponents with her defiant layouts and disciplined decision-making with the disc. These two will push the favorites in semis, and will have to be at their best to get Freya to Nationals.
There aren't a ton of matchups between the field so far this spring to inform predictions for how the weekend could play out. Carleton has a blowout victory over St. Benedict and a 10-7 win against Luther, but has not competed against St. Olaf. In fact, their only common opponent is Wash U, whom St. Olaf lost to on two occasions by a single goal, but whom Carleton defeated by the same margin. An upset at the top is certainly not out of the question.
To earn the first bid, Carleton will need to a find a way to stop Tulsa Douglas, one of the truly elite players in the division. Eclipse has their own weapons, namely Leah Roche and Haley Olson, but Douglas is a highly influential player that demands a targeted gameplan. While Carleton did outplay St. Olaf to beat Wash U, St. Olaf should have a much fuller roster than they did at the time. The No. 1 seed is hoping to repeat last year's North Central D-III title, which they won 10-7 over Carleton.
Northwest
This season has been the strongest showing in Northwest Women's D-III since Pacific Lutheran won the inaugural 2010 Championship. With #7 Portland UProar and #10 Puget Sound Clearcut both looking strong after good regular seasons, the region was delighted to learn last Friday that they will send both Conference finalists to Nationals. It's the second time in region history they've sent more than one team; in fact, in multiple years, no team from the Northwest has even attended Nationals.
The four team Conference Championship this weekend is expected to end with favorites Portland's UProar taking the first bid, and long-time regional powerhouse Puget Sound Clearcut coming in second and taking the strength bid. But don't count Lewis and Clark Artemis or Pacific Lutheran Reign out yet. Surprises are the name of the game in D-III Women's.
"We are super excited for the weekend. We feel confident and ready to hopefully earn our first bid to Nationals," said Portland coach Beckie Zipp. Be on the lookout for UProar's senior captains and playmakers Demri Horton, Makena Strand, and Maddy Otto this weekend. Zipp is also quick to point out, "We wouldn't have the success we are having without the diligence of the entire roster. It takes an entire team to win games."
Senior captains have also been guiding Puget Sound this season, with Ellen "Cady" Kalenscher and Ellie Engel hoping to lead Clearcut to a spot on the national stage.
Portland has dominated this season, sweeping two spring tournament appearances, which includes besting Puget Sound at Flat Tail Open. UProar also beat the same teams that Puget Sound beat at Northwest Challenge, but by larger margins. In the past two seasons, Clearcut was 5-0 against Portland, and none of those games were close. But this year Portland has finally gotten out of Puget Sound's shadow. Portland's 11-9 victory at Flat Tail Open is not enough to assume supremacy, however. That win was all the way back in January, which casts some doubt as to which team will claim the Northwest crown this weekend. We can only hope to get a matchup between Horton and Kallenscher, as both look like players to watch at Nationals.
2017 could turn into a year of surprises if Pacific Lutheran — with their best regular season in years, thanks in part to a strong junior class — can take a bid spot from the top two. Handler cutter duo Genevieve Brandt and Elizabeth Holm are expected to run the field, making opponents work to score.
Reign Coach Ryan Mitchell shares, "It's not going to be easy, but I think we have a good shot to prove our names and maybe even upset some teams."
Southwest
The Southwest has had one bid to Nationals every year and that bid has consistently been earned by the Claremont Greenshirts. Historically and currently, the Southwest is a two team region that doesn't host a separate event for D-III. In these cases, the team with the higher ranking during the regular season advances to Nationals, which in this case, is Claremont. While both teams will compete at SoCal D-I Conference Championships, they do so only with pride at stake.
Claremont lost the highest percentage of their team in D-III, with 13 seniors graduating from the program. But this has created space for juniors like Nancy Karreman and Fran Querdasi to step into their own as a handler and cutter, respectively. A young team, Claremont has had a rough regular season and been unable to crack the Ultiworld Top 25 in recent weeks. The captain trio of Sharon Huynh, Rose Soiffer-Kosins, and Bryn Arborico, all have roots in the Seattle youth scene and bring with them the strong discipline that comes from the many elite players coaching Seattle youth. With just two tournament appearances this spring and only one more before Nationals, the Greenshirt rookies will need to translate their experience into production for Claremont to be competitive in Lexington.
Occidental Women's Air Force also lost some strong senior handlers from the 2016 season but have brought in freshmen with experience, like Celeste Padula and Jessica Wan. Watch out for them next year to potentially be more competitive during the course of the season and try to finally knock the Greenshirts from their perch atop the region.