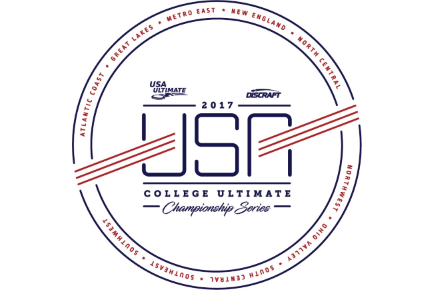 With Conference tournaments now behind us,1 here is a rundown of all teams that have qualified for Regionals.
Feel free to send us a short (<250 words) recap of your tournament — we'll add it to the article!
* indicates qualification to Division III College Championships
ATLANTIC COAST
Men's D-I
Carolina
1.-6. North Carolina, UNC Wilmington, NC State, Clemson, South Carolina, and Duke
7. TBD
Carolina Conferences (in all divisions) had Sunday rained out, leaving the results up in the air. Through Saturday afternoon, North Carolina and UNC Wilmington were dominating their pools, though the top three in each pool were granted qualification to Regionals based on a lack of field space to fully play out the tournament this upcoming weekend. Instead six teams — East Carolina, Appalacian State, UNC Charlotte, Wake Forest, Western Carolina, and Charleston — were invited to play out a bracket for the last bid to Regionals this upcoming weekend in High Point, though the latter two have declined their invitation to participate.
Colonial
1. George Washington
2. Maryland
3. Delaware
Virginia
1. William & Mary
2. Virginia Tech
3. Virginia
4. James Madison
5. George Mason
6. Virginia Commonwealth
Here's a recap from Virginia's Evan Hurley:
In a moderately windy, rain-drenched beginning to the college Series, five-seed William & Mary took down Virginia Tech to claim the Virginia Conference title, 15-4. Virginia Tech then took down Virginia in a sloppy backdoor second-place game, following Night Train's second place semifinal win over James Madison. James Madison beat George Mason handily in the 4/5 matchup, with VCU taking down Liberty to secure the sixth and final bid.
William and Mary had a tremendous showing at the Conference Championships, with solid all-around play from a handful of guys. Their zone defense, in particular, gave some of the top seeded teams issues, especially in the adverse weather conditions.
Women's D-I
Carolina
1.-4. North Carolina, Clemson, UNC Wilmington, North Carolina State
5.-6. Duke, South Carolina
As is the case with other divisions, most of Sunday's action was rained out. It appears that all four teams that reached the Championship bracket (UNC/Clemson/UNCW/NCSU) will advance to Regionals without playing semis/finals. The one round of elimination play on Sunday morning saw Duke beat Appalacian State and South Carolina beat Wake Forest; Duke and South Carolina advance to Regionals with those wins. Seeding at Regionals will be interesting.
Colonial
1. Delaware
2. Georgetown
3. Maryland
4. American
5. Towson
Virginia
1. Virginia
2. Liberty
3. George Mason
4. James Madison
5. William & Mary
Here's a recap from Bryan Dombrowski:
Wind and constant rain on Saturday had big impacts on everyone except Virginia, who went untouched all weekend surrendering only 18 points through seven games. There is no shortage of talent on the UVA roster but Keila Strick, Emma Price, and Rukmini Basu all had stand-out performances this weekend on both sides of the disc.
Liberty was a step above the rest of the competition this weekend. They are a gritty and resilient team, and a lot of that comes from Jillianne Hook. She takes the toughest matchups with a smile and gives 100% on the field wherever she is needed to provide lots of flexibility to their offense. However, losing to Virginia 13-7 in pool play and 13-3 in the final shows they have some tweaks to make if they are to have a shot at the third bid to Nationals.
George Mason took large steps as a program this weekend, finishing third and recording their first ever win over JMU. Their first victory over Liberty still eludes them: for the third meeting in a row, Mason lost on double game point, this time seeing their O-line get broken three times. Sarah Burden was a must-stop big thrower for George Mason and fellow senior Emma Powers was her favorite target outrunning defenders all game long.
James Madison played in traditional B-Monk fashion: speed, aggressive defense, and an offensive preference to outwork opponents fundamentally rather than make flashy plays. Mary 'Molly' Rowland was JMU's secret sauce this weekend. Taking on tough matchups and being the catalyst of their offense; she rose to the occasion of securing her team a spot at Regionals with a fourth place finish.
Virginia Tech, William and Mary, and Virginia Commonwealth traded wins against each other in pool play, with VT earning a spot in the fourth place game based on point differential. But on Sunday, it was the William & Mary Mother Huckers who claimed victories over both in the fifth place bracket to advance to Regionals.
One other standout performer from the weekend was Malisa Dang, a former W&M star, now making plays for VCU as a grad student; she was quick with the disc and her backhand breaks punished teams that didn't mark her hard.
Men's D-III
Carolina
1. Davidson
2. UNC Asheville
3. TBD (Elon/High Point)
4. TBD (Elon/High Point/North Greenville)
As mentioned above, Carolina Conferences had Sunday rained out. After their strong first days, Davidson and UNCA had all but mathematically qualified for Regionals, so they were awarded first and second place, respectively. With two more bids still on the line, three teams will travel to High Point on Wednesday night to determine third and fourth place. High Point and Elon will play a third place game, then the loser will play a game-to-go against North Greenville.2
Northern Atlantic Coast
1. Richmond
2. Mary Washington
3. Navy
4. Christopher Newport
Women's D-III
1. Catholic*
Here's a recap from Catholic assistant coach Layne Scherer:
The Atlantic Coast D-III Conference Championships began began on Saturday with divergent narratives developing in each pool. In Pool A, top-seed Catholic University of America Nun Betta dominated, with only Elon Wild Rumpus, the reigning Conference Champion, keeping a game within five points. In Pool B, the games came to closer margins with No. 2 seed Richmond Redhots coming out on top.
On Sunday, aside from Goucher's solid performance against Catholic, the winners of quarterfinals advanced without much issue. Teams turned up the volume during semis, featuring two closely fought games. In the matchup between Catholic and UNC Asheville, Nun Betta went up three points to start before Allison Bashford and company battled back by throwing zone and increasing their offensive efficiency. After Catholic took half 8-7, UNC Asheville responded with back-to-back points to take the lead as the score got capped at 10. While both teams dug deep, Catholic was able to force a double game point and broke to win, 10-9. On the other side of the bracket, despite a strong effort from Elon, Richmond earned their spot in the championship game, 11-8.
In the final, Catholic and Richmond traded long points before Richmond earned a break through their tough defense; offensively the were able to gain momentum from fiery handlers Jessica Tow "J-Tow" and Bridgette Heine, along with downfield threat Alexis Porter. Once the floodgates were open, Catholic went on a five-point run beginning with an endzone bid from Laurel "Carl" Van Scoy, taking Catholic to half up 8-4. While Richmond came out hard in the second half, the clock was working against them with the time cap looming. With a final pass from Bridget "Beef" Finnell to Peggy Stevick, Catholic secured the victory with a final score of 10-5. The win earned Catholic their first trip to Nationals under the leadership of captains Sarah Abel and Grace Castro, head coach Steve "Scuba" Kreider, and assistant coach Layne Scherer.
A tight matchup in the third-place game saw UNC Asheville beating out Elon by one (10-9). Mary Washington brought home fifth place with a 9-5 victory over Goucher.
The Atlantic Coast Conferences also saw the first tournament appearance of Christopher Newport University Rosemary (CNU), one of the USAU 2017 College Women's startup awardees. CNU opted to attend this tournament over the Atlantic Coast Developmental Conference Championships and delivered a courageous performance over the weekend led by captain and lead handler Caroline Tsui.  CNU pushed St. Mary's SMUT to double game point during pool play before following that up with their very first win a a program over Davidson DUFF(5-3).
Men's Developmental
Carolina
1. North Carolina B
2. UNC Wilmington B
Colonial
1. Delaware B
2. Maryland B
3. George Washington B
Here's a recap from Delaware B's Zach Roy and Daniel Jahnsen:
Delaware B and Maryland B impressed on Saturday, each going 3-0, while George Washington B and Georgetown B both went 2-1. In the quarterfinals, G-Dub hippos stomped American B team and the Georgetown Squirrels defeated UMBC to set up semifinals featuring the top four seeded teams.
Delaware went up early on George Washington 6-1, but the hippos stormed back and took half at 8-7. A closely contested second half saw Delaware recover for an 11-9 victory. In the other semifinal matchup, the Squirrels came out hot, scoring the game's first three points. Maryland then got on the break train to take a 5-3 lead, eventually taking half at a score of 8-6. Both teams fought hard, but Maryland prevailed in the second half, winning 10-8.
In the finals, the Maryland Solar Flair got out ahead of Delaware early at 3-1, but Sideshow responded with tricks of their own taking half 8-3. Once play resumed, Delaware cruised in the main event to 14-6 victory crowning them kings of the Colonial Conference.
George Washington defeated Georgetown with a final score of 13-8 to claim third place and the final bid to Atlantic Coast Developmental Regionals.
Virginia
1. Virginia Tech B
2. Virginia B
3. James Madison B
GREAT LAKES
Men's D-I
East Plains
1. Notre Dame
2. Purdue
3. Kentucky
4. Indiana
Here's a recap from Notre Dame's Sean Brady:
After pools went to seed on Saturday, Purdue and Notre Dame met in the final Sunday morning. A fired-up D-line led by Luke "Beetleborg" Brennan gave ND Papal Rage two early breaks, and Rage never looked back, weathering some athletic blocks from Purdue's Mike Kobyra and highlight throws from Joe Byerly. Notre Dame's Luke Brennan — who on Saturday went on a run of five straight assists to open a pool play game against Indiana — was a force in the final. Senior captain Danny Fitzgerald played lockdown defense and was instrumental in crashing zones in the wind for center handler Jacob Scobey. Rage closed the game with three breaks in a row to take the section, 15-9.
Purdue's easily recognizable stud Jake "Specs" Fella missed all of Saturday and the first half of Sunday's final for an AUDL game, but Kobyra, a speedy cutter, and Byerly, a young handler with an arsenal of throws, stepped up in his place. Purdue fell to the second place game where they defeated an upstart Kentucky KULT team, which had been making noise all weekend and gave Purdue a real test in pool play. They fell 12-10 to Purdue on Saturday before upsetting Indiana 13-10 in the third place game on Sunday. Their program is clearly heading in a positive direction, as their full roster provided manic energy on the sidelines.
Indiana HoosierMamas, after falling to Kentucky, took down Southern Indiana 15-8 in the game-to-go to Regionals.
Illinois
1. Northwestern
2. Illinois
3. Illinois State
4. Chicago
Michigan
1. Michigan
2. Grand Valley State
3. Michigan State
4. Western Michigan
Women's D-I
Eastern Great Lakes
1. Michigan
2. Notre Dame
3. Indiana
4. Michigan State
5. Purdue
Here's a recap from Michigan Flywheel coach Ben Murphy:
The weather all weekend in Indianapolis had sustained winds that were mild to moderate with some gusts that were significant. Many teams ran some variety of zone or junk defense off and on, and teams that played strong person defense were successful as well. From most of the games I watched, the team that did the best to execute fundamentals of throwing and catching in the wind was the team that won.
Both favorites, Notre Dame and Michigan, went undefeated in pool play — the closest game that either team played on Saturday was a 10-5 victory for Michigan over Indiana — and earning their Regionals bids by the end of day one. In Pool A, Purdue upset Michigan State, as the two teams finished second and third respectively, followed by Central Michigan and Southern Indiana. In Pool B, Indiana finished second, followed by Notre Dame B and Michigan B.
In the battle of pool winners on Sunday morning, Michigan beat Notre Dame 10-9 in a game that featured zero breaks as every goal was scored in the downwind end zone. Both teams showed the disc skill and offensive spacing and timing that earned them wins against strong out-of-region opponents. Both teams did have chances for breaks over the course of the game, but could not convert. As a potential preview of the regional final, the game featured intense defense, amazing throws, and some very athletic bids from both teams.
In the nine-team, five-bid format, the remaining teams finish a round robin format to determine the last three bids to Regionals. On Sunday, all three of the expected contenders — Indiana, Michigan State and Purdue — did enough to move on. The order came down to point differential after the squads finished in a three-way tie, with Indiana finishing third, Michigan State fourth, and Purdue in fifth to grab the last spot to Regionals. Based on the results, it seems like there was a bit of a drop off between these Regional qualifiers and the next four teams, as the closest game between one of these three and other four was Purdue defeating Central Michigan University by a score of 10-5.
Illinois
1. Northwestern
2. Illinois
3. Chicago
Men's D-III
East Plains
1. Valparaiso
2. Indiana Wesleyan
Illinois
1. Wheaton
2. Knox
3. Eastern Illinois
4. Bradley
5. North Park
Michigan
1. Kalamazoo
Women's D-III
1. Valparaiso*
METRO EAST
Men's D-I
Hudson Valley
1. Connecticut
2. SUNY Albany
Metro NY
1. Princeton
2. NYU
3. Rutgers
4. SUNY Stony Brook
5. Columbia
Here is a recap from Princeton's Zane Friedkin:
NYU went 4-0 on Saturday but lost to Princeton and Columbia on Sunday morning, resulting in a 5-way tie (all teams at 4-2) for first place in pool play, with circular head-to-heads. NYU and Princeton made the final on point differential and faced off for the second time on the day to determine the Conference champ. The final went Princeton's way by a large margin (15-7), thanks to strong play from Oakley Richins.
We didn't even expect to be close to the final game, but the crazy end to pool play broke our way.
Western NY
1. Toronto
2. Cornell
3. SUNY Buffalo
4. Queens-Kingston
5. Syracuse
6. Rochester
Here is a recap from a Western NY player:
Toronto emerged as the unlikely Conference Champions, coming from the 8th seed to win their pool and take down Cornell in the semifinals 12-10 before defeating SUNY Buffalo in the final 11-7 to cap an undefeated 6-0 weekend.
Cornell looked shaky this weekend, taking losses to Queens-Kingston in pool play and then Toronto in semis, but they still managed to squeeze out a second place finish through the backdoor bracket. They appeared to be playing without a number of their most important players due to injury, as they had 5-6 players de-cleated all weekend, including 2016 2nd team all region player Robert Rickert. If they return some of their top players from injury, expect them to be right back in the mix at Regionals.
Queens-Kingston had themselves a nice weekend, coming in shorthanded with a 12 person roster yet winning their pool Saturday with an 11-8 victory over Cornell before falling apart Sunday, losing to Buffalo and Cornell. Queens-Kingston's Mike Mackenzie was probably the best player playing at the tournament and did it all for Queens in helping them earn a bid to Regionals.
Metro East Dev
1. UConn B
2. Rowan B
3. Cornell B
Women's D-I
Eastern Metro East
1. Columbia
2. Connecticut
3. Princeton
4. Rutgers
5. SUNY Stony Brook
6. NYU
Western NY
1. Cornell
2. Ottawa
3. SUNY Binghamton
4. Toronto
Here is a recap from a Cornell player:
Cornell dominated the field with its closest score of the weekend being 13-6 in the final against SUNY Binghamton, in a strong upwind-downwind competition. Cornell looked strong throughout pool play, handily defeating SUNY Buffalo, Syracuse, and University of Toronto. In the other pool, SUNY Binghamton came out on top after a narrow 13-12 victory over Ottawa, as well as wins over Rochester and Cornell B.
After coming into Conferences unranked due to not completing ten USAU sanctioned games — Ottawa played seven sanctioned games and Toronto played zero — both Canadian teams earned bids to Metro East Regionals. Ottawa defeated SUNY Binghamton 15-7 to take second place, and Toronto narrowly defeated Rochester for the fourth and final bid in a hard-fought game that prematurely ended the season of a promising Rochester team.
Men's D-III
Hudson Valley
1. Army
2. Connecticut College
3. Hartford
4. Wesleyan
5. New Haven
Metro NY
1. Stevens Tech
2. The College of New Jersey
Western NY
1. Hamilton
2. SUNY Geneseo
3. SUNY Fredonia
4. Ithaca
5. Colgate
Women's D-III
Eastern Metro East
1. Wesleyan
2. Skidmore
3. College of New Jersey
4. Rensselaer Polytechnic
5. Vassar
Western NY
1. SUNY Geneseo
2. Hamilton
3. SUNY Oneonta
NEW ENGLAND
Men's D-I
Metro Boston
1. Harvard
2. Tufts
3. Northeastern
4. Boston College
5. MIT
6. Boston University
7. Massachusetts-Lowell
North New England
1. Vermont
2. New Hampshire
3. Vermont B
4. Maine
South New England
1. Massachusetts
2. Brown
3. Rhode Island
Metro Boston Dev
1. Tufts B
South New England Dev
1. Brown B
Women's D-I
Greater New England
1. Dartmouth
2. Vermont
3. Middlebury
4. Massachusetts
Metro Boston
1. Tufts
2. Northeastern
3. Boston College
4. Harvard
5. MIT
6. Boston University
Men's D-III
Metro Boston
1. Brandeis
2. Bentley
3. Wentworth
4. Emerson
North New England
1. Middlebury
2. Dartmouth
3. Bowdoin
4. Bates
5. Colby
South New England
1. Bryant
2. Amherst College
3. Williams
Women's D-III
Metro Boston
1. Stonehill
2. Brandeis
North New England
1. Bowdoin
2. Bates
South New England
1. Williams
2. Mount Holyoke
3. Amherst
4. Worcester Polytech
Men's Developmental
Metro Boston
1. Harvard B
2. Northeastern B
3. Boston College B
4. Tufts C
5. Boston Unviersity B
South New England
1. Massachusetts C
2. Rhode Island B
3. Amherst B
NORTH CENTRAL
Men's D-I
Lake Superior
1. Wisconsin
2. Wisconsin-Whitewater
3. Marquette
4. Wisconsin-Milwaukee
5. Wisconsin-Eau Claire
Northwoods
1. Carleton
2. Minnesota
3. Minnesota-Duluth
4. Minnesota B
West Plains
1. Iowa
2. Iowa State
3. Luther
Womens D-I
Lake Superior
1. Wisconsin
2. Wisconsin-La Crosse
3. Wisconsin-Steven's Point
Western North Central
1. Iowa State
2. Carleton
3. Minnesota
4. Iowa
5. Nebraska
Men's D-III
Lake Superior
1. Michigan Tech
Northwoods
1. St. Johns
2. Carleton GOP
3. Macalester
4. St. Olaf
5. St. Thomas
West Plains
1. Drake
2. Grinnell
3. Luther (B)
4. Coe
Women's D-III
1. Carleton Eclipse*
2. St. Olaf*
NORTHWEST
Men's D-I
Big Sky
1. Montana State
2. Utah State
3. Utah
BYU went 4-0 on Saturday before dropping out due to the university's Sunday play restriction.
Cascadia
1. Oregon
2. Washington
3. UBC
4. Oregon State
5. Western Washington
6. Victoria
Washington led Oregon 9-5 in the final before Oregon went on an 8-2 run to win 13-11.
Women's D-I
Big Sky
1. Whitman
2. Utah
Cascadia
1. UBC
2. Oregon
3. Washington
4. Oregon State
5. Victoria
6. Portland State
Men's D-III
1. Portland*
2. Whitman (bid to D-I Regionals)
Women's D-III
1. Puget Sound*
2. Portland*
OHIO VALLEY
Men's D-I
East Penn
1. Villanova
2. Temple
3. West Chester
4. Penn
5. Drexel
Ohio
1. Case Western
2. Cincinnati
3. Ohio State
4. Ohio
5. Akron
West Penn
1. Pittsburgh
2. Penn State
3. Carnegie Mellon
4. Edinboro
Here is a recap from Joel Prushan:
A depleted Pitt team (~10 injured players including but not limited to Kyle Hartley, Kevin Tang, Noah Robinson, and Andrew Lehmberg) broke twice in an upwind-downinder to break the spirits of Penn State Spank in the conference final. Teams were on serve 4-3 Pitt before the double break to make it 6-3. Penn State repeatedly hucked out the back going downwind to give the Pitt D-line opportunities to break. Final score 15-5.
Note: Penn State has a "righty" who throws lefty hammers and not righty hammers. Weirdest thing the crowd had ever seen as he faked a righty flick huck before completing a left hammer huck.
Ohio Valley Dev
1. Pittsburgh (B)
Here is a recap from a Pittsburgh-B player:
Pittsburgh-B and Case Western-B entered the tournament as the top seeds of their pools and both went undefeated on Saturday with comfortable wins over their opponents. The two teams soundly defeated their opponents in the quarters and semis of bracket play. The semifinals and finals featured a very heavy wind that made for low scoring games and few successful upwind points. Pittsburgh-B managed two upwind breaks in the first half and converted the resulting downwind break opportunities to earn a bid to Regionals.
Women's D-I
Ohio
1. Ohio State
2. Cincinnati
3. Case Western
4. Akron
Here is a recap from a Case Western player:
As expected, Ohio State crushed it during pool play and clinched first place.
There were some upsets during Day 1: Ohio beat Akron on double game point to secure a spot in the 2nd place bracket while strong performances by Kelsey Gibboney and the Samson twins helped Cincinnati pull a win over an injury-ridden Case Western team.
Day 2: Case and Cinci rematched again for 2nd place. Coming off their day one loss, Case was yearning for a win and relied on their depth to keep things tight. Tied at 7's, Cincinnati broke with two quick scores to win the game after soft cap. The 4th place bracket's quarters featured OSU-B and Toledo. Although Toledo pulled away at the end to win 10-8, at any point in time, either team was only ahead by a break or two which speaks well to OSU's developmental program.
After soundly beating Toledo with solid performances from Iris Javersak, Hayley Groubert, and Megan Harris, Akron clinched an 11-2 win over Ohio to go to regionals.
Pennsylvania
1. West Chester
2. Pittsburgh
3. Penn State
4. Pennsylvania
#5 ranked Pittsburgh took a shocking loss to West Chester in the Penn Conference final, 11-8.
Men's D-III
East Penn
1. Lehigh (bid to D-I Regionals)
2. Haverford
3. Swarthmore
4. Philadelphia
5. Muhlenberg
Here is a recap from Bobby Roos:
Lehigh took 1st, as expected, with the only hiccup a tight game against Swarthmore on Saturday. Some mistakes from Lehigh's O-line kept Swarthmore within one for most of the game that ended 13-11. Lehigh defeated Swarthmore 15-8 in the final. Swarthmore looked like the clear number two team on Saturday but fell to third after a 13-2 loss to Haverford on Sunday afternoon. Philadelphia University and Muhlenberg College qualified for Regionals with 4th and 5th place finishes.
– Philadelphia played on Saturday without standout James Pollard. He adds height and throwing ability that helped them on Sunday.
– Dave Behrmann is an every other type of handler with strong defensive abilities for Muhlenberg.
– Max Franklin plays a big role for Swarthmore's offense and takes plenty of points on D also.
– Haverford depends less on senior Calvin Trisolini than they have in the past with captains Lucas Richie and Alden Daniel and veteran handler Gabe Halperin-Goldstein taking larger roles.
Ohio
1. Franciscan
1. Cedarville
3. Oberlin
4. Xavier
5. Wooster
Franciscan and Cedarville agreed to a double forfeit in the final as both teams wanted to celebrate Easter on Sunday.
West Penn
1. Shippensburg
2. Messiah
3. Susquehanna
Here is a recap from Shippensburg coach Johnathan Hoffman:
The top two seeds at the West Penn Conference Championships, Shippensburg and Messiah, demonstrated their dominance by going undefeated in pool play and winning in the semis 15-4 and 15-5, respectively. This set up a finals match up that was made even more interesting by winds that picked up specifically for the Championship round. Both teams battled hard in the finals, trading blow after blow in the surprising April heat. Shippensburg emerged victorious in a double game point victory that Messiah coach Charlie Hoppes described as "one of the most fun, ridiculous, insane, emotionally draining games of ultimate I've been a part of."
Elsewhere, the battle for the third and final bid saw some surprising results as both teams in the semifinals, Bucknell and Dickinson, lost in the 3rd place semis game, setting up a rematch from pool play of Gettysburg and Susquehanna. Susquehanna was able to hold off Gettysburg once again with a 12-10 victory, claiming the final spot at Regionals.
Women's D-III
Ohio
1. Oberlin
2. Wooster
Pennsylvania
1. Allegheny
2. Haverford
3. Swarthmore
4. Lehigh
5. Messiah
6. Dickinson
Here is a recap from Bobby Roos:
Allegheny and Haverford both finished Saturday 4-1, but Allegheny would get a big head to head win (13-7) to win the Conference. Despite a 10-8 win over Allegheny, Lehigh finished fourth behind Swarthmore. Both teams finished 3-2 and Swarthmore took the head to head in a 7-5 game. Lehigh played two games to double game point: a win over Messiah and a loss to Haverford, which speaks to the parity in this conference. Messiah beat Dickinson 11-9 and finished within two points of every team except Haverford.
– Lehigh was lead by handlers Juliet "Raven" Chung and Lindsey "Domino" Levin. Domino gets the vast majority of the team's touches and played strong defense. Kelly "Pockets" Skewis was a big threat downfield for Gravity.
– Captains Zoe Lewis and Larkin Johnson lead the team cutting and handling respectively but Haverford has many players contributing big plays.
SOUTH CENTRAL
Men's D-I
North Texas
1. Texas Tech
2. North Texas
3. Baylor
Here is a recap from Garrett Wilson:
In the final between Baylor Stonewall and Texas Tech Tumbleweed, both teams demonstrated competitive spirit and athleticism as Texas Tech battled back from a five point deficit to eventually top Baylor 15-14.
Stonewall dominated the first half and jumped out to an 8-4 lead. Superb throws supplied by Baxter Robb and Austin Workman combined with Alex Brouwer's monstrous defensive effort put Stonewall ahead 12-7 with about 30 minutes left to play.
Tumbleweed then proceeded to go on a 7-1 run, utilizing the core of their kill line, which saw huge efforts from Ryan Stomp, Trey Keesee, and Kyle Henke. Carson Wilder, Ricky Stanfield, and Michael Wode all provided key throws down the stretch for Tumbleweed.
Baylor denied the first game point on a Workman sky and assist tying the game 14-14.
Double game point was full of drama and intensity, but after several minutes of possession switches, Tumbleweed finally notched an upwind score to take the game 15-14 and secure the program's best finish in 10 years.
Ozarks
1. Arkansas
2. Oklahoma
3. Washington University
4. St. Louis University
5. Kansas
6. Kansas State
7. Missouri
Here is a recap from Kansas State's John Wildman:
Teams pushed through last minute scheduling changes and an hour-long lightning delay Saturday morning to play out a great weekend in Manhattan, KS. Arkansas survived a near-upset from Missouri State 13-12 and swept their pool (albeit with minor drama against Arkansas State) while Oklahoma staved off St. Louis 11-10 and proceeded to do the same in their group.
Arkansas won the first place matchup 13-11 and Oklahoma secured 2nd 11-9 over Washington University. Notable upsets include St. Louis over Missouri in pool play and Kansas in brackets to take 4th place, Kansas State over Oklahoma State to secure a bid to regionals, and Missouri over Oklahoma State in the game to go for the 7th and final spot.
Rocky Mountain
1. Colorado State
2. Colorado
Colorado State shocked Colorado with a 13-11 win in the 1v2 game to decide the Conference champion. It is Colorado's first loss at Conferences/Sectionals in easily over a decade. Read a full game recap here.
South Texas
1. Texas
2. Texas A&M
3. Texas A&M B
4. Texas State
Women's D-I
Ozarks
1. Kansas
2. Missouri State
3. Washington University
4. Arkansas
5. St. Louis
Rocky Mountain
1. Colorado
2. Colorado College
3. Denver
4. Colorado State
Here is a recap from Colorado's Kirstin Johnson:
Colorado dominated the field to win the Conference title for the 5th year in a row. Colorado State came in as the two seed, but ended up fourth after a three-way tie between them, Colorado College, and University of Denver. All of their games felt incredibly close, but they couldn't cash in the long points.
Colorado College had an up and down day. They started off strong against Colorado State with a convincing 11-6 win. They then fell to Colorado 12-6. In the third round of the day, University of Denver gave Colorado College their best matchup of the day, ultimately toppling Strata 10-8.
University of Denver played two tight games with both Colorado State and Colorado College. A team full of height used it effectively in a junk set defense that flustered teams with less experienced handlers and it paid off. Colorado-B, Devi, had the greatest number of people participating since the team's beginning in 2013 and started off close with Kali and Strata.
Some standout players included Kelsey Bennett (CU), who shredded every mark with her IO flick break and sat things out in front of receivers going upwind; Nhi Nguyen (CU), who dominated the air for Colorado on both offense and defense; Kiera Lindgren (CSU), who does everything for Colorado State including taking the hardest matchups on defense and serving as the motor of their offense; and Marlee Akerson (Colo. College), who made huge plays on both offense and defense, patrolling the skies and maintaining possession with massive layouts.
Texas
1. Texas
Here is a recap from Austin Reed:
The tournament was defined by two major things: The University of Texas' dominance and wind. In a weekend with only one guaranteed bid and a consistent wind, every game that didn't involve Texas was decided by a couple up wind breaks and a lot of punting to play D.
Texas was easily the best team of the weekend, allowing five total points and scoring up wind at will. There was never a doubt that the one bid was theirs for the taking. TCU finished second, but managed to make that interesting by losing Sunday morning to UT-Dallas. They now have to wait and hope that another team drops to see if they can continue to Regionals.
Texas was far and away the best team. The team is deep and athletic, and they focus and do really well on breaking the mark around. Their defensive intensity as a unit was something to behold and there was never any doubt that they were the class of the conference.
Men's D-III
Northern South Central
1. Air Force
2. John Brown
3. Colorado College
4. Missouri S&T
5. Colorado Mines
6. Truman St.
7. Harding
Here's a recap from Doug Schriner of Colorado School of Mines:
With several inches of water covering the primary fields Friday afternoon, the Northern South Central Conference tournament was moved to a location with only part of the fields covered in several inches of water. In the second round, tournament two-seed Colorado College was given a tough text, needing to hold on double game point to earn the win over Colorado School of Mines. Mines then played Missouri S&T to decide which team would take second in the pool and play for the championship on Sunday. Teams traded series of breaks early, with Mines eventually taking half 7-4. Missouri S&T's zone forced mistakes in the second half and they capitalized with two breaks to force double game point. A handblocked hammer gave Missouri S&T the short field they needed to punch in the game-winner.
Top-seeded John Brown and No.3 Air Force met in the last round of the day, set for a titanic clash on a muddy battleground to determine the pool winner. Ironfist came out hot and was controlling the game; they capitalized on multiple silly mistakes made by Air Force — easy drops, bad throws, mistakes in coverage — to go up by 3 breaks at halftime. Air Force finally got a break shortly after the second half started, as their O-line settled down and strung together a series of holds; two more breaks tied the game at 9-9. On the ensuing point, Air Force earned a turn and was working the disc toward the endzone, called a timeout to set up a scoring play, during which the hard cap horn blew. Teams set up, but Air Force missed the connection on an I/O backhand out the back of the endzone. John Brown took over, quickly marching up the field, but a miscommunication on a swing pass gave Air Force the disc back. They sealed the win with an upline pass just out of reach of the bidding JBU defender.
Bracket play on Sunday saw Air Force hold off MS&T 12-10 and Colorado College get a on-point win over John Brown in the semifinals. In the final, Air Force got an early break and never look back, despite one of their captains getting a concussion.3 Taking advantage of small mistakes by Colorado College, Air Force stretched their lead to 12-6 before Wasabi scored the last two points to make it 12-8 at hard cap. John Brown was then able to avenge their semifinal loss with their own one-point victory against Colorado College to claim second.
Texas
1. Rice
Women's D-III
1. Truman State*
SOUTHEAST
Men's D-I
Florida
1. Central Florida
2. Florida State
3. South Florida
4. Florida
Here's a recap from Daniel Prentice:
There was a bit of chaos at the top at the men's Florida Conference Championships, as the top three seeds all beat each other on Saturday. In the end, Central Florida took the top spot out of the Conference, with Florida State, South Florida, and Florida also qualifying for Southeast Regionals.
Having already upset UCF, Florida rested their starters the game prior to their showdown with Florida State — a decision that proved to be costly. Everything seemed to go wrong for them, while everything seemed to go right for Florida State, who played perhaps their best game of their season. The 13-5 scoreline meant that Florida were knocked out of contention for the tournament title via a goal difference tiebreaker. With winning the Conference no longer in their sights, Florida shifted their eyes toward seeding at Regionals and opened their line in their backdoor second place semifinal, opting to focus on finishing fourth. The risk there was putting themselves in a must-win game just to qualify for Regionals. And, for a moment, it looked like that strategic choice may also come back to haunt them when Miami tied the game-to-go at 9-9. Florida handled the pressure well, though, finishing the game on a 6-1 run to take the final bid to Southeast Regionals and avoid an utterly embarrassing disaster.
While Florida was leaving it late to seal their fate, Central Florida, Florida State, and South Florida battled it out for the top three seeds. The Dogs of War and DUF played an exciting game in the first place game that was decided on double game point. UCF broke on each of the game's first three points and had a chance to break on the fourth as well. But Florida State cleaned up their offense, and Central Florida got a little sloppy, forcing some unwise throws and registering a number of unforced drops. Florida State clawed their way back over the course of the game and broke late to force double game point. The game's decisive point was anticlimactic however, when a short pull into the wind set up UCF with a short field. Three simple throws later, the Dogs of War had sealed the conference crown with a 13-12 win.
FSU did well to rebound in their seventh game of a hot weekend and fend off a nice performance from a tough and physical South Florida team. After going down 8-7 at half, Florida State can and should take pride in their 13-11 win to take second place.
Gulf Coast
1. Auburn
2. LSU
3. Ole Miss
4. UAB
5. Alabama
Southern Appalacian
1. UGA
2. Georgia Tech
3. Tennessee
4. UT-Chatt
5. KSU
6. Georgia Southern
7. Emory
Women's D-I
Florida
1. Florida
2. Florida State
3. Central Florida
4. Miami
Here's a recap from Daniel Prentice:
At the Florida Women's Conference Championships, there was a clear gulf in class between the one seed Florida and the rest of the field. On Saturday, FUEL outscored their pool opponents by a combined score of 44-4. That dominance continued into Sunday morning, when they defeated Central Florida 11-5 and then won via Florida State B's forfeit.
That put them in the first place game without having really been tested. A rematch with Florida State, who were responsible for all four goals FUEL had allowed on Saturday awaited for the Conference Championship. Florida State, who would probably be Florida's toughest test in the conference under normal circumstances, were playing with just ten healthy players. The Seminole Ladies were able to put up a fight in the game's opening handful of points, but proved to not be a match for Florida's skill and depth. Florida pulled away down the stretch to match their 11-4 victory from the day previous.
Ultimately, Florida proved their worth as the lone top 20 team in the Southeast in a Florida conference that's having a down year.
Facing their eighth games of the weekend, Florida State and Central Florida agreed to play to seven in their second place game. That offered little salve for either team, though, as both teams slogged their way to cap anyway. Florida State wound up winning the grueling showdown 7-5 to hold seed and finish second.
Gulf Coast
1. Auburn
2. Vanderbilt
3. LSU
Southern Appalacian
1. Georgia
2. Georgia Tech
3. Kennesaw State
4. Georgia College
5. Emory
Men's D-III
Eastern Southeast
1. Florida Tech
2. Georgia College
3. Berry
4. North Georgia
5. Embry-Riddle
Western Southeast
1. Alabama Huntsville
2. Samford
3. Union
Here's a recap from UAH's Daniel Sorrells:
UAH swept to a 5-0 record in pool play, with the closest game being a two point win versus Belmont. Elsewhere, Union fell to a surprising 2-3 record in pool play, but were missing some starters on day one. Alabama Huntsville suffered injuries to five starters, but Patrick Mullin, Wesley Seat, Daniel Sorrells, and Brett Hulsemeyer came up huge for the team in a double game point win in semis versus Union before crushing Samford in the final. If UAH can get healthy before Regionals the rest of the Southeast better watch out — the team has height, throws, and speed.
Women's D-III
1. Georgia College*
No tournament scheduled, but Georgia College advances to D-III Nationals with the highest ranking at the end of the regular season.
SOUTHWEST
Men's D-I
Desert
1. Arizona State
2. Arizona
Here is a recap from a Desert Conference player:
The Desert D-I Men's conference had two bids to Southwest Regionals and four teams competed: Arizona, Arizona State, New Mexico, and Northern Arizona. In the end, Arizona and ASU, as expected, came away with bids, with ASU winning the final 10-8. All five games between the teams were decided by two points or fewer. Big shoutout to the UNM men, they came with about 10 players and played their hearts out, narrowly missing the wins needed to get to what would be their first Regionals. [Editor's Note: Go Lobos!]
NorCal
1. Stanford
2. Santa Clara
3. California
4. UC Davis
5. San Jose State
6. Chico State
7. Humboldt State
8. Nevada-Reno
SoCal
1. USC
2. Cal Poly SLO
3. UC Santa Barbara
4. UC San Diego
5. UCLA
6. San Diego State
Here is a recap from Graham Gerhart:
Day 1 went according to seed except for two upsets in Pool A where UCSB pulled out a win over Cal Poly SLO on double game point. SLO came out a bit flat after a surprisingly tough game against UCI. UCSB matched their pace and won important matchups in the air. The other upset was CS-Fullerton defeating a tired UCI that had just lost a great game against SLO.
Day 2 provided some incredible games with USC's incessant undercuts and handler flow exhausting Cal Poly's athletic core for a semis victory. On the other field, UCSB Black Tide took out a UCSD team that couldn't quite get their offensive chemistry correct despite a solid defensive performance.
In the 1st place game, USC denied Black Tide the hucks that they had grown accustomed to and it disrupted the UCSB offense. USC stayed consistent on offense and won comfortably.
USC had a great tournament. They beat every other team qualifying for Regionals, proving that they deserve the top seed out of SoCal. Their relentless undercuts were dissimilar from every other team and difficult to defend. James Toh, Wyatt Paul and Sam Cook stood out.
SLOCORE was the best team playing in wind. They took a loss to UCSB on day one in the Game of the Tournament and another close loss to USC on day two but otherwise were dominant and had the best vert stack at the tournament. Dillon Whited and Cameron Wariner stood out.
UCSB played tough defense and tight offense. Cal Poly couldn't stop them deep and they had a hard fought Saturday. It showed on Sunday with atypical drops and poor throws. They should still be very happy with their performance. Jordan Lund and Jack Hamner stood out.
UCSD had great defense that led to multiple turns cementing their place in the top four. They still got those turns against the top teams but could not convert them into goals. Scott Radlauer played well.
Women's D-I
Desert
1. Arizona
2. Arizona State
NorCal
1. Stanford
2. Cal
3. Davis
4. Chico
5. Santa Clara
6. Sonoma
7. Santa Cruz
8. Reno
SoCal
1. USC
2. UCLA
3. UC San Diego
4. UC Santa Barbara
5. San Diego State
6. Cal Poly SLO
Here is a recap from Graham Gerhart:
Saturday went entirely to seed with no real surprises in either bracket. The closest game was won by four points.
On Sunday, the semifinal between UCSD and USC was an incredible game decided on double game point. Both teams had sharp offensive points with UCSD handlers showing impressive break throws and USC's central cutters constantly putting the defense behind them. The game featured both offenses trading points until cap where USC's veterans showed off their mental fortitude and came away with the win.
On the other side, UCLA used big hucks and zone defense to control their game against UCSB. With impressive efficiency, UCLA finished their game a full 30 minutes before the other semis game.
The final was determined by another double game point. USC and UCLA both showed why they earned bids for their region and had impactful offensive points that carried them to double game point. On the final point, UCLA made a mistake in the reset space which USC capitalized on to win the game and the Conference.
It was USC's first-ever Conferences victory. USC's greatest weapons are their inside cutters that shred defenses if given an inch. Connie Chan, Rachel Chang, and Alyssa Perez all stood out.
UCLA did not underperform: a DGP loss shouldn't be discouraging for them as no other team scored more than six points against them. Han Chen, Camille Wilson, and Maria Kazantsev all stood out.
UCSD should also be proud of their performance. Despite being just outside of earning a bid to Nationals, their game against USC exemplifies their ability to match other Southwest teams. No team should want them in their pool at Regionals. Samantha Wool, Dena Elimilech and Leanne Go impressed.
Men's D-III
1. Occidental*
Here is a recap from Occidental's Spencer Goldman:
While it is the smallest region in the country with just three D-III men's teams, spectacular ultimate was played in the Southwest final between the Claremont Braineaters and Occidental Detox. This game-to-go to Nationals has been played between these two programs every year since the inception of D-III in 2011 and has always gone Claremont's way. This year, however, Occidental won the final 15-13.
Spectacular plays were made on all sides and the intensity of the game was palpable throughout. Detox went into half up a break at 8-6, however that lead quickly evaporated as Hill Balliet — a Claremont standout — made ridiculous plays both with his cuts and throws to will the Braineaters to an 11-10 lead — their first of the game. The teams traded points until a marathon point at 13-13, where multiple injury subs were taken on both sides due to cramping from the blistering heat. With the disc on their own goal line, Claremont attempted to swing off the line and Detox freshman Greg Kleinman jumped the lane scoring a Callahan to give Oxy the lead 14-13. After a quick turn by Claremont and a possession saving layout from Oxy's Adam Grammer, Grammer immediately punched in the score to Jesse Moore, securing Detox's first ever southwest regional championship.
Women's D-III
1. Claremont*
No tournament scheduled, but Claremont advances to D-III Nationals with the highest ranking at the end of the regular season.
---
…save a few games to be player out this week because of weather cancellation. ↩

Wingate and North Greenville are supposed to play a play-in to the game-to-go, tbut Wingate can't travel to play on a weeknight and have forfeited. ↩

He is seeing the doctor this week to find out if he can play at Regionals; the trainer said it appeared minor ↩