Two of the modern powerhouses of Australian ultimate clash in the women's final at the Australian Ultimate Championships 2017.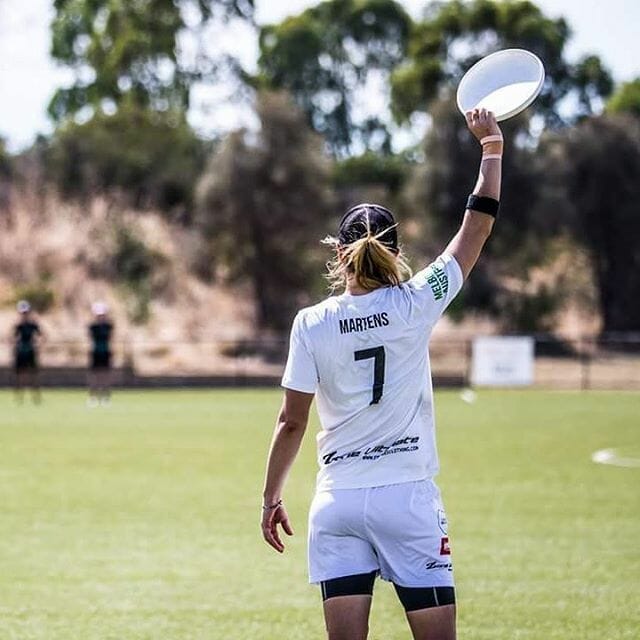 This article was written by guest author Jonathan Potts, president of the Australian Flying Disc Association. A version of this preview first appeared on the AFDA website.
On the other side of the globe,1 the Australian ultimate season has reached its climax. Over the weekend, the top 12 women's and men's clubs from Australia (and New Zealand) squared off in the 2017 Australian Ultimate Championships. After three days of competition in Gold Coast, Queensland, just two teams remain in each division.
The women's final will feature two of the modern powerhouses of Australian ultimate; Ellipsis have looked unstoppable all season, but Rogue have a decade of winning under their belts. Both teams were a perfect 5-0 in pool play before romping through the bracket.
Here's a look at each team heading into today's title game.
Sydney Rogue
Rogue won the national championship two years ago, in their second attempt at the title. They are, however, a reincarnation of Wildcard, who put together four title successes between 2007 and 2013. In fact, the Sydney outfit fields two squads who qualified for Division 1 Nationals this year,2 showing the depth of the club. The top team, Rogue Block, features some of the all-time best women players in Australian ultimate, as well as some up-and-coming stars.
Rogue's veteran lineup includes Sarah Wentworth, Vivien Stettner, and Lisi Moore, all of whom have represented Australia in World Games competition in the past; Wentworth and Stettner have been selected to do so again this year in Poland. In support are current Australian Women's National team athletes Georgia Ewan and Bree Edgar, along with former representative Sarah Hammer, who has flown back from the UK for another dig at the Australian championship. Additional defensive muscle will come from Sarah Perkins (2015 Australian Women's U23s) and Laura Manescu.
Rogue have largely cruised to the final. The most an opponent has scored against them has been the nine goals by Perth KAOS, aside from a double game point 14-13 victory against their sister team Rogue Rage in quarterfinals. The semifinal against Greater Western Sydney Blaze was tight in the first half — Blaze had the disc to level the score at 7-7 at one stage — but Rogue dominated the second half to take out a comfortable win, 15-7.
Melbourne Ellipsis
Ellipsis are the defending national champions, on their first attempt. On the face of it, they have a much shorter history than Rogue. But these athletes largely learnt their trade in the former powerhouse of Melbourne women's ultimate, Team Box. Box transformed into Bauhaus, as a core of mostly younger players broke away to form Ellipsis. Last year, the fight between Bauhaus and Ellipsis see-sawed. This year, Ellipsis have looked dominant against all-comers, wherever and whenever they have taken the field.
Ellipsis, like Rogue, boasts a star-studded roster. At the top of that roster right now is Cat Phillips, a World Games athlete who has dominated domestically and internationally for the past decade. She is closely supported by rookie World Games athletes Mikhaila Dignam, Rebecca Brereton, and reserve Alex Prentice. Filling out the top end of their roster are former World Games athlete Ash Martens, Australian Women's Team representatives Shannon Trenwith and Hannah Mangan, and Mixed Team representative Lauren Tink. In fact, including U19s and U23s, more than half of the Ellipsis roster has worn the green & gold at some stage in their career, with a large number of their top athletes at or approaching their (theoretical!) athletic peak of mid to late 20s.
Ellipsis have had an even simpler path than Rogue to the final. The most any team has taken from them is six goals — of course, that was their local rival Bauhaus. Their semifinal win was a crushing 15-0 against Canberra Factory. These women will be fresh and hungry.
What To Expect
Both teams are athletic and deep. Together, they include almost the entire women's side of the Australian World Games roster, with support from a host of former and current national team representatives. The balance of throwing skills perhaps slightly favors the more experienced Rogue. However, Ellipsis have a more aggressive style of play that can blow any team out of the water when they're running hot. Melbourne's slightly fresher legs could be the difference in the final.
The last time these teams met, Ellipsis overwhelmed Rogue 15-2, albeit against a slightly weaker Rogue roster. Most pundits will be tipping Ellipsis to continue their run, but if any team has the depth and experience to stop them, it is Rogue.
Tune in to see two of the modern powerhouses of Australian ultimate clash in the women's final from the Gold Coast, Queensland — the final can be seen via livestream on the Ultimate Frisbee Australia YouTube Channel. The first pull is scheduled for 11:00 AM local time, Tuesday, April 25 or, for those watching from the US, 9:00 PM Eastern Daylight Time, Monday April 24.
---
At least for most of you! ↩

As they have previous years ↩