Nine bids are on the line this weekend.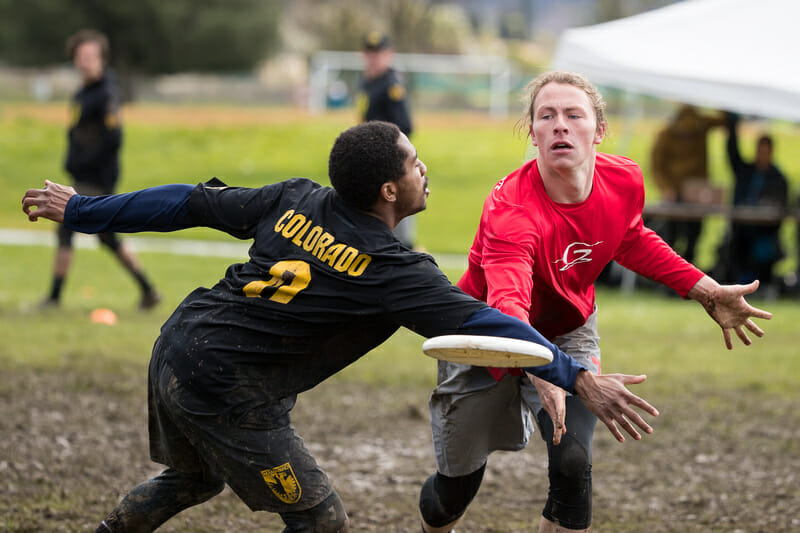 The second Regionals weekends is upon us. The final nine bids to the USA Ultimate College Championships are available for the taking this weekend across five different regions spanning from coast to coast.
We break down each of this weekend's Regional tournaments below.
Atlantic Coast
Tournament Profile
There is a spotlight on the Atlantic Coast this year. A third bid to Nationals means that some new blood will be making the trip to Nationals this year.
North Carolina and UNC Wilmington are still the class of the region and both should easily qualify, particularly with potential usurpers keeping their eyes on that third bid. After bracket play at Carolina Conferences got washed out by rain, we missed out on seeing the two titans of the Atlantic Coast clash. This weekend should provide a raincheck, however, as it will be a bit of a shock if UNC and Wilmington aren't slugging it out in the regional finale on Sunday.
NC State won the third bid for the region after solid if not spectacular performances at Queen City Tune Up and Easterns.
"Solid but not spectacular" is actually a pretty good way to describe the Wolfpack on the field, as they run a smooth offense that keeps the disc moving into efficient areas of the field; they rarely find themselves forced to create something from a poor position. The problem for NC State has been their defense, which doesn't quite pack the punch of other strength bid winning teams and hasn't been able to generate blocks on a consistent basis.
It's the exact opposite for NC State's most likely challenger for the last ticket to Cincinnati. Virginia Tech Burn have a stable of athletic defenders to go along with some dynamic playmakers on the offensive side of the disc, but have suffered consistency issues with the disc in their hands. A somewhat unreliable offense has hindered Burn all year, and they'll have to straighten that out to advance deep into the bracket at Regionals.
If they do meet the Wolfpack in the game-to-go it will be an interesting clash of styles, with strength meeting strength as Tech's fiery defense and explosive athletes will try to ruffle the calm and efficient offense of NC State.
Can anyone else throw their hat into the ring? Fourth seeded William and Mary beat Virginia Tech twice at Conferences, which bumps them into at least dark horse status1. While you should take that with whatever amount of salt you believe is appropriate for pre-Regionals results, they'll certainly have confidence on their side when they face VT in an important pool play matchup late on Saturday.
– Patrick Stegemoeller
Great Lakes
Tournament Profile
Regional competition in the Great Lakes is almost always filled with close and compelling games. The problem with the Great Lakes region is that it's pretty consistent in its results. Here are the winners of the Great Lakes Men's Region since 2008.2
2008 – Michigan (1)
2009 – Illinois (4)
2010 – Illinois (3)
2011 – Illinois (2)
2012 – Michigan (2)
2013 – Illinois (2)
2014 – Michigan (1)
2015 – Illinois (3)
2016 – Michigan (1)
Michigan and Illinois have owned the region since 2008. Whether they come in as the four-seed or one-seed, one of these two teams steps up when it matters. These two are the most consistent teams because of the programs they have built over the years. Ricky Eikstadt —who coached Michigan for many years and I believe still helps out— has kept Michigan in fighting shape since the redraw. Matt Stupca and Walden Nelson helped build the very consistent Illinois program. Both are competitors who should never be underestimated.
Michigan hasn't lost to a team competing in the Great Lakes regional in 2017. And Western Michigan hasn't beaten anyone in the Great Lakes in 2017. The other 10 teams, however, have all beaten up on each other.
Grand Valley State beat Michigan State who beat Kentucky who beat Indiana who beat Illinois State who beat Chicago who beat Notre Dame who beat Purdue who beat Northwestern who beat Illinois who beat Chicago, Notre Dame, Illinois State, and Northwestern. Fun stuff there.
These 12 teams will all compete for a single bid this weekend.
The favorite, Michigan magnUM, are very consistent. As you've probably heard on the Deep Look podcast, "Michigan beats the teams they are supposed to and loses to the teams they are supposed to." The good news for Michigan is that the Great Lakes region this year features no team Michigan should lose to.
Michigan is led by 5th year Noah Backer, their go-to on offense, the stuff that leaders are made of. When Michigan needs that big throw or a very important hold, you see Backer with the disc.
Illinois, Purdue, and Northwestern are all contenders who will need to keep energy in mind on a path to likely playing Michigan in the final. Illinois, in particular, has wins against the other contenders and two-seed Notre Dame. Purdue, points away from earning another bid for the Great Lakes at the end of the regular season, will look to snag a statement win to tack onto the end of a solid regular season. Northwestern, behind the standout defense from Callahan award nominee Ben Spielman, hasn't inspired as much confidence, fizzling a bit after a hot start at Warm Up in February. Notre Dame —second place in the Region the past two years— sits just outside the contender slot, looking to head to Nationals for the first time since 2000, but their win over Purdue at Conferences injects some hope that they could make a run.
– David Hoffman
New England
Tournament Profile
Massachusetts Zoodisc is the unquestioned favorite to take the single bid at New England Regionals this weekend in storied ultimate town Amherst, MA. It's as simple as that.
Harvard, Tufts, and Brown round out the top seeds in a field of sixteen teams – each of those three are plenty competent at the regional level, and each likely lacks in the firepower necessary to hold UMass' talent at bay. Harvard's change in status has been the most distinct, since the John Stubbs-led squad pushed all the way to the College Championship final in Raleigh last year. After a sluggish regular season, Harvard ran the table at Boston Conferences, winning their game against Tufts 11-6. Coach Mike Mackenzie always has a team full of players that can reset and swing in true Boston style. A finals match with UMass should still be compelling enough.
Tufts and Brown are both teams that are a two or three pieces away from Nationals contention — both have the pedigree and program history, but neither have the bench depth to match lines with UMass. Tufts has logged two competitive regular season tournaments at the Stanford Invite and Easterns, but they didn't manage more than .500 at either. Brown eked out an even win-loss record at Northwest Challenge and Easterns, but they can't put an entire Regionals run on Mac Hecht's shoulders, especially when there's only one bid available.
Talent in this Region has paled in comparison to the rising bar across the country in recent years, but it don't expect New England to be a one bid region forever. They'll recover in time.
In the meantime, the title this weekend should land squarely in the hands of Ben Sadok, Tannor Johnson, Brett Gramann, and the rest of UMass Zoodisc.
– Simon Pollock
South Central
Tournament Profile
There are three bids and four very competitive contenders headed to Austin, TX, this weekend.
Whether they stay in the spotlight or not, Colorado State Hibida has carved out a well-earned place for themselves in the South Central in 2017. Tim Kefalas has coached up a squad with a high talent floor, a POTY-level talent in Cody Spicer, and an athletic defense that has made a number of good marks on the Division, none more emphatic than their 13-11 win over longtime big brother Colorado Mamabird in the Rocky Mountain Conference final.
Keep in mind that some fluky losses have pockmarked Mamabird's performance in the last month. After starting the season 11-1, Mark Rauls, Wesley Chow, and company have gone 9-4, so it's possible that other teams have caught on to the team's methodical vertical offensive attack and favoritism for inside throws and standstill hucks. Don't expect recent losses to slow them much: Colorado is too talented and too experienced to let a few losses get to them, especially in a year when the National title feels well within reach for more than a handful of teams.
The teams from Colorado won't have an easy route to the regional title. Texas A&M Dozen and Texas TUFF both stand in the way. A recent set of runs to Nationals behind the throwing prowess of Dalton Smith and Matt Bennett have brought Dozen just the kind of big game experiences that give them and their coaching staff they need in big games. They took a 13-10 loss to TUFF at Conferences, but that doesn't signal anything other than parity at the top in Texas.
TUFF will benefit from the return of their transcendent talent Dillon Larberg, who missed most of the season after breaking his collarbone at Warm Up back in February (he played at Conferences). Larberg at full health is almost always the best player on the field (if not at the tournament) at this level–let's see if he can conjure up a return to Nationals for Texas.
– Simon Pollock
Southeast
Tournament Profile
The Southeast region has been wild for the last few years, but the slipping of some of the area's more consistent bid-earners may make for a dull affair.
Georgia is the favorite to take the bid, with their 13-7 record earning them the 12th overall ranking from the USAU algorithm. Parker Bray is only getting better as the season goes on, and with clear conditions in Foley, Alabama, this weekend, it's unlikely anyone will be capable of fully stopping his remarkable throwing.
Even if you manage to slow down UGA's Player of the Year Candidate, you still have to manage Nathan Haskell, John Langstaff, and a ferocious defense led by Sam Batson. With regular season wins over Wisconsin and UNC-Wilmington, their worst fear is looking ahead to late May.
Even for a heavy favorite like Georgia, Southeast Regionals can be a grueling ordeal. Four teams in the region fall between 20-40 in the USAU Rankings, the toughest of which they'll have to face on Saturday. Florida threw a game at Conferences to test themselves Saturday instead of Sunday against UGA. Billy O'Bryan and Tanner Repasky are carrying the biggest load in typical Florida fashion, but they'll need to see newfound talent out of their bench to hang with a deeper (and, frankly, more top-heavy) UGA team.
Auburn, Central Florida, and Florida State are lurking as well, looking to spoil the hopes of UGA. While none of them alone will be a favorite vs. the Dawgs, their efforts combined could create drama. Georgia has bested Florida State already this year, but a close contest with UCF, followed by a nail-biter with Auburn, could give a team like FSU an opportunity.
With so many good teams, we will all be left wondering what a two-bid region could have looked like. Instead, it will either be relatively boring or one of the best upsets of the year.
– Preston Thompson
---
Editor's note: ha. ↩

The number in parentheses was their seed going into regionals that year. ↩