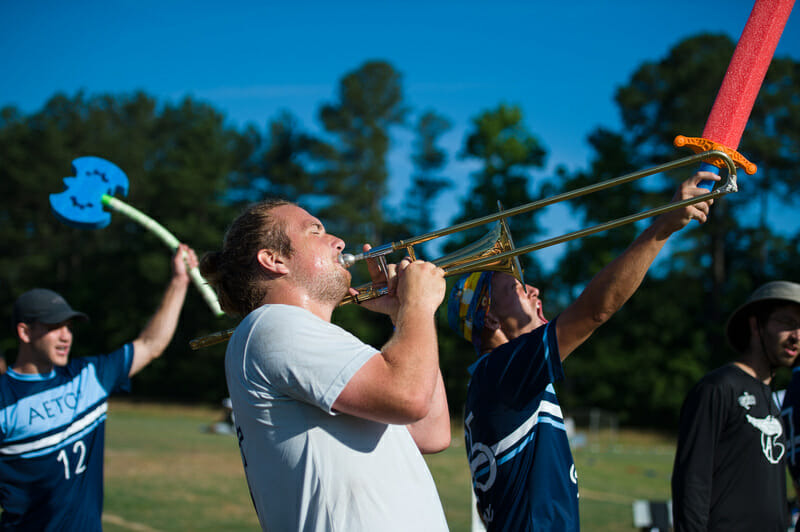 I'm back with a post-Regionals mailbag that's hardly about Regionals at all!
ASK ME QUESTIONS/SEND ME COMMENTS: Email (charlie@ultiworld.com) or Twitter.
***
Q: What do you think about Auburn nominating Hank Womble for Callahan? Legit? If he were on the ballot, should people have voted for him?
– Jake C.
A: Hank Womble is deservedly a cult hero. Look no further than this story from Preston Thompson to see the impact that he has had on the team and its culture. I think that Auburn as a team absolutely has every right to nominate him for the Callahan Award.
Of course, the issue arises that he hasn't played a point this season. He certainly doesn't fit the mold of the traditional candidate, usually a team's best on-field player.
Take a look at the award criteria for the Callahan:
A. Overall offensive and defensive abilities
B. Dedication to ultimate and leadership ability
C. Sportsmanship
I don't think anyone would doubt that he thoroughly checks the boxes in categories B and C. It's hard to be more dedicated than going to tournaments with no intention of playing and making it your sole mission to be maximally hype. There is no situation in which he is negative. He is a fountain of energy, all but forcing his teammates to join in.
I watched an Auburn game early this season at Warm Up. They were playing BYU. Frankly, they were totally outmatched by BYU in that game. BYU looked faster, sharper, and more athletic. Breaks started piling up. It was 8-1 at halftime. In 95% of situations like this one, the game is over. Most teams getting crushed pack it in, save their legs, play their rookies, and get ready for the next game.
Instead, Auburn is singing along to the Dora the Explorer theme song with Womble leading the way. Auburn claws back a break. Then another. The trombone comes out. Another break. Energy is surging back into Auburn's legs. Another break. THEY TIE THE GAME AT 10-10.
Sadly the story doesn't have a happy ending, as Auburn went on to lose. But there is no doubt at all in my mind that Auburn stayed in that game and tied it up because of Womble. That kind of value is just as big as having your best player go out and get a layout Callahan.
Back to the question at hand: should he be considered as a Callahan winner? No, I don't think so. I am sure many would have voted for him. But if he were to win, it would take away from what the award is supposed to be about: being a tremendously talented player that also shows a dedication to ultimate, leadership, and a high degree of sportsmanship.
What should instead happen is that there should be a new award created to honor the player who has shown the greatest commitment to Spirit of the Game, irrespective of skill. I don't think that means that you need to make the Callahan more akin to Ultiworld's Player of the Year award, but it just makes sense to have a nationally recognized Spirit award. Call it the Womble!! Give out a trombone shaped trophy. Recognize that a player doesn't have to be a key on-field contributor to be important to a team.
Ultimate, in general, needs more awards. This is an obvious one.
Oh, and USA Ultimate, literally everyone wants Hank Womble to play the National Anthem at the College Championships. So let's make that happen.
Q: Are there too many Callahan and Donovan videos? It's getting impossible to keep up with everything and I can't filter the good ones from the bad. What can I do?
– Tyler H.
First off, a quick plug: you can see every video that's been released right here.
It does feel like there are more videos than ever. I think that's definitely a good thing overall, as you get to see some players who don't get a lot of national recognition highlighted in an exciting way.
The bigger issue is that too many teams are putting out 5+ minute highlight reels. Stop it! Bad! No! There's simply no reason you need to be running your highlight video longer than the runtime of a single radio edited song, around 3:30.
There's a phrase in writing — "kill your darlings" — that really gets to what highlight reel editors need to do. Do you really need the 30 second montage of strike cuts? Is that really all that compelling? I want greatest hits and that's it. You shouldn't need more than about three minutes to show off your nominee.
Q: You recently threw shade at In-N-Out on Deep Look, calling it overrated. How can you say such blasphemy?
– Kelly S.
When you grow up or live outside of California or the Southwest (excluding New Mexico, my home state), you constantly hear about this mythical burger chain called In-N-Out. Double double animal style. OMG it's so good.
Then you finally get the chance to have In-N-Out and holy crap are you pumped. This is going to be amazing, you think. The Platonic ideal of a hamburger. Then you experience a brutal letdown.
Real talk: I was in Minneapolis last weekend for an AUDL game and North Central Regionals. I went to Culver's, a local burger joint. I can say without hesitation that Culver's is better than In-N-Out. Heartier burger, better flavor balance, great grilled beef flavor.
Like many California things, In-N-Out is massively overrated. It's good, cheap fast food. It's not much more than that.
You want the good stuff? Go to New Mexico, get yourself to a Blake's Lotaburger, and order a double Lotaburger with cheese and green chile. And then let me know if you'd prefer In-N-Out.