Florida FUEL advanced to their 6th Nationals with an impressively dominant performance at Southeast Regionals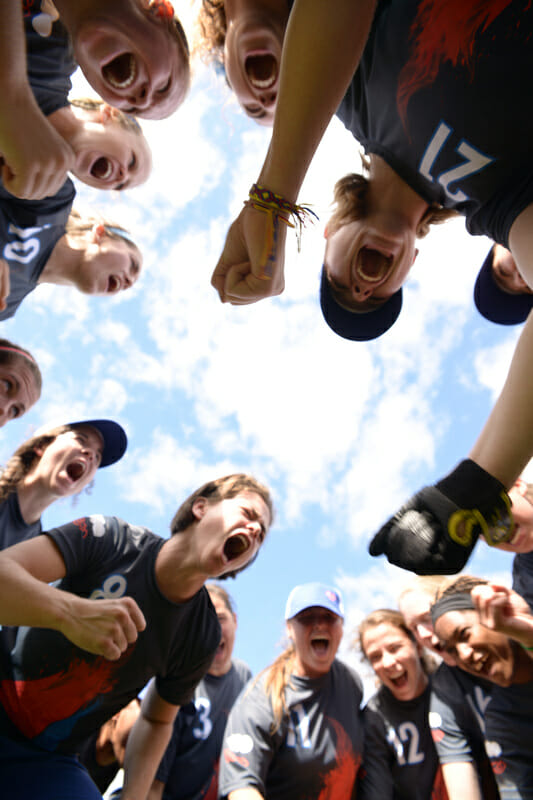 #20 Florida FUEL affirmed their status as the best team in the Southeast with a resoundingly dominant tournament to take the region's lone bid to Nationals. Florida trounced everyone they played, outscoring their opponents by a combined score of 99-20, to seal their first Nationals appearance since 2012.
There were some thrilling games and a few upsets throughout the tournament to keep Saturday and the non-Florida path to the final exciting, but Florida's dominance meant there was little drama as far as Nationals qualification was concerned.
Florida Goes Unmatched
Florida was able to play open lines for much of the tournament and were still never tested. The team won via a capped score just once (their 14-5 victory in the final over Florida State) and shut out two teams, including Auburn in the semifinals.
In the final, the team got off to an inauspicious start, and struggled really for the only time all tournament. The first two offensive points lasted a total of 27 minutes and contained innumerable turnovers. They held on both points, thanks to astounding endurance and resolute defense from their O-line and from 2-1 they went on a run of breaks to open up a 6-1 lead.
In the face of the inefficiency on offense, Florida was steadfast in their ability to fight through the points and not let the offensive miscues affect their defense.
"We've been telling our team, 'It doesn't matter what happens on the point.' Score it, don't score it, whatever, we're gonna try hard, and we're gonna try to maintain whatever philosophy we're trying to play that game," said co-head coach Dustin Travaglini of his team's mental toughness.
Fellow co-head coach Kate Travaglini explained further, "We are okay with turnovers, as long as they're smart turnovers. It happens, there's always gonna be turnovers, just make it a smart turnover. And they bought into that and they kept running with it."
Tori Taylor and Danielle Cordes, in particular, racked up the blocks: Taylor often getting electrifying layout blocks by beating her cutter underneath, and Cordes owning the air on anything downfield or near the endzone. Florida eventually turned their defensive tenacity into a lights out offensive showing as well, and FSU was never really able to get back into the game once they fell behind.
That blip in early stages of the final was really the only one all weekend, as Florida played nearly perfectly the rest of the weekend. Captain Courtney Testa said that the team's semifinal thrashing of Auburn was the best she's ever seen Florida play in her time on the team.
And both she and her fellow captain Lucy Berman were almost stunned with how well the team played. "We expected to do really well at Regionals, obviously that was the goal and the plan, but we didn't expect this weekend," explained Testa. Berman, through laughter, added, "Yeah, I did not expect [to be able to play with] open lines."
Berman offered up the team's ability to play within themselves as the reason for the overwhelming success of the weekend. "No one tried anything they didn't know how to do. That's what we emphasize. You don't have to come out here and be a superhero."
But it also seemed like everything everyone tried was working for FUEL this weekend –those couple of opening points in the final aside — and that came from a team wide confidence in each other.
"I think confidence for FUEL comes with positivity and love," said Testa. Berman went further. "[We have] one hundred percent trust in each other. It's not just personal confidence. I can throw to any single one of my teammates, and it could be something to the high heavens, and I'll just be like, 'They're gonna come down with it.'"
Both captains said that it had not yet sunk in that they would be going to Nationals, the first time for anyone on the roster. But after a wholly impressive Regionals victory, they have will be doing just that.The program hasn't made Nationals – or even a Southeast final – since 2012, and have qualified for the 6th trip in team history. Fortunately for them, they still have a few weeks to let it sink in.
Florida State, Auburn, and Georgia Tech Round Out the Top Four
Florida may have dominated and taken the lone bid, but there were some other notable performances as well.
Florida State Seminole Ladies had a great tournament, probably their best of the season. They entered as the No. 5 seed, and third seed in their pool, but the went undefeated in pool play. They opened their tournament with an impressive 11-7 win over Georgia, one of their best performances of the season.
They ran through the rest of their pool, including an 11-3 win over No. 3 seed Kennesaw State to win the pool. Florida State then blanked Central Florida 15-0 in quarters, and battled back from a two break deficit against Georgia Tech to win 14-13 in semis, the game of the tournament.
In the final, FSU proved little match for Florida, who had won their semifinal before Florida State even took half in theirs. But their success prior to that game was impressive. Julia Gregory has an especially nice tournament, registering layout blocks all weekend and was simply one of the best players in Foley. Without a ton of depth, playing in their 8th game of a hot weekend after a challenging semifinals, there simply wasn't enough energy left to her and the Seminole Ladies.
Freshman Courtney Read was also an integral part of the offense, displaying dynamism, awareness, and throws that belied her inexperience. She's one to watch for the future. With All-Freshman teams around the corner, it'd be a shame if she wasn't on the list.
Auburn Ares, too, had a nice weekend. The finished in third place with a 5-3 record, but two of those losses came to eventual champions Florida. The other came to Georgia Tech, a defeat they were able to avenge with their 11-9 win in the third place game.
Auburn's style was fun to watch, as they relied on the gun-slinging Kristine Fedorenko, and their seemingly ceaseless supply of giantesses. Auburn had to have easily been the tallest team in the region, with the likes of Mackenzie Burchfield, Meredith Johnson, Stella Knowlton, Haley Probst, the aforementioned Fedorenko, and others all proving to be match-up problems for their opponents.
They weren't just length, though. They had an impressive amount of skill and tenacity as well, and as a result they tallied their best regional finish in at least five years.
For Georgia Tech, a tough season finished, perhaps fittingly, with a mix of highs and lows. A team that had high hopes coming into this season but was hit with a brutal injury bug, Georgia Tech still entered the weekend with an outside shot at stealing the bid to Nationals.
They went 4-1 in pool play, with the lone loss coming as the team rested its starters against Florida. Their win over Auburn to end pool play and quarterfinals victory over Kennesaw State were both impressive, and showed glimpses of the team they'd hoped to be this year.
Taylor Hartman was incredible. It seemed like she played every point and the amount of highlight plays she racked up was astounding. Julia Ting, one of the players afflicted by injury cleated up for a bit on Saturday, and during the bracket on Sunday. Her play was a big boost, but not quite enough to get the team to the game to go.
New Rules Mean New Challenges
The Southeast's use of WFDF's +1 cap rule made a difference in at least one game this weekend. Rather than use a traditional hard cap, the tournament rules made it necessary for a team to score to win.
In the second round of pool play, Central Florida took a 9-5 lead over Georgia Tech, primarily behind the heroics of Mia Griner. It looked like UCF had wrapped up an upset, needing to score just once to win. But Georgia Tech held, for 9-6, then broke for 9-7, and broke, and broke again to level the game at 9-9.
By this point, round three was supposed to have started 10 minutes ago. Georgia Tech broke one more time to win 10-9, at 12:15 PM, with the third round having started for most teams at noon.
In that sequence, both sides of the rule were in full display. On one hand, the +1 rule provided a thrilling finish that would not have occurred with a hard cap. Central Florida would not have needed to score down the stretch and Georgia Tech would have lost, there flurry of breaks coming up short in anticlimactic fashion.
But Florida also had to wait for over 20 minutes from when their game with Georgia Tech was supposed to start. And Auburn was forced to wait for Central Florida as well. UCF certainly was displeased with the turn of events.
Fortunately, that round was followed by a long break for lunch, so those games weren't shortened. But if that game had happened in a different round, it could have thrown the whole schedule out of whack or significantly shortened meaningful games.