Florida claimed a second straight Southeast Regional Championship.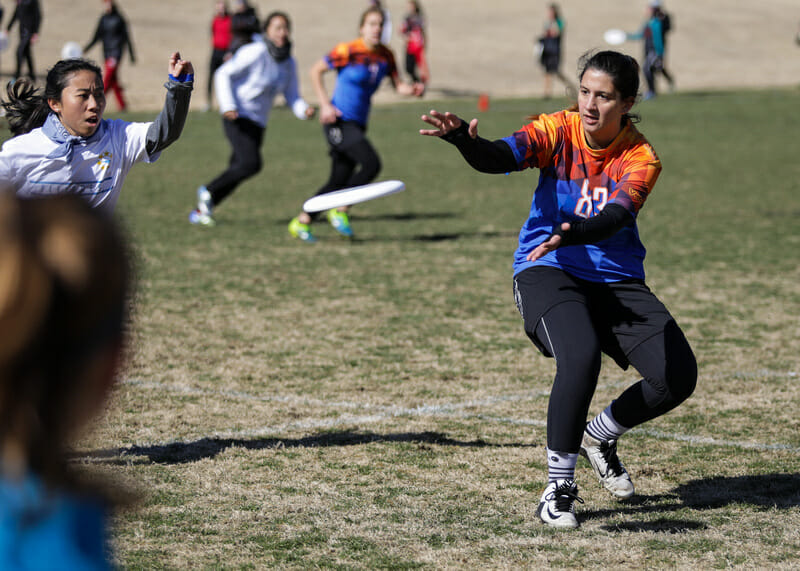 Coverage of D-I women's regionals is presented by VC Ultimate as part of their season-long support of our women's coverage. All opinions are those of the authors. Please support the brands that make Ultiworld possible and shop at VC Ultimate!
For the second straight year, #24 Florida took the Southeast crown and the region's lone bid to Nationals. The feat marks the first time a team has won Southeast Regionals in back to back years since Florida did it in 2011-2012. This year's team had a significantly different path to the Regional title than did last year's team, but in the end their result is the same: they'll be representing the Southeast on the game's biggest stage.
They breezed through quarters, beating LSU, Central Florida, and Emory by a combined score of 37-15. But they faced a real test in quarters against Georgia. The teams were neck and neck all the way up 13-13. The game was most perilous for Florida at 12-12, when Georgia had a handful of break chances, including one right on the goal line. They couldn't convert any of those chances, and they couldn't convert on several chances to hold at 14-13 to force double game point. Florida got the break to end it, and avoid the ultimate pressure of a single point to keep their season alive, but it was still easily their biggest scare in a Regional game over the course of their two season run.
The first half of the final against #23 Auburn was as even as could be, too. And in fact, they trailed 8-7 at half, the first time they'd trailed at the break of a game at Regionals since 2016. But even while taking the lead Auburn looked exhausted, and some of their long holds did them no favors for later in the game. Florida's conditioning and superior depth were huge advantages in the second half and they outscored Auburn 7-2 down the stretch.
Courtney Testa, Gabby Krajniak, and Lien Nguyen were all impressive downfield, and Lauren Bahng anchored the team in the backfield. The team did a better job of limiting Auburn's big guns than any other team in the region, and when points got long, they didn't seem to wear down.
This Florida team was different from the one that rolled everyone at Regionals a season ago. But after losing a lot of their roster from the season before, and struggling in the season's early stages, Florida showed tremendous growth and found a new way to win that was unique to this one's strengths.
"The team philosophy…is different this year; it had to be," explained Florida coach Kate Travaglini. "We had a more athletic team this year, versus a smarter team last year. Everything started falling into place, people started doing what they needed to do, people stepped up when they needed to.
"This year was a lot of 'play your position,'" coach Dustin Travaglini elaborated. "'Win your spot on the field, don't play outside yourself and we'll continue to grow.' And we were able to grow enough by the end of the season to get the region."
Florida clicked at the right time. They played their best ultimate at the right time, and their best ultimate was the best in the Southeast this year. The team forged a new identity after losing a lot of players from last year's team and losing leader Lucy Berman earlier this season, but above all else, the program's identity now is that of a back to back Nationals attendee.
Quick Hits
Auburn's best season in program history came up just short of a trip to Nationals. In the end, they didn't have quite enough depth to hang with Florida at the end of a long, warm weekend. But Kristine Fedorenko, Maddie Boyd, and Meredith Johnson were three of the best players in the region this year, and coaches Annie and Grant Kirby are very strong Coach(es) of the Year candidates.
Georgia also had a strong campaign. They gave Florida the toughest Regionals game they've had in two years and could have easily won that game if a couple of late plays go differently. They're a young team with a good, enthusiastic coach in Edward Stephens and they looked ahead of schedule at Regionals. They'll be one of the favorites to win the region next year, with arguably the region's best freshman (Josie Veal) and incoming recruit (Marie Perivier).
Georgia Tech is in a similar boat as UGA. After losing a lot of program pillars with the 2017 graduating class, Georgia Tech remained near the top of the region's hierarchy. The team's depth was impressive this year, and they'll bring a lot of it back. With their returns and impressive coaching staff, they too, will be one of the top favorites to win the region in 2019.
LSU had the most surprising weekend of any team in attendance. They stunned FSU in prequarters with a 12-7 victory. That was their only win on the weekend, but they did take Georgia Tech to double game point in quarterfinals. After missing Regionals entirely in 2016, and finishing 10th a year ago, LSU is showing real signs of growth as a program.