Auburn pulled off the huge upset over heavy favorite Georgia in the thrilling conclusion to another dramatic Southeast D-I Men's Regionals.

FOLEY, AL — It seemed like a sure thing: #12 Georgia Jojah would lock up the region and set their sights on the semifinals of Nationals. But a perfect storm was brewing below the surface that sent the entire Southeast region into turmoil. Georgia rose above the weekend's chaos, the expected favorites there in the final. And the one that proved we should have expected it too. #24 Auburn Aetos took down the Southeast's top dawgs, 15-8, securing the region's lone bid to Cincinnati.
Auburn Caps Their Weekend With a Blowout Win Over Georgia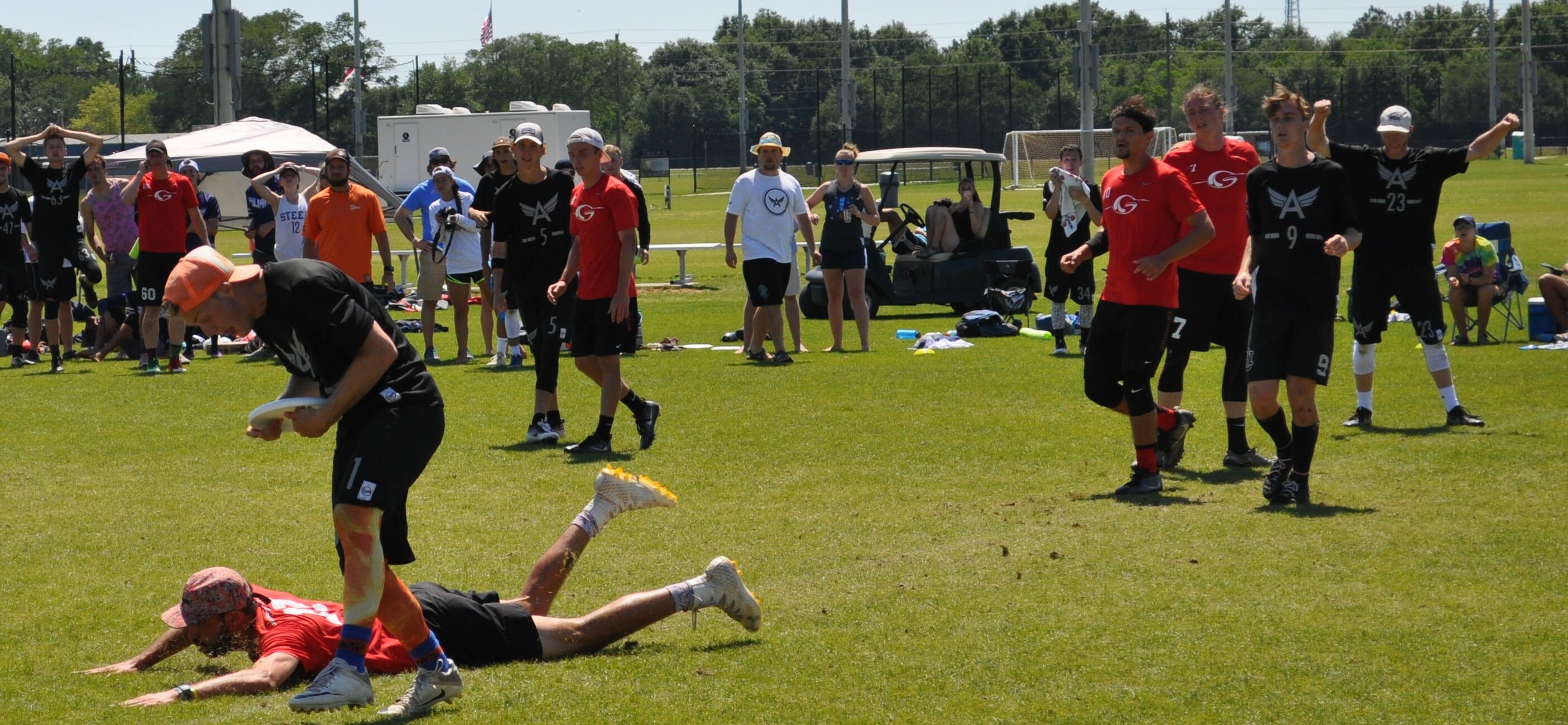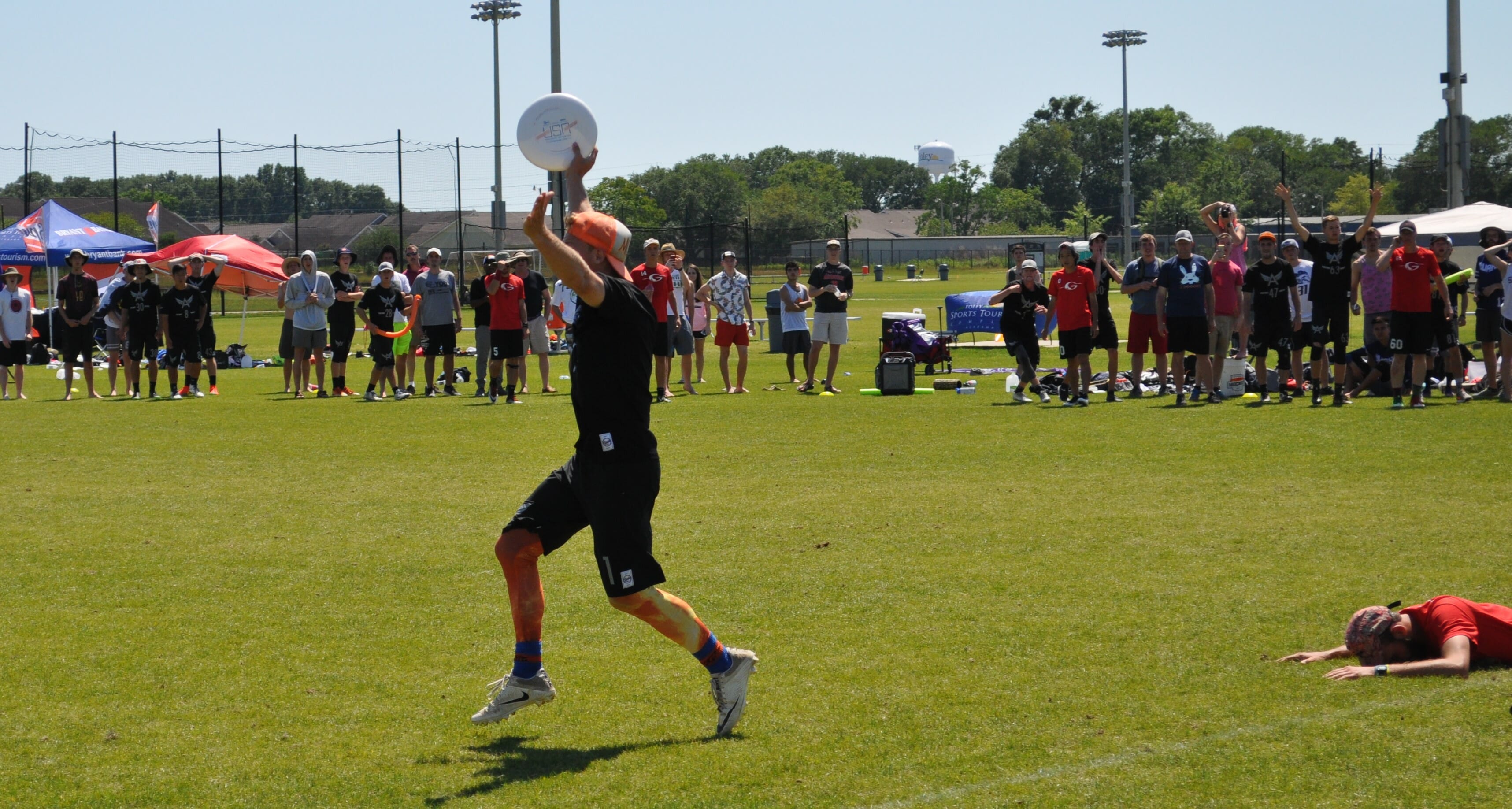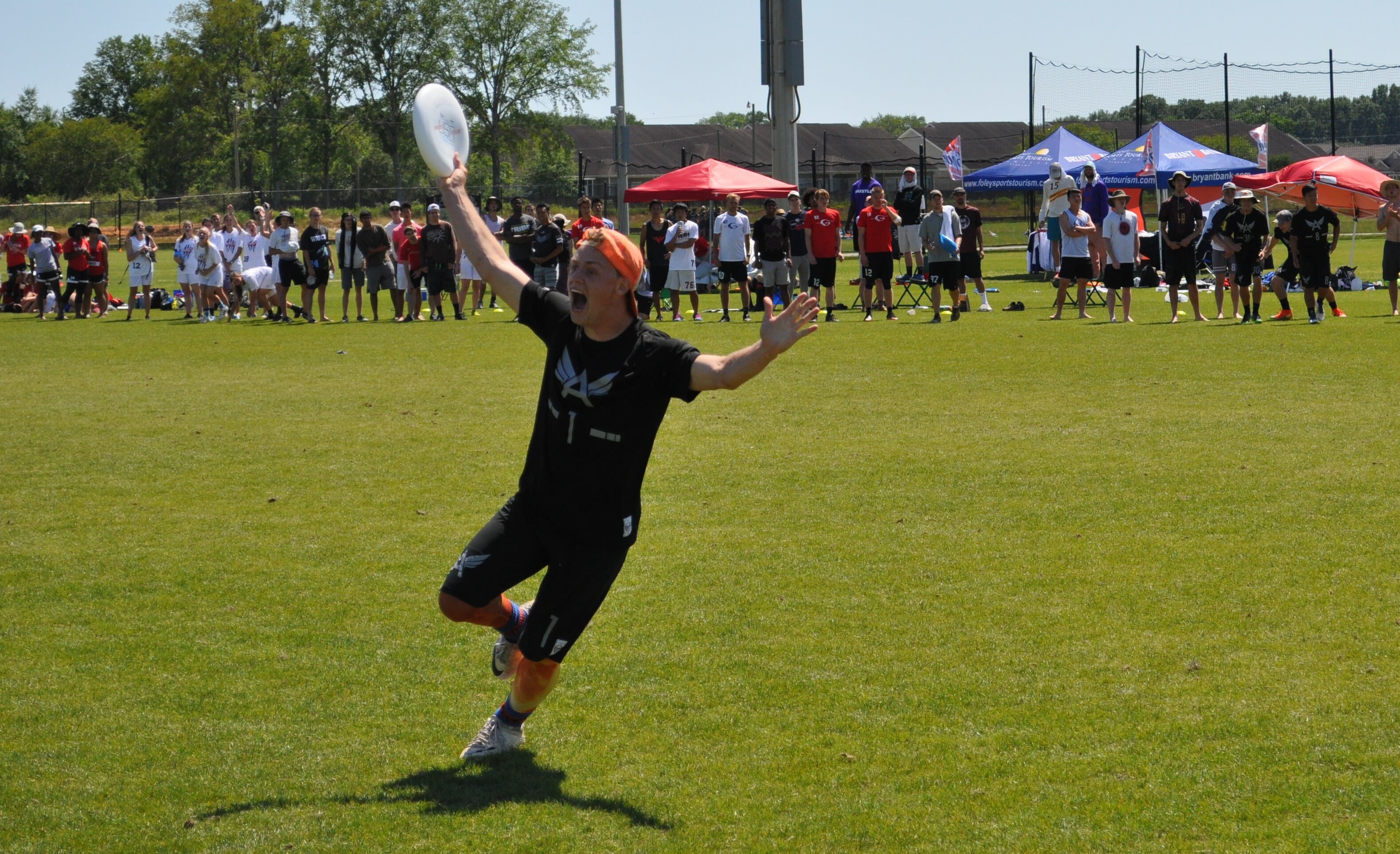 Despite Georgia being favored at the beginning of the weekend, most in attendance felt that they were the underdogs going into the final. Georgia was climbing uphill, holding on with everything they had. Auburn Aetos was on a wave of blowouts that had them dancing and singing their way into the championship game. Over the course of day, the feelings had changed and the perfect storm that was lingering showed itself in full force.
In a similar fashion to the rest of their weekend, Georgia started the game with a plethora of turnovers. After calling a timeout near the goal line, Auburn isolated Dusty Register in the end zone for the first break and the 1-0 lead.
What Georgia had yet to face that weekend, or even in the entire season, was the idea that when you gave the momentum away, you were not going to get it back.
Georgia came out on defense in the same zone they had run all weekend, but this matchup a different animal. Eric Sjostrom, Rocco Magnella, and Clark Missildine were more than comfortable to throw the disc a hundred times before reaching the end zone, especially in the thrower's wind that buffeted the fields on Sunday. Inch by inch they marched down the field, with Sjostrom occasionally throwing a high percentage break through the middle or over the top.
For any other team, that pace of play could neutralize the momentum of an offensive hold that took five to ten minutes. But for Auburn, it only gave Hank Womble and company more time to think of how exactly they would celebrate being one point closer to a regional title.
"Our offensive points in their zone, that's what we want to look like," Sjostrom said. "Marching with 100 throws up the field."
Auburn stuck to the formula that had worked out all weekend and took half 8-7. Georgia was trailing at halftime for the first time in a month, with Parker Bray playing nearly every single point in that same timespan.
"Parker played every point of the tournament except one," said Georgia coach Nathan Kelley. "If we could win without him doing that it would be great, but with a roster of 17 people it wasn't really looking good."
In the second half, the Aetos depth took over. The defense was unrelenting against a team that was already gassed. Robert Alongi, Sam Murphree, Martin Newman, and Dusty Register were only some of the flying athletes that cultivated the nightmare for the Georgia offense. When UGA managed an offensive hold, a well-rested Eric Sjostrom and Michael Volz had total control of the field for Auburn's offensive responses. They easily adapted to Georgia, who switched to a person defense when the zone failed to create opportunities.
There were just too many battles to fight for Georgia. There were too many bodies from Auburn, too big of a wave to withstand.
Martin Newman let go a short scoober for the 10-7 break, and the lid was off. A timeout near the end zone set up a floaty flick from Eric Sjostrom to Sam Murphree. He made the catch, and after a short breath from the Auburn faithful, they rushed the field to celebrate.
Auburn closed out the regional final with a 7-1 run on the 12th ranked team in the nation. Their 15-8 win meant that no team scored double digits on them all weekend. For the third straight year, Auburn is going to the College Championships.
"This is the best game we've had all season," Sjostrom said. "I think we can do better, we left some breaks on the table."
There was nothing flukey about this upset. From start to finish, Auburn looked clean on offense and ferocious on defense. Game-changing plays were being made by people unheard of by the rest of the region, and they put together a comprehensive final gameplan to win them the title.
"I think we can win Nationals," Sjostrom said. "I think we're the best team in the nation right now."
Every good captain of a Nationals team will say that to a reporter and to their team. But there's something about hearing that come from Auburn that forces pause as a thought creeps into the minds of everyone who witnessed the Regional final.
Why not?
Georgia Climbs to the Final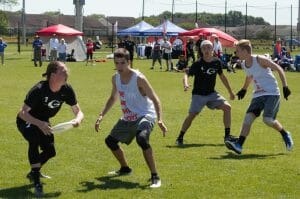 Georgia of course came into the weekend heavily favored to win it all. Their wins over Wilmington, Wisconsin and Texas had them penciled in to the Nationals field as the 12th ranked team in the Nation. Parker Bray was one of the best players all year long, and he was ready to shine when the season was on the line.
But the system that UGA had built over the course of the year was beginning to wear thin.
"Our roster is so thin," UGA head coach Nathan Kelley noted after the tournament. "We took 29 kids to start the season, and we came into this tournament with 17 and a half."
With an easy first two games of Saturday, Georgia cruised into their pivotal matchup with #19 Florida in the afternoon. A swirling wing picked up just enough for a UGA zone, and they of course took advantage. Florida's heavy reliance on Tanner Repasky and Billy O'Bryan showed when a stagnant offense attempted to march down the field one swing at a time, but couldn't say patient.
Georgia finished out pool play with relative ease in a 13-10 victory over one of the region's best. To someone glancing at scores over Twitter, all seemed right in the Southeast. But the matchup against Florida gave a sneak preview to what would eventually be their downfall.
With the Georgia zone creating long points, they relied heavily on the top few of the offensive unit to put the game away. As a result, turnovers started coming in sets. Florida had chances upon chances to bring the game back to a close contest, some even coming right outside of the endzone. But their inability to convert allowed Bray and company to keep doing what they had been doing all weekend. Run a force middle zone, make the offense throw the disc as much as possible, then hand it to Bray and let him make a play for the break.
There was an opportunity for a team to throw a wrench into that system, and as the weekend progressed so did the competition.
"It was a weekend of struggling to know how to adjust our offense," said Kelley. "We didn't even have enough people to adequately practice. We ran zone not because we wanted to, but because we didn't have numbers to do anything else."
Emory was the first team to force them out of the zone. While young, Emory Juice was bursting with energy on defense and composure on offense. Despite trailing 8-4 at halftime in the quarterfinals, they fought back to a 9-9 tie. Georgia eventually prevailed 15-11, but it revealed even more vulnerabilities in the powerhouse. Two in particular stood out: patience and momentum. While seemingly opposed to each other, a team like Emory that could thread the needle between smart decision making and deafening celebrations could cause havoc for the team that was trending downhill fast.
Florida State emulated that plan in the semifinals. A strong defense coupled with smart play from Avery Van Brussel, Peter Van Brussel, and Stephen Muir was nearly the end for Georgia. In a blink of an eye they trailed DUF 5-2.  Florida State was only concerned with denying the deep space to UGA cutters, and it paid dividends.
But like they had done for most of the weekend, UGA clamped down on their turnovers, churned out under cuts, and got it together. They clinched their spot in the finals with another 15-11 victory. Each team they faced exposed a few more vulnerabilities that were begging to be put together in a full gameplan. And on the other side of the bracket, Auburn was lurking.
Auburn Rides a Wave
Because Florida intentionally dropped into Georgia's pool on Saturday via a strategic loss at Conferences, Auburn faced relatively little competition on Saturday of Regionals. By the end of the day, they had outscored their opponents 38 to 20 and locked in their quarterfinal position. On Sunday morning they started strong against Tennessee, jumping out to an 8-2 lead.
Despite that lead, they intelligently played their starting offense for most of the second half, knowing that every opportunity to fall into a groove would be vital going into their toughest contest so far: Central Florida.
"Sectionals was the first time that we've had our handler core together all season," Eric Sjostrom said after the tournament. "Over the last couple months we've been figuring it out on offense."
UCF's Michael Fairley was the best player to come up against Auburn so far, and they had a plan to limit his command on the game. Auburn's Martin Newman took the matchup, and slowed him down as much as possible. Strong reset defense kept Fairley's touches limited more than UCF needed and a deep Auburn D-line took advantage of the Dogs of War top-heavy system.
The nail in the coffin for UCF came out of a desperate attempt to stop Auburn's Eric Sjostrom. Despite being every bit of offense that wasn't Kyle Reedy, Michael Fairley was forced into covering Aetos' best offensive player. That meant that as the game wore on, UCF's effectiveness slipped on both sides of the disc.
"We got a little stagnant and we played a little scared," UCF captain Michael Fariley said after the game. "We weren't clearing as hard as we were cutting and that clogged everything up."
Auburn closed the door with ease, winning 15-9 and setting their sights on Georgia.
"Hats off to Auburn, they're a fantastic defensive team," Fairley said. "Auburn beat us. We didn't lose that game, Auburn beat us."