Our thoughts on the likely seeding.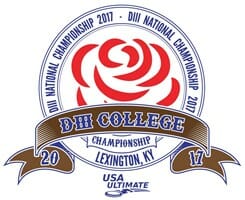 With the Division III field finalized and Nationals coming up in ten days, it's time to start thinking about what the seeding and pools might look like for Nationals.
This is the second year that Regionals finish does not bind seeding at Nationals. Please note that we do our best to follow USA Ultimate's guidelines for seeding: USAU's post-Regionals rankings are very heavily involved, head-to-head wins matter at the margin, and historic success is considered. Things are a little different in Division III, though, with less connectivity and an inclination to avoid a lot of Regional rematches.
Let's kick things off right away with the pools generated by my predicted seeding.
| POOL A | POOL B | POOL C | POOL D |
| --- | --- | --- | --- |
| Bryant (1) | Franciscan (2) | Richmond (3) | Air Force (4) |
| Davidson (8) | Colorado College (7) | Amherst (6) | Dartmouth (5) |
| Wheaton (12) | St. John's (11) | John Brown (10) | Alabama-Huntsville (9) |
| Portland (13) | UNC Asheville (14) | Army (15) | Occidental (16) |
Notes
It is important to remember that traditionally USAU has avoided putting teams from the same region in a pool together.
After previously being excluded from the rankings due to not hitting the 10 game threshold, Bryant is the clear number one seed after dominating the postseason, never allowing more than seven points in a loaded NE region.
Franciscan and Richmond are only separated by two rankings points and have been flipped for regional diversity purposes.
Dartmouth should finish above Amherst due to Dartmouth winning head-to-head 13-9 and finishing above Amherst at Regionals.
Air Force is seeded above the Dartmouth/Amherst pair because Air Force is ranked above Dartmouth and for regional diversity.
Alabama-Huntsville and John Brown are flipped for regional diversity.
St. John's beat Wheaton 13-7 earlier this year at DIII Midwestern Invite, jumping them above Wheaton.