We break down every team in the league.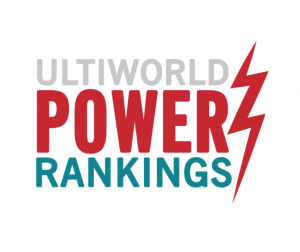 Every week, we update the American Ultimate Disc League Power Rankings. This week, we dive deeper, taking a close look at where every team stands as we approach the midway point of the 2017 regular season.
With some huge games on the docket this weekend, some bigger shakeups could be on the way!
Check out the full Power Rankings below and share your thoughts in the comments.
# Team (Record, Avg. Margin of Victory/Loss)
1. Dallas Roughnecks (6-0, +9.67)
There's no reason for any other team than Dallas to be ranked #1 in the AUDL. The Roughnecks have won 23 games in a row and show no signs of slowing down. Beau Kittredge and Cassidy Rasmussen are gone and Kurt Gibson is injured, but Jay Froude and Abe Coffin have been great additions for Dallas. Coffin has fit into whatever role is needed on offense and Froude already has 19 goals and 12 blocks. Dalton Smith has unsurprisingly stepped up, leading the team in assists. And oh yeah, they still have Jimmy Mickle and Dylan Freechild who are playing as well as ever. With a road trip to Jacksonville and Raleigh this weekend, if Dallas is still undefeated this time next week, chances are their win streak will be intact come playoff time.
2. San Francisco FlameThrowers (4-1, +3.4)
The FlameThrowers dropped a game in San Jose, but there's little reason to doubt how good this team can be when it is at its best. After a 2016 season where Cassidy Rasmussen wasn't looked at as one of the most impactful players on the field, he is looking as very sharp this year with 27 assists and 14 goals already. Antoine Davis has been huge for San Francisco, leading the team with 10 blocks. But the competition in the west has been tougher than expected, so there's reason for caution here. 30 players have already suited up for San Francisco, with only 13 having played in four or more games. Last year, San Francisco faced similar problems and looked listless in the playoffs against Seattle. This team has the capability to fire on all cylinders in the playoffs but they'll be on much stronger footing if they have some momentum going in.
3. Raleigh Flyers (5-1, +2.33)
Other than the second day of a back-to-back, windy road game in Dallas, Raleigh is 5-0 with an average point differential of +6.4. That 18 point loss isn't meaningless, but it's clear that the Flyers are better than that. The Flyers have clearly looked a step above teams three through six in the South, having already beat Austin (twice), Atlanta, and Jacksonville, each time by at least five points. Justin Allen has spent more time playing on the D-line this year, and when he's on the line with Hunter Taylor and David Richardson, the opposition has a tough time scoring. The Flyers will have their best chance yet to beat Dallas this Sunday in Raleigh, with the Roughnecks playing the night before in Jacksonville.
4. D.C. Breeze (3-1, +3.75)
The Breeze were supposed to take a step back this year with the departures of Jonathan "Goose" Helton, Brett Matzuka, Nicky Spiva, and Tom Doi. But DC looks better than they did last year, having already notched wins against New York and Toronto. Their only blemish is an overtime loss at Raleigh. Alan Kolick leads the team in assists with 16 and Tyler Monroe leads the team in goals with 14, but newcomers like Lloyd Blake and Delrico Johnson have been very important contributors as well. Blake has been an extremely reliable handler, leading the team in throws with a 98% completion rate, while Johnson leads the team in blocks. If DC can win on the road in Toronto this weekend, they'll cement themselves as the favorite to earn the one seed in the divisional playoffs and the crucial first round bye.
5. New York Empire (2-2, +3)
Once again the New York Empire came up just a little bit short against the DC Breeze this past weekend. It was their fourth one-point loss against DC in their last five games against the Breeze. Jeff Babbitt has naturally been a force for New York, leading the team with 12 goals and 14 blocks. Despite having lost to Toronto and D.C., there's no reason to think the Empire can't hang with those teams. Both were very winnable games and New York is still incorporating a lot of new players in big roles. They'll pick up another new player that could play a big role after College Nationals when Ben Jagt joins the team. The Empire still look like a team with a very high ceiling.
6. Minnesota Wind Chill (3-0, +5)
Could the Minnesota Wind Chill win the Midwest? It seemed far fetched when the season opened but their win over Madison makes it a real possibility. This team has added some important pieces that have made a big impact right away — like Ryan Osgar, Jay Drescher, and Josh Klane — but the depth and buy-in might be the even more noticeable difference. In their first three games, 18 players appeared in all three. Of course, the Wind Chill have defeated Madison before only to find themselves unable to keep up later in the season. And Minnesota has yet to play a road game. It's too early to say that Minnesota has joined the elite tier in the AUDL but they've done all they could be asked to do so far this season.
7. Madison Radicals (2-1, +1.67)
The Radicals are coming off an uninspiring two point win at home against Chicago, a team that lost by nine points in Detroit the week before. Madison actually trailed at half in the game, and for a team that hasn't lost at home to a divisional opponent since 2013, that's saying something. The Radicals did lose a big piece in Jay Froude this past offseason, but this is largely still the same team that nearly made the championship last August. The Radicals are undoubtedly better than they've been playing. They've only played three games, so their season is still very young and the sample size is small. But that will only stay true for so long.
8. Jacksonville Cannons (4-1, +4.6)
The Cannons have looked dominant at times this season, like a team that can advance past the first round of the playoffs, and maybe even further. They've got an eight point win against Austin, a team they lost to twice last year. A win at Atlanta. They just didn't look that good when playing Raleigh, a team they'd most likely match up with in the first round of the playoffs. The Flyers came into Jacksonville and won by seven points, controlling most of the game. Jeremy Langdon has 27 goals to go with 20 assists, which has allowed Mischa Freystaetter to spend more time on defense, giving that line a much different, more potent look after the turn. But if they can't stand up to the likes of Raleigh and Dallas, if there is a postseason trip, it will be a short one. They'll get another chance at Dallas on Saturday.
9. Toronto Rush (3-2, +.2)
The Toronto Rush not only dropped a game in D.C. by an astounding eleven points, but also lost at home against Montreal. Yikes. To be fair, Montreal has one win against Toronto in every season since they joined the league. Still, this loss was particularly surprising, leaving Toronto at 1-2, a losing record for the first time in franchise history. The young guys like Connor Armstrong, Bretton Tan, and Jacky Hau are filling important roles this year, but if this team is going to make noise in the playoffs, the veterans are going to need to step it up. Toronto did manage to go 2-0 on the road against Ottawa and Montreal this past weekend, but the games to watch for this team will come against New York, D.C, and San Francisco.
10. San Jose Spiders (4-1, +1.8)
Mea culpa. At the beginning of the season, I said there were five teams that could make the playoffs out West with San Jose as the lone omission. That was clearly a mistake. I saw a team that I thought had some nice handlers but lacked depth and didn't have the defense to get enough breaks to win on the road. What I didn't project was Jackson Stearns taking this big a leap, with 11 assists and 20 goals through five games. I saw Justin Norden as a player that would be great to be your second or third best handler, not somebody that's played himself into the early season MVP conversation. I didn't expect many other role players to step in and prove ready to contribute right away. The Spiders already have a win over San Francisco and went 2-0 on a road trip to Seattle and Vancouver — no easy feat. There are four teams in the west with only one loss, so making the playoffs is no guarantee for the Spiders. The Spiders have yet to play Los Angeles, who will visit San Jose this weekend. Given how good the Spiders have looked so far, though, it'd be tough to bet against them.
11. Seattle Cascades (3-1, +3.75)
It may not have been pretty, but the Cascades managed a 26-24 win over a strong Pittsburgh Thunderbirds team last weekend. Mark Burton is coming off a top five MVP finish and not slowing down. This team doesn't have the same kind of top end talent as a year ago, but in 2016, when the Cascades first visited Vancouver, they lost by ten points. This year in their first Vancouver visit, they won by three. Seattle goes to San Francisco this weekend, and if the Cascades can hang with the FlameThrowers, even if they don't get a win, it'll be a good sign that this team can win a playoff game for the third consecutive year.
12. Los Angeles Aviators (3-1, +2.25)
Despite losing a lot of their best defensive players to San Diego, the Aviators are back in the thick of the playoff race while San Diego is mired in the muck. The Los Angeles offense looks high powered, with Eric Lissner and Eli Friedman acting as great distributors. Brian Nguyen and Mark Elbogen are back, too, still scoring goals at a prolific rate. Tom Doi has been a nice addition to the D-line, and the Los Angeles Aviators haven't missed a beat after closing the 2016 regular season on a six game win streak.
13. Pittsburgh Thunderbirds (2-1, +2.33)
In their second game of the season, the Thunderbirds just barely managed a comeback win at home against Indianapolis, a team they struggled to put away last year. Still, nearly beating the Cascades on the road isn't a bad result. Even though Tyler Degirolamo hasn't looked 100% yet and didn't play in Seattle, when he has played he's looked pretty good. Degirolamo has registered a goal or assist on 50% of the points he's played so far this season. Max Thorne has also looked good with 17 assists and a 97% completion rate. The Thunderbirds don't play this weekend but they visit Madison on May 20. They'll be the underdogs but a win would really open the playoff race up in the Midwest.
14. Montreal Royal (2-2, -4)
The Royal have done enough to stay in the playoff conversation so far, winning on the road in Philadelphia and Toronto. They lost an ugly game on the second day of a back to back in New York, but there's reason for hope. Montreal managed to get that win against Toronto without their contingent of players from Boston. Steve Bonneau from France has been a big addition to the team, leading the team with twelve assists. With the additions from France and Boston, the Royal are a team that's capable of beating the top tier in the division. Whether or not they can do that often enough to make the playoffs remains to be seen.
15. Austin Sol, (1-5, -1.67)
Despite a good goal differential for a 1-5 team, Austin has not played up to its potential yet this year. They took care of Nashville easily, but the Sol haven't come closer than four goals in any of their losses so far. Austin has always been a team that has relied on its athleticism on offense, frequently looking deep, but it hasn't worked often enough this year. One less heralded player on the team that has had a strong start so far is Carson Wilder. Wilder plays with Texas Tech and has moved over to the Austin O-line; he has 10 assists and 12 goals so far this season. Last year, the Sol turned around an 0-4 start to finish 7-7. Five of their next six games are against Nashville or Atlanta, so Austin again has a chance to turn it around. Unfortunately, the playoffs may be too far a reach at this point.
16. Atlanta Hustle (1-3, -1.25)
After a couple close losses at home against Jacksonville and Dallas, the Hustle aren't in an ideal spot, but Nathan Vickroy, Dylan Tunnell, and Matt Smith have been great so far. Atlanta left a lot on the table by dropping those two winnable home games. And it's not a good omen that they're 0-3 against the three teams projected to make the playoffs in the South. It looks like the additions that Raleigh and Jacksonville made may have moved them a step above the Hustle.
17. Indianapolis AlleyCats (1-4, -1.8)
The AlleyCats came tantalizingly close to winning in Pittsburgh, but blew a two goal lead late in the fourth quarter and dropped the game tying score in the end zone. The AlleyCats best hope at this point is to hope that Madison and Minnesota both sweep Pittsburgh, opening up a comeback opportunity for Indianapolis following their slow start.
18. Ottawa Outlaws (1-2, -1.67)
The Outlaws are, in many ways, the AlleyCats of the east. They win the games they are supposed to win, are always competitive, but don't seem to be able to reach the playoffs. In their three seasons as a team, the Outlaws are just 2-15 against Toronto, New York, and D.C. Over its next two games, Ottawa is hosting Philadelphia and Montreal, so if the Outlaws play well they have a good chance to come out of it with a winning record. That should force them into the playoff conversation.
19. San Diego Growlers (1-4, -2.4)
The Growlers went 2-12 last year. While they'll almost surely improve on that mark, San Diego has not looked the part of a playoff contender in the way they were supposed to coming into the season. The newcomers have played fairly well, though, with Sean Ham leading the team with 19 goals and Hunter Corbett leading the team in assists with 13. The bad news is that it gets even tougher over the next month, with the Growlers next four games all taking place on the road.
20. Detroit Mechanix (1-1, -.5)
The Mechanix weren't able to keep up with the AlleyCats during a ten point loss in Indianapolis to start the season, but Detroit won at home by nine points against Chicago. Their four wins last year were by a combined ten goals. This, then, was the biggest win in franchise history. Theor previous record was a six point win over Minnesota in May 2013. The Wind Chill are visiting Detroit again this Sunday after a game in Chicago the day prior. A win would be shocking given how good Minnesota has looked, but the idea that it could even be a possibility shows how far this team has come.
21. Philadelphia Phoenix (0-3, -3)
Watching Philadelphia games makes it clear they're far better than the team they were last year. They came oh so close to beating Montreal, giving away a lead before losing in double overtime in dramatic fashion. They hung around against Ottawa, too. The Outlaws won that game by three but only pulled away at the very end. This is the same Ottawa team that beat Philadelphia by eight, 12, and 21 points last season. So there's cause for optimism! The bad news is those home games against Montreal and Ottawa were two of the most winnable games on their schedule. They don't host Montreal again, though the Outlaws will visit Philadelphia again in June. Still, the Phoenix seem too good to let this 18 game losing streak they're on last too much longer.
22. Chicago Wildfire (0-3, -6.3)
The Wildfire lost by nine in Detroit and looked like they might be the new cellar dweller of the Midwest. The next week they turned around and nearly upset the Radicals in Madison. So this team can't be pigeonholed. Pawel Janas has been absurdly good, with 13 assists, 236 completions, and a 95% completion rate so far this season. It sure is a shame that the first season he plays with Chicago is also the first season AJ Nelson doesn't; that would have been a fun connection to watch.
23. Vancouver Riptide (0-6, -6)
The Vancouver Riptide are not the second worst team in the league. Well, they are, but they shouldn't be. There's plenty of talent on this team, and they could theoretically contend for the playoffs. But the thing about the AUDL, much like every other sport, is that you do have to show up and actually play the games. The Riptide have been bad at getting people to show up and they have been just as bad at playing the game. They might win this weekend; they're hosting the Growlers. But the Riptide playoff drought will extend into its fourth season regardless of how good they may theoretically be.
24. Nashville Nightwatch (0-6, -13)
Did you know that Nashville's Jake Wright has a great shot at becoming just the third player in AUDL history to register back-to-back 50 goal seasons, joining Jacksonville's Mischa Freystaetter and Indianapolis' Cameron Brock? He had 53 last year and has 20 so far this season. That's something. Now about that 0-6 start…. yikes. A -13 average goal differential is not pretty. With Charlotte out of the league, the schedule has become beyond brutal for the Nightwatch. That said, Nashville has managed some late season wins before. In fact, in their history the Nightwatch are 3-2 in July. And guess what, they have four July games this year! Hey, I know it's not a lot, but it's something.