Michigan trounces all challengers to claim their first back-to-back regional titles since 2000-2001.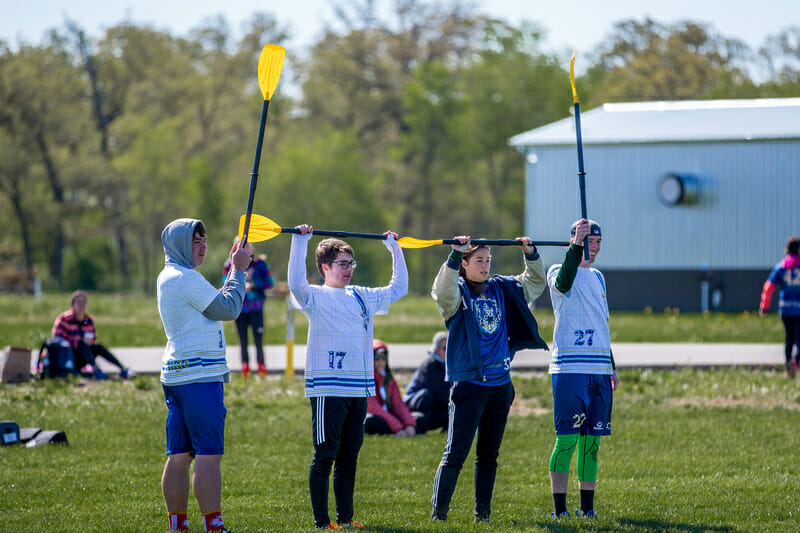 This post was written by guest author David Hoffman, coach of Notre Dame Papal Rage. 
FAIR OAKS, IN — Leading up to Regionals, there was day after day of rain in the midwest. An email that went out Thursday morning warned of a possible alternate site because the Fair Oaks fields were under water, though by that night it was confirmed that Fair Oaks was still playable. Saturday brought soaked fields, 25 mph (or more) winds, and five pool play games to 11. The question for all the teams was if they had the depth to last the entire weekend.
In the end, favorites Michigan magnUM ran away with the Great Lakes title. MagnUM arrived in Fair Oaks without a loss in intra-regional play, and stayed that way. With the region's parity accounting for numerous closes games elsewhere, Michigan was shielded from upsets. They smothered the University of Chicago 15-2 in the final, capping an undefeated weekend in the muck and claiming their first back-to-back regional titles since 2000-2001.
The wind and muddy fields were draining both physically and mentally for the players throughout the weekend. But Michigan coach Tyler Kinley had his team ready and it showed with their performance, as Noah Backer and company claimed a comprehensive victory.
MagnUM easily earned themselves a spot to Nationals and has put themselves in a great spot heading to Cincinnati. As has been the case over the past few years, Michigan always seem to beat the teams they are supposed to. The only question that remains is whether they can finally start beating the teams ahead of them in the national to polls.
The Grind Of Saturday Pool Play
Saturday weather was rough. These pool play games had 60-minute soft cap and 80-minute hard cap. Out of 30 total pool play games on Saturday, just six reached the point cap. Great Lakes, great times!
As expected, Pool A was dominated Michigan. MagnUM went 5-0 on Saturday and the closest games were an 8-5 win vs Illinois State and a 9-6 win over Purdue. But beyond Michigan, parity reigned on the weekend and upsets abounded.
Illinois State took second in Pool A, upsetting Purdue 9-5 in the final round. Chicago, before putting on a run Sunday to make the title game, went 2-3 in the pool. Western Michigan upset Kentucky at the bottom of the pool, but it wasn't enough to push Western into the bracket.
Notre Dame won Pool B, though not as easily as their Pool A counterparts. Papal Rage had to score three straight in their first game to escape with a 9-8 win over Illinois. They had another close call against Michigan State before more easily handling Northwestern. With the pool secured, Notre Dame sat its top players and lost to Indiana in the final round. Northwestern beat Illinois in a game for second in the pool. In the final round of pool play, Michigan State avenged its Conferences loss to Grand Valley State, winning the game 5-4 to take the last spot into quarterfinals.
Michigan Cruises In Quarterfinals While Purdue And Northwestern Face Off
On the top side of Sunday's bracket, Michigan faced off against Michigan State and won 15-1, saving plenty of legs. Purdue and Northwestern — two teams that earlier in the season looked like possible strength bids for the region — battled for the right to meet MagnUM in the semis. The back-and-forth game reached a 12-12 double game point, with Northwestern receiving. A Purdue player got a block, but the Northwestern player called a foul; when the call was overturned by the observer, Purdue got the disc and punched it in for the score and the win.
In the bottom side of the bracket, Chicago upset Notre Dame 13-11, using their height and playing with poise. Notre Dame had plenty of opportunities but just could not convert enough of them. Illinois State and Illinois faced off in the last quarterfinal, with State taking half 8-7 and never giving the lead back. They won 12-11 to advance.
Chicago Ends Season Losing Streak Against Illinois State In Semifinals
Michigan faced off against Purdue in the first semi. After their double game point win in quarters, it seemed Purdue just didn't have the legs to push for an upset and Michigan won easily, 15-7. In the other semi, Chicago brought a stop to their losing streak against Illinois State, winning 15-5 to keep their Sunday Cinderella run alive. Meanwhile, a great season and regional run by the Illinois State Gnomes came to an end.