Despite pushes from UNC Charlotte, Ohio State, and Tufts, UNC Darkside secured the 2023 QCTU crown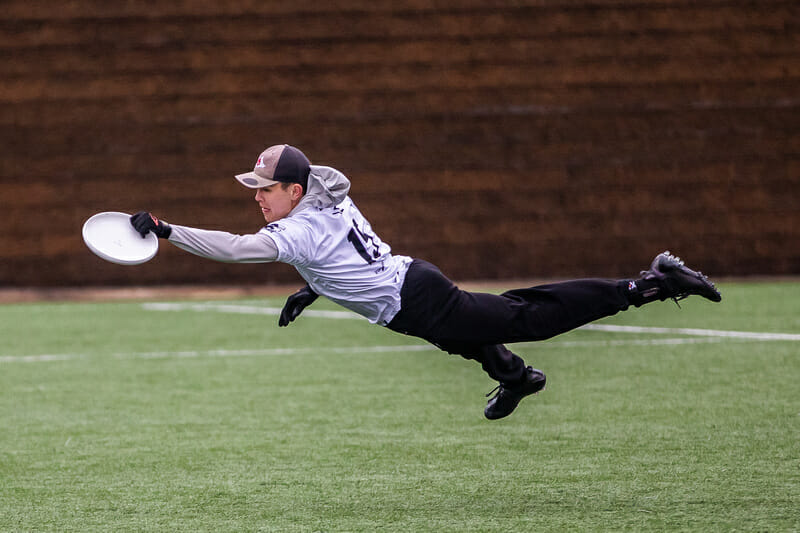 Ultiworld's coverage of the 2023 college ultimate season are presented by Spin Ultimate; all opinions are those of the author(s). Find out how Spin can get you, and your team, looking your best this season.
An expected winner didn't take any excitement away from a great weekend of competition.
To the surprise of absolutely nobody, #1 North Carolina Darkside won Queen City Tune Up, taking down Tufts Emen 15-6 in the final. Aside from Darkside's dominance there were plenty of stellar performances and intriguing outcomes.
Sunday bracket play was shortened to just two games because of expected rain, with teams playing brackets based on their finish in Pool Play which ran in full on Saturday. Credit to the tournament organizers for their proactive communication and for fitting in a way for every team to get at least two games in on Sunday despite the adverse conditions. Luckily the tournament escaped any potential controversy as all pool winners went undefeated on Saturday and slotted into the championship bracket.
Final Results


The Championship Bracket
The best way to describe UNC actually came from one of their opponents: an Ohio State player on the sideline of their semifinal matchup said UNC are a white collar ultimate team that plays like a blue collar team. In addition to polish, technique, and strategy, they are the best because they run after every disc like they have to catch it, they have a sideline of engaged players constantly talking to the seven on the field, and, with a cadre of coaches and alumni around to give feedback, the players find value in every single point.
From the first point of the weekend until a rookie line closed out their championship game win, UNC were focused, energetic, sharp, and simply better than any other team around. Their closest game in pool play was a 15-11 wake-up game.
"First game, we go out against [UNC Charlotte] and we felt a little flat," captain Kevin Pignone said. "I don't think we were motivated the same way. We didn't get our warm-up in because there wasn't a warm-up field, so we were operating between the fence and the end zone. That was a little off and we came out of that game with a sour taste in our mouth. That's not how we want to prepare for a game. Getting out of that and realizing that we can still control our intensity–that was a huge moment for us."
Darkside gave just 7, 6, and 10 points in their remaining pool play games against Harvard, Purdue, and Case Western Reserve. Their 10-8 win over Ohio State Leadbelly (again the first game of the day without a proper warm-up) in the semifinal looks close on paper and was on the field, too. Credit to Ohio State for playing a good game and throwing UNC's D-line offense off their typically quick rhythm,1 but even with Leadbelly's great performance, the outcome was simply never in doubt. In the final, UNC steamrolled a Tufts team that had played with a dominance of their own through pool play.
With the luxury of a large talent gap at the top end, Darkside were able to give newer players or players acclimating to new roles a lot of run time. Daniel Zhu combined with Matthew McKnight and Pignone leading the D-line counterattack and looked very comfortable for a rookie. Grayson Trowbridge shifted between offense and defense throughout the weekend and looked quick and aggressive as a downfield threat. Eli Fried, known last season as a defensive stopper, has stepped into a finisher role for the offense. He was involved in the first three scores for Darkside in the final.
"It's definitely better to play with all of the people on the roster," Pignone said. "I'm glad we have such a big team and it was sweet to have everyone here. I learned how some of our guys can ball out. I love watching them…We got some young dudes who are real!"
Before capitulating against UNC, Tufts played one of the best halves of the day, erasing a two-point second half deficit to NC State to pull out the semifinal win on double-game point. A very patient but technically skilled offense forms the backbone of this team that is still figuring itself out on offense. Similar to Truck Stop in the club division, Tufts' offense is capable of working the disc up patiently or taking shots, but they have a tendency to wait too long to try to stretch deep, allowing defenders to sit underneath their downfield cutters. Zach Burpee and Tucker Livingston form a formidable cutting duo working opposite Roman Short and Zach Singer, who handle the backfield with hybrid Toshihiro Nagase.
"Everybody on the team played their heart out today and yesterday," Nagese said. "Every single moment people were playing so hard and that's what got us to this stage. I'm very proud of every single person on this team."
It's a bit of a shame that Tufts need Oscar Graff's abilities on offense so frequently because he was inarguably the best shutdown handler defender at the field complex. When Tufts crossed him over to defense, he could single-handedly force a coverage sack with 5-6 seconds of elite reset defense. "Oscar Graff, this kid just works so incredibly hard and plays so much and cares so much about this team," Nagese added. "That shows on the field when he's getting layout blocks in the NC State game or scoring deep in the UNC game and doing it all really." Putting the pieces together around Graff to maximize their talent will be Tufts' challenge in a crowded region.
Though they'll be disappointed to miss out on the final, #11 NC State Alpha had just one loss on the weekend-their double-game-point misstep against Tufts in the semifinal. Not to be cliche, but Alpha are playing better than the sum of their parts. While the team is missing a superstar playmaker who can command an offense, Daniel Ferriter and Henry Kennedy keep the disc moving cleanly in the backfield and Hiatt von Alten and Sean Wiles are enough of a threat downfield to keep defenses honest. When forced out of their roles though, or when a stellar handler defender took Ferriter out of the play, Alpha's offense ran into some problems. Close games against UNC Wilmington, Washington University, and Tufts show where the team is at the moment: able to beat inferior opponents with ease (see: 15-5 over Penn State), but needing to play their best against anyone close to the Nationals bubble.
As mentioned above, Ohio State Leadbelly gave UNC one of their toughest games of the tournament before falling to a 4th place finish. Led by Sion Agami and Noah Krumme, and with a long bench of athletic defenders, Ohio State is a team that has a high ceiling and hasn't yet come close to it. They were one of the few teams to score a break on a UNC offense widely considered the best in the country.
Charlie Vukovic and David Snead stood out for the D-line offense that didn't require Agami or Krumme to cross over in order to punch in breaks. Snead in particular commanded attention as a handler defender and highlight cutter after a turn. Many teams would fold when down 9-4 to UNC, but Ohio State clawed back to make the score respectable in a cap-shortened 10-8 loss.
"It's been cool to watch us learn to fight through adversity as a team and learn what it means to be that Nationals level team again," Krumme said.
Ohio State displayed a lot of grit this weekend. In their pool play finale against William & Mary, they were down 8-5 at halftime and looked like they were already defeated. "Going down big at half, we just went into the huddle and Sion said, 'If we're not going to work you can just go back to the hotel. We gotta come out here and be a bunch of dogs. And that's the only way we're going to win this game,'" Krumme said, looking back. "We always talk about clocking in and up until that point we hadn't clocked in. We all put our time clock in and said it was time to go to work."
Given the changes to the bracket format, Leadbelly must be glad they decided to punch their time cards. The comeback win meant an opportunity to test themselves against UNC rather than two consolation games and a 5th place finish at best. Better than any other UNC opponent all weekend, Ohio State stood up to the test.
Wish We Could See More (5-8 Bracket)
---
Queen City Tune Up 2023: Tournament Recap (Men's) is only available to Ultiworld Subscribers
Already have a subscription? Log in
Whether you visit Ultiworld for our reporting, our podcasts, or our video coverage, you can help us continue to provide high quality content with a subscription. By becoming a subscriber, not only do you receive benefits like exclusive articles and full article RSS feeds, you also help fund all of Ultiworld's coverage in general. We appreciate your support!