Rising parity makes for an intriguing start to the European club calendar.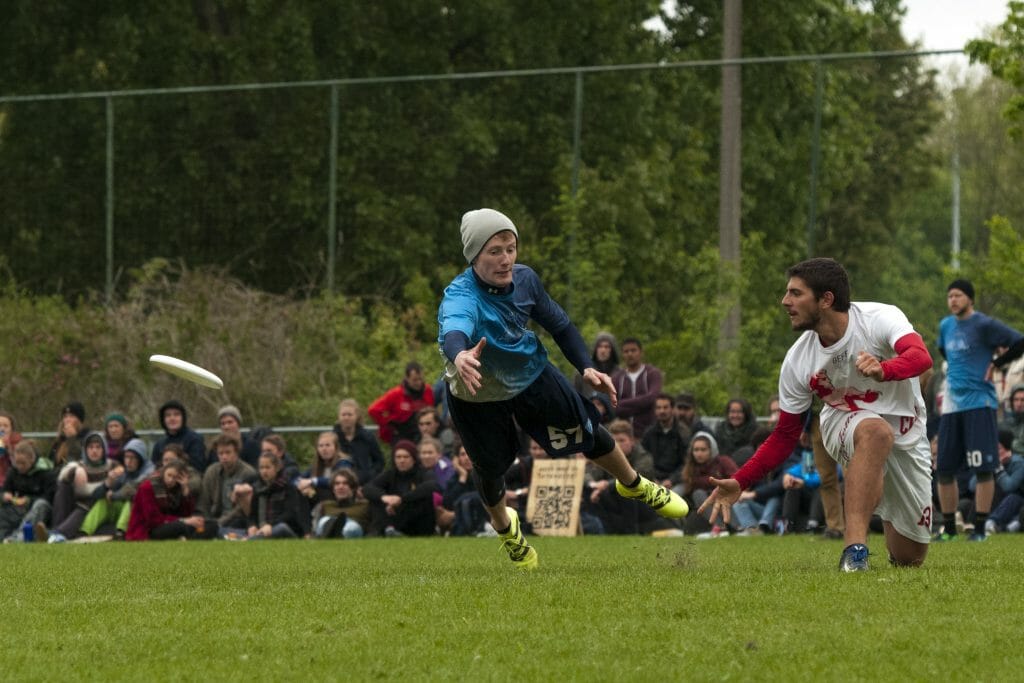 BRUGES, Belgium — The first major European club tournament, Tom's Tourney, took place in Bruges, Belgium last week, celebrating its 25th anniversary. It was one of the first big tournaments in Europe and consistently draws top club talent from all over the continent every year.
Tom's Tourney is more than just ultimate competition. Throughout the three days, there was plenty to do off the fields from a Spikeball tournament to an inflatable obstacle course to the epic party on Saturday night. The Brugse Zot beer flowed through the kegs and the deep frier kept Belgian fries coming all weekend as well. Here is a recap of the elite Open Division at Tom's.
La Fotta Comes Out On Top
Perennial favorites CUSB La Fotta from Bologna, Italy (2nd at EUCF last year), ended up winning the tournament. They defeated M.U.C. from Munich, Germany, 15-9 in a final where they were in complete control. They had met M.U.C. twice earlier in the tournament in both pool and power pool play and those games were a bit closer at 11-6 and 10-8, but in the final there was no question that La Fotta was the stronger team. With big performances from Bruno Mine and Luca Tognetti, La Fotta simply was more athletic and consistent than their German opponents. Despite some great fiery defense from Michael Remy and great handling by Josef Ebner, M.U.C. were just outclassed.
La Fotta did not have it so easy for the rest of the tournament, though. They did cruise through pool play on Friday and power pools on Saturday without too much trouble. However, late on Saturday, they had a quarterfinal game against Tchac from Pornichet, France. La Fotta was 2nd in Europe at the EUCF last year and Tchac was 3rd, so it was unusual to see these two powerhouses meet in the quarters. However, Tchac had some consistency issues earlier in the tournament, losing to the 23 seed Cakes from Amsterdam in pool play and KFK from Copenhagen in power pools, so they had to face La Fotta early in the bracket. However, they came out firing; the game finished on double game point with La Fotta able to pull out the win in a gritty last point.
La Fotta then moved to semis against Chevron Action Flash. Chevron are usually the second best team in the UK after Clapham from London; they ended 9th at EUCF last year. Chevron are a physical and aggressive team, matching the style La Fotta loves to play. This game also went to double game point, and again La Fotta persevered. Though things didn't go perfectly last weekend for La Fotta, they looked quite strong. They are preparing to go to the US Open later this year. While a gold medal at Tom's is a good sign for them, they will have to keep ramping up their level to be competitive against the top club teams from USA and the rest of the world in Minneapolis.
M.U.C. Grinds To The Final
M.U.C. had a far messier road to the final. They actually started in the same pool as La Fotta but finished third, losing to INNSiders from Innsbruck, Austria. In Tom's Division 1, all the top two finishers in their pool move directly to power pools and four out of six third place finishers move on. M.U.C. were lucky to even move on in the tournament after finishing 3rd in their pool — they were fortunate to come away with a strong enough point differential to advance.
M.U.C. then moved to power pools and needed a 2nd place finish to reach the bracket. They barely snuck in after losing to La Fotta and winning by two against Crazy Dogs from Switzerland and just squeaking by a double game point win against Iznogood from France.
When they finally made it to quarters, they had to match up with KFK from Copenhagen, who had beaten Tchac on double game point just an hour before the match. KFK is a strong, young team traditionally living in the shadow of the main elite team from the same city, Raganarok, but have improved a lot in the past couple of years and were able to reach the EUCF last year. However, they looked fatigued in their quarterfinal. The format did give M.U.C. an extra hour break before this matchup. That may have made the difference.
That win brought M.U.C. to a semifinal against the boys from Brussels, the Mooncatchers. The Mooncatchers have been on the rise in the last few years with a 4th place finish at the EUCF in 2015, though they did drop to 15th in 2016. They came to Tom's with a small squad: they had only 8 players on Friday and 12 for Saturday and Sunday. But never count out the Moon, as the players they bring are usually superstars. In addition to their regulars like Benoît Spapens and Merlin Wollast, they added some international talent in the Dutch Joram Mossink and German Aaron Brucklacher. M.U.C. was also extra hungry in this game as the Mooncatchers were the team to knock them out in the game to go to EUCF at the Central EUCR last fall. This game, like many in bracket play, went to double game point with M.U.C. barely able to edge out the athletic and talented Mooncatchers, sending M.U.C. to the final where their Cinderella run came to an end.
M.U.C. have their eyes set on German Nationals this September where they will be fighting to earn a coveted spot at WUCC next year. Germany is a country with a lot of great clubs, yet Germany may have as few as two bids to WUCC. Last year M.U.C. placed 3rd behind Frank N and Bad Skid. Their Tom's performance should be a good boost in confidence for Munich, though, as they showed that even when things don't go well, they are able to put the pieces together to win in the important games.
Surely the other top German teams like the Heidees, Frizzly Bears, and Wall City will all be gunning for those WUCC spots, making German Nationals a really important tournament to watch in September.
Big Upsets Show Increasing Parity
As already mentioned, the Cakes from Amsterdam (23rd seed at Tom's), a team that has finished dead last in the EUCR Central region for the past two years, came 11th with wins over EUCF level teams Tchac (3rd at EUCF), Wall City (17th at EUCF) and Kapow (23rd at EUCF). INNsiders from Austria (18th at EUCF last year) had a big weekend finishing above top 10 European teams such as Iznogood and Ragnarok. Aside from these upsets, the power pools were all tensely contested and bracket play was full of double game point nail biters. All in all, this European club season is starting out hot, and it will be fun to see who will be making their way to the EUCF and who will qualify for the WUCC in 2018 at all the various national championships.
A few key missing teams in this tournament were Freespeed (Basel, Switzerland), Bad Skid (Heilbronn, Germany) and, of course, Clapham (London, UK). It has been tough for anyone to steal the crown from Clapham at the EUCF for the last few years. We will, however, get our first look at Clapham in European competition at Windmill in June. Many of these same open teams will be there hungry to try and steal a win from the British powerhouse.
You can see all the scores from Tom's here, and watch some of the games from Saturday and Sunday on Fanseat.