The youth movement in Europe is strong.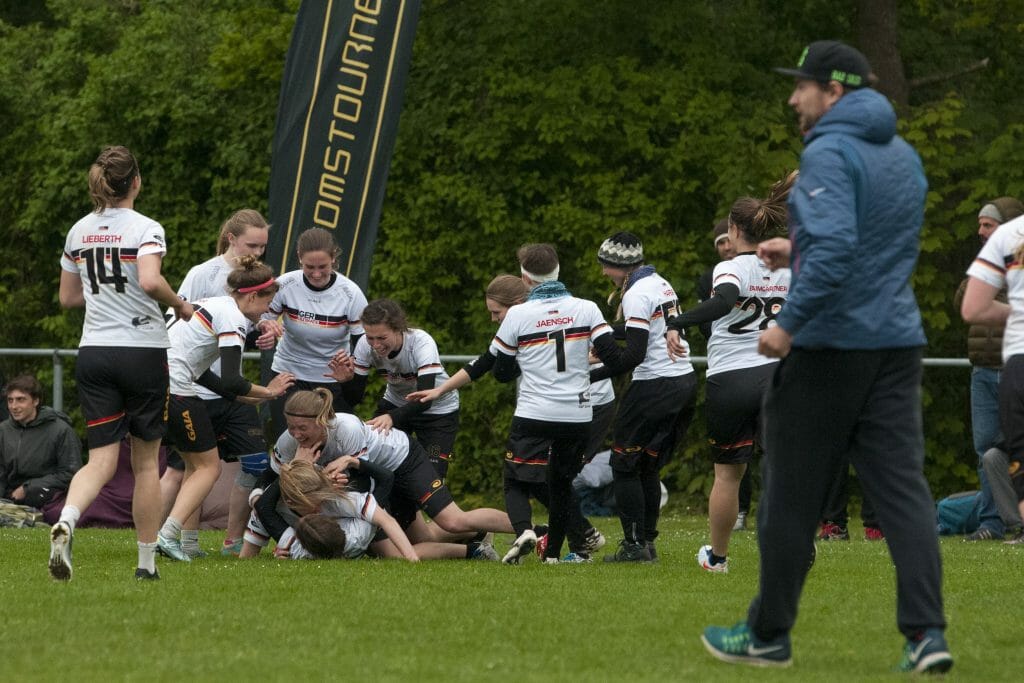 BRUGES, Belgium — Tom's Tourney brings the highest level women's ultimate in Europe to Belgium. This year, the division featured 16 teams, including top club talent and the U24 teams from Germany and Italy, who are preparing for Worlds in Perth, Australia, next January. Here are some of the top stories from the Women's Division.
Germany U24 Edges Out Gentle
Why not start with the final? It was a fantastic match up between Gentle from Gent, Belgium (7th at EUCF last year), and the German Under-24 team. Germany U24 managed to make it through pools, power pools, and through the bracket to the final without a single loss and, aside from a few close games in power pools, did so quite comfortably. Gentle, on the other hand, lost to the French YAKA in pool play and lost to the Germans in power pools. However, they ground their way through bracket play besting YAKA in a semis rematch on double game point. Though the paths were different, none of that mattered when it came to the final.
Germany started on offense and made an early turnover but were able to get the disc back and punch in the hold. Gentle, on the other hand, scored easily with a few passes on their first offensive point. This story would play out for the greater part of the game. Though each team had a few turnovers, there were no breaks up until 10-10. The Germans threw everything they could strategically at the Belgian offense from force middle, to junk looks, to standard zone. However, the methodical handling by Gentle's Janne Ver Eecke combined with the monstrous hucking power of Lisa Celis and Ina Lanckriek were always able to generate scores.
On the German side, Simona Liberth and Deborah Brinker were fundamental to Germany's offensive success. Brinker had a nose for the endzone that Gentle just couldn't plug up.
At 10-10, the defensive intensity increased and fatigue set in for the offensive lines. Both teams were able to finally generate breaks but the game always stayed within one point up until the score reached 13-13. Up until this point, Gentle looked like the stronger team. They were scoring more easily and generating more turnovers on defense. However, sometimes when two teams are equally matched, it takes a single player to rise above the rest and make the difference in the game.
In this contest, that player was Carli Tisson.
Tisson came up with two huge blocks late in the game that gave Germany the break opportunities they needed. One of these came at 13-13; Germany converted to go up 14-13. At this point, an errant throw into a German zone cost Gentle the disc and Germany capitalized to take the win 15-13. The final score was the only time in the game either team led by two.
This game had everything you wanted to see in high level ultimate and was maybe the most exciting match of the weekend. You can watch it on Fanseat.
GRUT has Grit
Another team that stood out this weekend was third place finisher GRUT from the Netherlands. The team is made up mostly of youth all-star players from all over the Netherlands. The Dutch youth women's program won U17 European Championships in 2014 and 2015 and was the highest ranking European team at the WJUC U20 tournament coming 4th behind Colombia, Canada, and USA in 2016. A lot of these girls are still under 20 and are hunting for a gold medal at the U20 European Youth Ultimate Championships.
GRUT is a program of Dutch youth all stars, both men and women. They played together as a mixed team and took 2nd at the EUCF last year with a team whose vast majority was under 20 years old. This year they came to Tom's as a women's team with many of the top players on the U20 team such as Floor Keulartz, Lola Dam and Janne Jansen. They added some slightly older firepower like Paula Baas, the Dutch Women's National Team captain at WUGC last year.
What was impressive about GRUT was their ability to win close games. They beat the Italian U24 in a tight battle that included a late game Callahan. Though they suffered some losses at the hands of Gentle and Germany U24, they managed to grind through to take a 3rd place finish beating YAKA on double game point. Look out for the GRUT Mixed team at Windmill this year as they look to do improve upon their 7th place finish last year, and definitely keep your eye on the Dutch U20 Women's team at EYUC later in the summer.
YAKA, The Comeback King
The French club team YAKA came in as the top seed at Tom's and is probably disappointed in their 4th place result. They were 8th at EUCF last year and are a perennial favorite to go deep in the Women's division. Their biggest weakness this tournament was starting strong in games. They let up big deficits early in games but always managed to bring even their defeats to double game point. That is a very difficult thing to do with the Tom's game format, since the games are only 50 minutes with a strict hard cap.
The most impressive of their comeback wins came in power pools when they played against the Italian U24 team. They started the game down 6-0! However, with a lot of fight and big performances out of Aline Mondiot, Daniela Rodriguez, and Aude Richon, they managed to take the win in that game, 9-8. It's hard to believe that this type of comeback is even possible in 50 minutes.
They finished their tournament with double game point losses to Gentle in semis and GRUT in the bronze medal match. In both of these matches, they again started off slow and dug themselves a deep hole but were able to bring the games close in the end. Never count these women out, regardless of whatever lead you may have on them.
DGP Madness!
Tom's Tourney had 16 women's teams and therefore had eight final matchups for placement. Five of those eight games went to double game point! That's incredible. And what's more, the last three games were decided by just two points including the epic final described above. What an amazing way to end three days of ultimate in Bruges. Every women's team had a thrilling game to remember the tournament by and I am sure all of them are looking forward to coming back next year.