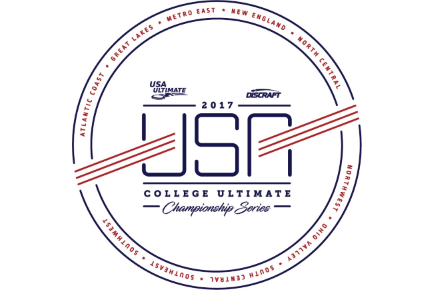 Ultiworld is thrilled to announce that, in partnership with USA Ultimate, we will be streaming eight games LIVE from the 2017 Division I College Championships in Mason, OH, on Friday, May 26; Saturday, May 27, and Sunday, May 28. We will have coverage of six pool play games, a prequarter matchup on Saturday afternoon, and a quarterfinals matchup on Sunday morning. USA Ultimate has not yet announced video coverage plans for the semifinals and finals, but sources tell Ultiworld that a new deal with ESPN3 is imminent.
Here is the livestreaming schedule. All games will be available for free on our YouTube channel and easily accessed on our Live page along side our extensive reporting from the tournament. Replays will be available in our archives to subscribers.
If you enjoy the games and our reporting, please consider a subscription! We are in the middle of a subscription drive and you can help us create a sustainable journalism outlet for ultimate.
All times Eastern.
Friday, May 26
10:30 AM: Stanford Bloodthirsty v. Colorado State Hibida (Men's Pool Play)
12:30 PM: Dartmouth Princess Layout v. Notre Dame Womb (Women's Pool Play)
2:30 PM: UNC Darkside v. Carleton CUT (Men's Pool Play)
4:30 PM: Texas Melee v. UBC Thunderbirds (Women's Pool Play)
Saturday, May 27
10:30 AM: Virgina Hydra v. Tufts Ewo (Women's Pool Play)
12:30 PM: Oregon Ego v. Wisconsin Hodags (Men's Pool Play)
5:15 PM: Prequarter (TBD)
Sunday, May 28
8:30 AM: Quarterfinal (TBD)