Three division heavyweights battle it out in Pool D.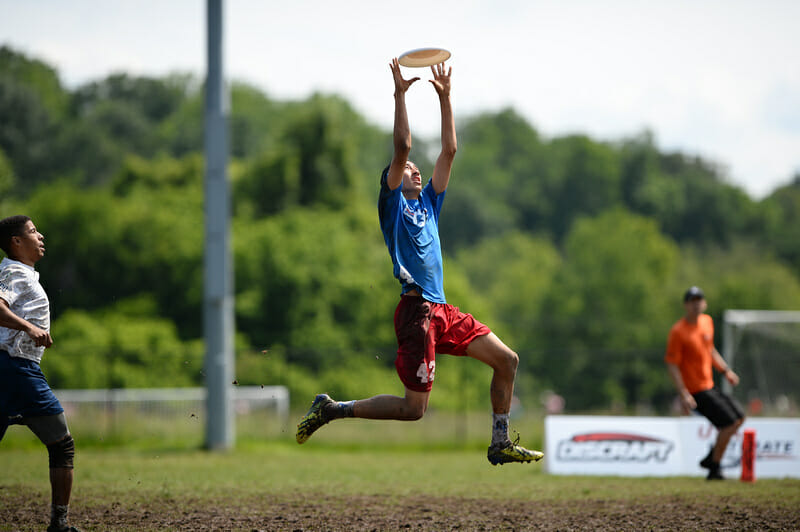 Ultiworld's reporting on the Men's division of the 2017 D-III College Championships is presented by Spin Ultimate; all opinions are those of the author. Please support the brands that make Ultiworld possible and shop at Spin Ultimate!
Pool D traditionally goes down as one of the tougher pools at any Championship event, and this year is no exception. Air Force and Alabama Huntsville both have impressive resumes and big-time players. Dartmouth has depth and experience from years of D-I competition, while Occidental comes in as the relative unknown and potential punching bag. Featuring the #5, #6, and #7 teams in Ultiworld's Power Rankings, Pool D is sure to test whoever wins it.
In a pool where the top three all have the look of quarterfinalists, be prepared for some hectic results. Mud from storms in the Lexington area is likely, so expect the legs of Air Force to be put to work as they hold seed. Thanks to the fight and grit of first-time showers on the big stage, Alabama Huntsville could pull off an upset over Dartmouth. Occidental will be a well-spirited and hard-fighting team, but simply won't have the experience necessary to compete at this level.
Air Force Afterburn
Seeding: D1, Overall #4
Power Ranking: #6
Overall Record: 28-4
Against the Nationals field: 4-0
After an astounding regular season, Air Force Academy enters Nationals as the No. 4 seed. As a military school, where regular workouts and overall fitness is a part of the daily regimen and school workload, Air Force is a team fueled by athleticism and energy. At various points this season, Air Force simply ran teams into the ground, showing off their physical fitness and endurance.
Air Force made waves early, picking up a third place finish at Flat Tail Open — including a 12-9 loss to D-I Nationals qualifier, Oregon State — and impressive wins against D-I competition at the Stanford Open. At D-III Midwestern Invite, Air Force showed themselves to be at the top of the division, blowing out many of their opponents before falling short against Colorado College in the tournament's final. Throughout an undefeated postseason, Air Force went relatively untested in one of the nation's strongest regions.
The high levels of fitness and athleticism possessed by Air Force give them a stifling defense and help them to continue running hard for every point of a tournament. In addition to general fitness, Air Force is a physically large team, possessing an amount of size that is not common in the D-III landscape, giving them advantages in air and elsewhere. Look for Alan Villanueva and Ben Protzman to be among those making big plays for Air Force throughout the weekend.
Dartmouth Pain Train
Seeding: D2, Overall #5
Power Ranking: #5
Overall Record: 18-17
Against the Nationals field: 2-2
Just three years ago, in the spring of 2014, Dartmouth qualified for the D-I College Championships. They had made it to the D-I quarterfinals the year prior. Historically, Dartmouth has proven themselves among the nation's elite, even at the D-I level. This year, Dartmouth found themselves competing in the brutal New England D-III region and enter Nationals as the No. 5 seed.
This team still has players from the squad that reached D-I Nationals, and that experience, no doubt, plays a part in the team's success this year. Those players, who were freshman at the time, now find themselves as team leaders, making big plays, and bringing an extreme level of mental toughness to the team. As a historically D-I team, Dartmouth gained entry into tournaments not many D-III teams can. At Santa Barbara Invite and Eastern's Qualifier, Dartmouth got to test themselves against top-level teams from across the nation.
At Oak Creek Invite, their first tournament after announcing their intention to play D-III this year, Dartmouth showed they would be a major player, picking up wins over Richmond and Williams. Junior Daniel Moder, a tryout invitee for the U24 US National Team, is a big piece to the Dartmouth offense. A versatile thrower who can put the disc just about anywhere on the field, Moder finds speedy cutters like Nicky Golini and Robert Livaudais to get the offense moving. Dartmouth fought through a packed New England Regional Championships on their way to a Nationals berth, beating all but eventual regional champion, Bryant. With high expectations, and a relatively unknown team on the D-III stage, Dartmouth is ready to make an impact.
Alabama Huntsville Nightmares
Seeding: D3, Overall #9
Power Ranking: #7
Overall Record: 27-6
Against the Nationals field: 0-0
Alabama Huntsville is making their first appearance at Nationals after beating out reigning National Champion Georgia College and a host of other schools at the Southeast Regional Championships. The team has come a long way in their first few years of competing at the regional level.
After falling to Georgia College 15-8 at last year's Regionals, the Nightmares came out with a chip on their shoulder this year, starting off the season with a third place finish at T-Town Throwdown and an undefeated — and relatively unchallenged — weekend at Music City Tune Up. While they've played very few D-III teams in the 2017 regular season, Huntsville proved themselves to be at the top of the SE, with few close games throughout the postseason. Their performance against quality D-I competition makes them a serious threat to make a deep run if they can conquer their inexperience.
Led by Donovan nominee Danny Yates, the team thrives by "living in the moment," according to head coach Tom Radcliffe. Effort, energy, and work ethic from a bevy of role players committed to playing their role effectively produces team success. Overall, Alabama-Huntsville works as a group of driven athletes, willing to push, fight, and claw their way to victory. This might be their only chance at a run for a D-III National title. As a team transitioning to playing at the D-I level next year, UAH will want to make the biggest impact they can on the D-III landscape while they have the opportunity.
Occidental Detox
Seeding: D4, Overall #16
Power Ranking: Unranked
Overall Record: 10-7
Against the Nationals field: 0-0
Occidental is another first-time Nationals qualifier. After knocking off perennial powerhouse Claremont in the small Southwest Regional Championships, Occidental finds themselves as the No. 16 seed at this year's D-III College Championships. Outside of their victory against Claremont, the 15-13 win that allowed the team to qualify for Nationals, Occidental didn't have many notable games. A 13-8 loss to Carleton GOP, a 7-5 loss to Southern California, and 12-11 loss to Chico State fills out a sparse resume.
When you come out of the nation's smallest D-III region, it can be hard to get noticed and earn respect. In recent years, Occidental has been a team on the rise, travelling across the country to participate in D-III Easterns and showing their desire to compete at the highest level. It's unfortunate for them that they are in a very difficult pool with little more than a crevice of a chance for them to slip through to the bracket. Now with a trip to Nationals, and a moment in the spotlight, the team hopes to put it all together to pull out some upsets.
Predicted Finish
Air Force
Alabama-Huntsville
Dartmouth
Occidental