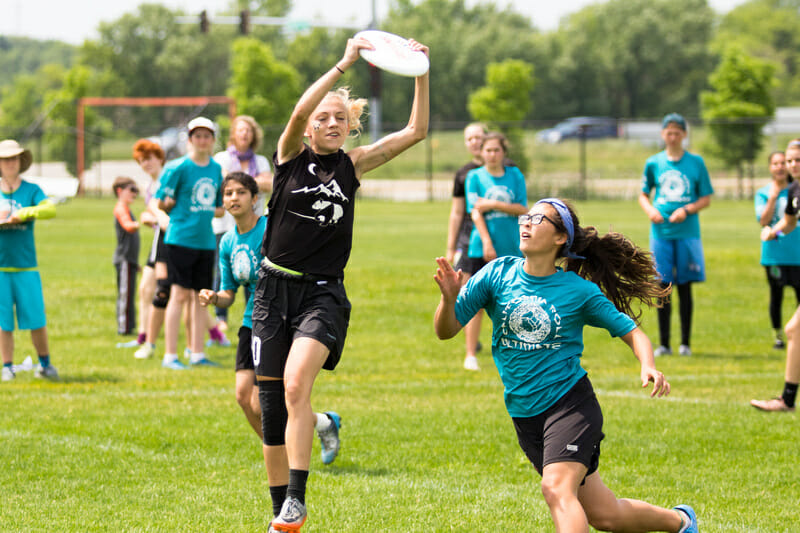 The inaugural edition of the High School National Invite is presented by Spin Ultimate.
A nearly two hour lightning delay didn't dampen the spirits of players on a tremendous day of ultimate at the inaugural High School National Invite. Here is a recap of the action on Saturday.
Bracket Matchups & How We Got Here
#3 Northwest v. #7 Neuqua Valley
Neuqua Valley wasn't supposed to be here. After entering the tournament as the seventh seed out of eight, they looked overmatched during pool play as they took thumping losses to Northwest (13-6) and HB Woodlawn (13-3) before losing soundly to Berkeley (11-7). Their quarterfinals matchup was Holy Family Catholic, the top team in Pool A and the No. 1 overall seed at the tournament. Add in the fact that Neuqua was 0-5 against Holy Family this season and you have all the ingredients for an easy HFC win.
Neuqua grabbed those ingredients and cooked up a dish best served cold.
Surging out of the gate, Neuqua pounced on a sluggish Holy Family and whipped up a 7-2 lead by the halftime break. Holy Family woke up at halftime and answered with a 7-2 run of their own to bring the game to double game point at 9-9. Despite nearly giving away the lead, Neuqua scored the final point to send themselves to semifinals (where they join the three other members of Pool B, all of whom beat NV in pool play). Regardless of what happens for Neuqua from here on out, it was a capstone win for their season.
In comparison to Neuqua's path, Northwest's was a bit benign. After two easy wins over Neuqua (13-6) and Berkeley (11-6), they lost to pool No. 1 seed HB Woodlawn in a lightning-shortened game, 11-71.
"The lightning delay was great for our recovery into prequarters," said coach Northwest coach Anna Maria Pape. "It allowed us to get in the right mental space and get our bodies where they needed to be. We came into prequarters with the mentality that our previous games didn't matter; all that mattered was winning this game and keeping our season alive."
That's just what they did. Yorktown-Lee, coming off of a narrow loss to Holy Family Catholic, were too cavalier with the disc and had some costly turnovers in the first half that dug them into a three point hole. Down 4-3, they had multiple red zone break chances but threw away their shots to the end zone. Northwest's better efficiency delivered them three first half breaks and a 4-0 run through halftime that blew the game open.
Northwest was able to dip into their bench later in the game as they coasted to a 13-9 victory and a semis berth. Given Northwest's big win over Neuqua in pool play, Northwest will be the big favorite in tomorrow morning's matchup.
#2 HB Woodlawn v. #6 Berkeley
The lower side of the Girls' Championship bracket closely mirrors the top, featuring a team that looked destined for semis (HB Woodlawn) and an underdog surprise (Berkeley).
Unlike Neuqua, though, Berkeley didn't cling to a lead and avoid a ferocious comeback from the favored team. Instead, Berkeley flipped the script, falling behind 8-2 before somehow surging back to a win, 13-11, over Roosevelt.
"At halftime we were down like 7-2 and we just decided right there and then that we were each going to individually, each of us, push it to our limits and to the end of the Earth just to come back and do it for our team," said Berkeley captain Thalia Ward.
They clearly found another gear at halftime. After generating just four blocks in the first half, they got 15 in the second half, spurring a 4-0 run and then, after a Roosevelt hold, a second 5-0 run to close out the game.
Berkeley will have to fight against the odds on Sunday morning as they face off against the Division's most impressive team, HB Woodlawn.
Despite coming off of a late flight (and, for some players, a Friday night prom), Woodlawn was strong all day long, culminating in a comfortable march to the semis. They were led by one of the tournament's biggest standouts, Ella Juengst, who racked up blocks and scores with her excellent speed and high ultimate IQ.
"Ella's a lightning bolt," said HB Woodlawn captain Kaiya Gordon.
Caroline Tornquist also flashed some wheels as Woodlawn breezed past Madison West in the quarterfinals after going 3-0 in the pool.
Their toughest game came against their semis opponent, Berkeley, who broke on the game's final point but lost 11-10 in the cap. The back-and-forth swings of that game — one in which Woodlawn started in a 3-0 hole — could be a factor again on Sunday.
Stories From The Fields
Pool B Sweeps Quarters
In an odd twist, the four teams from Pool B swept their Pool A opponents in the quarterfinals to cement rematches in tomorrow morning's semifinals. With HB Woodlawn and Northwest looking like the two most impressive teams at the tournament, those two winning their crossover doesn't come as much of a surprise. But Berkeley and Neuqua Valley both winning in wild fashion did give the end of Saturday some extra flavor.
Resilience is surely the story from the teams in Pool B. Neuqua took advantage of a Holy Family team that may have anticipated an easy win. Berkeley was unflappable staring down an 8-2 deficit. Northwest flipped the switch during the lightning delay to come out strong against Y-Lee. And Woodlawn didn't waver in the face of a slow start to pool play.
Y-Lee Heads Off Into The Sunset
While the National Invite was a chance for many teams to nestle themselves into the elite echelon of high school programs, it was a bittersweet Saturday for Y-Lee, the combined girls team from Yorktown and Washington Lee High Schools. After years of playing together, at the Virginia State championships, they played as separate teams and will be required to split entirely next season.
"We knew this would be the last experience we'd have playing as a combined team," said head coach Julia Petro.
Headed into prequarters, Petro's message to her team was centered around playing with confidence in the winds that had muddled Y-Lee's offense at times. Throughout the weekend, Y-Lee combined zone with matchup defense to stifle the offenses of Holy Family Catholic and Northwest in the upwind/downwind games they played.
Khin Kyaw stood out for Y-Lee this weekend as a deep cutter, zooming to chase down hucks and haul in scores. Despite going down early to Northwest in prequarters, with the game at 12-6 and the sun quite literally setting on their season, they mounted one last valiant 3-1 run — including a seniors-only point — to finish the game 13-9.
"We knew not to look too much into the seeding of teams coming into this tournament. Every single team here represents the best girls programs in the country," said Petro.
Coming in with no expectations for what they'd encounter set YLee up for a memorable final tournament as a unified squad.
Faces In The Crowd
HB Woodlawn's Ella Juengst (#10)
"Ella's a lightning bolt. We all know it. It's great just seeing her little bolt of blonde hair running down the field. I think brings depth to the team. She's a really great addition." – HB Woodlawn captain Kaiya Gordon
Roosevelt's Stephanie Phillips (#26)
"She's one of our go-to handlers. She's someone that the whole team really looks for. She has a really positive attitude; she loves everyone on this team…Her throws are amazing. She gets in there and gets blocks. She leads by example while, at the same time, not being too overbearing or confident. She's not afraid to take the stage but she's not afraid to give the stage to someone else who's open." – Roosevelt coach Charlie Eide
Northwest's Lila Forde (#13)
A strong cutter on the offensive line who frequently crosses over onto the D-line to match up on the opposition's best cutter. Excellent speed and footwork. Should be an instant impact college player.
---
The two teams agreed to call the game during the nearly two hour delay ↩