What a game from the budding star.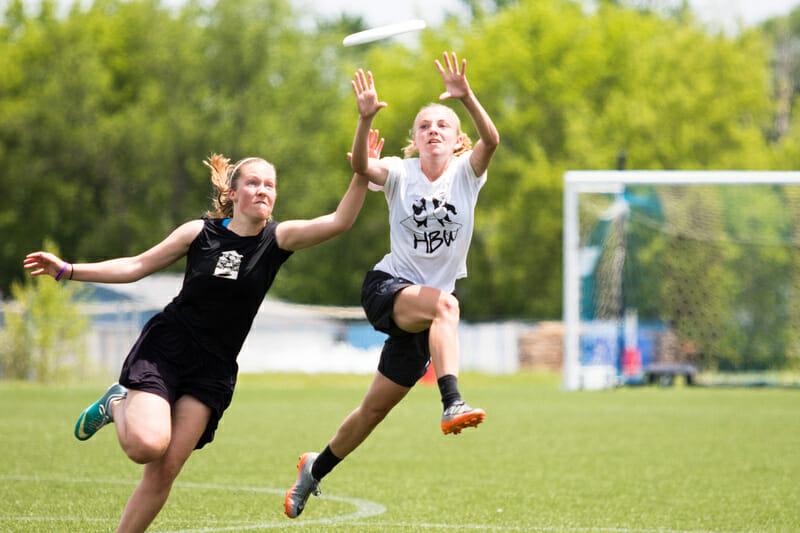 The inaugural edition of the High School National Invite is presented by Spin Ultimate.
ROCKFORD, Ill. — Using a 4-0 run to close out the game, HB Woodlawn (Arlington, VA) overcame a late deficit to defeat Northwest (Seattle, WA) 13-11 and win the inaugural High School National Invite.
Woodlawn junior Ella Juengst led the way, scoring the final four points and finishing the game with an astonishing eight goals.
The stakes were obviously much higher for the final matchup between what were clearly the top two teams at the tournament than when they had met on Saturday afternoon in the final round of pool play. There, HB Woodlawn took advantage of some early mistakes by Northwest and jumped out to a 3-0 lead. Tight matchup defense from Woodlawn forced more turns as they extended the lead to 7-3 at halftime. A thunderstorm cell passed through soon after, and during the almost two hour lightning delay, Northwest agreed to concede the game.
The final played out much differently.
It was Northwest in control early, getting the game's first upwind break when Nina Alworth put up a smooth backhand to Catherine Carr's outside shoulder to take a 2-1 lead. They converted the downwind score as well.
Woodlawn would get back to even at 4-4 when standout handler Caroline Tornquist fired a short backhand into Juengst slashing to the front cone.
After retaking the lead with the downwind break, Woodlawn couldn't maintain their momentum. Northwest held and dialed up another pair of breaks to take half 7-5.
"We try and stay super positive all the time, focus on what we're doing right most of the time, just correct the little things," said HB Woodlawn head coach Leslie Keller. "I used an end of the world tactic, if you will, saying this is our last game this season, we're never going to be the same team again, so let's leave it all on the field."
The back and forth continued in the second half. Woodlawn closed the deficit down to one after Nicole Getter got a foot block and immediately threw a backhand to Juengst for a break, but Northwest got a critical upwind hold when Camille King fired a flick up the line to Ada Bowles. Northwest flipped the break with a downwinder on the ensuing point, retaking a three point lead at 10-7 and looking in control.
Again Woodlawn narrowed the gap with an upwind break. Again, the Northwest offensive line — led by Lila Forde and Alworth — would not yield the game-tying score, marching upwind for the hold to make it 11-9, game to 13.
It was go-time for Woodlawn.
Their O-line held tough against the Northwest pressure and put in a critical upwind hold. After multiple turnovers, Getter sent a soaring forehand to the back of the endzone for Juengst, who snared it through contact from her defender to tie the game at 11.
Northwest had a goal line opportunity for a downwind hold after some turns both ways and a great block by Carr on a swing pass, but Chloe Fugle managed to do just enough to break up the open side pass into the end zone and get the disc back for Woodlawn. Ava Jones eventually found Juengst the go-ahead upwind break.
With Northwest reeling, Woodlawn's defense sunk its teeth in and stole the disc away again. Tornquist launched a forehand huck for Juengst, who ripped down her eighth goal with two hands to seal the 13-11 win.
"We've been a much better second half team throughout the season," said a glowing Juengst after the game.
"Ella acts as a catalyst," said Keller. "When she makes a big play, when she skies someone taller than her or makes a really great catch, that's huge for us and our energy. When Ella's downfield, it's definitely inspiring for everyone."
It certainly inspired Washington DC Scandal enough to add her to their 2017 roster. For a high school junior to make an elite club team is exceedingly rare, but Juengst's combination of speed and high ultimate IQ makes her an appealing target for development.
She and Tornquist will both be back for Woodlawn next year; they should be well-positioned to defend their National Invite title.