The 14 best players from the 2017 D-III college season.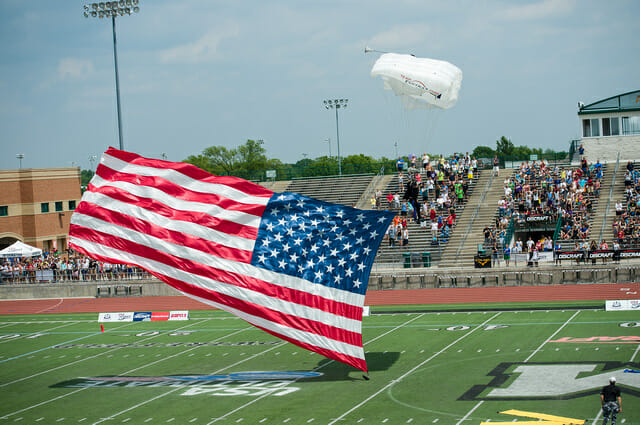 We are pleased to announce Ultiworld's 2017 D-III All-America teams. These 14 players were selected for their performance in the 2017 college season, looking at both the regular season and the full college Series, including Nationals. Please join us in honoring the best college players of this season.
First Team
Leah Roche (Carleton Eclipse)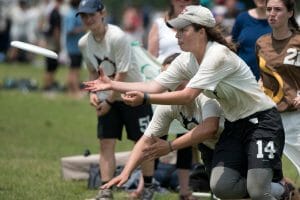 Leah Roche made headlines at the D-III College Championships this year and her name is now all over the UltiworldLive Twitter feed. But it is Roche's consistency that made her the Player of the Year and puts her on the All American team. Roche dominated in games all season, pulling more than her weight as her team was still developing but still prioritizing open lines early on so that her rookies — like this year's FOTY Laura Kiernan — would get the playing time they needed to improve. Roche's throws are strong, not just because she rips upwind 55-yd flicks like it's nothing, but more because they are well-timed to lead her cutters, find them in space, and highlight their skills as much as her own.
Emilie Willingham (Truman State)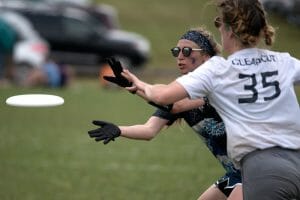 Named the 2017 Division III Women's Offensive Player of the Year, Emilie Willingham was the motor behind Truman State's run to the quarterfinals of the D- III College Championships. Playing nearly every point and involved with the majority of scores, Willingham is an every-other handler with a strong throwing skill set. She was often able to throw cutters open and create scores where others wouldn't even see a window of opportunity. It's not hyperbolic to say that Truman State wouldn't have made Nationals without her. There may have been no player in the division more vital to her team's success.
Ellen Kalenscher (Puget Sound)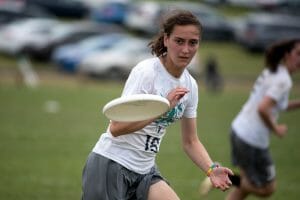 When it comes to the speed with which senior captain Ellen "Cady" Kalenscher moves on the field for Clearcut, opponents and teammates all recognize there's nearly no chance of shutting her down. Not only is she fast enough to blow past opponents on her cuts, she also has a talent for unleashing killer forehand hucks that zip to any spot on the field where her downfield cutters have found space. As an integral part of the handler set that brought Clearcut to the top of arguably the most difficult pool at Nationals and finally to their season-ending loss to eventual champions Carleton, POTY runner-up Kalenscher made her presence felt, reminding the division of the impact a well-rounded player can have on a team.
Haley Olson (Carleton Eclipse)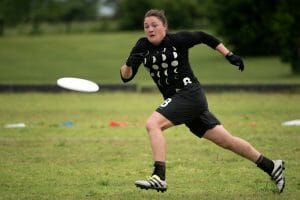 Haley Olson stands out for her explosive defense and her high frisbee IQ as a cutter. Olson has a strong field awareness on offense that paired with her keen awareness of her throwers' strengths, means she almost always knows exactly where the disc is and where it will be going. Olson times her cuts to go where her throwers need her, and even when it is a less experienced thrower at the helm, she will tirelessly cut to get to the spot they are comfortable throwing to. At nationals, the O-POTY runner-up showed she also is an asset on defense; Olson had numerous run through D's where she had stopped the look deep and then out-worked her opponent to beat them to the disc on the under.
Demri Horton (Portland)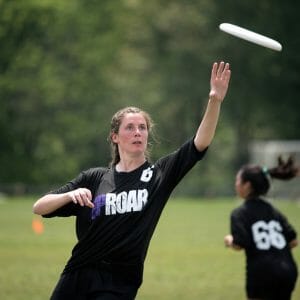 Whether placing a huck downfield for the score, or making teams reckon with her shutdown defense, senior captain Demri Horton made Portland UPRoar a team the rest of the division, especially their in-region rivals of the Northwest, struggled with this season. Throughout the spring, Horton's on-field productivity in tandem with longtime teammate Makena Strand brought Portland success all the way through to an appearance in quarters at their first-ever Nationals. Leading the team with assists in Lexington, Horton brought confidence and guidance on offense that paired well with her unyielding run-through efforts on defense. More significantly, she has helped give Portland a competitive foundation to build on for next season and beyond.
Mackenzie Allen (Valparaiso)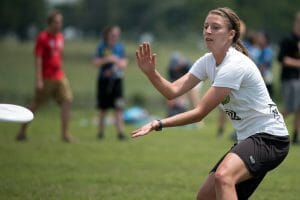 McKenzie Allen flexed her offensive might throughout the season, an integral component of the Valparaiso handler core with the speed and vision to capitalize on her chemistry with returners and rookies alike. At Nationals, Allen recorded a strong performance with 22 assists through their quarterfinal matchup against Portland; one can only imagine how much higher her tally might have climed had she not had to return to campus Sunday for graduation alongside Jordan Bauer, a favorite target deep and in the end zone. Although we'll never know how Allen's presence may have changed the outcome of the tournament, Ultiworld's OPOTY runner up has unquestionably cemented her position as a top handler of the division with tenacity and talent.
Tulsa Douglas (St. Olaf)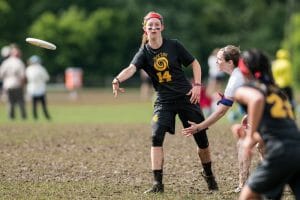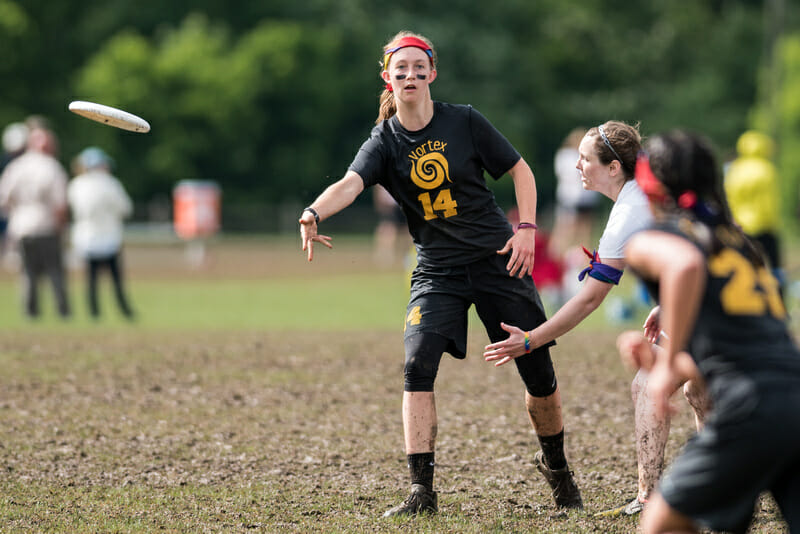 Tulsa Douglas continued her offensive dominance this season, a major component in St. Olaf's taking the second bid out of the perennially strong North Central region to make it to Nationals. While unfortunately impeded by a knee injury sustained during a pre-Nationals scrimmage, Douglas persevered, grinding through pool play and quarters to record a staggering 20 assists and contributing in St. Olaf's junk zone by shutting down teams' deep games. With a chance to heal and continued development playing this club season with Brute Squad, Douglas's arsenal of throws will be force of nature the rest of the division will have to try to contain in 2018.
Second Team
Katherine Yost (Georgia College)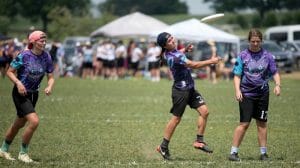 As part of Georgia Lynx Rufus, Katherine Yost has been a key contributor to the team's competitive strength and commitment to the Spirit of the Game. With a background in tennis and cross-country running — in fact, she still runs on the Georgia College team — Yost attacks the field with endurance and competitiveness that makes her equally valuable on both defense and offense and allows her to always wriggle free and find open space. She displays the swagger required of all great handlers, taking obvious pleasure in throwing goals; with her impressive blend of throws and the confidence to take the chances other handlers may shy away from, Yost powered the team to break seed at Nationals with 19 assists. As a passionate team leader, she has been a critical element of the tight-knit Rufus roster and led the squad to a 2017 Nationals Spirit Award.
Lucy Salwen (Wesleyan)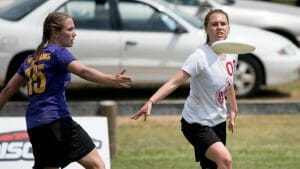 How does a team seeded eighth make the finals at Nationals and then give a storied program like Carleton an exhilarating game to determine the title? One large piece of that equation is Vicious Circles' captain Lucy Salwen, whose field vision and throws made all the offensive difference on the long road through to that final game this season. Among the first to point to the depth of the Wesleyan roster, Salwen knows where to find her cutters and make the most of their fresh legs; she excels at hitting her deep options with forehand hucks, in addition to shredding endzone traffic for the score. With 23 assists for Wesleyan at Nationals, Salwen kept her team competitive to the very end, one point at a time.
Kate Powers (Bowdoin)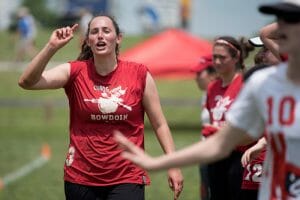 For Bowdoin Chaos Theory, senior captain Kate Powers provided dynamic leadership through the strength of her play as well as a beacon of inspiration for her teammates. As the initiating cutter, Powers generates downfield momentum through her steadfast grabs and quick disc movement. On defense, Powers exerts pressure across the field with her layout blocks and dominance in the air. The UltiworldLive Twitter account perhaps sums up her performance at Nationals best: "I'm just amazed at everything Kate Powers does for Bowdoin." Her teammates underscore the dedication Powers has for the team, providing motivation for the team as a whole in addition to support for individual players.
Kelsey Nanneman (Rice)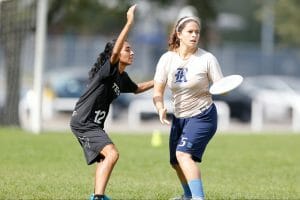 If you ask her opponents, those who have come up against Rice Torque's Kelsey Nanneman will share stories of her merciless, take-no-prisoners defense. If you ask her teammates, they will also tell you that Nanneman's work ethic, compassion, and determination have been central to the team's foundation over her four years on the team. After an incredible stretch of two national titles and a runner up finish, Torque came up short of Nationals this season in an unfortunate one-bid South Central, but the Rice senior still stood out. Throughout the 2017 season, Nanneman led the team as one of the primary cutters with prowess in the deep space and the ability to come down with anything left hanging in the air.
Haley Lecinsky (Williams)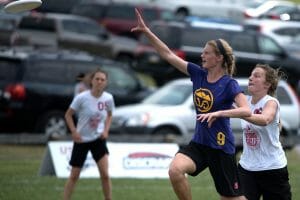 Haley Lescinsky's first appearance at a D-III College Championships precedes her arrival at Williams, coming out to watch LaWUFA at their 2014 performance in her hometown of Westerville, OH. In the years since, Lescinsky has been a critical weapon in the LaWUFA arsenal and her teammates cite her commitment as a galvanizing force that leads the team to play its best. Her tremendous athleticism powers her unmatched cutting and makes her a dangerous opponent in the air. Demonstrating her grit at this year's Nationals, Lescinsky rose above a mix of physical setbacks to propel Williams to a close finish in quarters against Puget Sound. Lescinsky will return to LaWUFA as a captain for 2017-18 season, looking to lead the team back to Nationals once again.
Sarah Davidson (Puget Sound)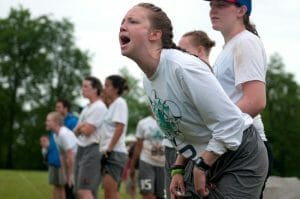 Sarah Davidson earned the title of 2017 Defensive Player of the Year, and her the fierce grit has also earned her a spot on the All-American team. Clearcut proved they were a force to be reckoned with after a fourth-place finish at the Stanford Open, and Davidson's intensity has been critical to the team's success. The fearless determination she uses to attack the disc is matched only by her spirit and dedication to her fellow players. Looking forward to her senior year, Davidson will return next season ready to grind hard for Clearcut.
Grace Castro (Catholic)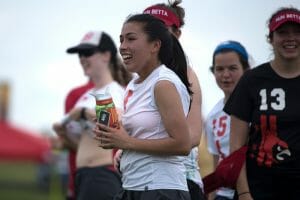 The fact that Catholic University flew under the radar during this season never bothered captain Grace Castro. Instead, Castro focused her boundless enthusiasm and leadership on building Nun Betta's chemistry, which led to the team's first-ever bid to Nationals. A truly dynamic player, Castro excels on the field by seizing upon any opportunities she can find. She moves seamlessly between cutting and handling, building momentum through her deft cuts and quick give-and-gos. On defense, she demonstrates the strength of her field awareness with strategic poaching before harnessing her speed to get her safely back into position. Nun Betta will continue to benefit from Castro's spirit and leadership as she returns as captain in her senior year.