Which teams would be looking to make a trade deadline splash?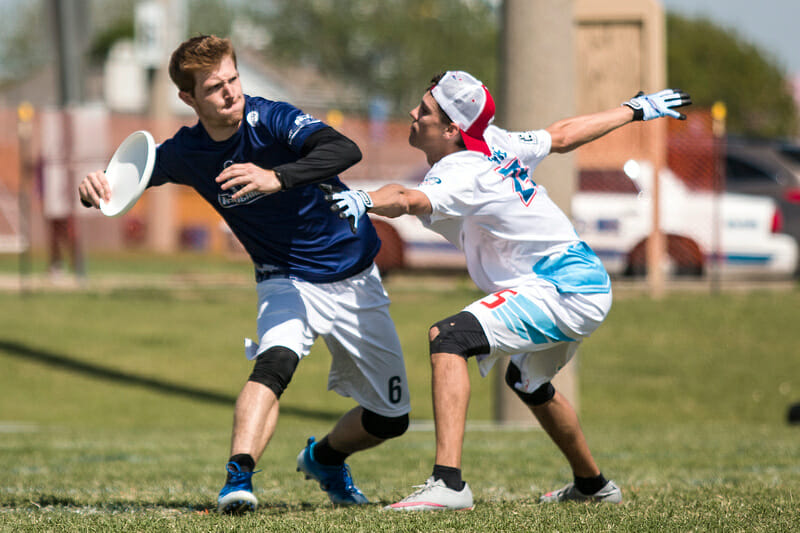 It's rare, but players in the AUDL occasionally move midseason. In 2015, Jesse Bolton left the Minnesota Wind Chill and joined the Seattle Cascades. Last year, Husayn Carnegie departed the Los Angeles Aviators to join Seattle. This year, Caleb Denecour, who was leading the league in goals, left the Austin Sol to play for the Minnesota Wind Chill. Of course these aren't the result of trades, but rather life choices moving a player from one place to another. Denecour had always planned on joining the Wind Chill midseason; he even showed up to team tryouts back in February and kept it no secret from the Sol management.
But what if these weren't the only midseason moves made? What if the AUDL paid a living wage and could make trades? What teams would be buying? What teams would be looking to move a veteran piece for some future assets? Who would be on the market?
I'm glad you asked. Below are some trades that could make sense for both teams, helping them either now or in future years.
San Francisco trades Justin Lim, Byron Liu, and Sam Kanner to Detroit for Johnny Bansfield
The FlameThrowers are 7-2 and are undoubtedly a championship contender. But last year they looked the part too, only to show up and lay an egg in their playoff game against Seattle. This year, San Francisco has a little more depth and admittedly some of the same problems in that they often feel like a different team depending on who suits up. When the whole team is there, they have almost all the pieces, but someone like Johnny Bansfield would bring their D-line to the next level.
Bansfield is one of the best throwers in the league and would have no problems playing defense for San Francisco. There's no one with his skill set playing for the FlameThrowers. He's coming off an eight assist, seven goal performance against the Indianapolis AlleyCats. He's a bona fide all-star when he's on the field.
All of a sudden D-line cutters like Greg Cohen and Lucas Dallmann are chasing down hucks from Bansfield, making him even more dangerous than he was with Detroit. Losing players like Lim, Liu, and Kanner isn't easy, but Bansfield can absorb Kanner's minutes, no problem. And while Justin Lim has been valuable for San Francisco, the games that matter most are the playoffs. A lot of the points he plays for the San Francisco offense might not be there for him with the full roster present anyhow.
So why would you trade your most talented player if you're Detroit? There are a few reasons. First, he's just one person. Ultimate is a team sport and one superstar can only do so much. Bringing in guys like Lim, Liu, and Kanner would make a world of a difference for a Mechanix team that has some nice pieces but lacks the kind of playmakers that many other teams in the Midwest have.
Justin Lim can instantly slide in as a featured part of the Detroit offense. Sam Kanner can become the guy for the Detroit defense and make life difficult for Midwest handlers like Pawel Janas, Josh Klane, and Andrew Brown. And Byron Liu can do whatever you want him to do on offense or defense. Leave the keys to the offense to Austin Engel and Dan Donavan — just give them more options. Detroit is 1-6 and three games out of a playoff spot. This move doesn't bring them into the playoffs but the Mechanix are 2-39 over the last four years against the other teams currently in the division. This team is hungry for victories both now and in the future. This move accomplishes both.
Another reality for Detroit is that Johnny Bansfield is not invested in the team right now; with a 1-6 record, that's unlikely to change anytime soon. If he was on a championship contending team like the FlameThrowers full of guys that have played in some of the biggest games you can play, that could change. Lim, Liu, and Kanner have played in a combined 17 games this year; Bansfield has played in two.
Why Detroit Might Not Do It: You don't trade a star in his prime, no matter what. Talent attracts talent, and you've got to start somewhere.
Why SF Might Not Do It: They can't afford to lose these kind of pieces when they need depth. Liu and Kanner play big roles for the San Francisco defense and it might not make sense to trade multiple impact players for just one person, even if he is a special player.
***
It would be a risk, but this is a trade San Francisco would make with an eye on the playoffs, not the regular season.
Raleigh Flyers stand pat
It seems almost unfair, but if I'm the Flyers' hypothetical general manager at the hypothetical deadline, I see no reason to make any moves.
At the beginning of the season, you might have said they need a D-line handler that can take control of the offense after the turn when needed. Well, Brett Matzuka is back from his injury and has now played in four games for Raleigh. Maybe you think that going up against Dallas, they just need one more next level talent that can do everything if they're going to get over the hump and back to championship weekend. Then you realize that Jack Williams is on their roster and the college season is now over. The pieces are there for Raleigh to make a run. They're number one in the Power Rankings and there's really no need to shake things up.
Dallas Roughnecks trade Chris Mazur to San Diego for Jeff Silverman
Before anyone starts jumping up and down hollering about a lopsided trade, if you're Dallas, you have to think about fit, what your team will look like in the playoffs, and what it will need. With Kurt Gibson probably coming back from injury to join the Roughnecks soon, Dallas will have a surplus of handlers: Gibson, Chris Mazur, Brandon Malecek, Dalton Smith, and Matt Bennett, not to mention guys like Dylan Freechild, Abe Coffin, and Jimmy Mickle that can hang back and handle if you want them to.
And if you're the Roughnecks, you'd rather have a surplus of elite defensive players than handlers, because that's how you won the title last year. Yes, the Roughnecks lost players like Beau Kittredge, Cassidy Rasmussen, and Jeremy Langdon this offseason, but the player they miss the most might be Dillon Larberg. Factor in that Matt Jackson and Dan Emmons have been dealing with injuries, and the Roughnecks could use some help on that side of the disc.
Dallas has so many great offensive players; the fact that they also have Mazur makes for an embarrassment of riches.
Enter Jeff Silverman. He hasn't put up eye popping numbers, but he's a veteran that has made huge plays on the defensive side of the disc for years. He's taking tough matchups this year and has been a key component in the Growlers win streak that has brought them back in the playoff chase. The Roughnecks will end up playing in some big games, which Silverman is no stranger to, given that he has already won one AUDL championship playing with San Jose in 2014.
Why do you trade away a key defensive player if you're San Diego? Chris Mazur would instantly become a critical part of a San Diego offense that so far this season hasn't been nearly as effective as its counterparts in San Jose, Los Angeles, and Seattle. While there's potential for some redundancy given that he'd be on the same team as Kevin Smith, they're still different kinds of players, even if they're both O-line handlers, and Mazur has shown an ability to work well with someone like Malecek in Dallas.
Why San Diego Might Not Do It: You're on a win streak. While the offense needs help, riding with the guys you have might make the most sense right now. Incorporating someone like Mazur midway through the season, in the midst of a good run, could prove difficult.
Why Dallas Might Not Do It: Even though there are plenty of great offensive players on the Roughnecks, someone like Mazur has the ability to lead the offense when needed and peak in the playoffs. Last year he led the team in assists in their semifinal against Toronto and played well in the championship game against Seattle. Why trade away players that were part of that overwhelming 2016 Roughnecks team?
***
In the end, though, it seems like both teams could find benefits from the swap.
Madison trades Ryan Tucker, Ben Nelson, Logan Pruess, and Marquis Mason to Chicago for Pawel Janas
The Radicals have had some nice moments this year: Their first half against Minnesota this past weekend. The first half against Dallas the week before that. A comeback against Chicago. But they've undoubtedly been less sharp than in past years.
Scott Richgels came out of an abbreviated retirement, Ross Barker has joined the offense, and, perhaps most importantly, Tom Annen lives in Boston and can only play in so many games for a team based in Wisconsin. The Midwest looks like a tossup with Minnesota, and victory isn't assured on the road against Pittsburgh either. It doesn't seem like a stretch to say that Madison needs to mix it up.
Pawel Janas could be the ticket. Janas has been tearing it up for Chicago this year. He's a do-it-all handler for Chicago, with four times as many assists as the next player on the team and 170 more completions than the next person too. Obviously, if he joined Madison those gaudy numbers would slow down, but he'd provide a significant benefit to the Radicals offense. Andrew Brown, Ben Nelson, and Jadon Scullion are all good handlers, but they can't stretch the field like Janas can. Madison usually just hucks when their cutters get the disc. This trade wouldn't even mean that would need to change; it would just make it easier for those cutters to get the disc since the defense would have to respect the deep space more on the initiation with Janas in the backfield.
For Chicago, giving up a guy who is having an MVP caliber season isn't easy. But for a team that has depth issues, getting four guys in return would be a serious bounty. Ryan Tucker would be a huge addition to their offense: he has the ability to be a go to guy along with Michael Pardo. Ben Nelson has been an unsung hero handling for Madison this year and would play well in their new offense. Logan Pruess could fit in on either Chicago's offense or be the guy for the D-line: he's already had a solid season on the Madison D-line with 8 assists and 82 completions.
Marquis Mason is obviously still developing as a player, but Chicago could give him some run in a less limited environment than Madison. The Radicals primarily have him playing defense; he's made appearances as both a deep-deep and as part of a two man double team. The Wildfire could give him an opportunity to play offense. Mason is by no means a strong thrower (though he is five for five on throws this season), but when he played football, he was on offense. Giving him the opportunity to chase down hucks for goals and make plays in the air might work out better than putting him in situations on defense where he can't afford to get broken as part of a two man double team or reading and reacting to throws not intended for him as a deep defender.
If you're the Radicals, this trade makes sense because while you're giving up a lot, this is a move made for this year's playoffs and to take advantage of a title window that could be closing. Janas takes Nelson's spot on offense. Once Kevin Brown comes back from injury, he can move over to the D-line and take over for Pruess. Richgels is back and has primarily been playing offense, and Ryan Tucker didn't make the final roster for championship weekend last year anyhow.
If you're Chicago this trade improves your team and brings in a few guys that have had success at the highest level of the league. That experience matters. The reason you wouldn't is to see if you could hold out for more.
Madison is giving up a a lot here, but they might just be persuaded to give up more.
New York Empire stand pat
The Empire, in a completely different spot in the standings than Raleigh is, hold for a different reason. New York has so many different talented players. There's a reason this team had so much preseason hype. Yet with so many moving pieces, it can be difficult to figure out team roles and a team identity.
New York has already had a midseason coaching change — inserting even more new personnel is not going to speed up the process of figuring out what is and isn't working.
An infusion of talent in a trade wouldn't be the solution given all the talent already here, plus they already got their midseason pick-me-up when Ben Jagt made his season debut on June 4.
New York is 2-5, two and a half games back of Montreal in the race for the final playoff spot. However, the Empire have two home games coming up against Philadelphia and then Ottawa.
Nothing is a given in the East this year, but the Empire are favorites in both of those games. If New York can take care of business and figure out how to find some better team chemistry, they will still be in it going into their critical July 1st game in Montreal.
Elsewhere
A lot of other teams would be looking for players on the market, too. With Montreal playing well and hosting Championship Weekend this year, they might go all in for 2017, hoping to make an appearance in the final four. Nashville might try to talk Raleigh into trading a future star they could build around long term like Liam Searles-Bohs.
If only the AUDL had a salary cap, draft, and long term contracts, then this exercise could really get interesting. Until that very unlikely point in time is reached, we'll have to settle for players switching teams for the same unexciting reasons the rest of us move.