Advice from a coach who has found a way to get buy in from both genders.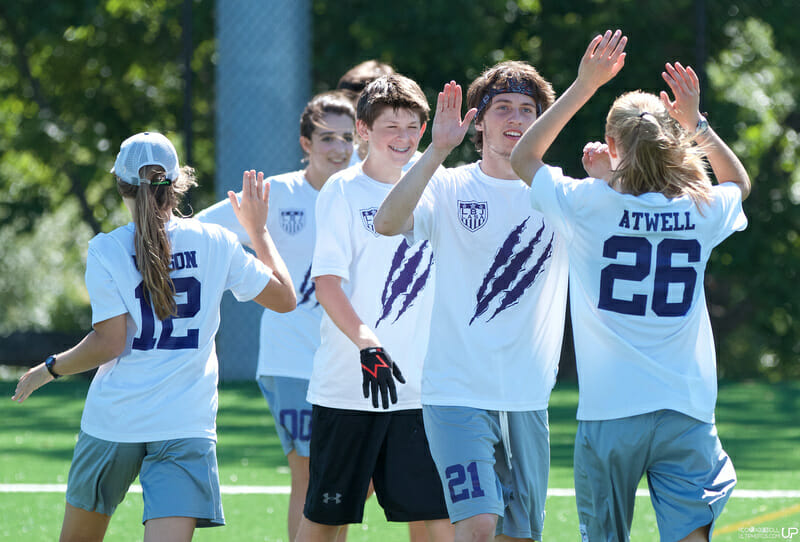 This article is presented by Spin Ultimate; all opinions are those of the author. Please support the brands that make Ultiworld possible and shop at Spin Ultimate!
As the ultimate community continues to promote gender equity as a core value for the sport, many are looking for ways to foster that mindset in players — especially at a younger age. But so far, too many of the sport's school-based teams — from middle school all the way through college — are missing out on one of the best opportunities to engage in this important work: formalizing cooperation and support between single-gender teams at the same school.
I coach a high school program with roughly 30 boys and 15 girls. Our boys actively support our girls and our girls actively support our boys. The reason is simple — they're teammates. It doesn't mean that they always play mixed ultimate, but it means that they belong to the same program, they work together frequently, and they have opportunities to bond both on and off the field. Purposely setting up the program in this way and having the kids buy in has produced a positive and welcoming environment for all players, as well as done wonders for our competitive success.
Here are eight simple ways I've found to ensure that players support opposite gender teams at their school.
1. Build a program, not a team.
Using inclusive terminology is one of the easiest ways to build the right team culture. For instance, I never introduce myself as the coach of the "Marcus boys team," even though I'm with the boys at most of their tournaments. Instead, I say that I coach the "Marcus ultimate program." Jenna Bigbie does the same, even though she's with our girls at most of their tournaments.
Along those same lines, our boys and our girls wear the exact same jerseys. They either read "Marcus" or "Marcus Ultimate" across the chest, and they never make gender distinctions.
2. Practice together.
We practice twice per week as a program and every single practice is coed. We stretch together, do drills together, and scrimmage together. There are definitely times when we split into gender-specific groups for portions of practice — namely, before single-gender tournaments — but the bulk of all of our work is done in a coed setting.
Practicing together helps our players develop a respect and appreciation for each other. The boys in our program know how much work the girls put into the sport and vise versa, because they're putting in the exact same amount of work.
3. Coach across genders.
Jenna and I are both at every single practice and we work with players from both genders. Our girls and our boys receive the same instruction — they are taught the same offenses, defenses, and playing techniques. At tournaments, our single-gender teams might use different styles — for instance, our girls team runs more zone than our boys team, while our boys team runs more vertical stack than our girls team — but our boys are capable of helping from the sideline of a girls game and vise versa. Everyone knows the same playbook.
Additionally, when our boys team and girls team have competitions that don't overlap, Jenna and I coach together. I'm on the sidelines with her as an assistant coach for our girls, or she's on the sidelines with me as an assistant coach for our boys. Our girls know that I care about them, just as our boys know that Jenna cares about them. We're both invested in every player in the program.
4. Promote diverse student leadership.
At the end of each season, our team votes for captains for the upcoming season. My only stipulation is that the program must have at least one boy captain and at least one girl captain. I believe it is critical that both genders to be represented in the leadership group.
Our captains are leaders of the entire program — not just their single-gender teams. They meet with me weekly to discuss player recruitment, roster construction, travel arrangements, and player development. They also help me to script practices, lead stretching and drills, and serve as vocal leaders on the field and in huddles. Because of this, every boy on the Marcus roster is accustomed to female leadership and every girl on the Marcus roster is accustomed to male leadership.
5. Play mixed.
Last year, our program competed in 28 girls games,1 63 boys games, and 64 mixed games. In fact, two of the three teams we took to the Texas state championships were mixed. Our boys and girls bond over the shared experience of playing together, so it's natural for them to support each other when they play in single-gender competitions. After all, they're teammates.
Playing so much mixed ultimate also causes our boy players to take an added interest in the development of our girl players and vise versa. They know that they'll eventually take the field together, and they want their teammates to be as fit, skilled, and knowledgeable as possible. They help each other at practice because they know they'll eventually be on a line together in a game.
6. Socialize as a group.
All of our social events are for the entire program, not just for members of a specific team. This includes team dinners, post-game meals, holiday parties, and awards banquets. We also travel together as a team. A lot of the tournaments we compete in have boys divisions and girls divisions. When we take two teams, we carpool together, stay in the same hotel, and eat at the same restaurants. Therefore, our boys and our girls get to know each other incredibly well throughout the season. They become not just teammates, but friends, so they naturally want to support each other when they take the field.
7. Celebrate all accomplishments equally.
We begin every practice by recapping our recent games for those players who weren't in attendance. We give equal speaking time to our boys team and our girls team. We want the boys to understand how lucky they are to play with such talented, successful girls, and we want the girls to feel the same way about playing with the boys. Additionally, we make sure to share scores and updates for both teams on Twitter and Facebook.
Of course, it can be difficult to celebrate accomplishments when one team wins and another loses. This spring, our girls team won Neuqua Knockout while our boys team lost at double game point in the quarterfinals. The girls had every right to be happy about their success, while the boys had every right to be disappointed with their results. Since I was with the boys team, my message to them was clear at the end of the tournament: save any negative thoughts for later and spend the rest of the day celebrating with the girls. The girls accomplished something amazing and they deserved the opportunity to be joyful in the presence of their teammates. I didn't want the boys' misery muting the girls' excitement on the flight home.
8. Encourage sideline support.
If our girls are playing in a tournament, then our boys will travel to watch the team and cheer them on from the sidelines. If our boys are playing in a tournament, then our girls do the same. If they are both competing at a tournament at the same time and same location, then I encourage our players to support their teammates during byes or breaks. The boys might finish a game early and rush to watch the girls finish their game, or vise versa. It shows a sense of togetherness, and it motivates the people on the field to have such a large support system on the sidelines.
To accomplish this, I heavily promote the schedules for each team. I make sure that everyone in the program knows when and where the girls team and boys team will be playing. Without fail, our players have always traveled to support each other since they respect their teammates as players and like their teammates as friends.
---
There is no girls division in the state of Texas, so our girls mostly competed in college tournaments. ↩