Iceni's early struggles gave way to a dominant performance in bracket play.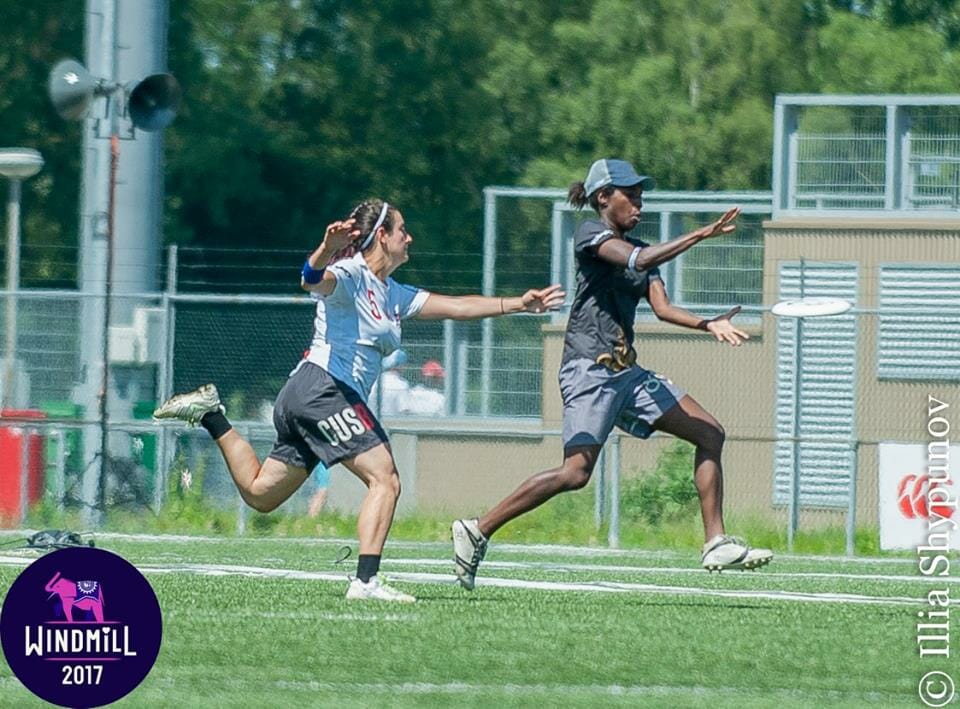 AMSTERDAM — 16 women's teams made it to Amsterdam last week to compete at Windmill. These included top teams like Iceni (London, UK); CUSB Shout (Bologna, Italy); YAKA (Noisy-le-sec, France); and SYC (London, UK). A Canadian team, Storm, also joined in the European mix. Though quite a few of the elite European teams were missing this year (including EUCF champions FABulous from Switzerland), there was still plenty of great action at the top of the Division. The four aforementioned teams showed themselves as a cut above the rest. Here are some of the main stories from the tournament.
Windmill uses the Swiss Draw format with power rankings in the first five rounds of play. Iceni, a team that has been close to invincible for years in the Europe, faltered for their second major European tournament in a row (CUSB Shout eliminated Iceni in the semifinals at EUCF last year). In the Swiss rounds, they suffered two losses to CUSB Shout 11-10  and YAKA 13-11.
Through the complex algorithm of the power rankings, they still managed to hold on to the 2-seed in the quarterfinal rounds but this would mean they would have to defeat both teams that topped them earlier if they wanted to go home with gold. While that could prove daunting for most teams, the London powerhouse switched into business mode when the brackets rolled around. They won their quarter against Belgium's Rakata 15-5 and then stood face to face against the French YAKA in semis. This time they came out strong and crushed YAKA 15-4.
With that victory they enjoyed themselves at the party and rested up for the final against CUSB Shout. Both teams started the game ready to fight in front of the 1000+ crowd that always attends the Windmill finals, but Iceni showed early on that this was their game and no one else's. They stormed through the final with great defensive pressure and smooth offense and sent the Italians home with silver with a final score of 15-4.
So how did Iceni manage to defeat two teams, which beat them earlier in the tournament, by 11 points each? Iceni captain Sonia Komenda said that this was their first tournament of the year to face the toughest competition in Europe. They were trying to use each game to work on different aspects of their offensive system and it was really hard to stick to with the tough defenses of YAKA and CUSB. However, come bracket play, the leadership — including Komenda, Jenna Thomson, and Jackie Verralls — managed to tighten up Iceni's offense and make some key defensive adjustments now that they knew what the other teams had to offer.
"We changed our defensive strategies to adapt to the French and Italian style of play and forced them to play differently," Komenda said. "We were able to stop their go-to throws and we just came out so strong. Their heads went down early and it was just really hard for them to come back."
Squad size may have also played a role for YAKA. "We are ambitious this year and we want to finish high at EUCF," said captain Aline Mondiot. "We came into the first game against Iceni as underdogs with no pressure and consciously played the game point by point without thinking about winning the match. Our victory made Iceni think quite a bit and learn our strengths. The semifinal was tough and the fact that we were missing eight players from our roster1 really hurt. In the semi, Iceni had a great long game that we couldn't stop and they made fewer mistakes. Iceni forced us to make a lot of throws and eventually we just made some individual mistakes." Though the semis loss was disappointing, Mondiot said that she is still focussed on the rest of the season. "We are really eager to play them again with our full roster," she said. "They are very solid and confident but we showed that other European teams can put them in difficulties."
CUSB Shout did not have the same short roster problem that YAKA did but it was apparent that the combination of Iceni's smart defensive looks and the pressure from the Windmill crowd got to them. There were a few more unforced errors and CUSB just couldn't stop Iceni's offense when it was clicking. However, knowing the Italian methods of training, this loss will only fire them up further to see if they can take down the British powerhouse at EUCF.
Elsewhere in the tournament, SYC had a thrilling quarterfinal match against Dublin Gravity (Dublin, Ireland) that is available on the archive footage on Fanseat. There were great highlights in the game. SYC went on to lose to YAKA on double game point in the bronze medal match.
***
Most of these teams are preparing for the World Ultimate Club Championships in the United States next year. Iceni will take a trip stateside this year to compete at the US Open against top American teams as well as Revolution from Colombia and UNO and MUD from Japan. After showing their dominance in Windmill bracket play, European eyes will be watching to see if they can keep their composure against the top Women's teams in the world later this August.
NOTE: Iceni signed up to Windmill as Ice Box this year. Sources say that there isn't any real reason for this aside from the fact that the Iceni player tasked with registering for Windmill used her phone and the phone autocorrected Iceni to Ice Box. Rather than try to fix this, the team owned the identity of Ice Box but were, undoubtedly, Iceni.
---
they only had 13 players at Windmill ↩