This is no repeat of WUGC.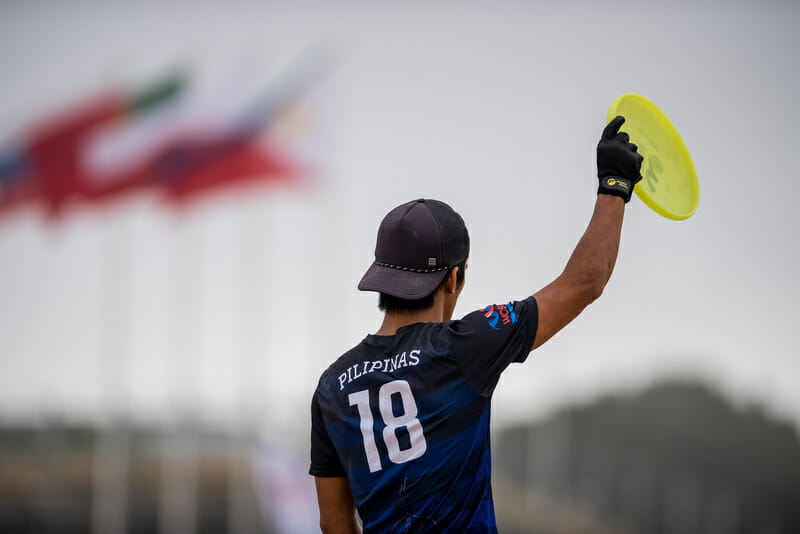 ROYAN, France — It's been an exciting week on the French coast at the 2017 World Championships of Beach Ultimate. Unlike last summer's WUGC, the results have been wild and unpredictable, particularly as play shifted into crossovers. The story that perhaps you'd expect from a Worlds tournament — the dominance of USA teams — has been challenged, starting with a late afternoon pool play matchup between USA and Denmark in the Women's Division Tuesday afternoon.
After going down early 2-0, Denmark rallied to tie the game at 3-3. Denmark played a physical but clean game and capitalized quickly on several key USA turnovers to go up 7-5. Denmark had momentum and a favorable crowd. Coming into the second half, USA looked like they were on their heels. They had yet to find a true rhythm on offense despite a noticeable lack of wind during the late afternoon rounds; turnovers continued to plague the USA squad as they fought to get the breaks they needed. Powered by Paige Soper in the backfield, the US squad was eventually able to hold on and break back late in the second half to take the game.
The USA mixed team has not been so lucky. The team has been plagued with poor performances from their backfield; against the Philippines in the non-elimination crossover, they could not connect on anything deep. Despite building a commanding 8-2 lead, the USA squad melted down in the second half, yielding six straight breaks to lose 9-8 on double game point.
USA Philippines DGP At Beach Worlds
The Philippines' seven point run on the US was powered by a combination of superior athleticism and very smooth offense. The achilles heel of the USA mixed squad against both the Philippines and Sweden (their other loss) boiled down to poor execution and very shaky O line defense after a turn. At times, dominant athletes who you'd expect to shine (Nathan White, Simon Higgins, Kaela Jorgensen) were a step behind on defense. Nothing has come easy for the US squad against the top teams. In quarterfinals against Russia, the US still had trouble putting the game away giving up three straight to watch a 10-5 lead shrink to 10-8.
Speaking of the Philippines, they are undefeated in both the Men's and Mixed Divisions. That may sound surprising to some not well versed with the international scene, but there can be no doubt at this point that the Philippines have brought one of the best beach squads to Worlds this year. The motto of the Filipino squads has been 'Less Height, Bigger Hearts.' In both men's and mixed, the Philippines have secured wins against Canada. In quarters, the Filipino men's team played at a break neck pace that proved too challenging for Spain to match. The Philippines won 12-8. Speed and explosiveness have served the Philippines well so far.
"They train for this tournament a month out and beat teams with their legs," USA head coach Bryan Jones said. The Filipino men's squad will play Great Britain in the semis while the Filipino mixed squad has a very interesting path to gold against two squads they've already beaten: Canada and possibly the United States.
Blisters, Blisters, Blisters
Talking to Jones and several USA players, the story of Worlds has been dealing with conditions they simply hadn't encountered before getting to Royan. The temperatures in France have hovered around 85-90 degrees consistently. The US team had to get sand socks the day before the tournament and did not have the opportunity to break them in before tournament play started.
Blisters were rampant throughout the men's squad and several players including Jonathan Helton and Jonathan Nethercutt had to take at least a game, if not a day, off. Nethercutt and Helton both had infections, with Nethercutt taking antibiotics to deal with an infection that entered his bloodstream. Nethercutt's fever broke Wednesday night and he was able to return to the field in quarterfinals against Australia.
"It's tough because you get back to your house and after a few days you still have sand on the floor as well," commented Helton after USA's double game point win over Spain1. "It's a situation we weren't prepared for coming in."
The external factors that have plagued the US team haven't necessarily turned into an equalizer against their opponents in Men's. That said, the US has faced its share of adversity going into elimination rounds. Against Spain, the US men had to fight back from a four point run by Spain in the first half.
The US men's had a scare on Wednesday when a player collided with Tyler Degirolamo.
Degirolamo, who has finally looked healthy coming off of a knee injury from 2016, has been cleared to continue playing in the bracket but there is sense that nothing is going to be handed to the team in the bracket.
"Our game against Spain resembled a traditional possession-based beach game," said Helton, "It was the first time we had to earn our Ds rather than count on unforced turnovers."
The US men's team seem to be on a date with destiny if the Philippines remain undefeated.
The Men's semifinals are set for today at 12:20 PM Eastern. You can watch the USA v. France game on the WCBU website for free; the GB v. Philippines game is available on Fanseat.
Quick Hits
In Mixed, Sweden topped the USA on double game point, but ended up third in the pool after a three-way tie. Then they got stunned by India in prequarters!
Spain may be out of the bracket at this point in every division, but they were a formidable competitor and played well above their typical level compared to their performance on grass.
Crazy runs and huge comebacks have been commonplace all week. Portugal blew a four goal lead against Russia. Ireland blew a four goal lead against the Philippines.
Brackets (Current As Of This Posting)
Men's

Mixed

Women's

Statistical Leaders
Men's

Mixed

Women's

---
the game was unimportant as USA had already clinched the pool ↩