International competition is back in full force in 2023.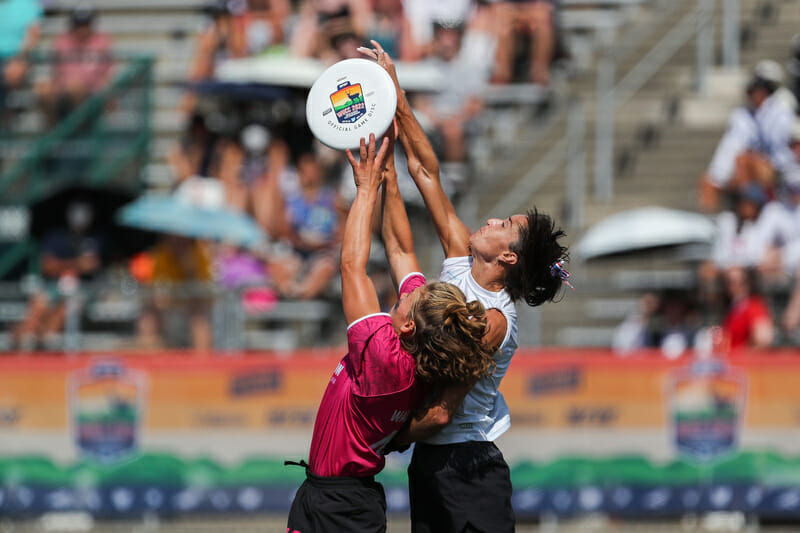 After years of international tournament cancellations and delays due to the COVID-19 pandemic, the full slate of World Flying Disc Federation events is back on the table starting in 2023.
The biannual Under-24 World Championships will return in 2023 after getting canceled in 2021, and the twice-postponed World Beach Ultimate Championships are slated to take place next October. Additionally, continental events are returning to action.
2022 featured some of the most exciting international ultimate in years at the World Games in Birmingham, Alabama, as well as the World Ultimate Club Championships in Cincinnati, Ohio. "With five successful championships over the last four months, and now a complete line-up of events for 2023, it's great to be getting back our sense of competition normalcy," said WFDF President Robert "Nob" Rauch in a statement. "Aligning our events back into the planned four year cycle is critical for our sport development. Event dates have been selected later in the 2023 calendar to give teams and member National Federations as much planning time as possible and we are very hopeful for another strong turnout at all our World and Continental Championship events in 2023."
Here is the full 2023 schedule, which were announced by WFDF on October 7th:
| Tournament | Dates | Location | Bid Form |
| --- | --- | --- | --- |
| World Under-24 Ultimate Championships | July 1-8, 2023 | Southern UK | Bid Form |
| Asia-Oceanic Ultimate and Guts Championships | October 3-7, 2023 | Manila, Phillippines | Bid Form |
| All-African Ultimate Championships | October 3-7, 2023 | Kisumu, Kenya | Bid Form |
| World Beach Ultimate Championships | Oct. 28 - Nov. 4, 2023 | Los Angeles, USA | Bid Form |
| Pan-American Ultimate Championships | Nov. 28 - Dec. 2, 2023 | Punta Cana, Dominican Republic | Bid Form |